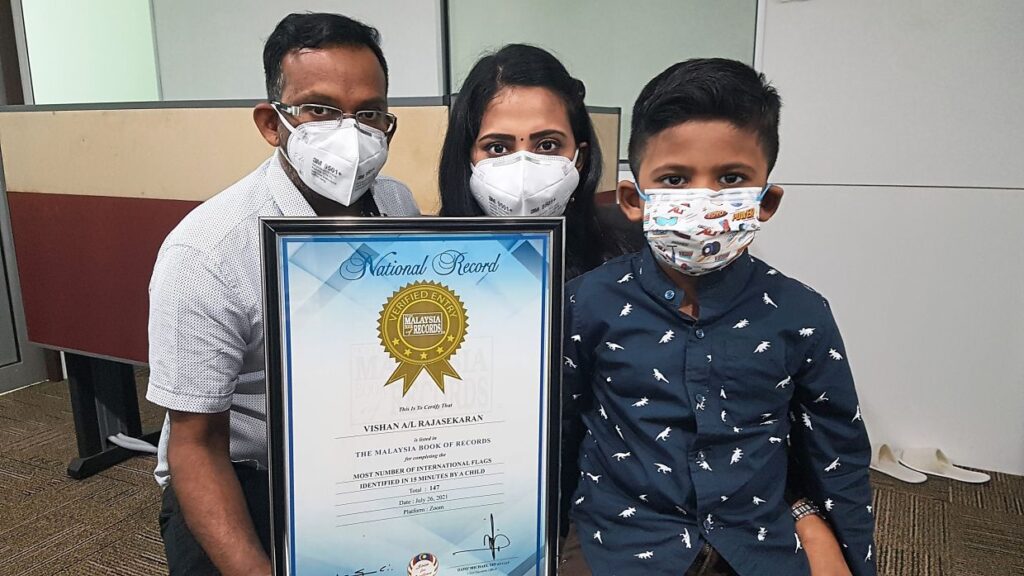 There are 195 countries in the world, can you name at least 30 of them? This 4-year-old little boy made it to the Malaysia Book of Records by naming 147 country flags in 15 minutes! This impressive achievement is crowned as the 'Most Number of International Flags Identified in 15 Minutes By a Child' in the national record book, as reported by The Star.
The Malaysia Book of Records (MBR) is an accreditation body that recognises and publishes records set or broken by Malaysians.
Fascination for colours earns the child a national title
According to The Star, 4 years old Vishan Rajasekaran from Port Dickson, Negri Sembilan loves colourful things since he was a toddler. Eventually, his affection for colours helped him to memorise the colours that he can name on the flags of all countries in the world.
"I bought a set of cards featuring 10 flags of different countries in the world. Within days, he could already tell us the flags the countries belonged to just by their colours," said Vishan's father, Dr G. Rajasekaran.
Therefore, that was when his father decided to contact the MBR to test Vishan's ability.
Vishan then participated in a virtual session held in July and that was when he broke the record.
Now able to identify the planets in the solar system
In the interview, Dr Rajasekaran said Vishan who does not know how to read and write, can already identify the planets that orbit the sun. This comes after he bought his son a DIY colouring set of the solar system.
"In fact, he can also tell the flags of local political parties now by just looking at their logos," said the father.
When asked what is next for the boy, Vishan's mother, Angila Raju wants her son to have a good grasp of Bahasa Malaysia and English.
She also expresses her hope to visit interesting places like the National Planetarium with Vishan so that he can understand things better which will help to shape his thinking.
Meanwhile, Vishan is also the winner of several pushbike and strider bike racing competitions for children, locally and in Singapore. For a 4-year-old boy to achieve so much, it is quite impressive!
(Source: The Star)