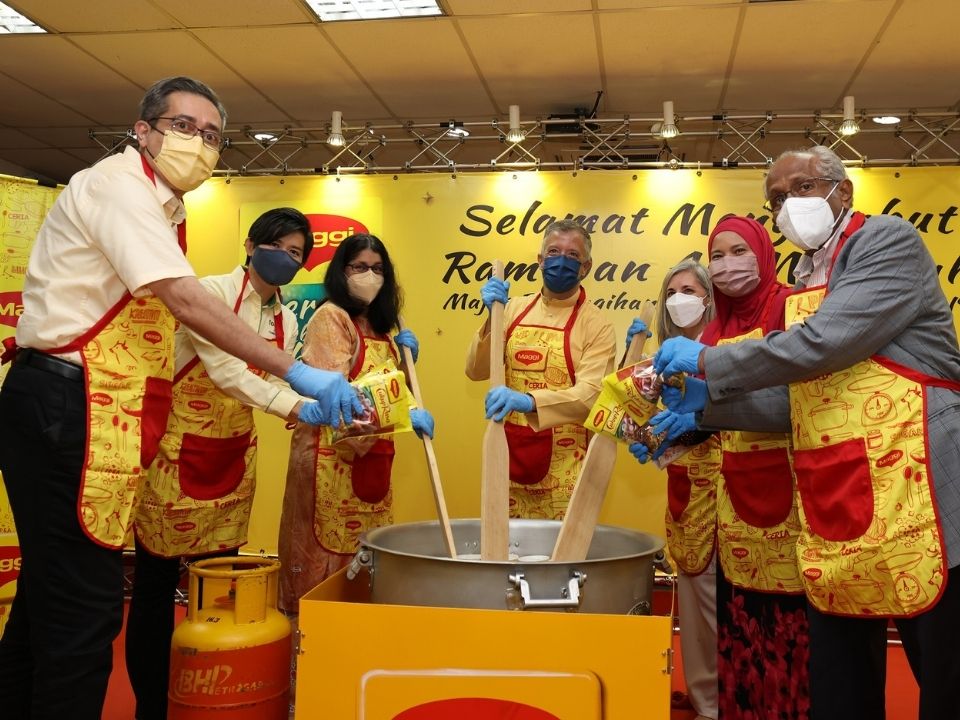 Every year, MAGGI looks forward to the distribution of its nutritious and tasty MAGGI Bubur Lambuk, an enjoyable tradition for many Malaysians. To celebrate the Ramadhan spirit of sharing and giving this year, MAGGI is expanding its Bubur Lambuk distribution to more than 200 locations across Peninsular and East Malaysia with 120, 000 bowls in total.
MAGGI Collaborations With Food Aid Foundation (FAF) And Malaysia Association For The Blind (MAB)
MAGGI is collaborating with Food Aid Foundation (FAF) and Malaysia Association for the Blind (MAB) to distribute over 120,000 bowls of nutritious MAGGI Bubur Lambuk to B40 families, orphanages, welfare homes, and charitable organizations throughout the month of Ramadan.
Through the collaboration with FAF and MAB, this year's Bubur Lambuk distribution will also include the homeless communities, people with disabilities as well as healthcare workers and frontliners who remain devoted to their role in protecting the communities throughout the COVID-19 pandemic.
Ms. Geetha, Business Executive Officer of MAGGI, Nestlé (Malaysia) Berhad said,
Bubur Lambuk is a meal born of goodwill, true to the giving and caring spirit of Ramadan. Hence, this nutritious meal will definitely put a smile on the faces of those receiving it while fostering closer community ties when breaking fast together. Staying true to MAGGI's brand promise, You and MAGGI Cook the Difference, we are committed to sharing solace and tasty homemade food to create warm moments that provide comfort to Malaysians during this meaningful period. We are definitely excited to uphold this tradition for yet another year in the month of Ramadan.

Ms. Geetha Balakrishna, Business Executive Officer of MAGGI, Nestlé (Malaysia) Berhad
Doing good deeds and sharing 'Rezeki' during the holy Ramadan month is synonymous with sharing wealth, blessings, livelihood, and sustenance – like a bowl of MAGGI Bubur Lambuk – cooked with MAGGI CukupRasa and other fresh ingredients, freshly prepared and distributed exclusively by MAGGI's Chefs.
Both CEOs from FAF and MAB, Dr. Dalphine Ong, Chief Executive Officer of Food Aid Foundation, and Mr. George Thomas, Chief Executive Officer of Malaysia Association for the Blind expressed their appreciation of the CSR partnership with MAGGI, for the provision of hot-cooked MAGGI Bubur Lambuk to the community, especially those who have been hit by the two-year long pandemic, further evoking the communal spirit and sense of charity in giving back to the community.
On top of that, Nestlé also extended its partnership with Jasmine Food Corporation, Sazarice, ALIF, BHPetrogas, and Kara Malaysia, in support of the preparation of the savory and balanced meal of MAGGI Bubur Lambuk, which is commonly seen as a symbol of a comfort iftar meal.
Want to know what MAGGI Bubur Lambuk tastes like? Check out this recipe at MAGGI's website https://www.maggi.my/en/maggi-happenings/beraya-sambil-berkongsi/ 
More stories about MAGGI: