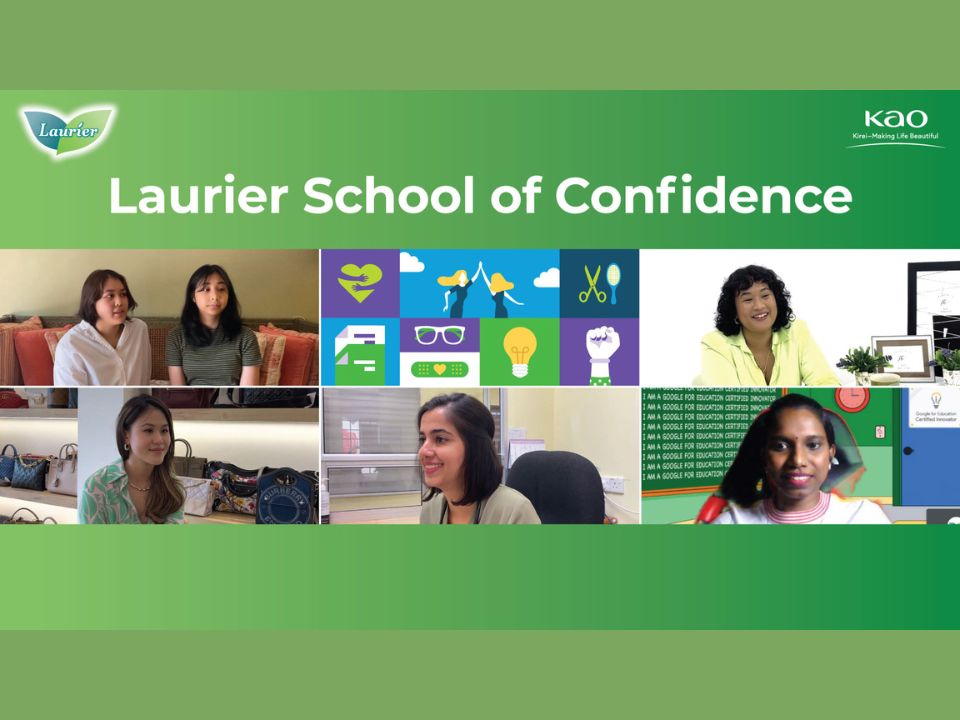 Women play an important role in economic growth and contribute to the wealth of an economy to a great extent. Given the critical role that women play in the nation's economy, KAO Laurier Malaysia has launched its empowerment series, the 'Laurier School of Confidence' (Akademi Keyakinan Laurier) to elevate its existing enrichment program for girls in secondary schools across Malaysia.
'Laurier School of Confidence' For Malaysian Teenage Girls
The 'Laurier School of Confidence' series aims to inspire and motivate over 168,000 teenage girls in secondary schools across Malaysia over the course of the next 12 months, beginning June 2022 through to June 2023.
Phase One of the series will kick start in schools within the central region, with plans to extend the series to five other regions namely the southern, and northern regions, the east coast as well as Sabah, and Sarawak.
The 'Laurier School of Confidence' empowerment series is open to participants engaged during KAO Laurier Malaysia's ESG menstrual hygiene education program conducted virtually in over 290 schools in the central region.
In addition to acquiring valuable life skills, participants will also stand a chance to be awarded up to RM1,500 each in the form of an education fund through the Simpan SSPN Prime account.
Simpan SSPN Prime is an education savings product under PTPTN that is Shariah compliant and guaranteed by the Government. In a bid to promote and reward the habit of saving among parents and young depositors, account holders will enjoy competitive dividends, and free takaful coverage for savings balance of RM1,000 or more.
Apart from that, KAO Laurier Malaysia is also rewarding the eligible 'Laurier School of Confidence' graduates with a total of RM72,000 in the form of National Education Savings Scheme (Simpan SSPN). The effort is in support of Perbadanan Tabung Pendidikan Tinggi Nasional's (PTPTN) agenda to cultivate a culture of saving from an early age for higher education.
Video Modules From Inspiring Malaysian Women
The 'Laurier School of Confidence' empowerment series comprises five succinct video modules on five contemporary topics and features inspiring everyday young Malaysian women who have pushed themselves in pursuit of their dreams. The series is aimed at inspiring teenage girls to develop into the next generation of confident, ambitious women who will actively contribute to community and nation-building.
Among the topics and contributors are:
Dreaming and living out your passions by Maryam Mahmud, an independent figure skater, and her sister, Marina Mahmud, Former Captain of D*Starz SMK (P) Sri Aman Cheer team
Women entrepreneurs by Gabriena Lee, Co-founder of Glampot, a designer consignment boutique
Empowering more females in STEM by Premalatha Selvaraj, Teacher and sole Malaysian winner of the 2021 Google Innovator Academy's certified coaching award
Women in healthcare by Dr. Syazana Ali, Primary Health Care Resident and Founder of NobleDr+
Grooming and body positivity by Nalisa Alia Amin, Body Acceptance Advocate and Fashion Model
Through its long-term Environmental, Social and Governance (ESG) program, KAO Laurier Malaysia has been a friend to young girls for the past 27 years since 1994, with efforts dedicated to supporting and educating young girls in hygiene care. To date, KAO Laurier Malaysia has touched the lives of over two million students, from over 8,000 schools through the program.
To learn more about KAO Laurier Malaysia or about the program, follow the official Facebook page of KAO Laurier Malaysia at @KaoLaurier and @lauriermy on Instagram.