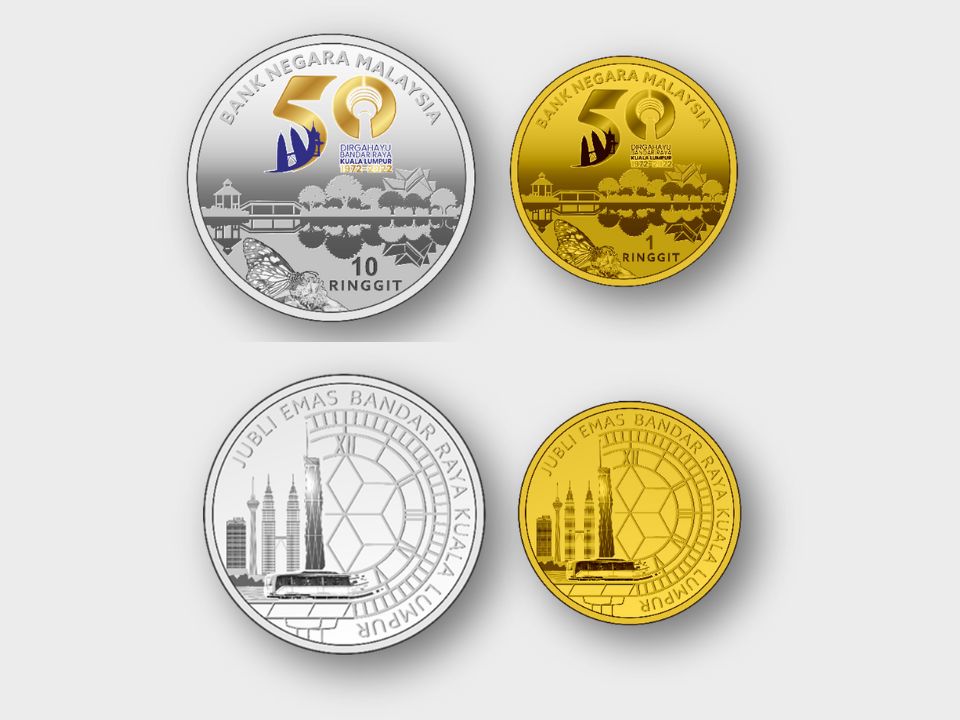 In honour of Kuala Lumpur's 50th birthday (KL50), the Bank Negara Malaysia (BNM) has just announced the release of special KL50 commemorative coins.
Bank Negara Malaysia Commemorative Coins
2 Denominations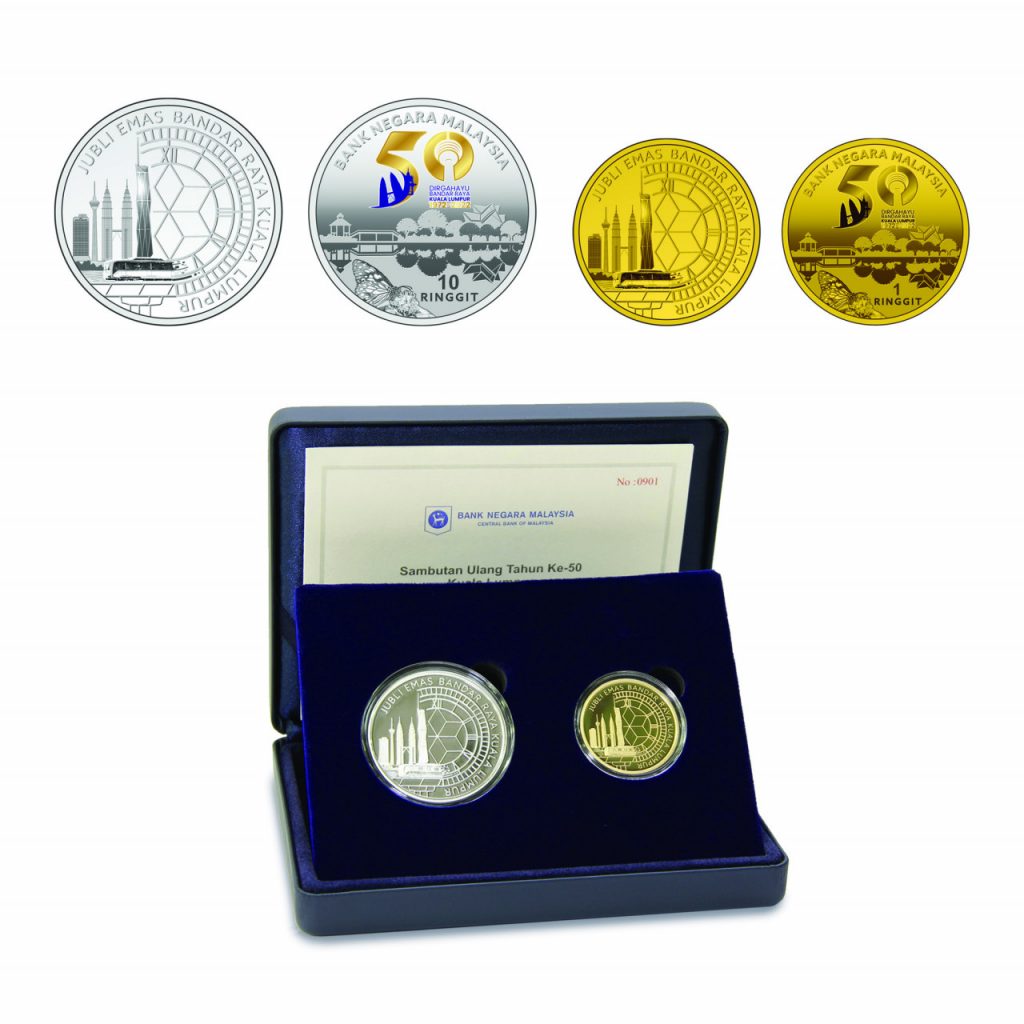 There are two denominations available for the commemorative coins:
Coloured Sterling Silver Commemorative Coin (proof): The coin weighs 31 grams and is made of sterling silver with 92.5 purity. It has a face value of RM10 and will be sold at RM275 per piece. The mintage quantity is 1,000 pieces.
Nordic Gold Brilliant Uncirculated (B.U) Commemorative Coin: This coin weighs 8.5 grams and is made of copper and several other metals. It has a face value of RM1 and will be sold at RM16.50 per piece. The mintage quantity is 5,000 pieces.
These KL50 commemorative coins can also be purchased as a set of two separately packaged coins. The total cost of the set is RM330. Each set includes a proof coin crafted from coloured sterling silver as well as a proof coin crafted from Nordic gold. One thousand complete sets will be made available for purchase in total.
Technical Specifications Of KL50 Commemorative Coins

Note: Prices stated above are inclusive of 10% Sales and Services Tax (SST)
The Coin Designs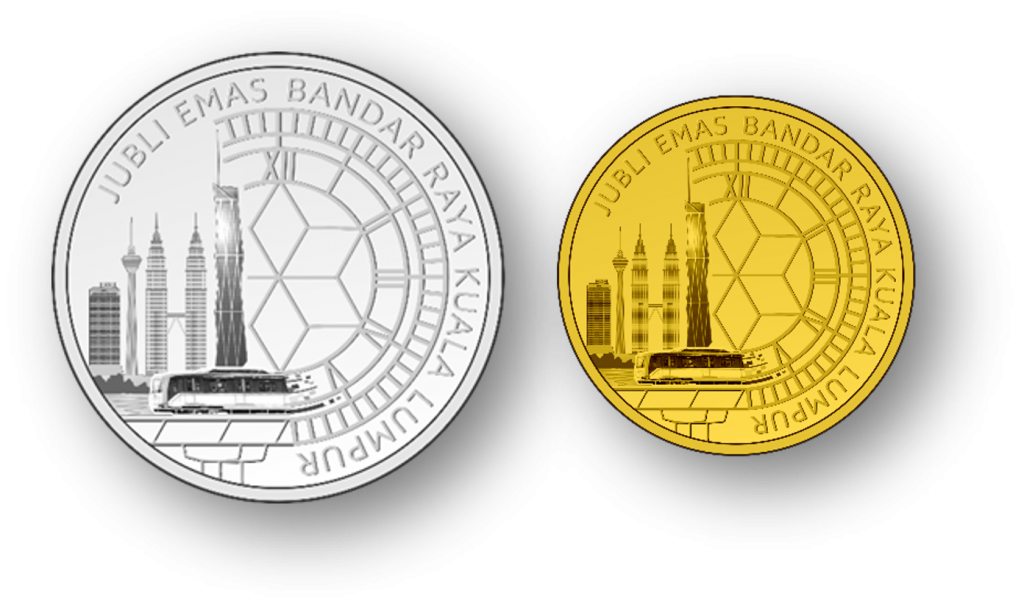 There are two different designs for the KL50 commemorative coins – Obverse and Reverse
Obverse – Kuala Lumpur's skyline and various modes of modern transportation are depicted on the Obverse. Bangunan Sultan Abdul Samad's clock face provides a stark contrast. The passage of time since Kuala Lumpur was elevated to city status in 1972 is represented by this. It represents the city's transformation into a progressive metropolis.
Reverse – The issuing authority, Bank Negara Malaysia, is represented by the text "Bank Negara Malaysia" along the upper circle of the Reverse design, while the logo for the event occupies the lower half (highlighted in colour on silver coins only). There are also parts of the Perdana Botanical Garden and the Istana Budaya structure. They represent Kuala Lumpur's status as an ecologically progressive and cultural epicentre. Below the rim, the denominations "10 Ringgit" and "1 Ringgit" are displayed to indicate the face value of the coins.
Where To Get The KL50 Commemorative Coins?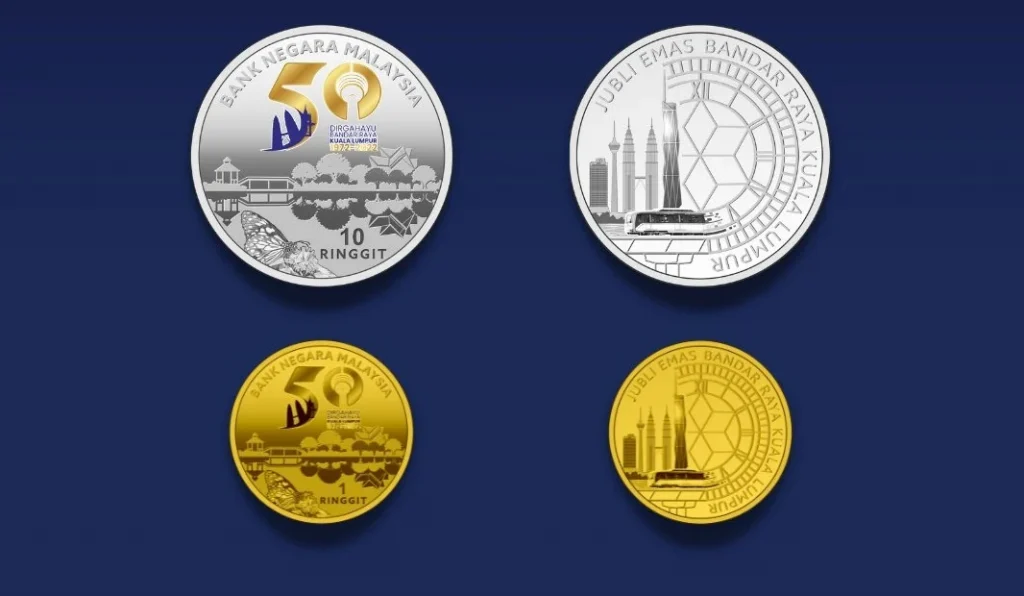 There will be a purchasing restriction of one Set of 2, one coloured sterling silver coin (proof), and up to five Nordic gold (B.U.) coins per individual to ensure that everyone has an equal chance to acquire these limited edition coins.
The deadline for public orders at duit@bnm, Sunday, November 27 at 11:59 p.m.
Customers are reminded to only make purchases through the official Bank Negara Malaysia website, and not through any third party or other unauthorised ordering facility. Also, no consideration will be paid to the timing of an order's placement. Oversubscription will result in a vote by those on the waiting list.