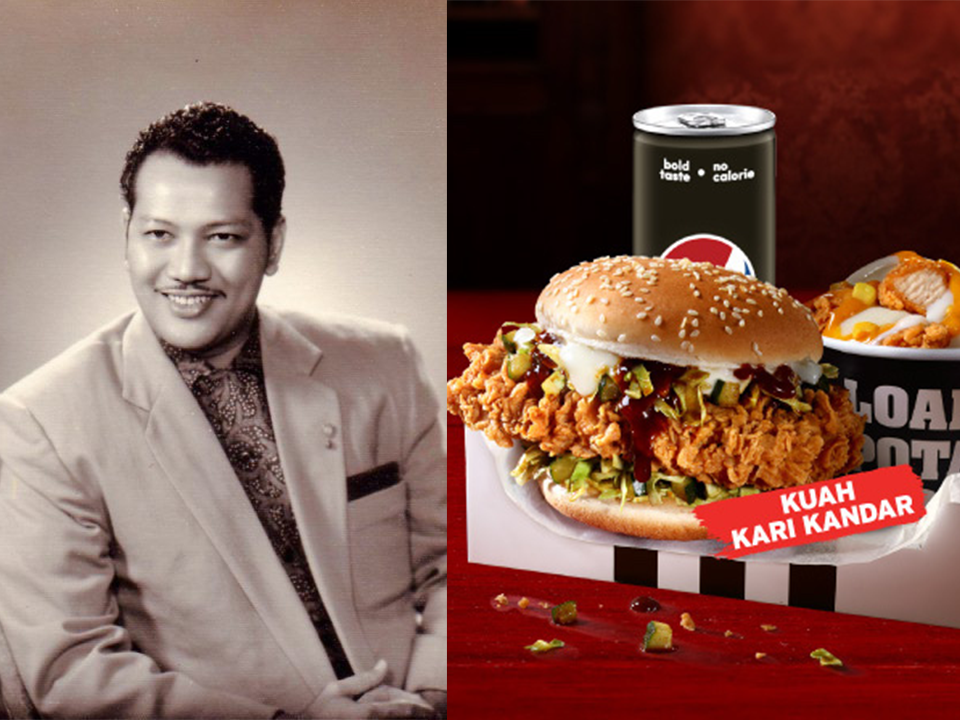 The late legend, Tan Sri P. Ramlee is an icon and pride of Malaysia. Besides being an actor, singer, songwriter, and director, he is also a fan of Nasi Kandar! Today, KFC Malaysia releases Burger P. Ramlee as a tribute to the legend.
The new and exclusive menu is a blend of Nasi Kandar's aromatic flavours and KFC's signature Hot & Spicy Zinger. The Kuah Kari Kandar is made from local herbs and spices such as turmeric, lemongrass, cumin, and curry leaves.
With spicy vegetables and mayonnaise as toppings, the fresh and crunchy Zinger fillet perfectly sits between toasted sesame buns!
Feel the flavours in your mouth~
Burger P. Ramlee is now available at all KFC restaurants in Peninsular Malaysia. There are various options such as À la Carte, Kombo, Set Legenda, and Kombo Ikon.
To get a 10% discount on orders, use the promo code: PRAMLEE on the the KFC app.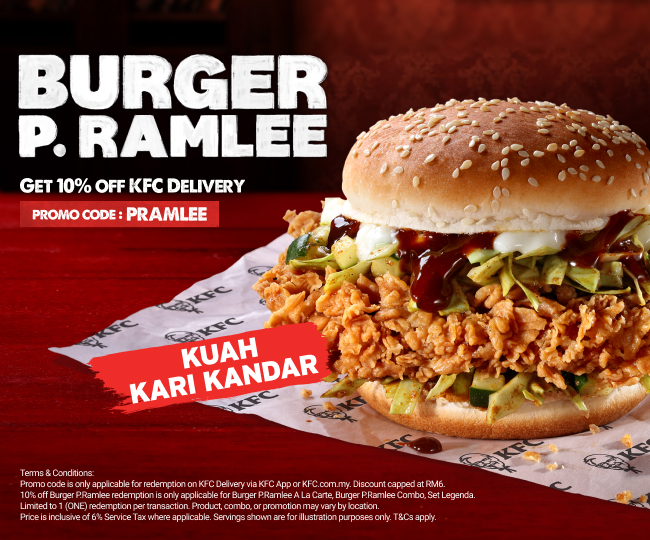 Growing up in Penang, P. Ramlee has always enjoyed Nasi Kandar. Even in his last film, Laksamana Do Re Mi, Nasi Kandar is featured in the scene as he shows his love for the dish.
KFC Malaysia's Chief Marketing Officer, Chan May Ling said, P. Ramlee is a great artist who has left a rich legacy in Malaysian culture that is still relevant and popular.
Our latest innovative menu, Burger P. Ramlee – an enticing combination of KFC Zinger and P Ramlee's favourite food, Nasi Kandar celebrates his legacy and a special tribute to him.

Chan May Ling said in a statement reported by Harian Metro.
Meanwhile, you may order the Burger P. Ramlee via the KFC website or the KFC Malaysia app.
Tap Food for more!