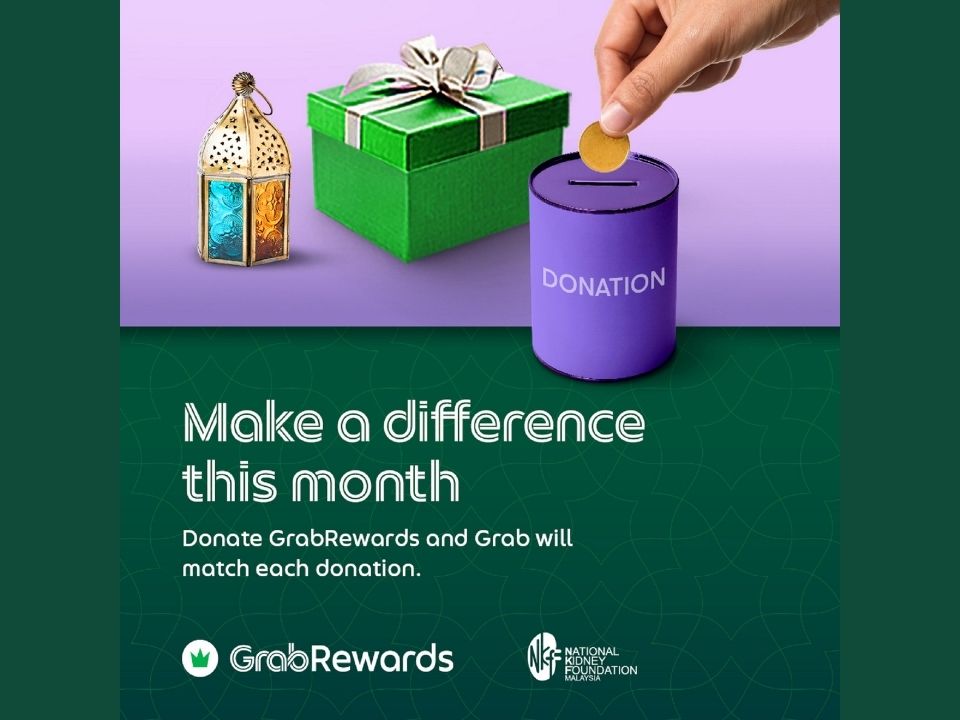 As one of the most awaited celebrations in Malaysia, Hari Raya Aidilfitri is an opportunity, not just for Muslims but all Malaysians to support those who are going through difficulties.
Therefore, in celebrating the spirit of the Raya festivities, the National Kidney Foundation (NKF) of Malaysia is teaming up with Grab Malaysia for their 'Jimat-Jimat, Ingat-Ingat' campaign to raise funds in efforts to provide NKF's underprivileged kidney failure patients with the much-needed care and support.
Make Donations Through GrabRewards
Starting from today until 17 May 2022, Grab users in Malaysia can make a difference by converting their GrabRewards into donations of 'Jimat-Jimat, Ingat-Ingat' or any other various charities and organizations. One of it is including NKF Malaysia, to make donations to the unfortunate especially during this Hari Raya. With this online donation platform from Grab Malaysia, all Malaysians can channel their donation with just at the end of the fingertips.
Furthermore, Grab will pay it forward by matching the value of each and every donation 'Jimat-Jimat, Ingat-Ingat' made to NKF Malaysia. This is your opportunity to help the underprivileged kidney failure patients in Malaysia.
How To Donate To 'Jimat-Jimat, Ingat-Ingat' Campaign?
Those who are interested in contributing towards the 'Jimat-Jimat, Ingat-Ingat' campaign, the organization's efforts for dialysis patients can follow these simple steps:
1. Click on the "Points" function in the Grab app
2. Select "Services"
3. Select "National Kidney Foundation of Malaysia" – Donate RM 5 (800 points) or RM20 (3,200 points) to save lives
4. Click "Redeem"
Always remember, that every little support from you means the world to them. It doesn't matter how much you amount you donate to NKF Malaysia. So, with this initiative from Grab Malaysia, come show your support – once you Jimat-Jimat on the Grab app, Ingat-Ingat to do your part for the less fortunate this Hari Raya! For more information about the campaign of 'Jimat-Jimat, Ingat- Ingat', feel free to visit nkf.org.my/support-us/project-campaign/grabrewards/ or you can straightly call this number: 03-7954 9048 ext. 208.
Read more on Grab Malaysia: