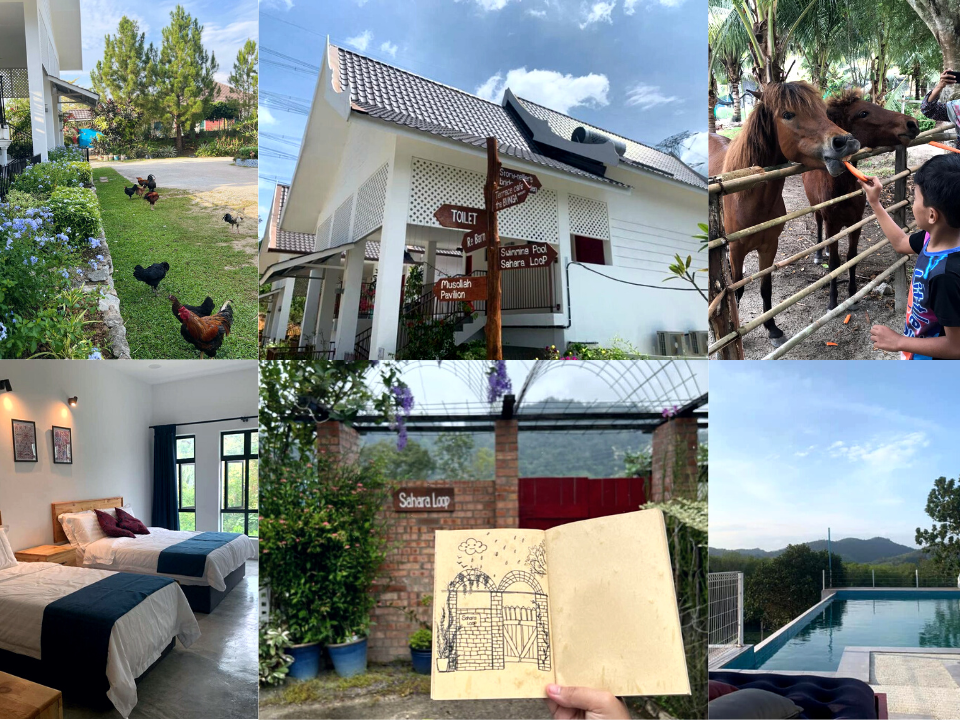 Jelatok Retreat Farm (JRF) is labelled as the second Cameron Highlands in Malaysia, while it's located near Klang Valley. Let's discover what this place has to offer, plus, the magical scenery that we should expect when we're there!
Jelatok Retreat Farm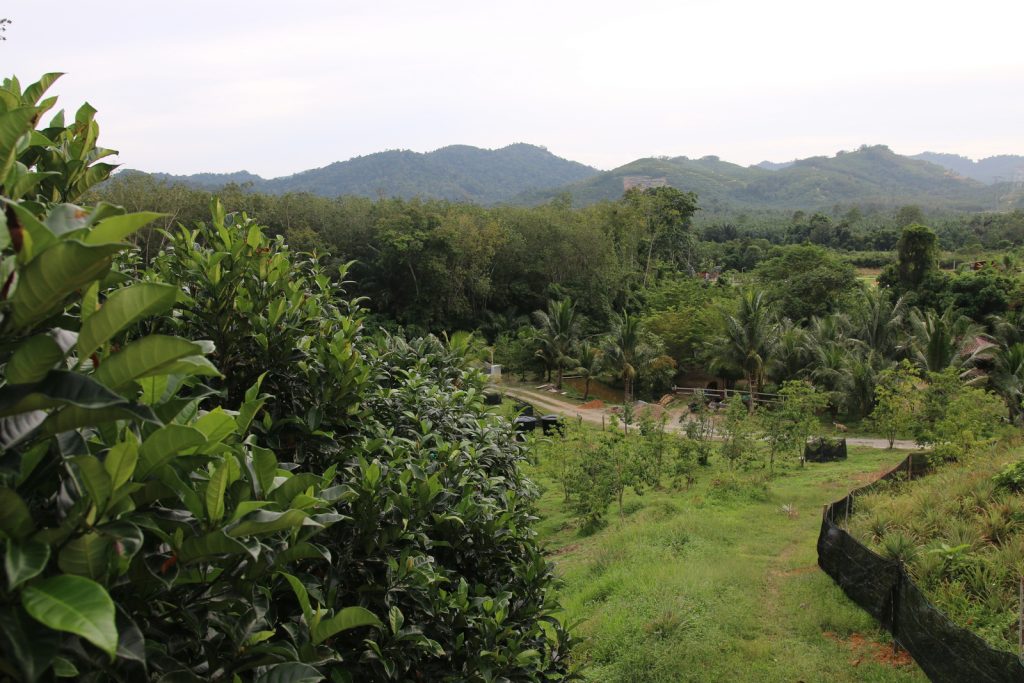 This scenic retreat farm is located at the hills of Kampung Jelatok, Mendom in a little town called 'Lenggeng' in Negeri Sembilan. It is only 45 minutes-drive from Cheras, Kuala Lumpur, & Putrajaya through the LEKAS highway. This eight-acre little farm is what we described as a place of nature married to agriculture, thus producing an eco-agro-tourism background suitable for nature lovers.
STAY @ Rebarn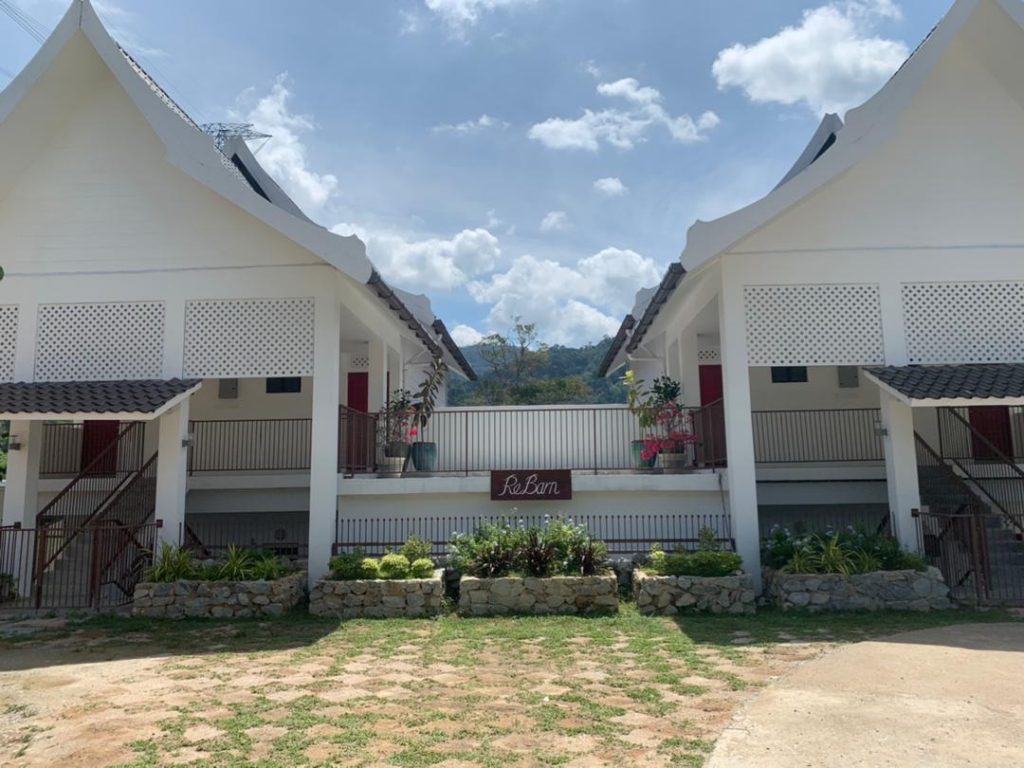 For those who wish to stay the night or maybe conduct a meeting, you can place a booking at their STAY @ Rebarn. For the stay-over package, they can offer an eight en-suite rooms and each room can accommodate up to three pax.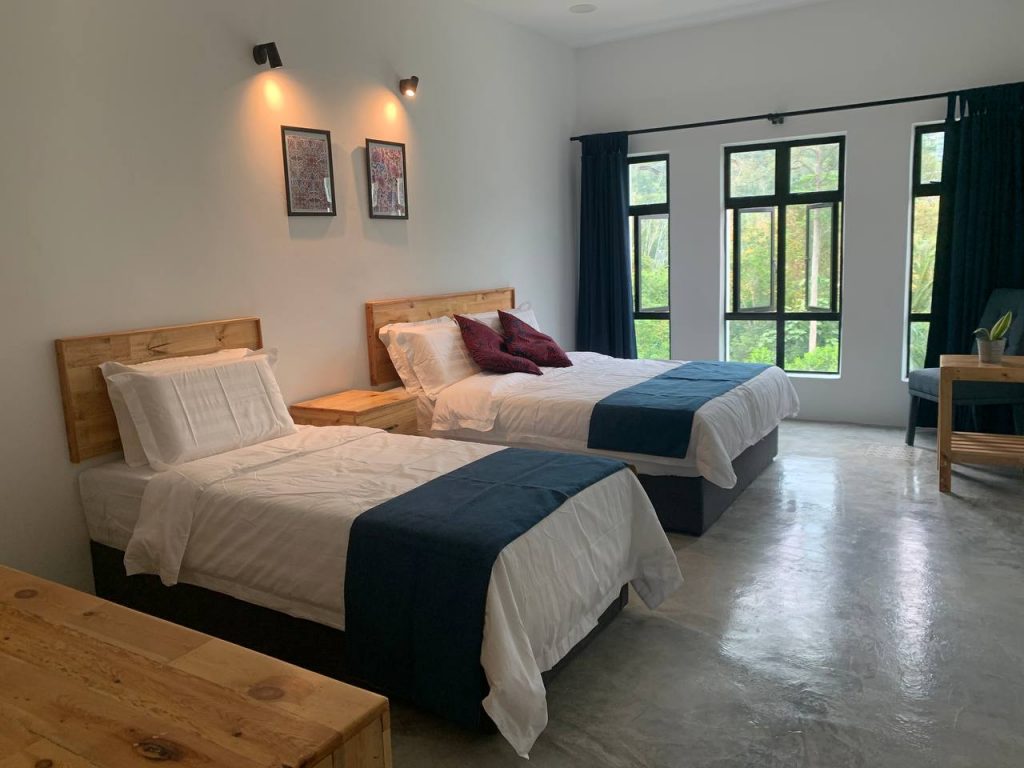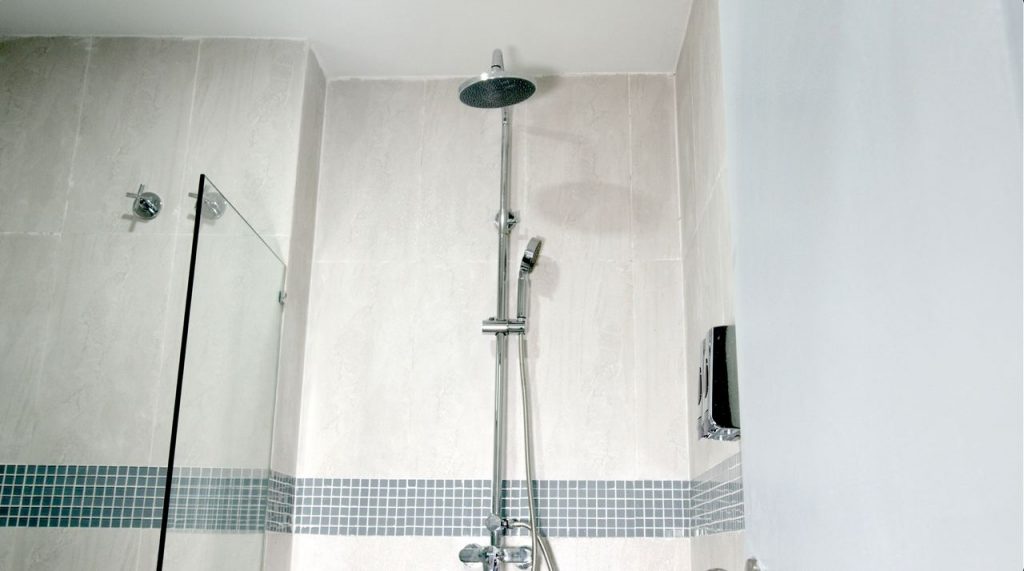 The room details and services are as follows:
Room Features
Accommodates: 3 adults per room
Beds: 1 Queen Bed + 1 Single Bed
Bathroom: 1
Size: 300 sqf
Services & Amenities
Television (with some documentaries / kids program downloaded in the USB)
Air Conditioning
Hot water shower
Bathroom amenities
Minibar
Kettle
Complimentary coffee, tea, and bottled water
Check-in: 3:00pm
Check out: 12:00pm
To further look into their staying packages, click this link!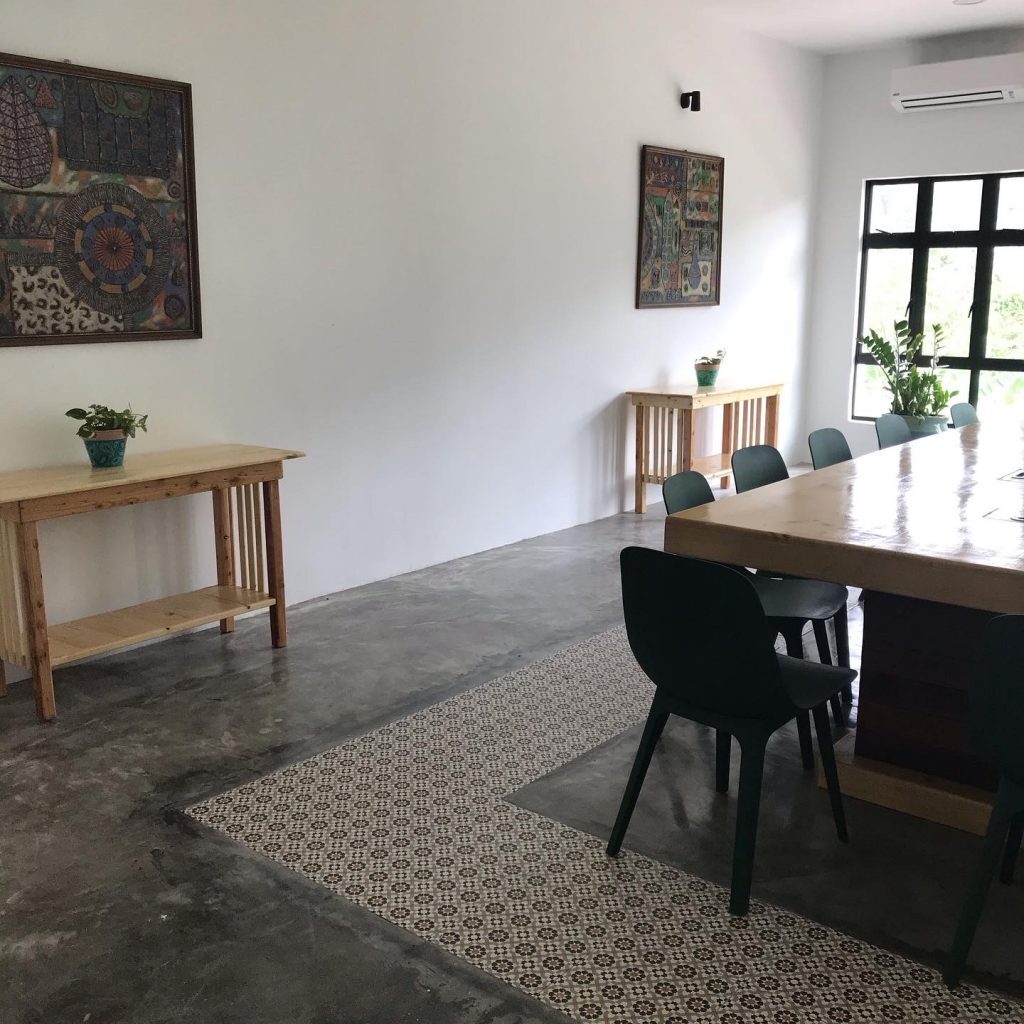 On the other hand, for meetings, you can arrange for your talks, discussions, or seminars at the rustic meeting room in ReBarn.
Terrace Cafe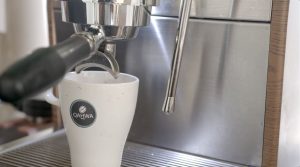 Terrace Cafe is the highlight of this retreat farm where you can enjoy your meals imagining like you're at Cameron Highlands.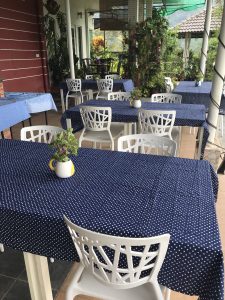 Operating hour:
Monday – Friday, 12:00pm – 6:00pm
Saturday & Sunday, 10:00am – 6:00pm
For latest menu, visit their Instagram or Facebook
Activities To do At Jelatok Retreat Farm
For nature lovers out there, the activities they offer are all suitable to your likings. You'll thank me later!
Activities Inside The Farm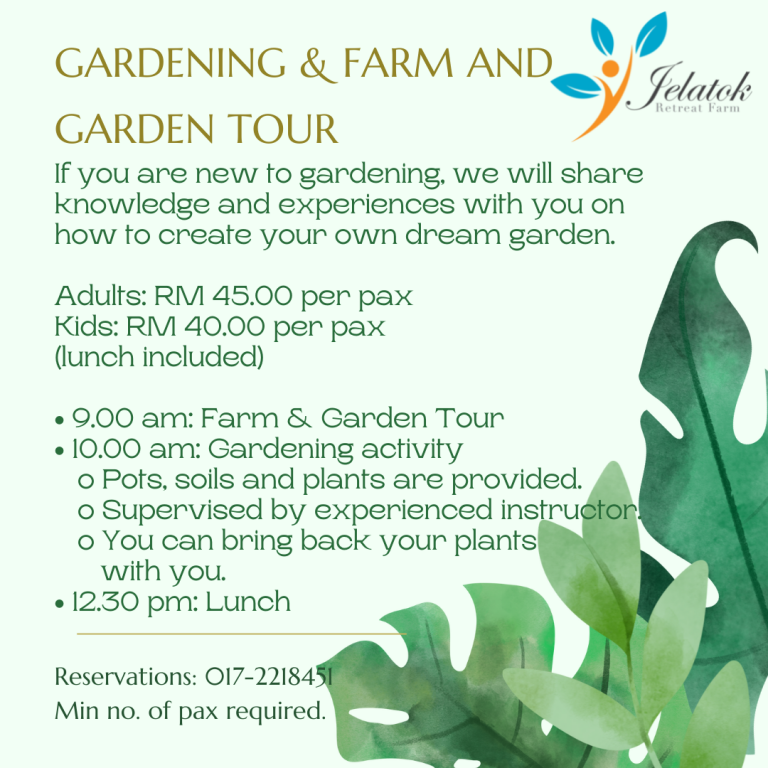 More activities inside the farm is as follows:
1.
Stay at the farm stay (ReBarn) – relax and enjoy being close to nature
2.
Have a dip in the infinity pool (for stay in guests only)
3.
Visit the scenic fruit farm (bananas, soursop, pineapple, lemon, passion fruit, coconut, avocado and other tropical fruit)
4.
Tour the beautiful garden (with a lot of species including our Herbs Garden, Story Teller Garden & Bridge, Sahara Loop) and
gain more knowledge on plants
5.
Enjoy your meal at our cozy Terrace Cafe
6.
Visit our mini nursery for selections of many types of plants and choices of in-house created hand painted pots
7.
Amphitheater space for any kind of show and performance (for stay in guests only)
8.
Kids: seeing the free-range chicken running around
9.
Kids: meet three friendly medium-sized horses
Activities Outside The Farm
Activities to discover outside the farm is as follows:
| | |
| --- | --- |
| 1. | Jungle trekking |
| 2. | Cycling track |
| 3. | Visit some waterfall spots |
| 4. | Visit animal farms |
| 5. | Visit local villages and see old Minangkabau houses |
| 6. | Visit Orang Asli villages |
Living in this modern world, we sometimes need to distance ourselves from the gadgets and come back to nature. This retreat farm is definitely the right move to do so. You can have a relaxing holiday while enjoying your tea with cinematic views.
For more information and details, kindly visit their Official Website, Instagram, or Facebook
More to read for nature lovers: