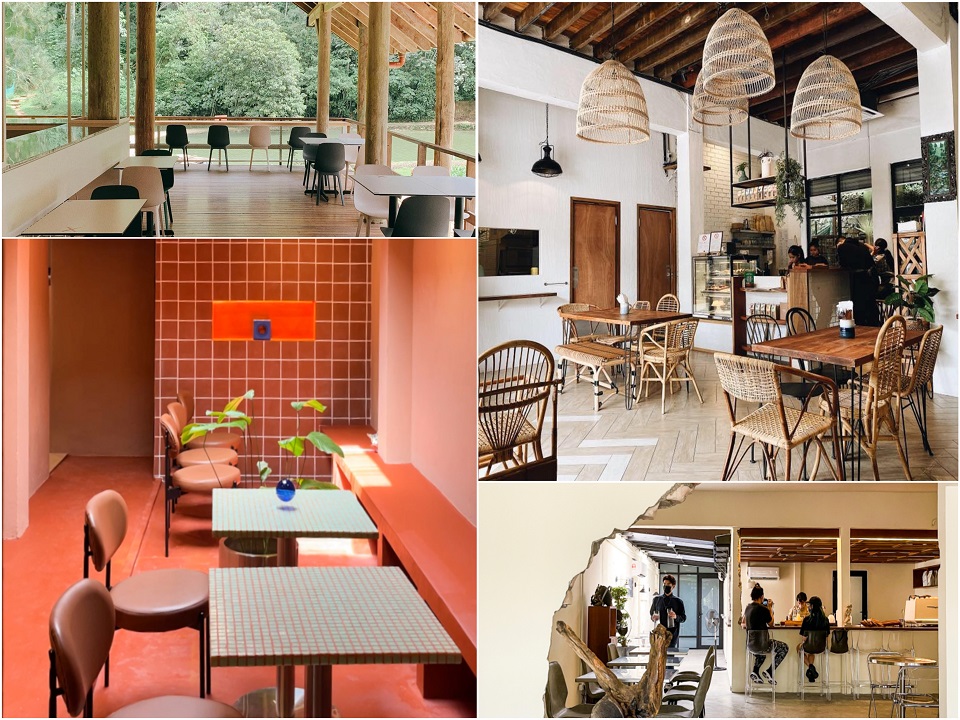 Instagrammable cafe is becoming a thing and hot topic in Malaysia, especially among Millenials and Gen-Zs. Some of them take interstate vacations, ticking places off their bucket lists. Some decide to take a long weekend to visit their long-distance families.
At the same time, some choose to stay in the city and have food hunts with their close ones.
Nevertheless, if you are one of those who enjoys visiting new cafes in Kuala Lumpur, this article is for you! The Malaysian government lifted the restrictions from dining out in August 2021, urging eateries to operate as usual. Hence, there has been an increased amount of new operations ever since. 
From Kuala Lumpur all the way to Sabah, here are the 15 eateries that you should check out this weekend!
Klang Valley Area
1. Bramble – Jalan Perak, KL
Located in the heart of Kuala Lumpur, Bramble is a great place for a go-to Americano to kick start your day.
2. Princeps – Bukit Tunku, KL
It's no wonder why Princeps Bistro is considered an elite among the elites. Located in an upper-class residential area, they serve meals that are beyond unimaginable.
3. Hani Eatery – Bangsar, KL
Despite just operating on October 6th, Hani Eatery has been under the buzz, appearing on almost all local food bloggers' social media feeds. So, this place is a must to visit with your pals!
4. Oh Apong – Kota Damansara, PJ
Cannot get rid of the Malaysian heat? Head to Oh Apong and enjoy the best gula apong ice cream you'll ever taste in your life!
5. Poppy Kat – Cheras, KL
Head over to this pop cafe in Cheras and enjoy a nice bagel while making new (furry) friends with their adorable rescue cats.
6. Kopi Senget – Banting, Selangor
Hop on a 45 minutes drive to Teluk Panglima Garang where you'll find a quaint cafe. Never underestimate this small place as reviews of their coffees are booming, especially across social media platforms.
7. Tanned – Publika, KL
No one can stop you from having a coffee-and-croissant break after a long shopping time with your BFFs. In the meantime, you can even pamper yourself with Tanned's partner, Cocodry.
8. White Land – Jalan Pantai Murni, KL
There is no better combo than a minimal white interior mixed with freshly brewed coffee. Consider this place on your next cafe hunt.
9. The Dough Factory – Bandar Sri Damansara, PJ
Just opened in June 2021, this cafe already has more than 40 types of pastries to offer!
10. bröom Artisan Bakery & Kitchen – Taman Paramount, PJ
A beautiful interior with natural lighting and a wide array of food choices would make you a returning visitor to this cafe.
Outside of Klang Valley
11. Kohi – Kuantan, Pahang
Who would've expect to see a Japanese inspired cafe in Kuantan, Pahang? Now I feel like packing my bags for a trip there!
12. Pineyard – Janda Baik, Pahang
Janda Baik is known for its refreshing air and relaxing streams. Imagine yourself dining out while experiencing the good things that Janda Baik has to offer.
13. August Healing – Ipoh, Perak
Go ahead and run your "Hometown Cha Cha Cha" imagination wild at this homely Korean cafe. They serve a variety of cakes and sweet treats every day!
14. Nook Cafe – Kota Kinabalu, Sabah
To those currently in Sabah, there is a decent eatery in Kota Kinabalu that can satisfy your delicacy cravings.
15. Grumpy Goat Cafe – Masai, Johor
This big double-storey establishment has been gaining attention mainly from those who reside in Johor. They serve all kinds of food ranging from Japanese to Western.
Looking for something more extravagant?
Hope into the list of rooftop restaurants and bars with beautiful views for a romantic date night.