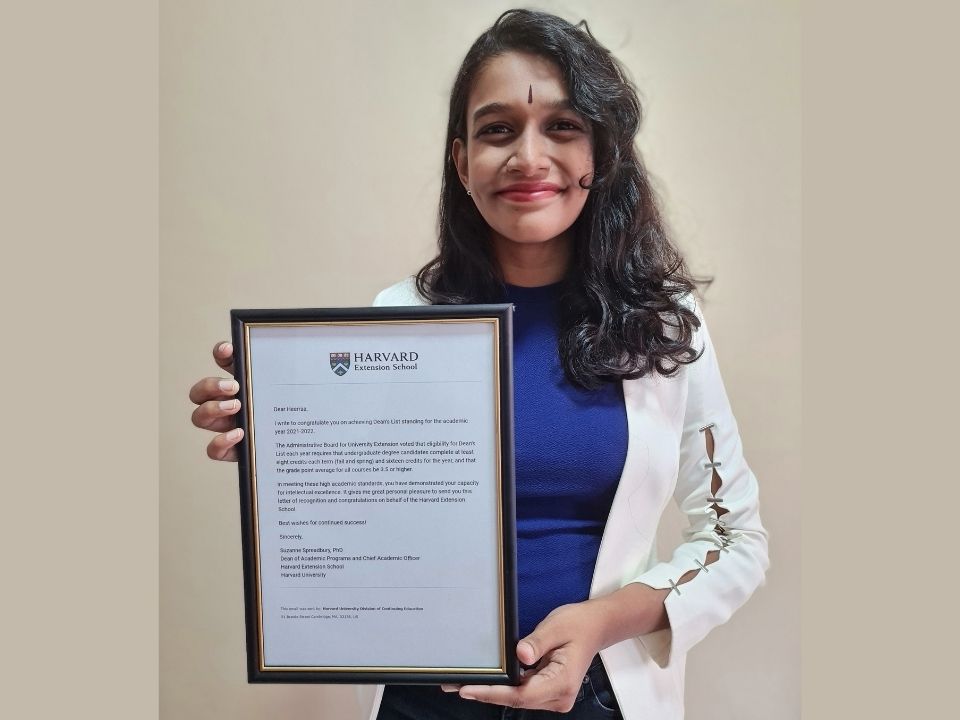 Malaysian-born undergraduate, Heerraa Ravindran earned herself a spot on Harvard University's Dean's List Honors 2021-2022 while pursuing her Bachelor of Liberal Arts Degree.
Heerraa Ravindran's Harvard Journey
22-year-old Heerraa Ravindran was accepted as an undergraduate at Harvard's ALB Degree program last year after months of hard work to meet the ivy league's distinguished requirements.
Starting her Harvard journey in the middle of the pandemic, Heerraa managed to attend her live classes in Boston while she was in Kuala Lumpur, often waking up at midnight or 5 am to attend classes or club meetings despite the 12-hour time difference.
Heerraa Ravindran was very honored to be one of Harvard's Dean's List, she further said:
I was very shocked when I received the news that I was honored on Harvard's Dean's List. It was so much fun learning and attending the classes and meeting my professors and classmates from around the world, that I did not expect to receive such recognition. I really need to thank my family for supporting my journey in pursuing my education at Harvard while also enabling me to grow in my career.

Heerraa Ravindran
Apart from being the recipient of Harvard's Dean's List, Heerraa Ravindran also produced a song Harvard's Undergraduate Songwriter's Collective (HUSC)'s album. Not only in academics, but Heerraa is also excellent in other things as well.
Advisor At Ascendance
Between juggling her challenging assignments and studio sessions to record her upcoming album to be released in August this year, Heerraa is also an advisor to the global youth movement, Ascendance.
Unlike the ordinary college student, Heerraa isn't going to university to get a job but instead to bring Ascendance and her music career to the global stage. She spends her time guiding a young team of Gen Zs to discover their passion and build their character with Ascendance's aim to impact #OneMillionTeens.
Recently, Heerraa has been elected as the Director of Communications at the Harvard Extension Student Association (HESA) for the upcoming academic year. Heerraa will be entering her sophomore year this fall and is excited to visit Harvard's breathtaking campus in Boston, the United States of America.
To get to know Heerraa Ravindran more, kindly visit her LinkedIn profile.