Balai Seni Maybank reopening is accepting visitors after their two-year hiatus. Presenting a comics art exhibition entitled "Hari Hari Malaysia", in conjunction with this year's Merdeka and Hari Malaysia celebrations similar to Warisan Sudir Gallery. This exhibition will be available until this September 30.
Hari Hari Malaysia Comics Exhibition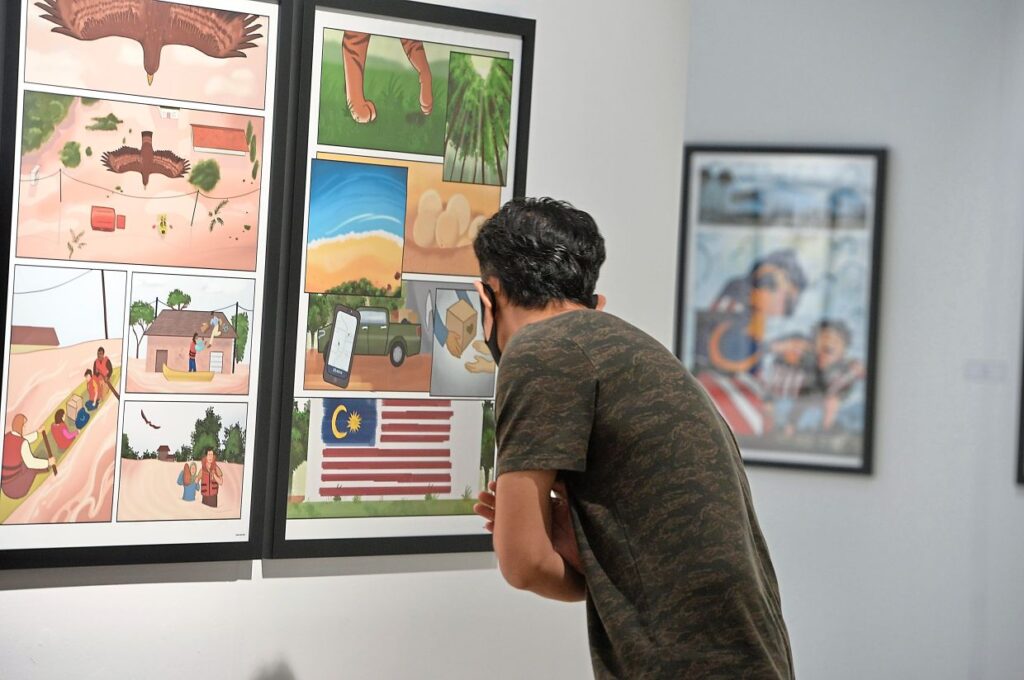 The comic art exhibition with the theme "Hari Hari Malaysia" at Balai Seni Maybank showcases a collection of wordless comics celebrating independence and nationhood. This exhibition which features 88 artworks from about 20 young comic local artists aims to promote artworks of local artists with the goals to raise awareness and appreciate Malaysia's diversity and unity.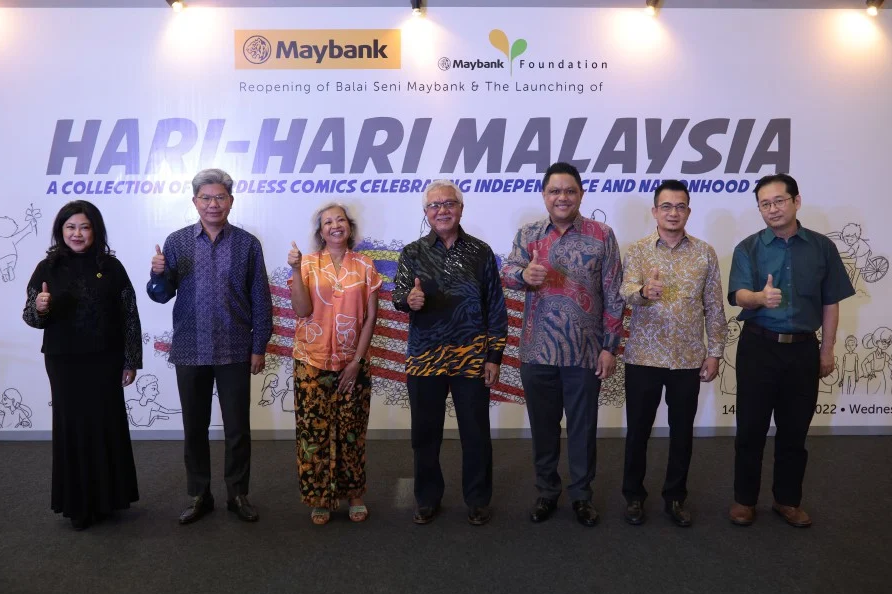 Tan Sri Zamzamzairani Mohd Isa, Maybank Chairman said,
After more than a two-year hiatus, our Balai Seni returns and we are excited to reconnect with the artists and art lovers from across the country. This latest exhibition is very close to our heart as it underlines the importance of independence while showcasing the diversity and creativity of the arts, as well as the joys of appreciating the many iterations and interpretation of fine arts through the lens of young and emerging local artists.

Tan Sri Zamzamzairani Mohd Isa, Maybank Chairman
Exhibition Details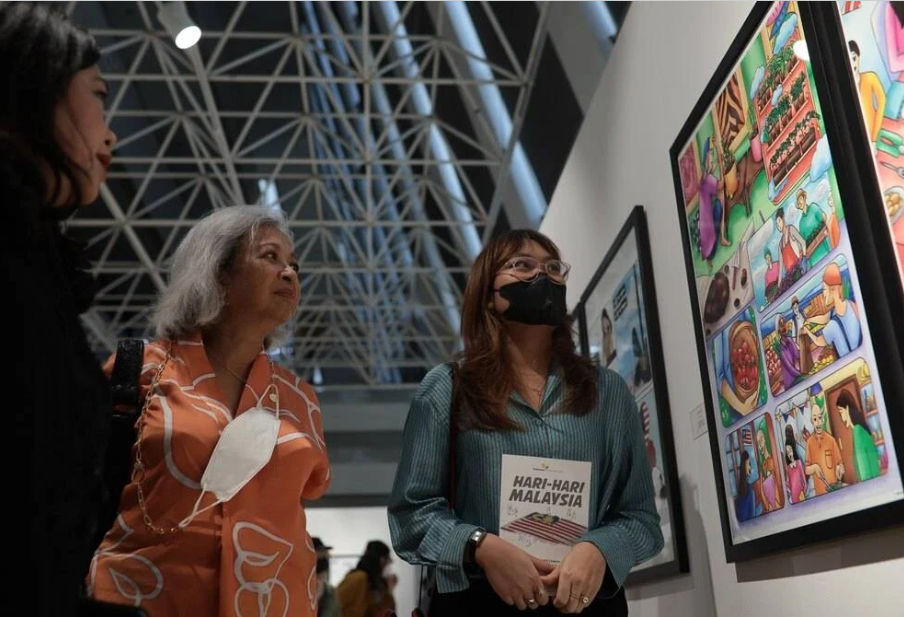 This Hari Hari Malaysia Art Exhibition at Balai Seni Maybank will be available until September 30, 2022, and here's are the details if you're interested to visit:
Time & Day:
10am – 5pm (Monday to Friday)
11am – 4pm (Saturday)
Address: Menara Maybank, 100, Jalan Tun Perak, Bukit Bintang, 50050 Kuala Lumpur, Wilayah Persekutuan Kuala Lumpur, Malaysia 
Oh, not to forget, the admission to the gallery on the first floor of Menara Maybank is FREE!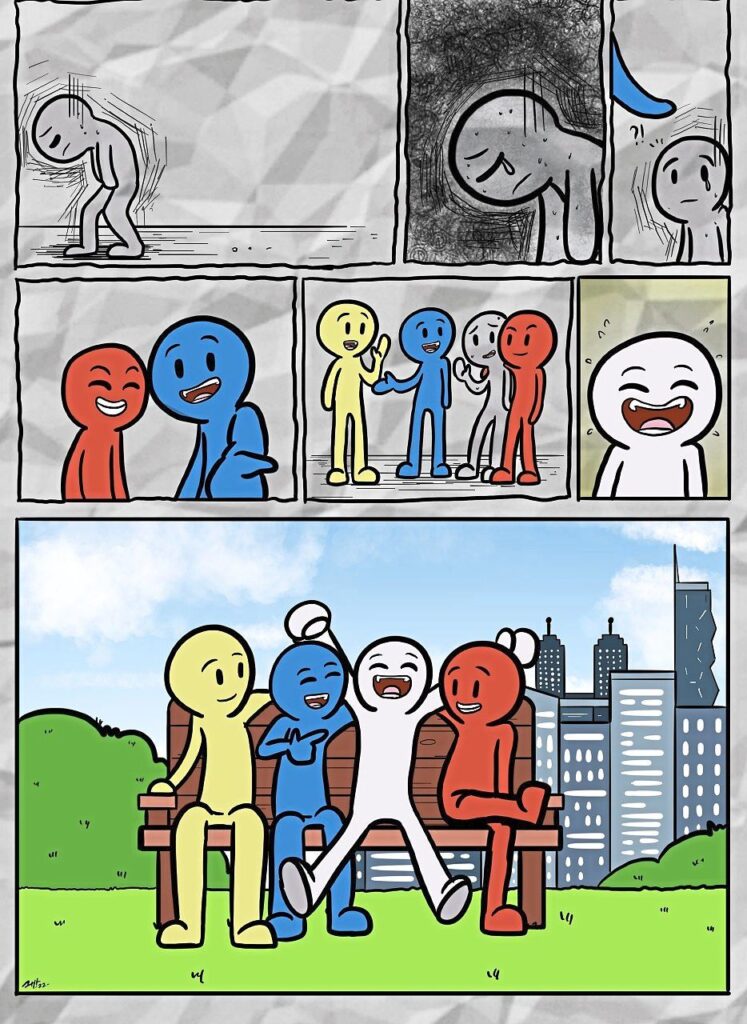 One of Muhammad Amir Danial Mohd Khaironi's artwork, Untukmu, reflects on the resilient spirit of Malaysians during the pandemic.. When asked in detail about it, he said:
During this time, most of us gave up on life. Many had to give up their jobs, families and home. As a result, their thoughts are jumbled and they have lost focus in their lives. We must assist and aid them with the spirit of #kitajagakita and developing Malaysia from the ground up together.

Muhammad Amir Danial Mohd Khaironi, Malaysian Local Artist
Other than that, Karina Nayli Zaidi goes for family and food in her A Jolly Brunch, depicting a united and happy family seated around a table. Explaining more, she stated:
With a sense of wellbeing, they encourage and support each other so as to be able to strive and achieve wonderful things as an individual and as a family.

Karina Nayli Zaidi, Malaysia Local Artist
The list of local artists featured in this exhibition are as follows:
| | |
| --- | --- |
| 1. | Marsha Akmal Hizam |
| 2. | Seow Kar Yan |
| 3. | Ain Amirah Mohd Robi |
| 4. | Asma Azarisman |
| 5. | Cao Si Qi |
| 6. | Chew Sue Phing |
| 7. | Chin Tong Xin |
| 8. | Chuah Yunke |
| 9. | Daphaney Wong Yun Xian |
| 10. | Edra Scarlett |
| 11. | Farrah Yusoff |
| 12. | Goh Xuan Le |
| 13. | Karina Nayli Zaidi |
| 14. | Leong Yi Zhen |
| 15. | Muhammad Amir Danial Mohd Khaironi |
| 16. | Nueru |
| 17. | Too Cheng Shuang |
| 18. | Tunku Yusrina Tunku Nazrin |
| 19. | Wan Nurasyiqin Wan Mohd Lotfi |
| 20. | Wong Chi Ying |
Calling all Malaysian manga lovers, what are y'all waiting for? Let's support and appreciate our local "manga" by visiting this exhibition. For more information and details, kindly visit their official website or Facebook.
More art exhibition or gallery to visit in Malaysia: