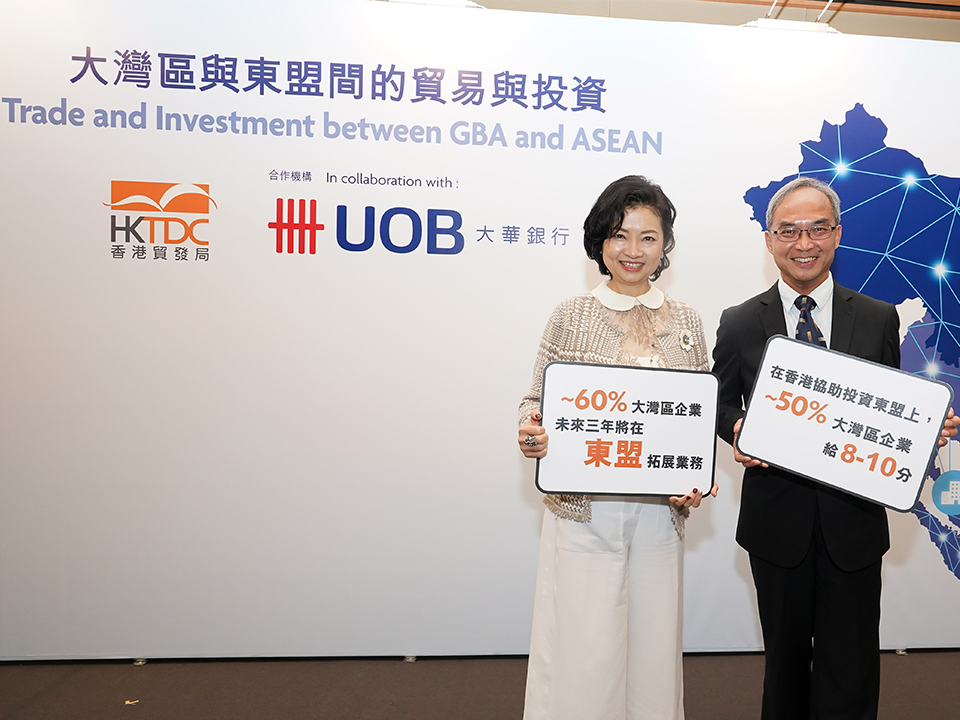 A research report by UOB Hong Kong Branch and the Hong Kong Trade Development Council (HKTDC) indicates that close to 60% of companies in the Guangdong-Hong Kong-Macao Greater Bay Area (GBA) are considering further expansion into the Association of Southeast Asian Nations (ASEAN) countries in the next three years.
The Trade and Investment between GBA and ASEAN and the Role of Hong Kong report is based on a survey conducted by HKTDC from July to September 202. It involves 657 GBA companies from various sectors whereby some respondents participated in an in-depth interview to understand the opportunities and challenges they faced in their business expansion in ASEAN countries, as well as their views on Hong Kong's roles in promoting trade and investment between GBA and ASEAN.
Trade and Investment between GBA companies and ASEAN and the Roles of Hong Kong report
The Trade and Investment between GBA and ASEAN and the Roles of Hong Kong report shows that GBA companies highly value Hong Kong's services and expect the business hub to facilitate trade and investment between the two regions to grow in importance.
Hong Kong's services include:
Banking and finance
Legal, dispute resolution
IP-related services
MICE (meetings, incentives, conferencing and exhibitions) services
Logistics and supply chain management
Sales and marketing
Research and development
Popular trade investment destination
Singapore, Malaysia, Vietnam, Thailand and the Philippines, are the top trade and investment destinations among the 10 ASEAN countries. In the next three years, most of the GBA companies will choose Singapore (55.4%), Malaysia (53.0%) and Vietnam (51.1%) as markets for sales. As for production or sourcing bases, Vietnam(14.5%), Thailand (10.4%) and Indonesia (8.1%) are the preferred countries.
Another 10.4% of the GBA companies also preferred to set up their regional offices in Singapore.
Key pull factors of ASEAN countries
According to the GBA companies survey, cost-effectiveness, abundant resources and huge markets are the keys that attract interest for the ASEAN region. The greatest interest came from those in the industrial goods sector with a score of 6.56 out of 10, in expanding their business in ASEAN. This was followed by companies in real estate, hospitality and construction (6.21), as well as the business, professional and financial services sectors (5.71).
Mrs Christine Ip, Chief Executive Officer (CEO) of Greater China of UOB said that the cross-border trade and investment flows between ASEAN countries and the GBA are driven by the two regions' increasing interconnectivity and collaboration in areas such as sustainable development.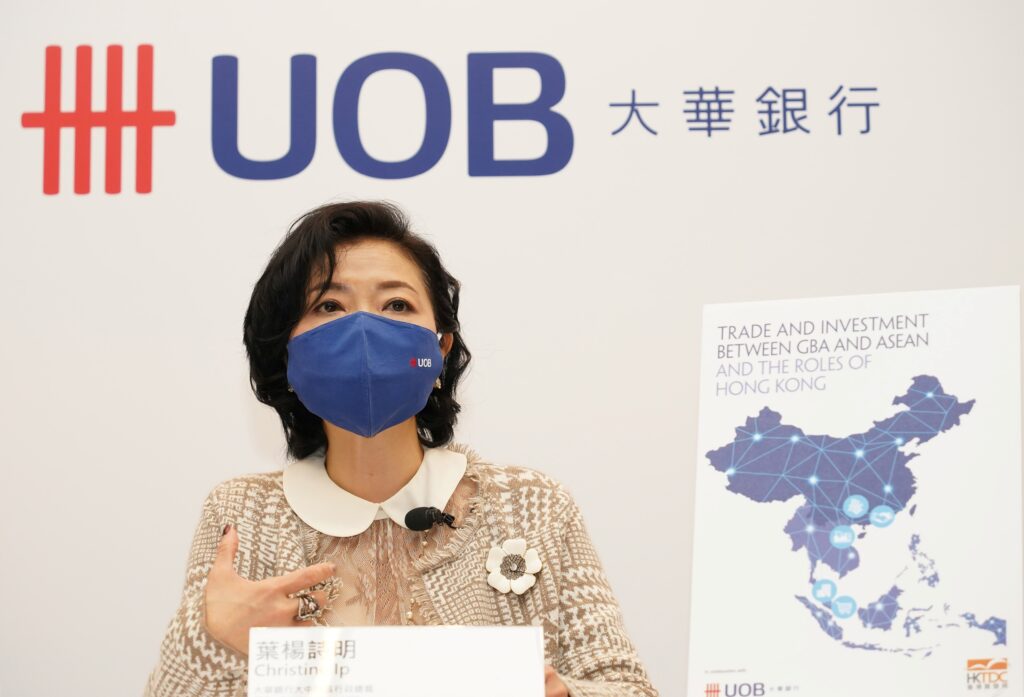 At UOB, we are committed to assisting companies in capturing overseas business opportunities through our deep sectoral expertise, strong local talents and our extensive footprint in Southeast Asia. Over the past 10 years, the UOB Foreign Direct Investment Advisory Unit has supported more than 3,500 companies in their cross-border investments, of which about one-third are Chinese companies.

Mrs Christine Ip, CEO –Greater China of UOB
Mr Nicholas Kwan, Director of Research, HKTDC highlighted that Hong Kong must further foster its interconnectivity with other GBA cities and ASEAN countries to boost its role in facilitating two-way trade and investment flows.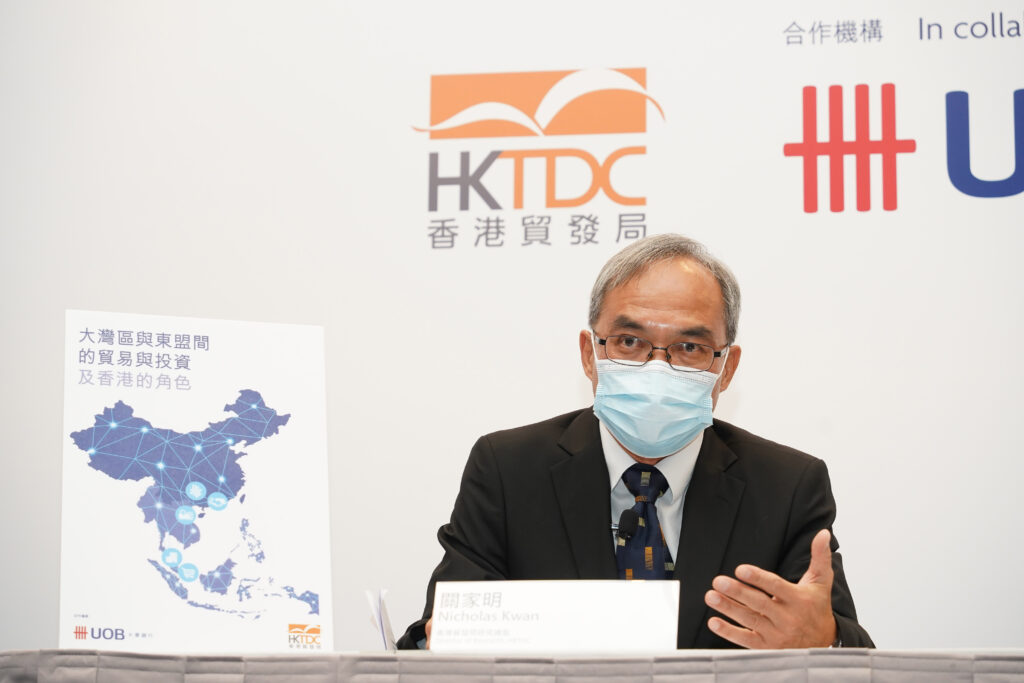 When the pandemic subsides and border controls relax, cross-border trade and investment will be more active. GBA companies must reconnect with overseas buyers and partners quickly. Being the trade fair capital and business hub in Asia, Hong Kong can help GBA companies fortify ties with their counterparts in ASEAN and promote trade between the two regions.

Mr Nicholas Kwan, Director of Research, HKTDC
Hong Kong's role and services sector highly regarded
Meanwhile, the report also shows that GBA companies value Hong Kong's role in the region's collaboration with ASEAN countries. It achieved an average score of 7.33 out of 10. 47.2% of the respondents gave a score of 8 to 10.
41.6% of the respondents also hope that Hong Kong can be a one-stop business centre whereas 38.7% wants the city to provide a simplified and harmonised tax system, as well as 38.4%, wants more diversified investment products and services.
Top services in Hong Kong
Moreover, respondents said MICE (meetings, incentives, conferences and exhibitions), sales and marketing, logistics and supply chain management, as well as financial services are the most frequently used services in Hong Kong.
These services in Hong Kong are well received and respondents are highly satisfied with the level of services. These respondents said they will use more of these services in the next three years.
Overseas expansion into ASEAN countries
Additionally, 40.9% of GBA companies look to Hong Kong to provide more comprehensive information, services and support.
Another 39.4% hope that public bodies or regulatory institutions can do more in facilitating trade and investment flows with their ASEAN counterparts while 39.1% want to open up regional trade and investment further with new policies
Mr Kwan said Hong Kong's advantages in the business environment, financial infrastructure and cross-border resource flow is highly appreciated by GBA companies.
Most of them believe that the city's transparent regulatory system, extensive commercial network, diversified financial and banking services, coupled with free flow of goods and capital among GBA cities, and absence of foreign exchange and capital controls with ASEAN, make Hong Kong an ideal two-way platform to facilitate trade and investment between the GBA and ASEAN.

Mr Nicholas Kwan, Director of Research, HKTDC
On the other hand, Mrs Ip said Hong Kong can further enhance its role as an essential bridge for GBA companies when they expand into ASEAN countries as an international financial centre with a strategic location within the GBA.
UOB's dedicated Greater Bay Area team in Hong Kong also plays our part in helping GBA companies understand and appreciate the diversity of the ASEAN markets to capture more regional business opportunities.

Mrs Christine Ip, CEO – Greater China of UOB