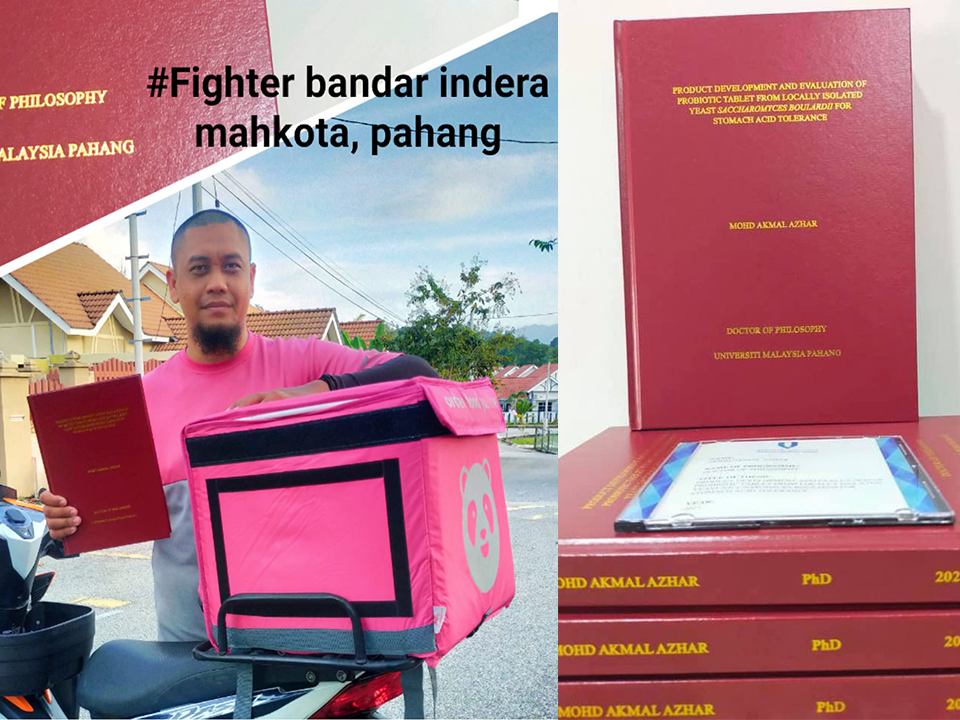 Foodpanda rider Mohd Akmal Azhar won the respect of Malaysians for being able to juggle between working as a delivery rider and studying for his Doctor of Philosophy (PhD).
To celebrate his achievement, Akmal shared a photo of himself with the results of his thesis study to the FoodPanda Rider Malaysia group on Facebook.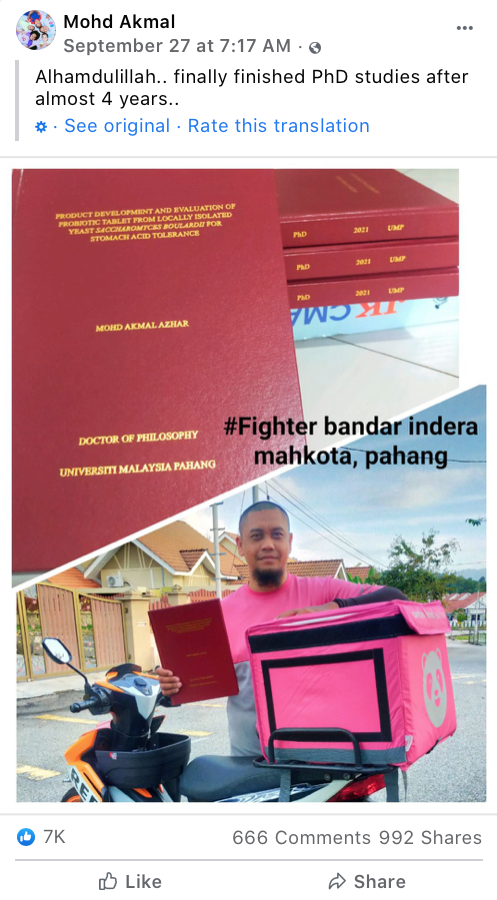 The post garnered over 7K likes and 600 comments, impressing everyone with his successful journey.
How did this Foodpanda rider earn his PhD while working full-time?
Akmal was studying his PhD in Pharmaceutical Technology at Universiti Malaysia Pahang.
The 36-year-old man, who currently lives in Pahang, worked full-time as a Foodpanda rider since the first Movement Control Order (MCO) started. It was during the final year of his studies.
According to Malay Mail, although he received funding to pursue his studies for three years, he had to find a job to pay his student bill for his fourth year of study.
Time management is key
Akmal acknowledges that time and energy are the main challenges for him.
As being a 'rider' is his main source of income, he needed a balanced division of time.
He made time to write his thesis every night
Akmal will spend at least one hour every night writing his thesis.
Luckily, he completed his lab work and experiments during the first three years of his studies. Therefore, he was able to solely focus on his thesis while working.
Usually in the morning I would use my time to work and in the evening I will finish writing my thesis. If there are tasks that require me to be present at the university, I would take leave. So far, Alhamdulillah, Allah has eased everything for me.

– Akmal told Kosmo!
Passionate about seeking knowledge
Akmal shared that he was able to complete his studies every night because of his passion to seek knowledge.
Even as a rider, he thinks that he learned a lot. The experience taught him a lot about soft skills, ways to communicate, as well as helping him to develop patience and time management skills.
Successfully earned his PhD after 4 years
The perseverance of this FoodPanda rider who worked hard while studying for four years paid off when he successfully graduated.
In a Facebook post, he thanked his parents for their encouragements, as well as his wife for her support and understanding of his daily routine as a student.
From Foodpanda rider to PhD doctor, Akmal made it!
For more successful stories of Malaysians, tap RISE.