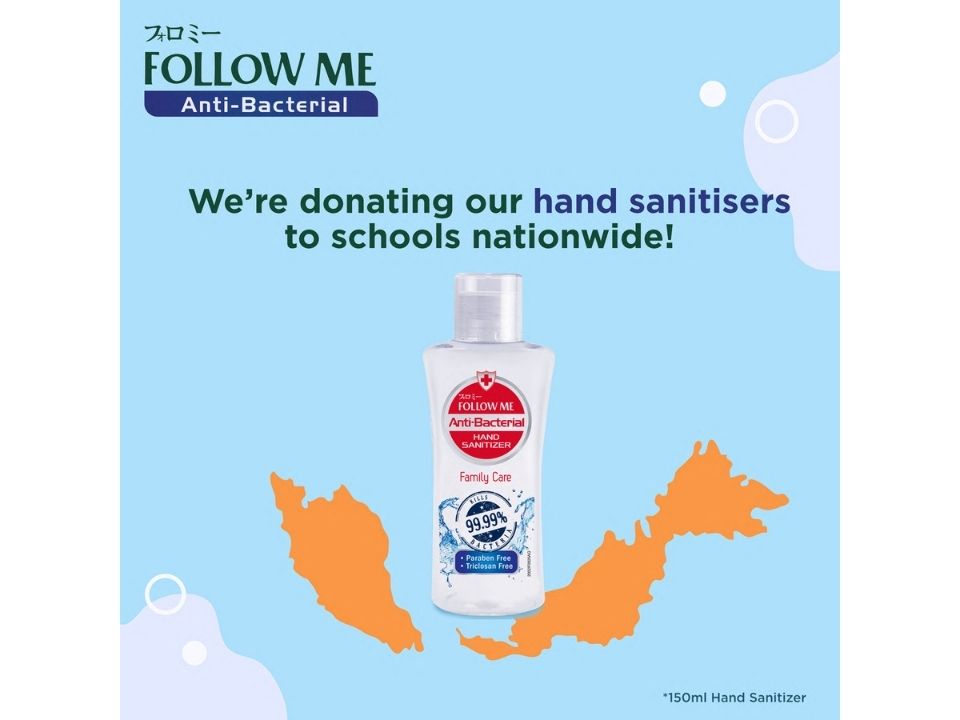 In the midst of this pandemic where schools are also preparing for a new school year with in-person classes, hygiene is a real concern. Recognising the need for better hand hygiene in schools, FOLLOW ME is taking the initiative to supply primary and secondary schools with their Anti-Bacterial hand sanitizers to keep students, teachers and staff safe.
Follow Me to Donate 120 Bottles of Hand Sanitizers to Each Participating School
With this endeavor, FOLLOW ME aims to donate more than 120 bottles of 150ml Anti-Bacterial hand sanitizers to each participating school with the objectives of highlighting the importance of maintaining personal hygiene, and helping students, teachers and parents curb the spread of COVID-19.
The hand sanitizers will be distributed to all primary and secondary schools who register through this Google Form.
In accordance with the standard operating procedures (SOPs), schools are also installing temperature monitors and re-arranging classroom settings to comply with social distancing measures. The guidelines also emphasize the necessity of providing sufficient hand sanitizers in every classroom, because hands are often considered a "germ hotspot" where bacteria or viruses could easily spread through contact. Thus, V is joining the effort to ensure that every school is a safe and comfortable learning environment by donating hand sanitisers early in the new school year.
A Safe & Reliable Personal Hygiene Products
"FOLLOW ME has always been committed to providing safe and reliable personal hygiene products to Malaysians. As COVID-19 continues to make an increasing impact on the lives of more and more Malaysians everyday, we hope to play our part in helping everyone stay safe," says Patrick Ee , General Manager of Tohtonku Malaysia & Singapore.
"We hope that we are able to encourage and support our education institutions to open their doors to students and to have students return to schools with an ease of mind through this contribution of hand sanitisers."
How To Register
As part of the registration process, each school will need to provide FOLLOW ME with a school representative's contact details and the necessary school information via the Google Form.
Upon confirmation of the school's and representative's details, the FOLLOW ME team will arrange for the hand sanitizers to be delivered as efficiently as possible. In addition,
Aims For Participation From As Many Local Schools As Possible
FOLLOW ME invites and welcomes members of the public to inform school administrations to participate in this initiative and to receive complimentary hand sanitizers.
There are more than 9,000 primary and secondary schools all across Malaysia, and FOLLOW ME is aiming to provide hand sanitizers to as many of these schools as possible.
Therefore, FOLLOW ME urges all interested schools to register by the deadline of 13 February 2022.
Learn and explore more about the FOLLOW ME's products and ranges by visiting their website here. For the latest updates and promotions, please check out FOLLOW ME's Facebook page.