University of Cambridge has appointed Vincent J. Gnanapragasam, a Malaysian as the professor of urology at the university. The appointment is special because this Malaysian is the first-ever professor of urology appointed at the University of Cambridge in 812 years history!
First Professor Of Urology At Cambridge University
According to The Star, Vincent was a lecturer at the University of Cambridge for the past 13 years. It was only until early October this year that the university changed his academic title from "Senior Academic Staff" to "University Professor".
As far as I can find and on the University of Cambridge library records, there has not been a Professor of Urology in the university before, so I believe I am the first.

The professor told The Daily.
Thus, that's how Vincent discovered he holds a special position at the university.
Moreover, he is also an Honorary Consultant of the Department of Urology, University of Cambridge School of Medicine.
Vincent J. Gnanapragasam's past achievements
One of the professor's recent achievement is developing the"CamProbe" to make prostate biopsy safer for men. This development has made biopsy a revolutionary technology, especially because the current biopsy is transrectal. A biopsy of the prostate may cause the incidence of intestinal bacterial infections.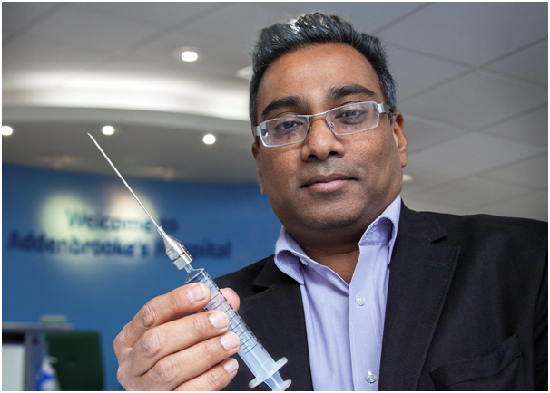 Additionally, according to the University's website, the professor also holds many patents and has won numerous awards, including:
Humboldt Research Award
Medal of the British Urological Research Association
Helsinki (Hunterian) Professorship
Associate of the University of Cambridge Principal Research Award
Vincent's background
This 52-year-old professor is from Petaling Jaya. After graduating from SK La Salle in Petaling Jaya, he spent his secondary school years studying in Singapore. Eventually, he went to pursue his studies the United Kingdom in 1988 and graduated with a doctorate in medicine from the University of Newcastle.
Meanwhile, Vincent shared that skills, talents and innovations can come from anyone. Therefore, no one should be deprived of the opportunity to realize their full potential.
It is only through challenge, competition, and adversity that anything meaningful can ever be gained.

Vincent stressed.
First in hundreds years of history, congratulations professor!
Tap RISE for more news like this!