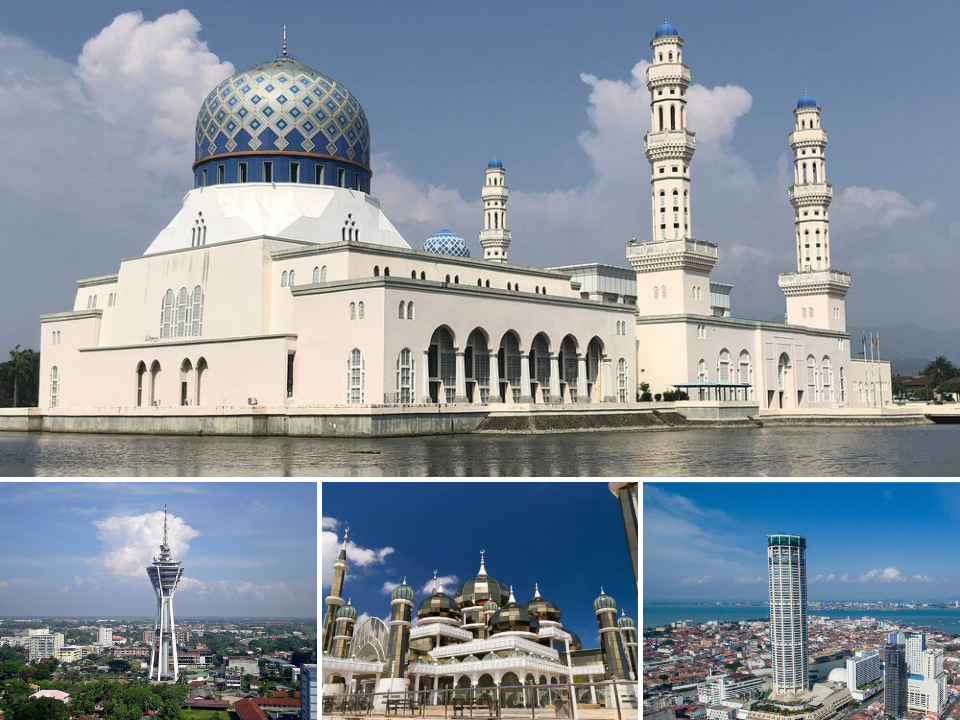 Malaysia is well-known for several things. Beyond the food, the nature, and the islands, Malaysia is also known for its stunning architecture, which can be found in countless structures. Here are the 15 architectural sites you must visit to complete you vacation in Malaysia!
Famous Architecture Buildings In Malaysia
1. Crystal Mosque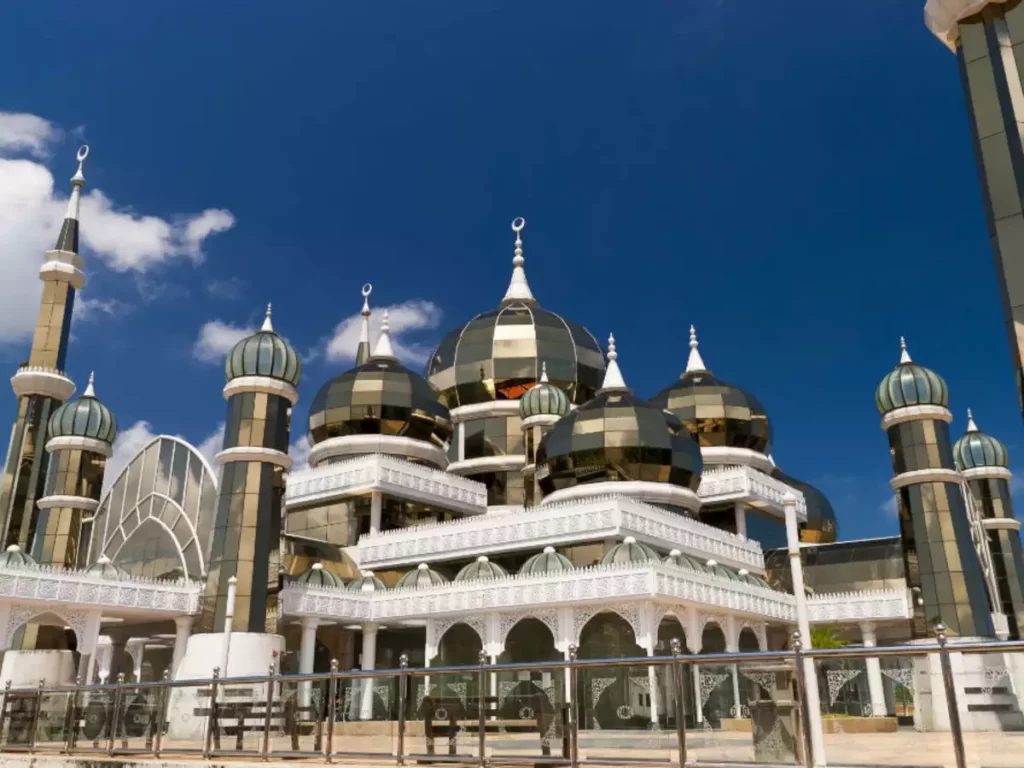 Image via Times of India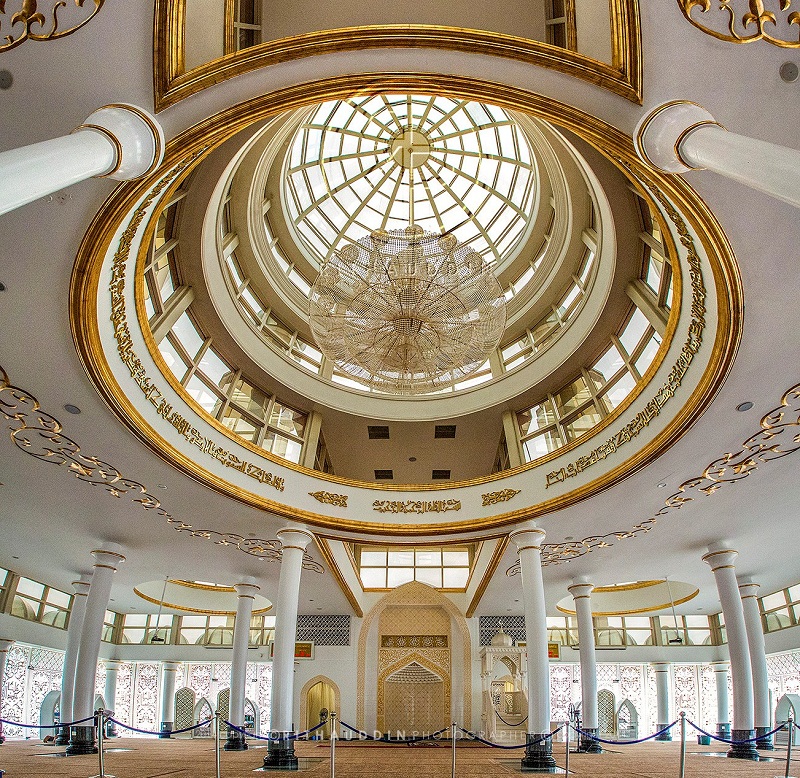 Images via Petit Go & Pinterest
In Wan Man, Terengganu, Malaysia, there is a mosque called the Crystal Mosque, or Masjid Kristal. This is known to be one of the famous buildings in Malaysia. The mosque, a large building constructed of steel, glass, and crystal, is situated at the Islamic Heritage Park on the island of Wan Man.
When the glass dome surface reflects in the sun, the mosque's glistening exterior, which is almost entirely made of glass and steel cladding, gives it the nickname "crystal." It is illuminated with vibrant lights at dusk and at night, emphasizing its glass design.
This magnificently captivating mosque, sitting atop the Terengganu River, is a sight to behold. It gives visitors a sense of serenity and peace through its exquisitely crafted frosted glass windows and careful calligraphy. It is precisely this that is desired as a location to worship God a setting that promotes serenity.
| | |
| --- | --- |
| Address | Pulau Wan Man, Losong Panglima Perang, 21000 Kuala Terengganu, Terengganu |
| Operating Hours | Monday – Sunday, 6am – 11pm |
| Entry Fee | Free |
2. KOMTAR Tower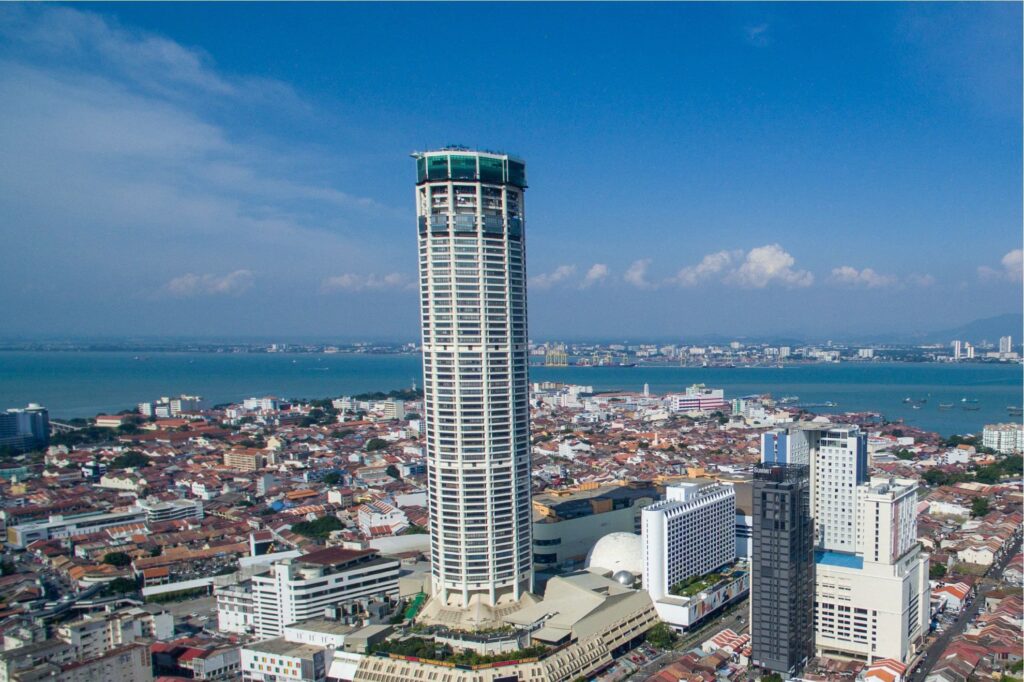 Image via Sunway Hotels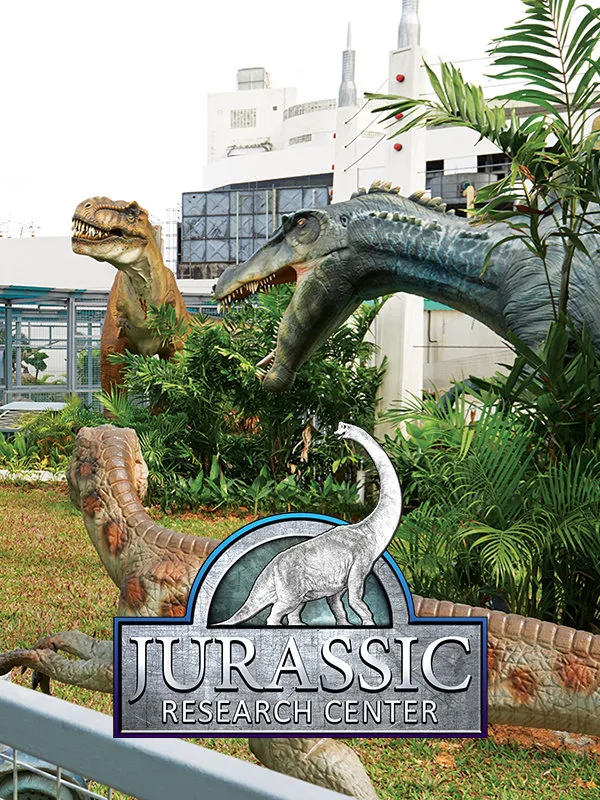 Images via THE TOP Penang Theme Park
In the centre of George Town, there is a huge complex called KOMTAR, or Kompleks Tun Abdul Razak. The Komtar Tower, which is the sixth-tallest construction in Malaysia and the tallest structure in Penang, is housed within the complex. This 65-story tower, which sits atop a 4-story podium, is a 232 m (761 ft) 12-sided geometric block.
KOMTAR is a multi-purpose complex that houses public and recreational facilities in addition to being a commercial and office space. The Top Penang, an indoor theme park and entertainment complex situated inside the tall KOMTAR Tower, is one of its main attractions.
The 18 attractions available at The Top Penang are the ideal combination of learning and entertainment. The Jurassic Research Centre, Tech Dome, and the Rainbow Skywalk, which provides breathtaking rooftop views of the city, are a few of the attractions.
Penang is renowned for having captivating attractions. Do read Unique Attractions In Penang To Visit With Your Loved Ones to know more!
Address
33-02-51, Jalan Dr Lim Chwee Leong, 10100 George Town, Penang
Operating Hours
Monday, Wednesday, Thursday, Friday, Saturday & Sunday, 11am – 7pm
Tuesday, CLOSED
Entry Fee
Starts from RM30
For more info, you can visit their website!
3. Tun Mustapha Tower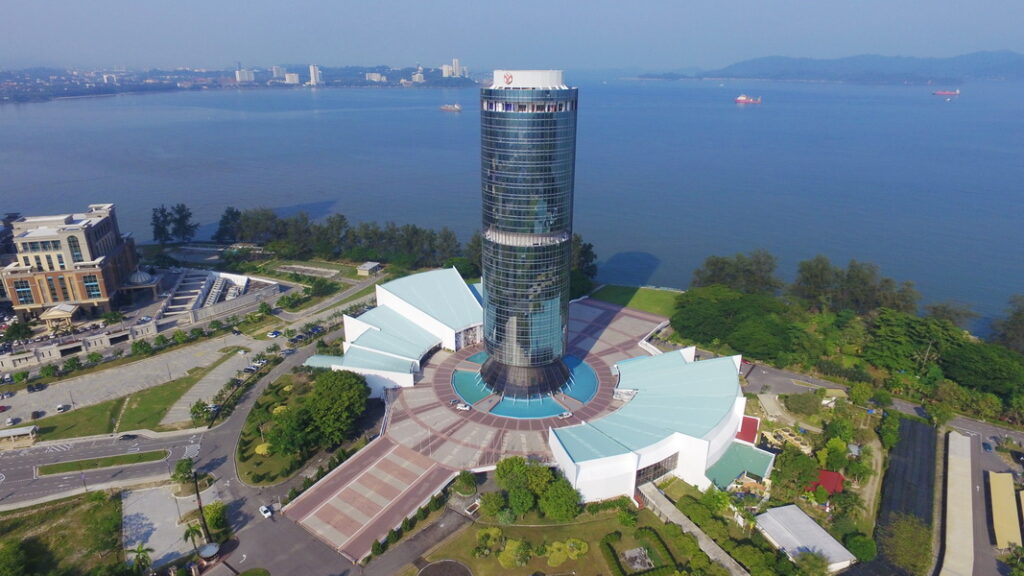 Image via Yayasan Sabah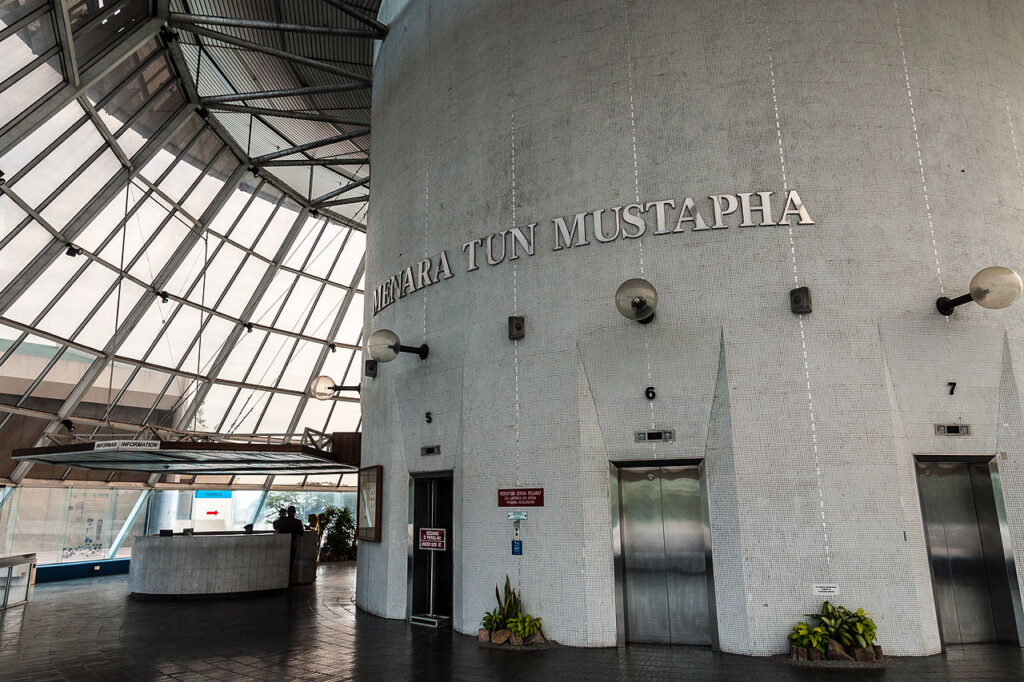 Images via Wikipedia & Wikimedia Commons
The Menara Tun Mustapha, a 30-story aluminium and glass structure that houses the Yayasan Sabah Group's headquarters, is one of the nation's most remarkable constructions. It is imposing, beautiful, and has an original concept.
It is a building that many people believed was impossible to erect because it was the first of its kind in this area. It was built using innovative architectural and engineering concepts. The structure of the building is a 72-sided polygon, and its 2,160 unique reflective glass panels can withstand winds of up to 272 km/h.
The imposing structure, which resembles a rocket ship primed and ready for takeoff, not only exemplifies the organization's forward-thinking outlook but also Sabah's breathtaking scenery, as Mount Kinabalu's view can occasionally be seen reflected in the building's glass walls.
In a clear sky, Mount Kinabalu can be seen from the city at a distance of 80 kilometres. The distance from Menara Tun Mustapha to Kota Kinabalu City, which is bordered by the blue waters of Likas Bay and its coral-fringed coast, is only 8.1 kilometres via the coastal road that crosses the bay.
The structure resembles the Taj Mahal, which changes colour throughout the day based on the sun, clouds, and ever-changing hues of the sky. This is known to be one of the famous buildings in Malaysia.
Address
Menara Tun Mustapha, Yayasan Sabah Headquarters Complex,
Likas Bay, 88817 Kota Kinabalu, Sabah
Operating Hours
Monday – Friday, 8am – 5pm
Saturday & Sunday, CLOSED
Entry Fee
Free
4. Alor Setar Tower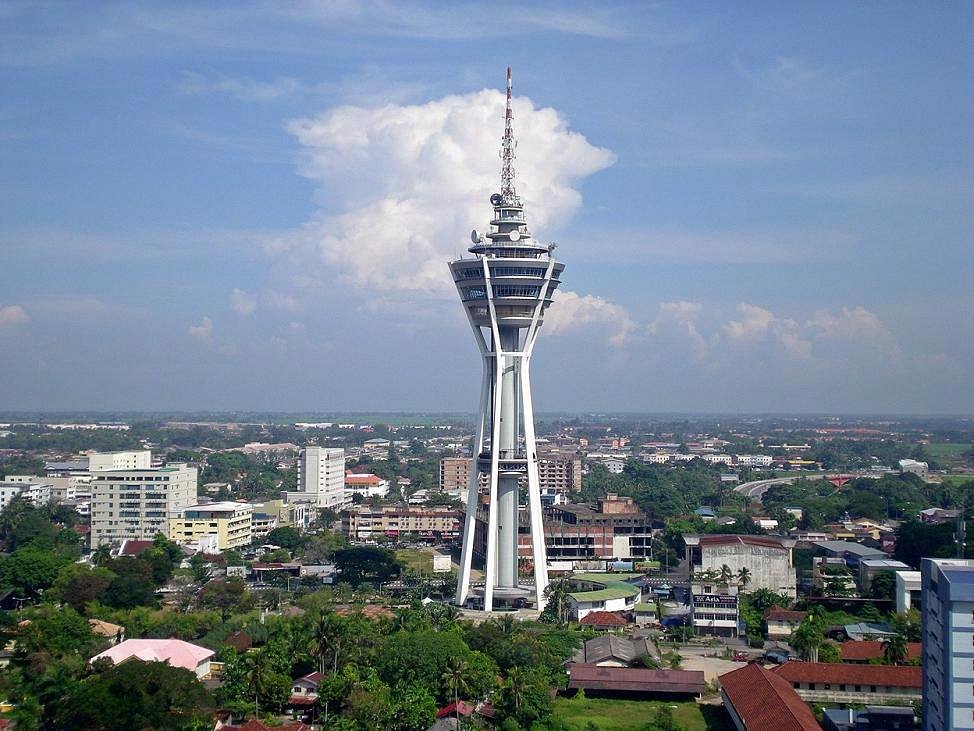 Image via TripAdvisor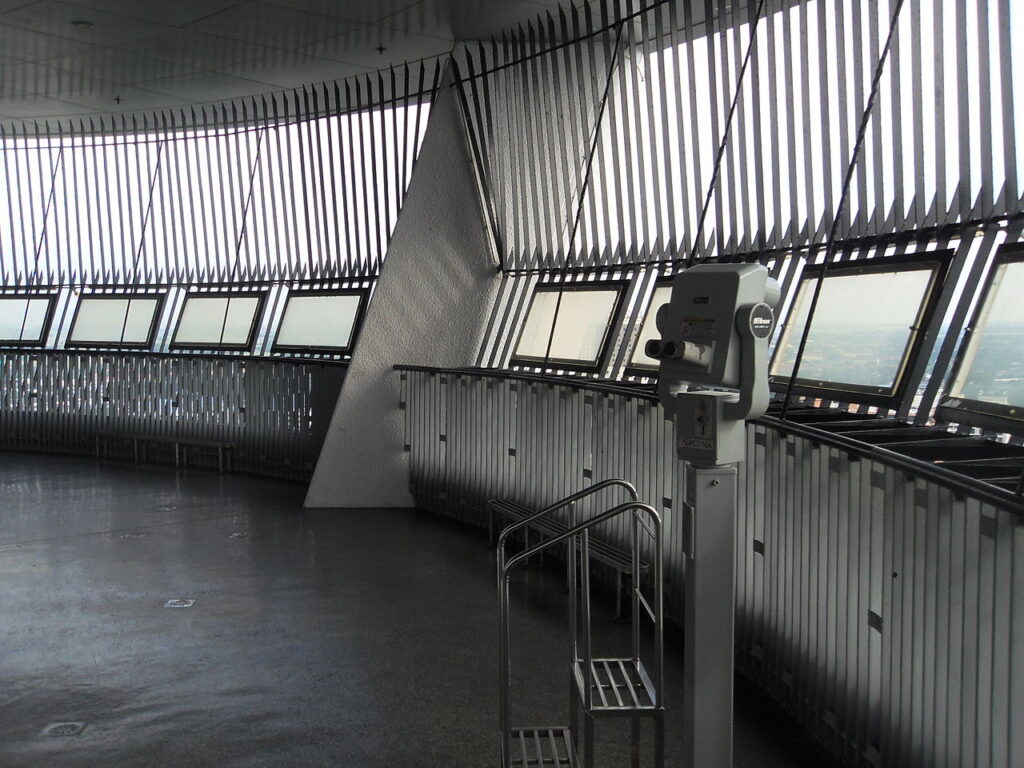 Images via Wikimedia Commons & ieyra.com
Enjoy the view from a breathtaking observation deck that is 165.5 metres high. Alor Setar Tower serves as both a telecommunication tower and a popular tourist attraction. It is the third-tallest tower in Malaysia and the tallest in Kedah. Here, you can satisfy your needs for dining, shopping, and sightseeing by visiting restaurants and gift shops.
This tower, however, is not just your typical place for observation. Additionally, it is used to observe the crescent moon that ushers in significant Muslim celebrations like Ramadan and Zulhijjah (Hari Raya Aidiladha).
Address
Lot 99, Darul Aman Hwy, Bandar Alor Setar, 05100 Alor Setar, Kedah
Operating Hours
Monday – Sunday, 9am – 10pm
Entry Fee
RM6
(adults)

RM3
(children)
You can check out the website for more details!
5. The Blue Mansion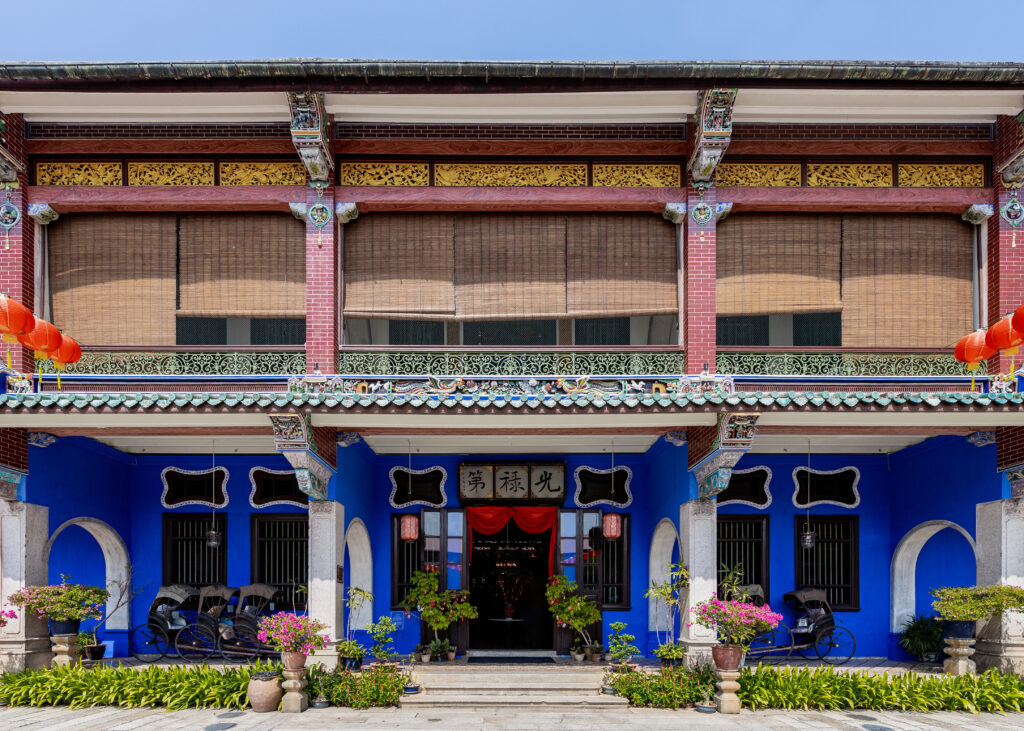 Image via Wikipedia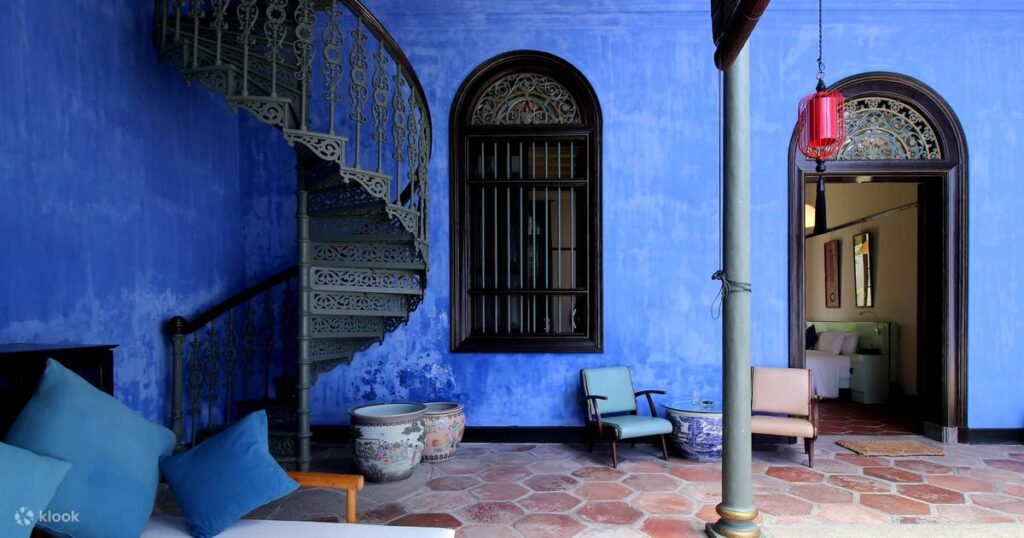 Images via Klook
The Blue Mansion, also known as Cheong Fatt Tze Mansion, is a building in UNESCO Georgetown that bears the name of a Chinese businessman who lived there. Even though the blue is what differentiates it today, it was a very popular colour when Britain was a colony.
Lime and natural blue dye are mixed to create the colour, which absorbs moisture to keep the building cool. This stunning blue building can be found in Penang if you've seen the movie "Crazy Rich Asians". This is known to be one of the famous buildings in Malaysia.
Take a look inside the structure that acted as the famous mahjong table where Rachel (Constance Wu) and Eleanor (Michelle Yeoh) involved in a match of wits. It's understandable why it's a popular tourist destination since you can even rent the entire home to live like a "Crazy Rich Asian" yourself.
Inside, you'll find a swimming pool, a reputable restaurant, five courtyards, private guzheng performances, and private jacuzzis. In a match of wits, Eleanor (Michelle Yeoh) prevailed.
Address
14, Lebuh Leith, George Town, 10200 George Town, Pulau Pinang
Operating Hours
Monday – Sunday, 11am – 6pm
Entry Fee
RM16
(for mansion tour)
Check out this website to know more on the price!
6. Penang Town Hall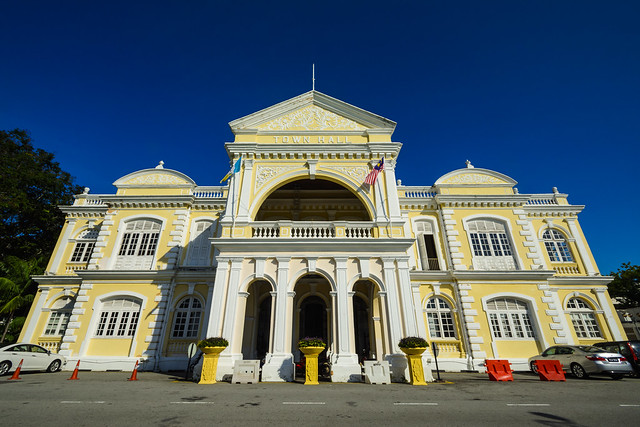 Image via Heritage Buildings of Malaysia & Wikimedia Commons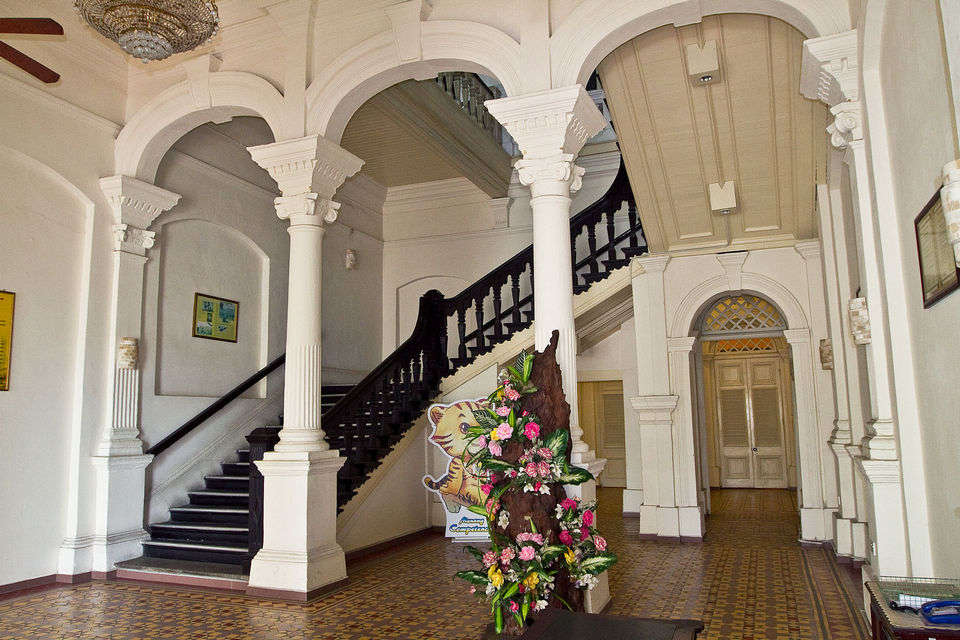 Image via Garmin Malaysia & Gettyimages
The one on the left of Penang City Hall on Wright Street is called TownHall, which was built in 1880; the one on the right by the sea is called CityHall, which is the new building of the City Council.
It is also the eye-catching architectural landscape of the old Gurney Drive, with a strong European and American architectural style.
Address
Esplanade Road, 10200 George Town, Penang
Operating Hours
Monday – Sunday, 8am – 5pm
Saturday & Sunday, CLOSED
Entry Fee
Free
7. Ipoh Town Hall & Old Post Office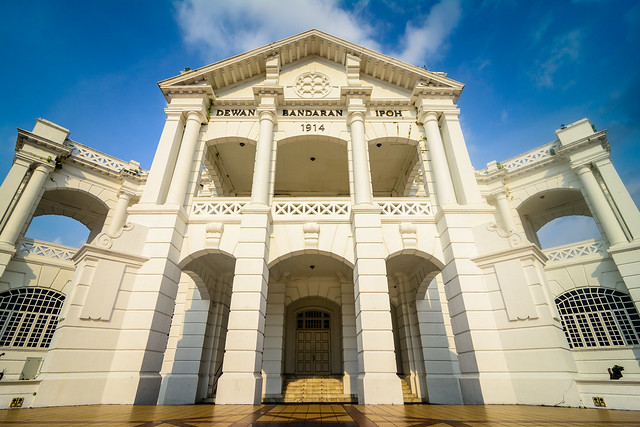 Image via Heritage Buildings of Malaysia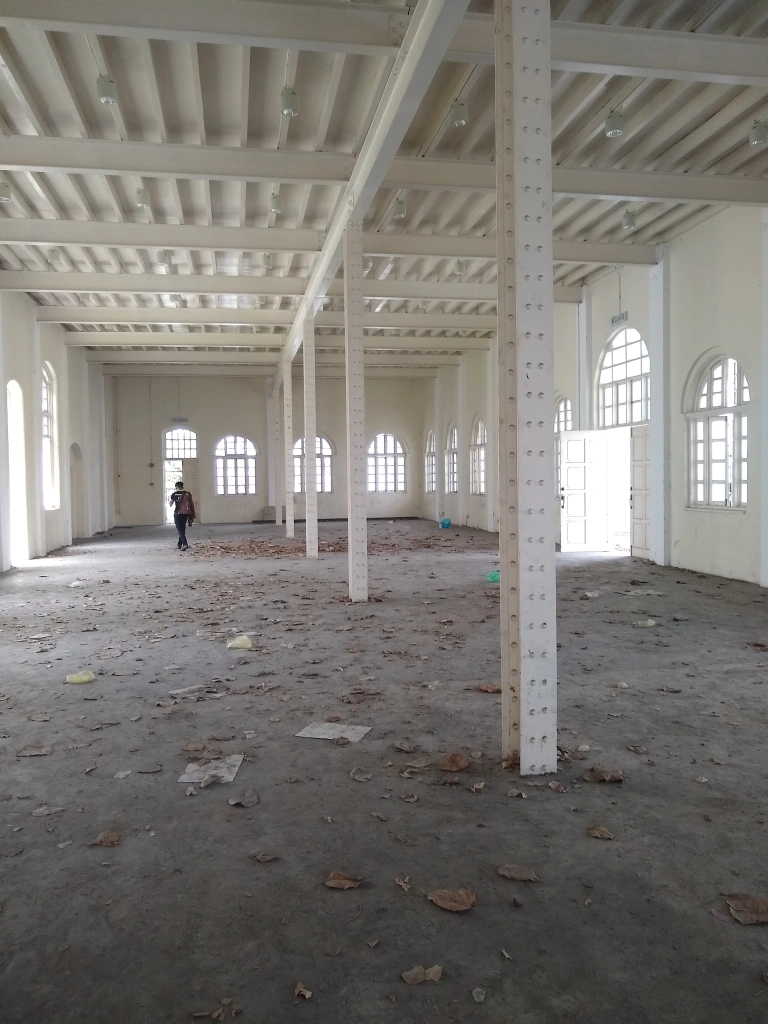 Image via Malaysia 1786
Ipoh Town Hall and Old Post Office, which was designated as one of Malaysia's National Heritage sites in 2017, has a lengthy past that dates to its construction in 1916. High-ranking officers and British elites frequented the Baroque buildings with Greek and Roman columns that were created by British architects.
The architecture was initially home to Ipoh's main administrative offices, as well as the city's post office and, for a brief period, the district police office too. The post office, city government and police headquarters have all now relocated to different buildings within Ipoh.
They could then enjoy plays, performances, and musicals here. It is now one of Malaysia's beautiful heritage buildings that can be rented out for special occasions like weddings. Visitors can only admire this colonial building from outside of the building.
| | |
| --- | --- |
| Address | 2700, Jalan Panglima Bukit Gantang Wahab, 30000 Ipoh, Perak |
| Entry Fee | Free |
8. Sultan Abdul Samad Building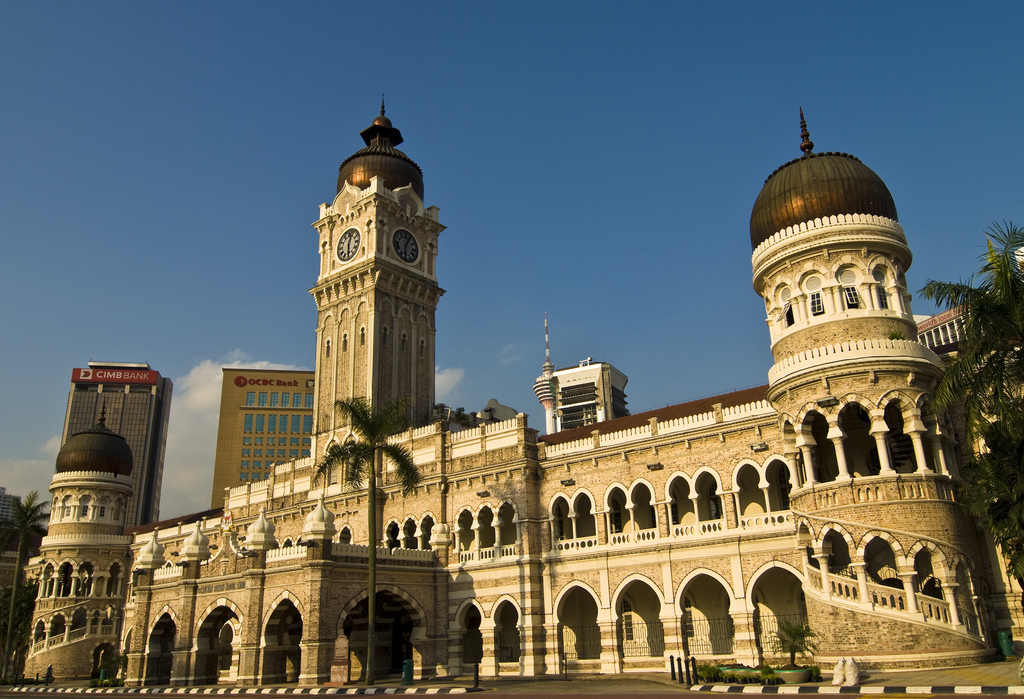 Image via Kuala Lumpur-Attractions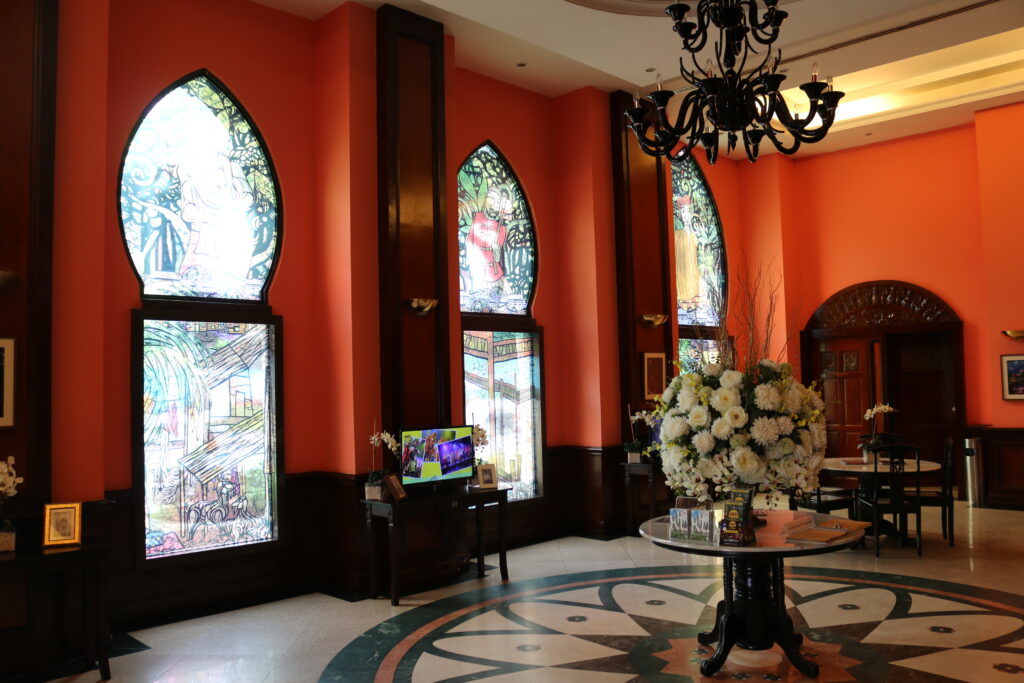 Images via The Thrifty Traveller & Trip.com
At Jalan Raja in Kuala Lumpur, the 19th-century Sultan Abdul Samad Building is a magnificently crafted and well-maintained building. This is regarded as one of famous buildings in Malaysia.
The office of Malaysian Ministry of Tourism and Culture as well as the Ministry of Communications and Multimedia were located there previously. The building's stunning night time illumination is the main highlight.
Sultan Abdul Samad Building is available for the general public to visit and explore the corners because of its alluring beauty and architecture. One of Malaysia's most famous buildings, it is situated next to the magnificently designed clock tower that stands 41.2 metres tall and commemorates Malaysia's Independence Day on August 31, 1957.
| | |
| --- | --- |
| Address | Jln Raja, Kuala Lumpur City Centre, 50050 Kuala Lumpur |
| Operating Hours | Open 24 Hours |
| Entry Fee | Free |
9. Christ Church Malacca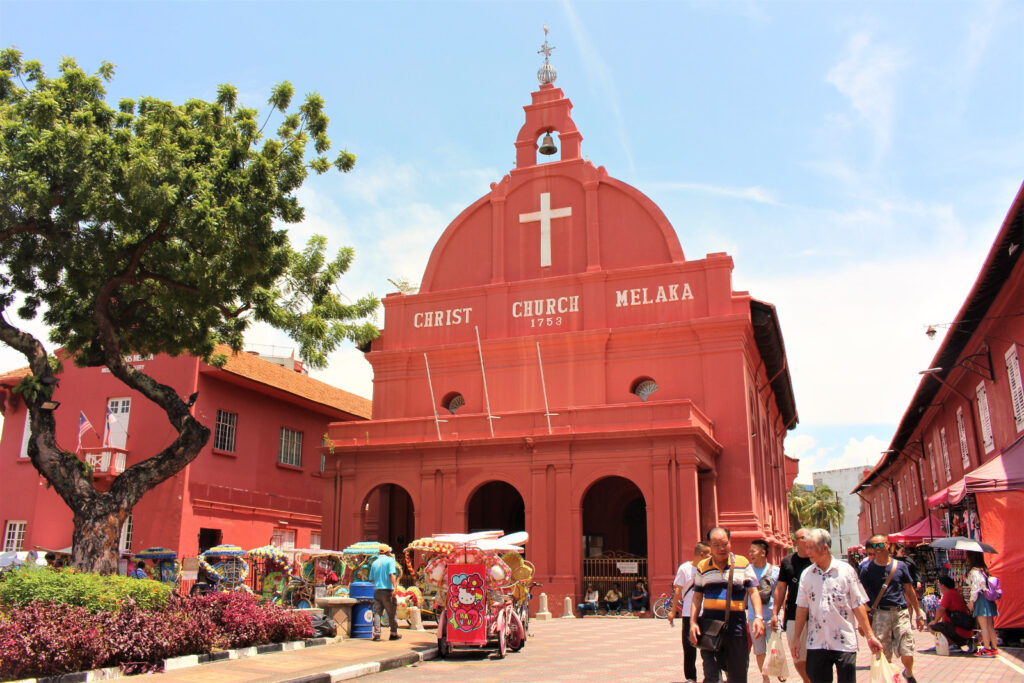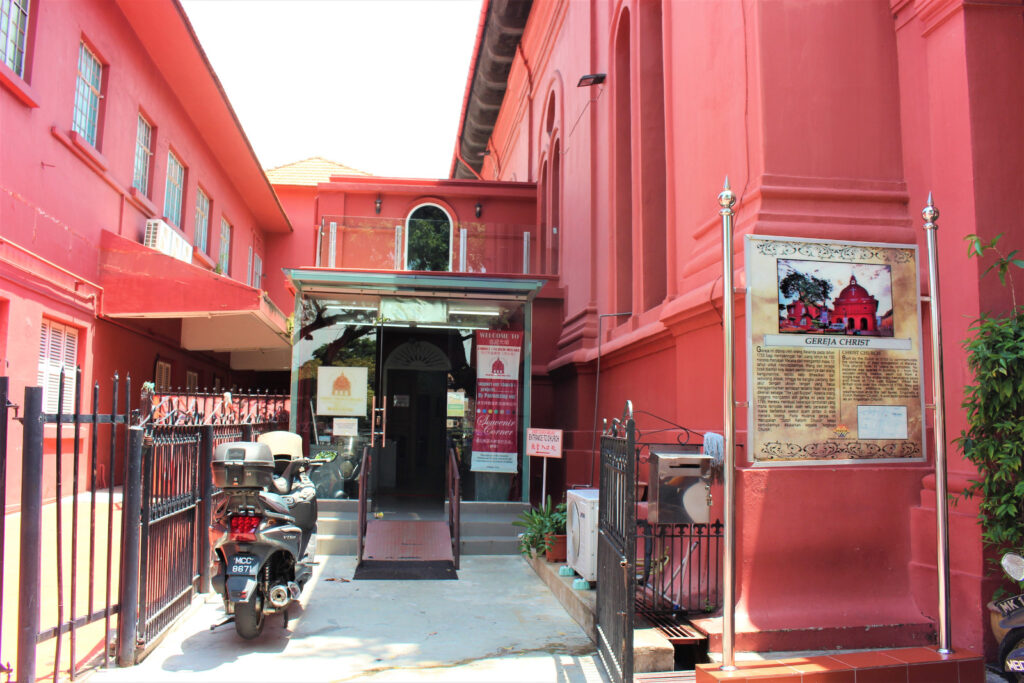 Images via Aroma Asian & MediSata
The Dutch constructed Christ Church Malacca as a historical landmark after obtaining Malacca from the Portuguese. It is still one of Jalan Gereja's most iconic buildings today (also known as Church Street). This is known to be one of the famous buildings in Malaysia.
It is a distinctive brick-red building with a sizable white cross on top. The interior of the cathedral features 200-years-old handcrafted pews, decorative fanlights, and plaques honouring locals and Dutch soldiers. A gift shop is located behind the church, where you can purchase some unique souvenirs.
| | |
| --- | --- |
| Address | Gereja Christ, Jalan Gereja, Banda Hilir, 75000 Melaka |
| Operating Hours | Monday – Sunday, 9am – 4.30pm |
| Entry Fee | Free |
10. Malacca Sultanate Palace Museum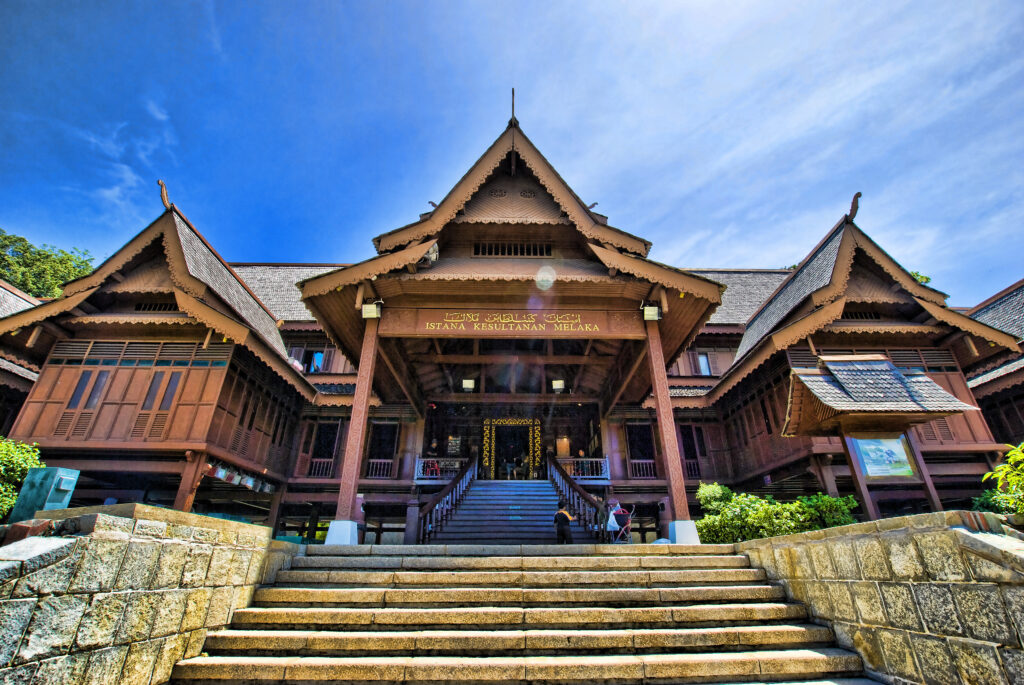 Images via Malacca-Attaractions & Wikimedia Commons
A replica of Sultan Mansur Shah's palace from the fifteenth century can be found at the base of St. Paul's Hill in Melaka which is known to be Melaka Sultanate Palace. It is now a museum dedicated to the heritage and history of the Malay Sultanate and is also known as Muzium Kebudayaan or the Cultural Museum.
The eight chambers of the three-story Melaka Sultanate Palace Museum are divided into displays of traditional dress, artwork, jewellery, weapons, and other artefacts. Three galleries in the museum also display local legends as dioramas. The sculpture of the sultan's headdress, which is prominently displayed in the museum garden, is a major draw.
The Melaka Sultanate Palace is a prime example of Malaysian architecture from the 15th century and was built using conventional techniques without the use of any nails. A copper roof and wooden pillars provide support for the palace.
Address
Jalan Kota, Banda Hilir, 75000 Melaka
Operating Hours
Tuesday – Sunday, 9am – 5pm
Entry Fee
RM2
(adults)

RM1
(children)
Check out this website to know more on the price!
11. Kek Lok Si Temple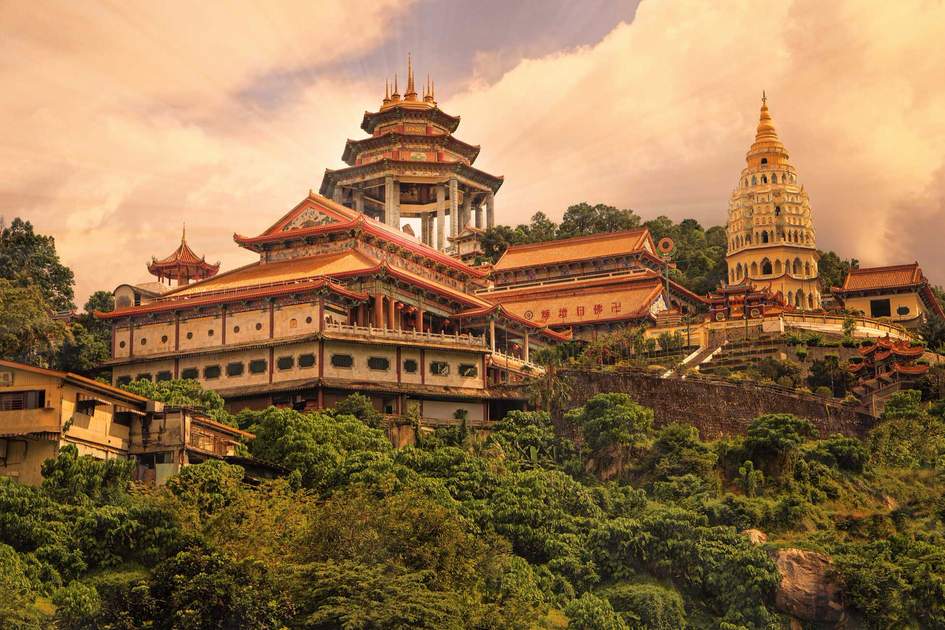 Image via Insight Guides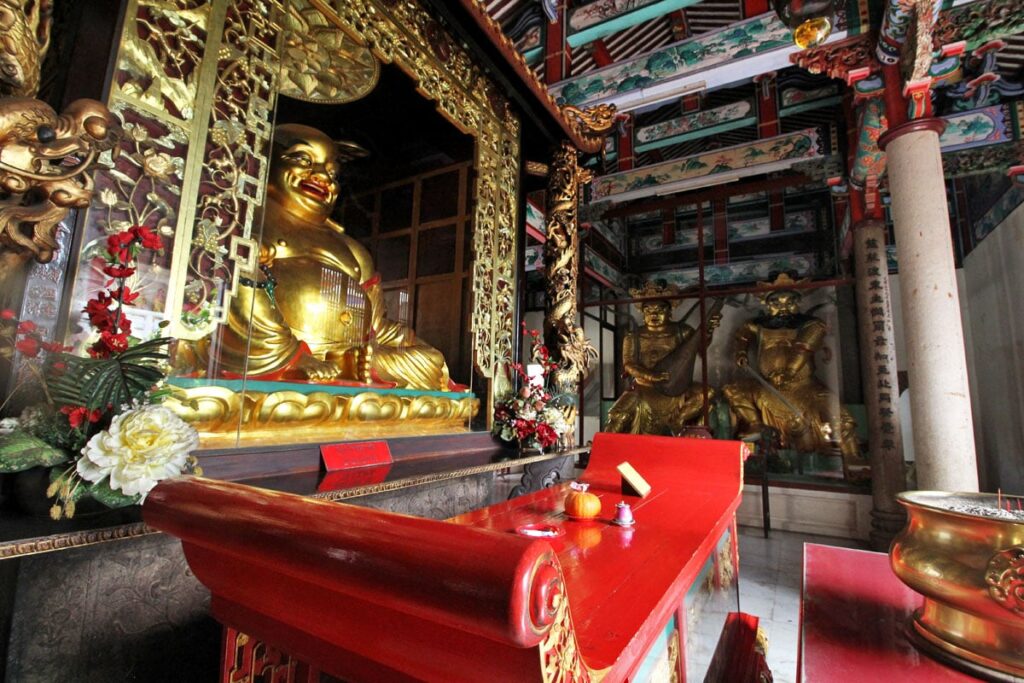 Images via Will Fly for Food & ST Photographics
Kek Lok Si Temple is divided into three tiers: Lower Tier, Middle Tier, and Upper Tier because of its enormous size. The magnificent Kek Lok Si Temple, located in George Town, Penang, Malaysia, dominates the neighbourhood of Air Itam.
One of the largest and most beautiful temple complexes in all of Southeast Asia, it is situated on a high hill. It is a Buddhist temple that was built in 1891 and is filled with priceless Mahayana Buddhist artefacts. The enormous temple complex serves as a place of worship, a Buddhist monastery, a hub of learning, and a well-liked tourist attraction.
A seven-story pagoda, a towering statue of the Chinese Goddess of Mercy, brilliant murals and carvings, and millions of Buddha statues and images are just a few of the temple's breathtaking features.
The temple's exquisite pillars, exotic rooflines, archways, and pagodas show how seamlessly Thai, Chinese, and Burmese architectural styles were incorporated into its construction. Visitors are welcome to explore the grounds or climb to the top for scenic sceneries of the hills.
| | |
| --- | --- |
| Address | Kek Lok Si Temple, Jln Balik Pulau, 11500 Air Itam, Penang |
| Operating Hours | Monday – Sunday, 8.30am – 5.30pm |
| Entry Fee | RM2 |
Visit this website to learn more about the cost!
12. Putra Mosque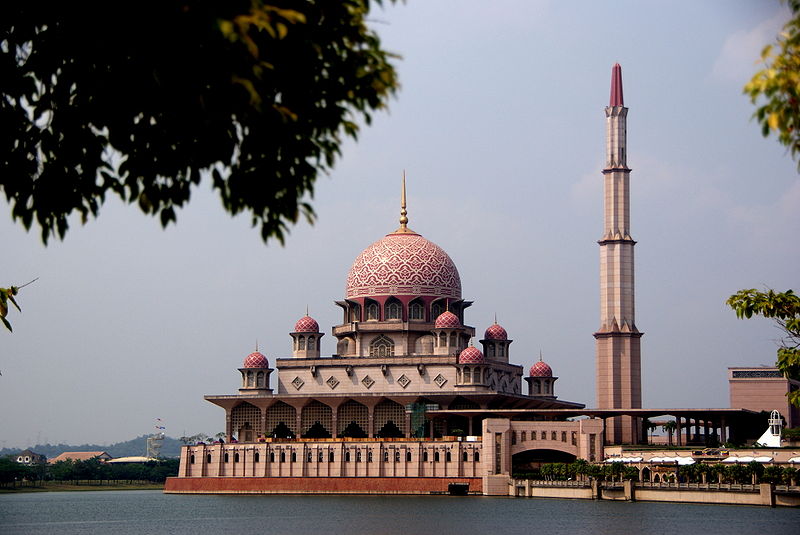 Image via Islamic Tourism Centre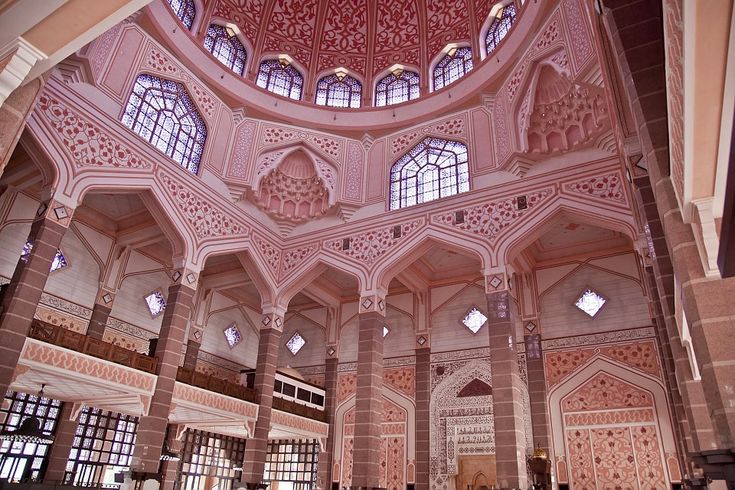 Images via Pinterest
Unquestionably one of Putrajaya's most distinctive landmarks is the pink-domed Putra Mosque. The mosque, which is named after Malaysia's first prime minister, Almarhum Tunku Abdul Rahman Putra Al Haj, was finished in September 1999 and has a capacity for 15,000 worshippers.
The mosque's rose-tinted granite construction and the carvings on the doors, windows, and panels made of cengal wood give it a desert-pink appearance. It combines Arab-Islamic architectural styles with regional craftsmanship that was influenced by Muslim Persia during the Safavid era.
One of the tallest in the area, the 116-meter minaret of the Putra Mosque is inspired by the Sheikh Omar Mosque in Baghdad and has five tiers that represent the Five Pillars of Islam. Its main dome, which measures 36 metres in diameter, is surrounded by eight smaller domes that sit atop each of the four corners of the building.
The King Hassan Mosque in Morocco served as inspiration for the design of the basement walls. The Prayer Hall, which is understated yet elegant, the Sahn, or courtyard, and various study rooms and meeting spaces make up the Putra Mosque's three main functional areas.
Twelve columns that support the main dome, which rises up to a height of 250 feet above ground, support this sacred premise. The Sahn has a congregation capacity of 5,000 people and is surrounded by exquisitely designed colonnades with ornamental water features.
| | |
| --- | --- |
| Address | Persiaran Persekutuan, Presint 1, 62502 Putrajaya, Wilayah Persekutuan Putrajaya |
| Operating Hours | Monday – Sunday, 6am – 10pm |
| Entry Fee | Free |
13. Likas Floating Mosque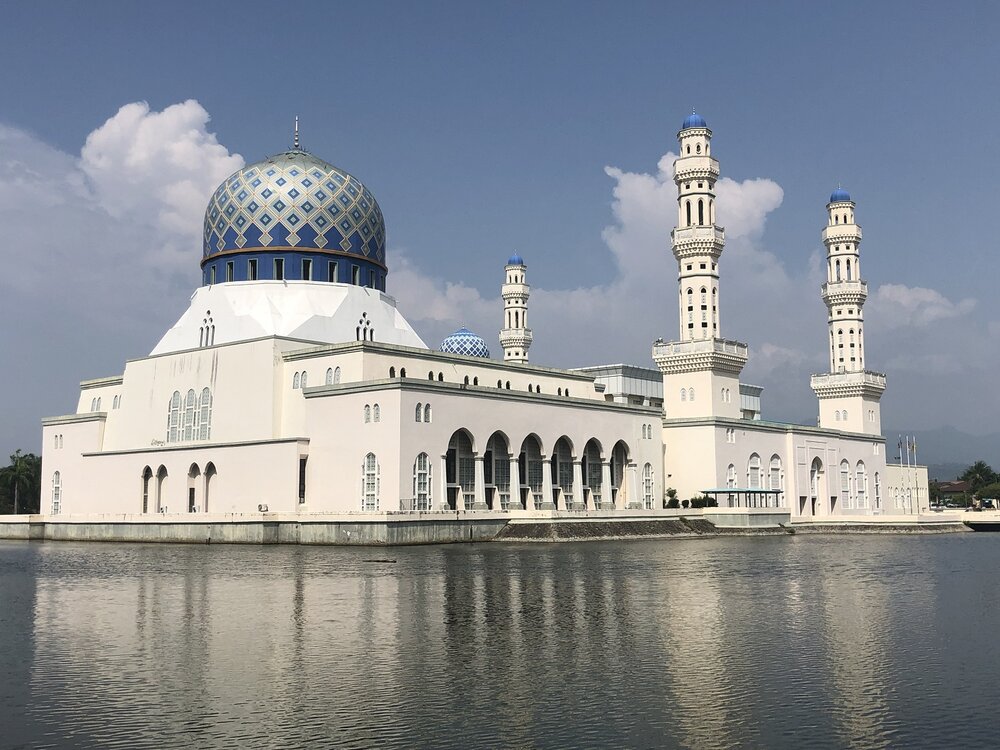 Image via Blue Kinabalu Travel Agency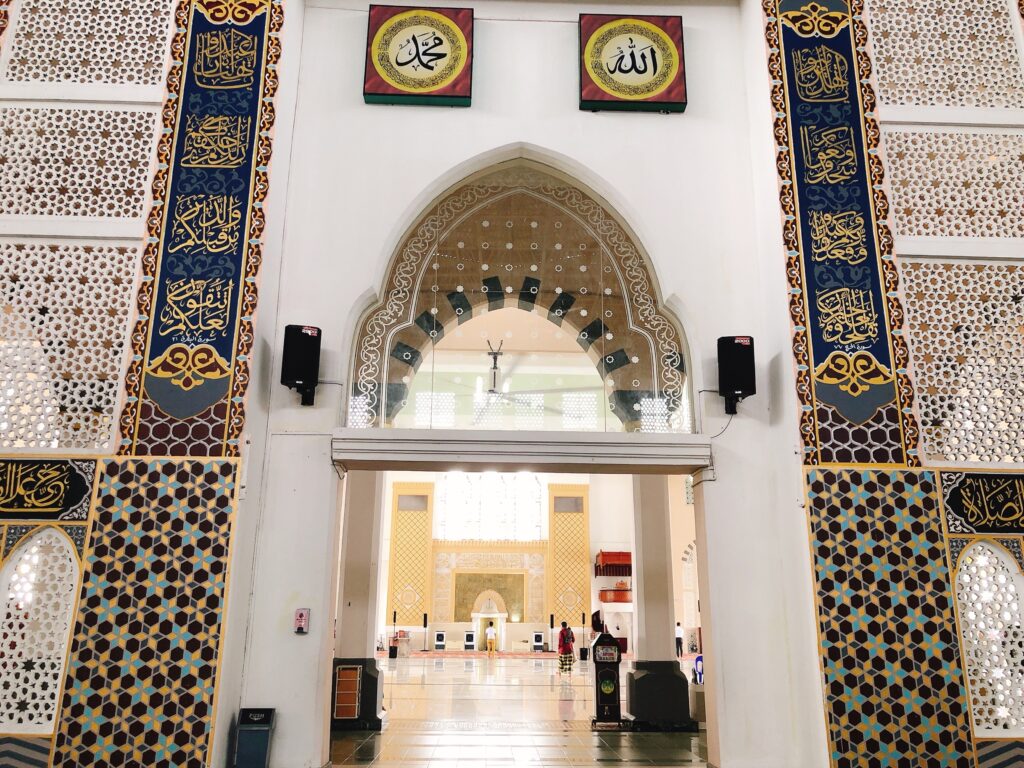 Images via Trip.com
The mosque is situated on a 2.5 acre site that was reclaimed from the sea and is situated between the shoreline and the village of Likas. Its design is influenced by Arabic architecture and is based on the Nabawi Mosque in Medina, Saudi Arabia.
The mosque is known as the "Likas Floating Mosque" locally and is a well-known landmark because it is surrounded by a man-made lagoon. The mosque, whose construction began in 1992 and which was completed in 2000, has space for up to 12,000 worshippers.
The mosque also houses a school with a capacity for 700 students, a braille-learning centre for blind students, and a special school for children with special educational needs. This is regarded as one of famous buildings in Malaysia.
Address
43, Jalan Pasir, Kampung Likas, 88858 Kota Kinabalu, Sabah
Operating Hours
Sunday – Thursday, 8am – 5pm
Friday, CLOSED
Entry Fee
RM5
For more information on the cost, visit this website!
14. KLIA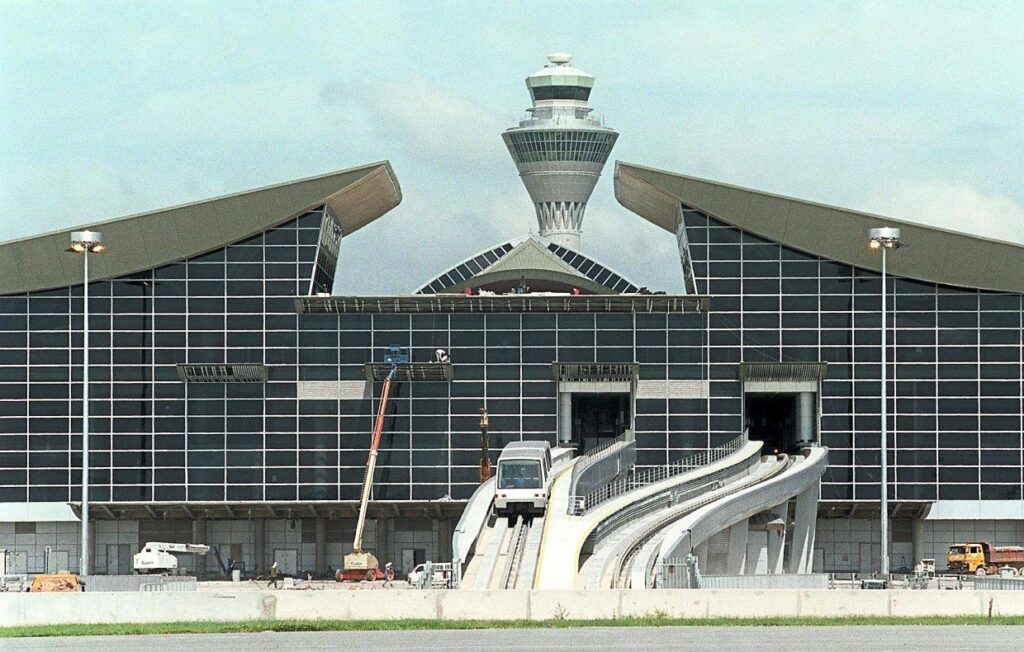 Image via TheStar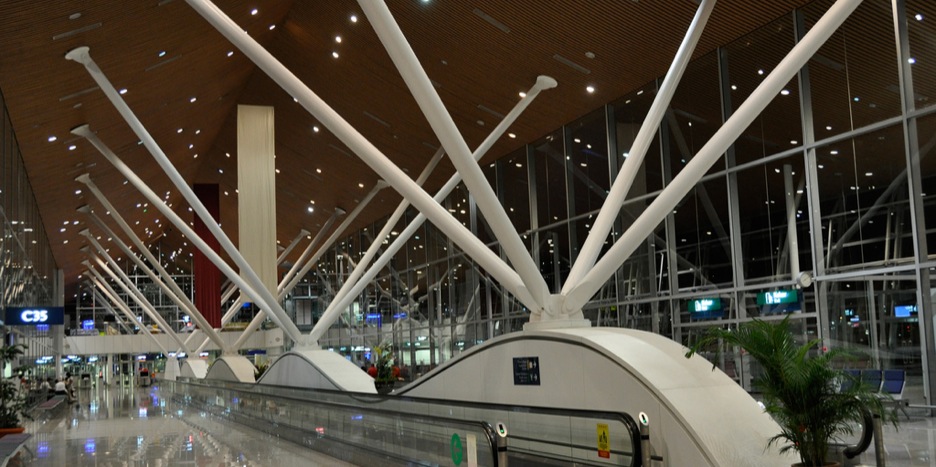 Images via Arkitek Jurucang & klia2.info
One of the biggest airports in Asia is Kuala Lumpur International Airport (KLIA), which is located in Sepang, Malaysia. The KLIA was created by Kisho Kurokawa, who combined traditional aesthetics and styles with cutting-edge technology.
With narrow skylights positioned in between the "trees," the traditional Islamic shading roof also resembles the trees found in a Malaysian rain forest. The is regarded as one of famous buildings in Malaysia.
The functions are organised on a rational grid with contemporary elements and symmetry. This geometry combines with the organic nature of a forest to create comforts and amenities. Structure maximizes the size of the spaces it creates.
Moreover, for your convenience and comfort while travelling, a wide range of local and international retailer brands, duty-free shops, cafés, restaurants, banks, and first-class passenger lounges are available at the airport.
| | |
| --- | --- |
| Address | Kuala Lumpur International Airport, 64000 Sepang, Selangor |
| Operating Hours | Open 24 Hours |
| Entry Fee | Free |
15. National Mosque of Malaysia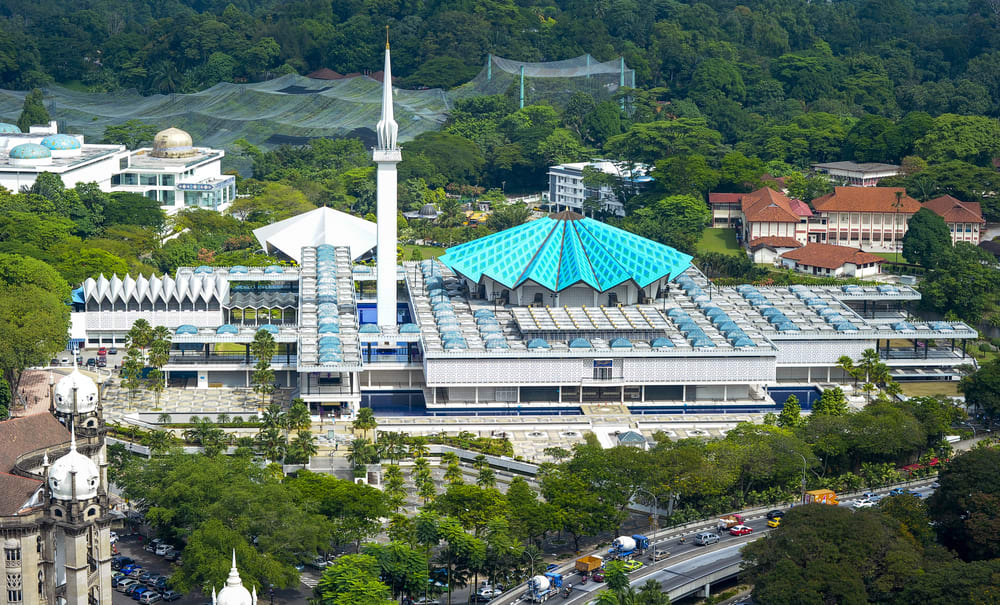 Image via Thrillophilia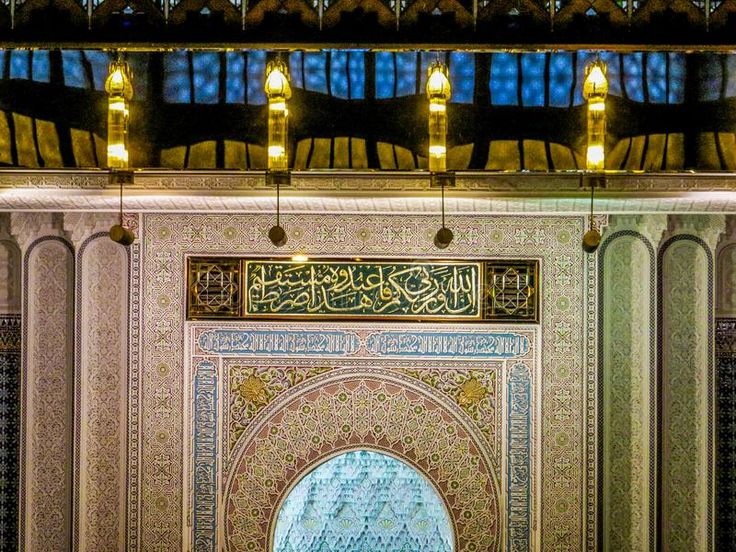 The National Mosque of Malaysia is one of the many architectural landmarks in the nation's capital that you simply must see. It was constructed to commemorate the nation's independence in 1963 and is the largest mosque in Malaysia and the second-largest in all of Southeast Asia.
There is a significant 18-pointed star dome at the top to symbolise the 13 states of Malaysia and the five pillars of Islam. It was given the name Masjid Negara in honour of Tunku Abdul Rahman, Malaysia's first prime minister.
The mosque was constructed with the additional goal of highlighting Malaysian citizens' spirit of inclusivity and tolerance for other races and religions. It now also boasts stunning Kuala Lumpur architectural design.
Address
Jalan Perdana, Tasik Perdana, 50480 Kuala Lumpur
Operating Hours
Saturday – Thursday, 9am – 12pm, 3pm – 4pm & 5.30pm – 6.30pm
Friday, 3pm – 4pm & 5.30pm – 6.30pm
Entry Fee
Free
We hope you'll find the architectural style you love in Malaysia among all these well-known buildings to add to your travel itinerary! The numerous works of architecture in Malaysia are undoubtedly worthy of admiration, whether you prefer the more understated buildings in Sabah or the architecture of Kuala Lumpur.