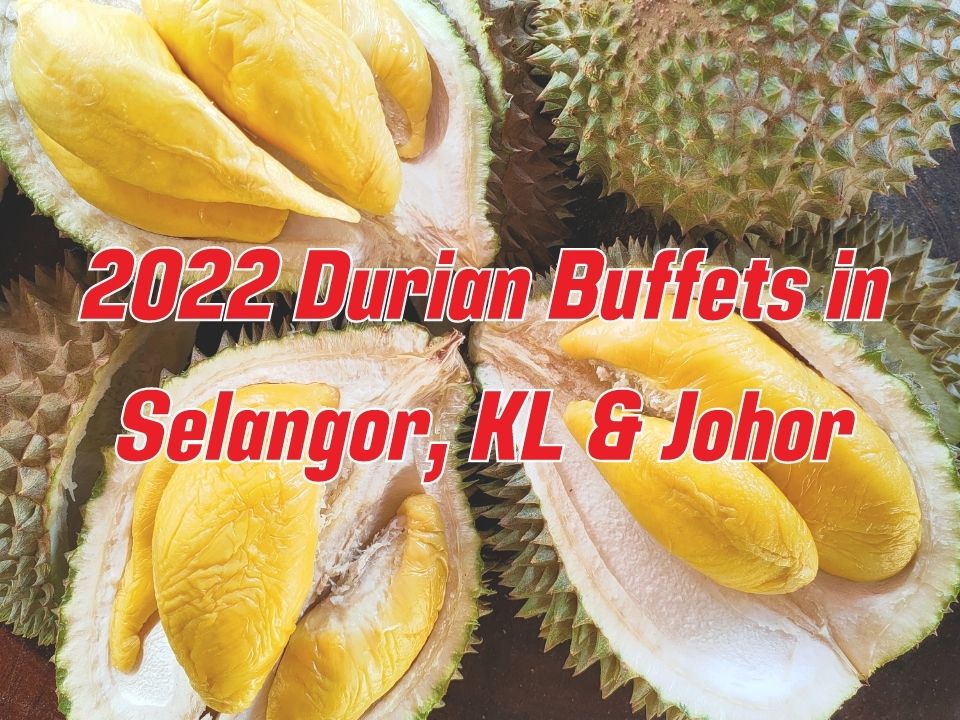 It's that time of year again—Malaysia's king of fruits showtime!
Durian, the king of fruits, as it is commonly known, is loved and hated by many. Some Malaysians find the pungent smell of its custard-like flesh overpowering, while others find it to be an enticing aroma that will prompt them to spend hundreds of ringgit.
6 Durian Buffets in Malaysia
Attention to peeps in Selangor, KL and Johor! From roadside stalls to large-scale durian businesses, we've got you all covered! Here, we have listed down 6 durian buffets and parties available in Malaysia!
Plus! We will also provide you tips on how to pick good durians! Scroll down to the bottom of this page to know more.
Selangor
J&E Frozen Seafood's Durian Buffet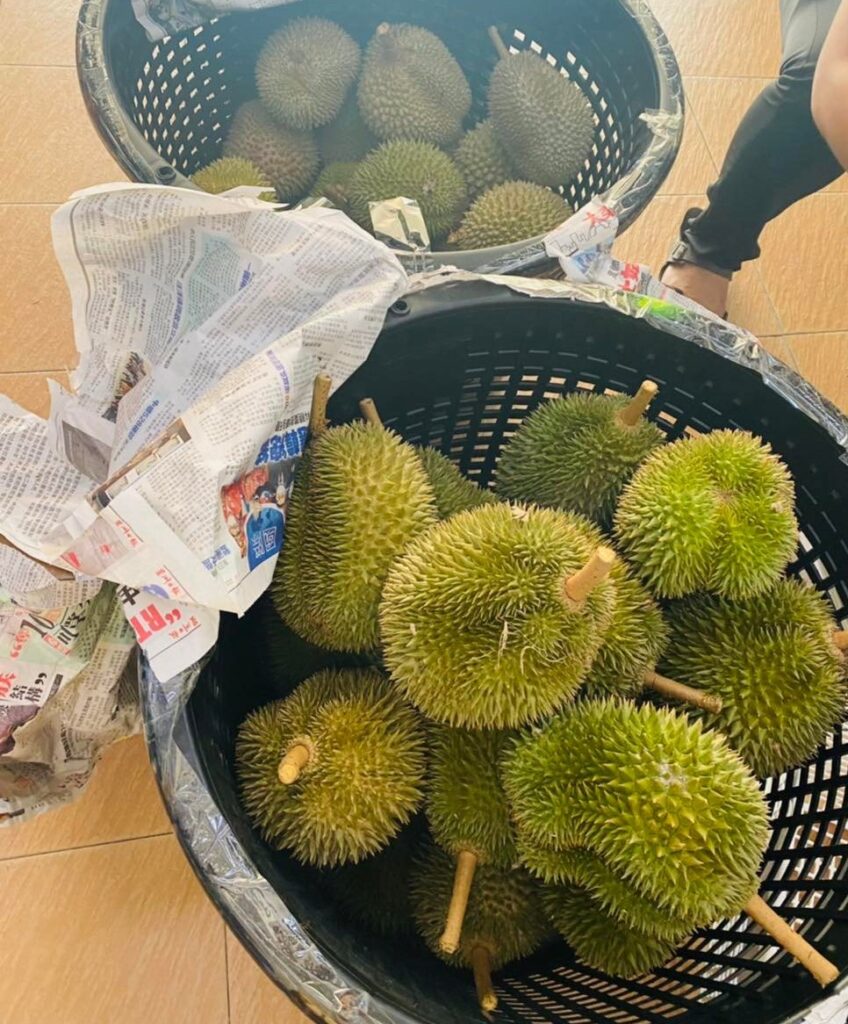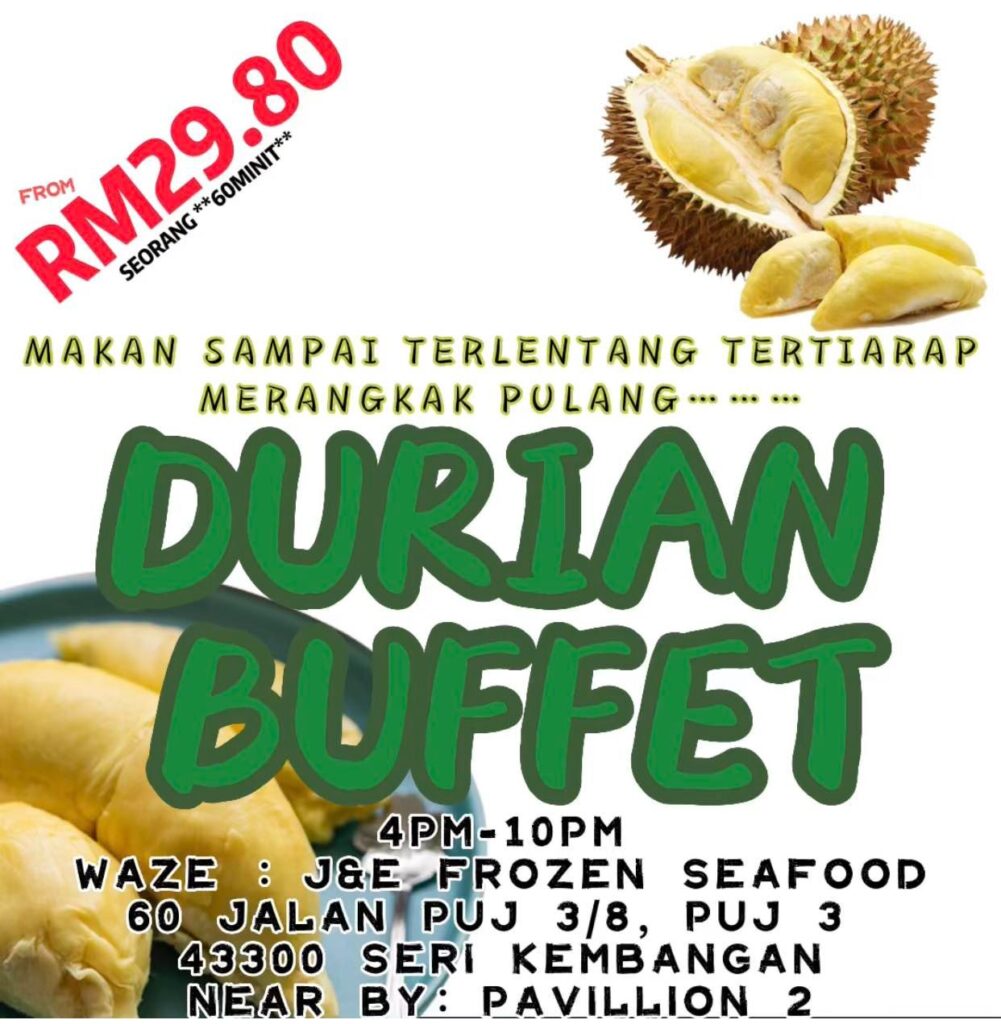 Location: 60, Jalan Puj 3/8, Puj 3, 43300, Seri Kembangan, Selangor
Waze: J&E Frozen Seafood
Business hours: Tuesday to Sunday, 4.00PM to 10.00PM
Call +6017-2175 762 or WhatsApp +6017-217 5762
RM 29.80 per pax, 60 minutes
For more information, visit their Facebook page
Sinnaco Durian Specialist's Durian Party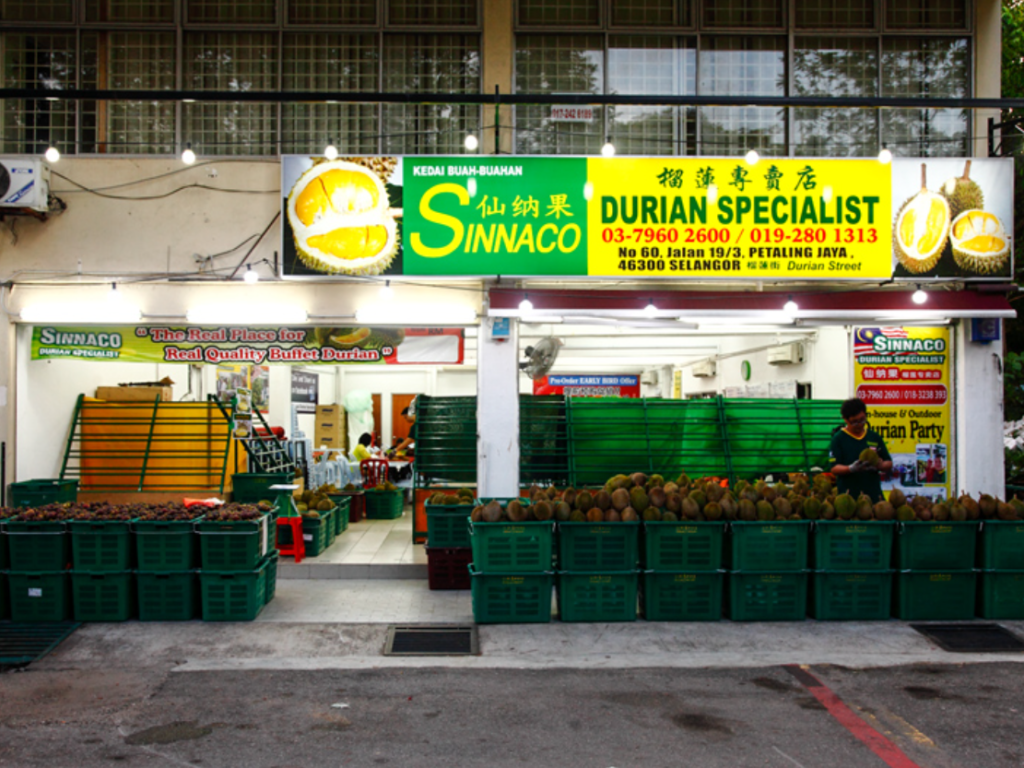 Dine in
Delivery service available within KL and Selangor
Location: No.28, Jalan 19/3, Seksyen 19, Petaling Jaya, 46300 Selangor
Call or WhatsApp +6019-280 1313
Sinnaco Durian Specialist has been serving the public with freshly picked durians every day for more than 60 years. Since no durians are preserved and are only available for purchase the same day they are collected, freshness is guaranteed.
If you are planning to organise a corporate or private social event, good news for you! From open house durian parties to in-house mini durian parties, Sinnaco Durian Specialist is able to host 50 to 3,000 pax durian parties. For more information, visit their website or Facebook page.
Kuala Lumpur
Great Fruit Malaysia
Location: 341G, Jalan Pahang, Titiwangsa, 53200 Kuala Lumpur (next to Knight Auto)
Business hours: 11.00AM to 10.00PM (fresh durians arrive at 3.00PM)
Call +6010-377 5700
RM 30 per pax, 60 minutes
This year, Great Fruit Malaysia has a durian buffet at RM 30 per pax with a time limit of 60 minutes, fresh durians arrive at 3.00PM everyday. For any inquiries, kindly contact them at +6010-377 5700
Sk6363 Durian Stall
Location: Lot 813-814, Jalan Kuang Bertam, Taman Kepong, Kepong, 52100 Kuala Lumpur
Business hours: Monday to Sunday, 1.00PM to 11.00PM (subjected to change)
Call or WhatsApp +6016-372 1551
RM 48 per pax, no reservation
At this modest stall, you may get a fair durian buffet for as cheap as RM 48 per pax. Note that reservation is not accepted. For more updated information on durian buffet and their business hours, visit their Facebook page.
Johor
Pesta Raja Buah
Delivery service available
Location: Open carpark, Bangunan Terminal (Jalan Garuda, Larkin Sentral, 80350, Johor Bahru, Johor)
Business hours: 12.00PM to 11.00PM
Buffet: 1.00PM to 2.00PM, 5.00PM to 6.00PM and 8.00PM to 9.00PM
Call or WhatsApp +6013-734 7545
RM 40 per pax, children 7-12 years old RM 20, senior citizens 60 years old and above RM 15
The buffet is only available during happy hour, that is 1PM – 2PM, 5PM – 6PM and 8PM – 9PM. The price is RM 40 per pax, children from 7 to 12 years old is RM 20 while senior citizens who are more than 60 years old is RM 15. You could visit this Facebook post for more information!
Medan Gerai Buah-buahan Segar Rengit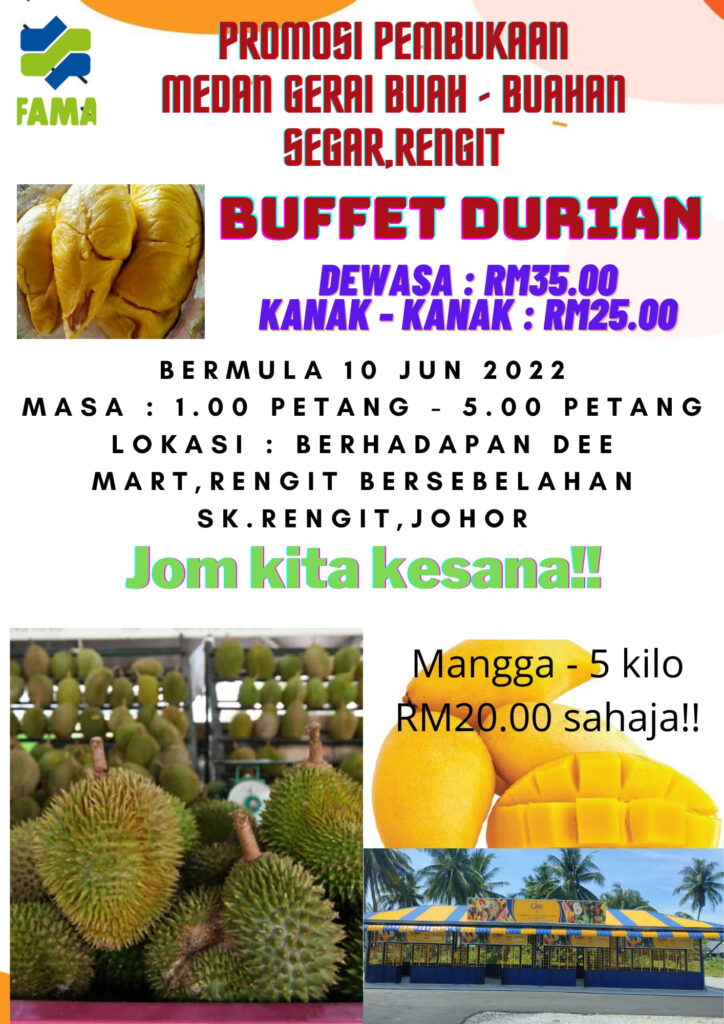 A fruit wholesaler located at the opposite of Dee Supermarket Sdn Bhd (DEE-MART), and next to SK Rengit, 83100 Batu Pahat, Johor
Business hours: 1PM to 5PM
RM 35 adults, RM 25 children
The durian buffet is available at RM 35 for adults and RM 25 for children. For more information, you may visit this link.
Tips to Get Good Durians
Colour of the thorns: Green thorns with brown tips
Thickness and colour of the stalk: A durian with a thicker stalk likely obtained adequate nutrition, resulting in a pulp that is more fleshy.
Shape of the durian: Usually, the more imperfect or irregular the durian's shape is, the more aromatic and creamy it is. A durian that is perfectly round may look nice and have more chambers in it, but it may taste bland.
Shake and listen: The durian is ripe if you hear a clear and crisp yet a little squishy sound. The fruit is unripe if there is a hollow sound. If the fruit appears green with a hollow sound, it is probably unripe with hardened flesh.
For more detailed descriptions, visit Using Three Senses To Get That Good Durian
Food hunters? Read also 7 Satay Hotspots That Locals Choose As Their Favourites