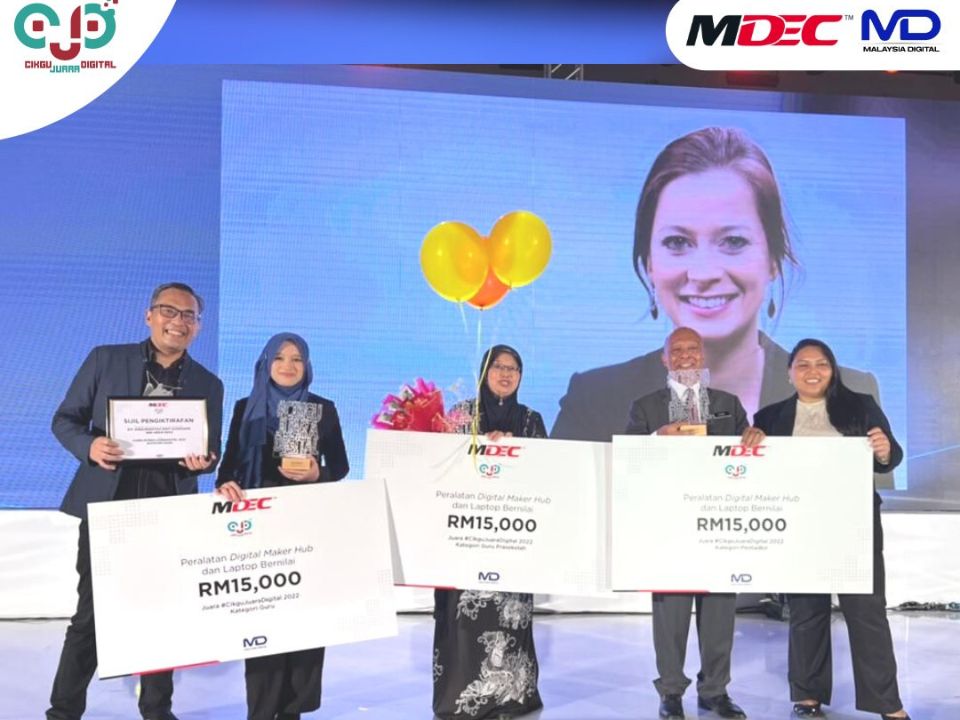 Malaysia Digital Economy Corporation (MDEC), Malaysia's lead digital economy agency announced the winners of the #CikguJuaraDigital 2022 (#CJD 2022).
#CikguJuaraDigital 2022 is a program that celebrates Malaysian educators who have made significant impacts in the education system utilizing the digital platform.
#CikguJuaraDigital 2022
Introduced in 2019, #CJD is a program that aims to support and acknowledge the achievements of Malaysian educators who are breaking barriers by incorporating digital technology into Malaysia's education system.
#CJD also aims to create a nation of digital makers by transforming Malaysian youth from digital users to digital producers.
For #CJD2022, 50 inspirational Malaysian educators were identified as #CJD from the 578 submissions received.
In collaboration with the Departments of State Education under the Ministry of Education, three individuals were selected as winners for the following categories – Preschool Juara, Teacher Juara and School Leader Juara.
The CEO of MDEC, Mahadhir Aziz said the COVID-19 pandemic has fueled the drive to innovate and pushed for digital transformation, not just in the business industries, but also in the local education system.
Mahadhir Aziz further stated:
We are immensely proud of the overwhelming participation this year, with more than 500 teachers from all over Malaysia having submitted their applications, noting their aspiration to continue innovating the education system via the use of the digital platforms. The methods and delivery of education digitally are exemplary, and they are truly a source of inspiration for all of us and MDEC stands steadfast in further pushing the digital transformation of our education system, not only to future-proof ourselves but to ensure we continue to create a digitally-savvy workforce and talents for the future.

Mahadhir Aziz, CEO of MDEC
3 Winners Of #CikguJuaraDigital 2022
Teacher Juara Winner – Cikgu Ainulmursyida Shamsudin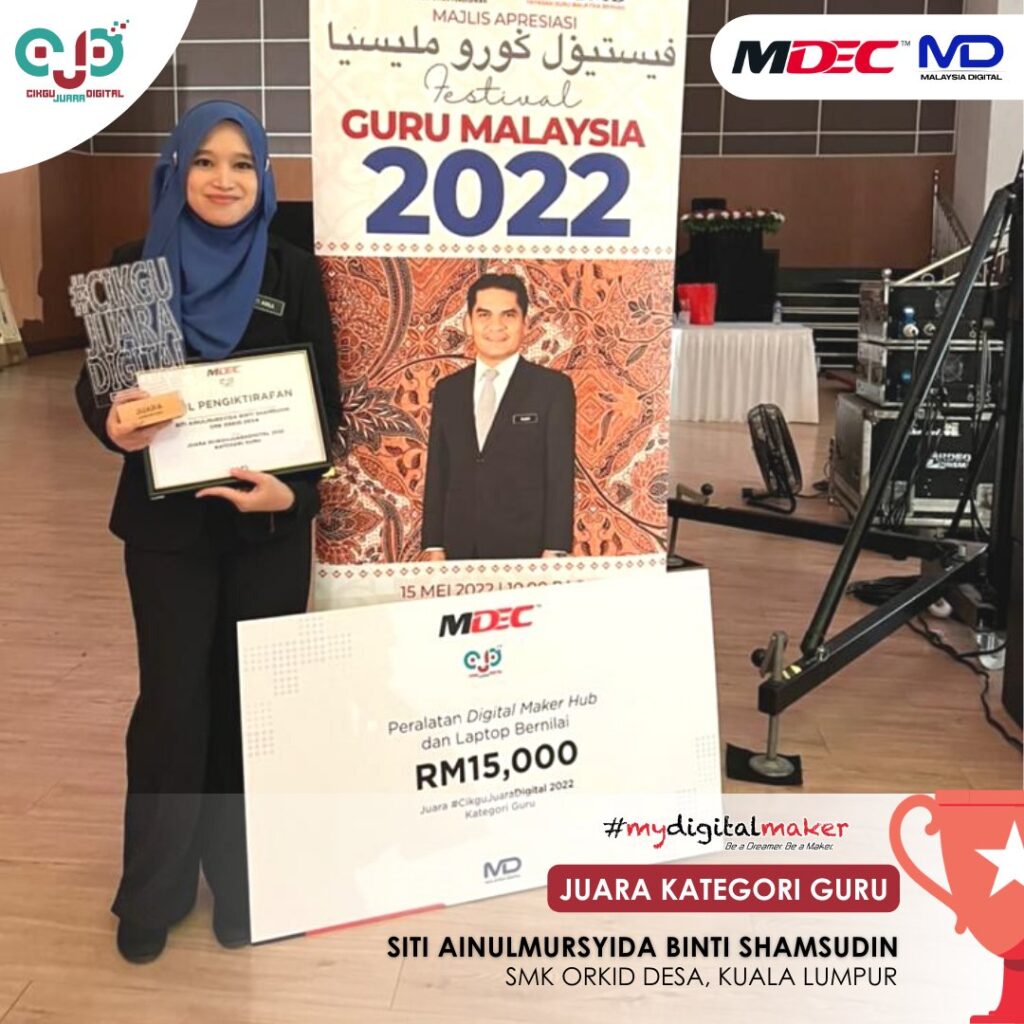 A special education teacher from Sekolah Menengah Kebangsaan (SMK) Orkid Desa in Kuala Lumpur, was named Teacher Juara for her effort in building up the students' interest through social media platforms such as YouTube while integrating interactive materials in her teaching method to foster students' participation.
Preschool Juara Winner – Cikgu Adillah Mansor
Kelantan-born Cikgu Adillah Mansor was placed first in the Preschool Juara category. Currently serving at Sekolah Kebangsaan Ketereh, Cikgu Adillah has 17 years of experience under her belt and holds the title of "Guru Cemerlang Prasekolah" since 2011, a recognition by the Ministry of Education.
School Leader Juara Winner – Cikgu Mohd Nazri Muhammad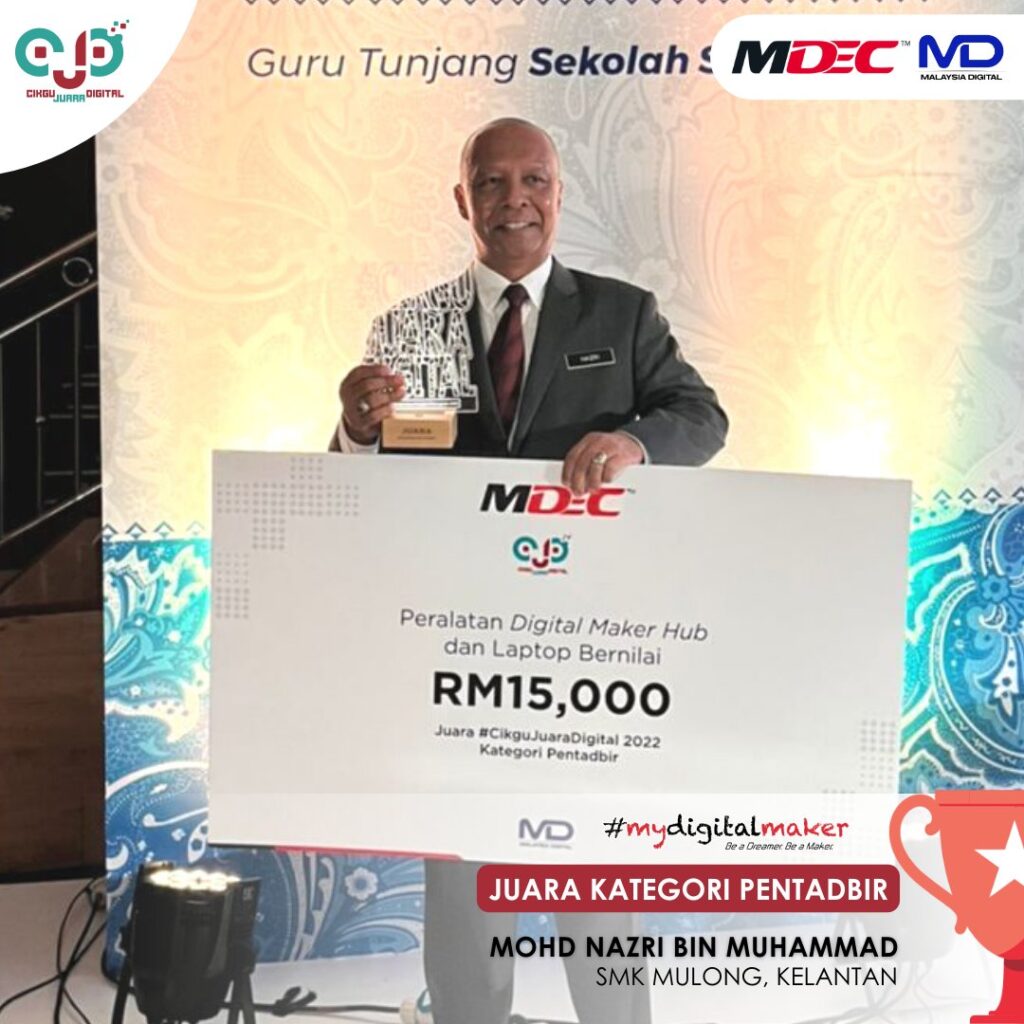 The final category, which celebrates the leaders in the school system, went to Cikgu Mohd Nazri Muhammad, the Headmaster at SMK Mulong in Kota Bharu, Kelantan who believes that teachers and students should be equipped with complete digital infrastructure in order to ensure the most effective online learning experience.
Congratulations to all the winners for #CikguJuaraDigital 2022! To find out more about this program, kindly visit #CikguJuaraDigital 2022