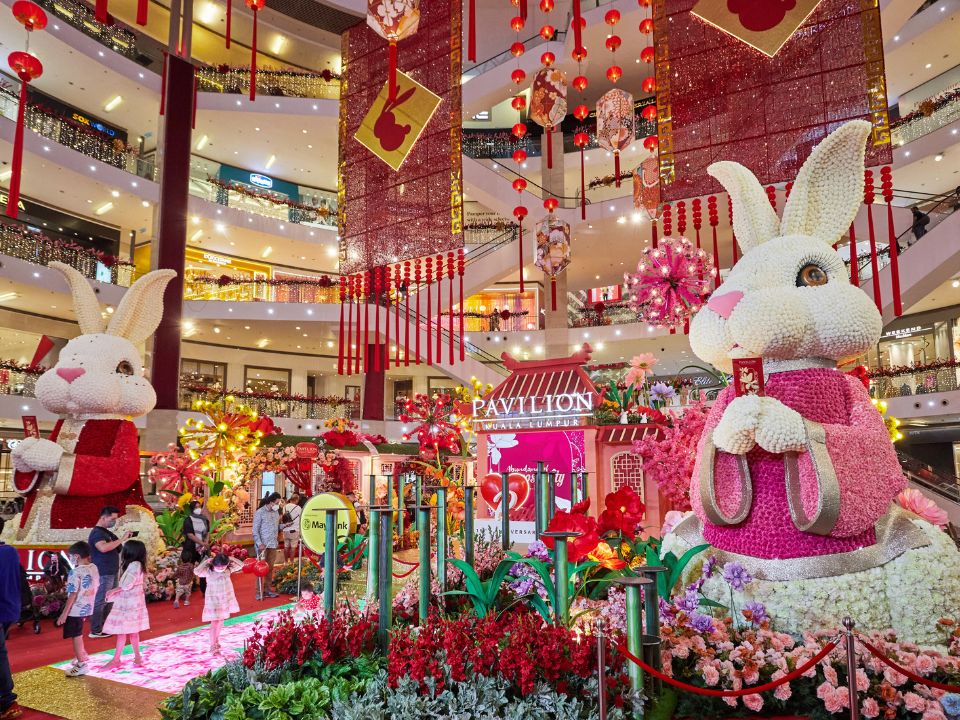 Pavilion Kuala Lumpur, Malaysia's premier shopping destination, presents its 'Abundance of Prosperity' Chinese New Year celebrations to usher in ample luck and prosperity for all shoppers in the coming year.
This Year's Theme, 'Abundance of Prosperity'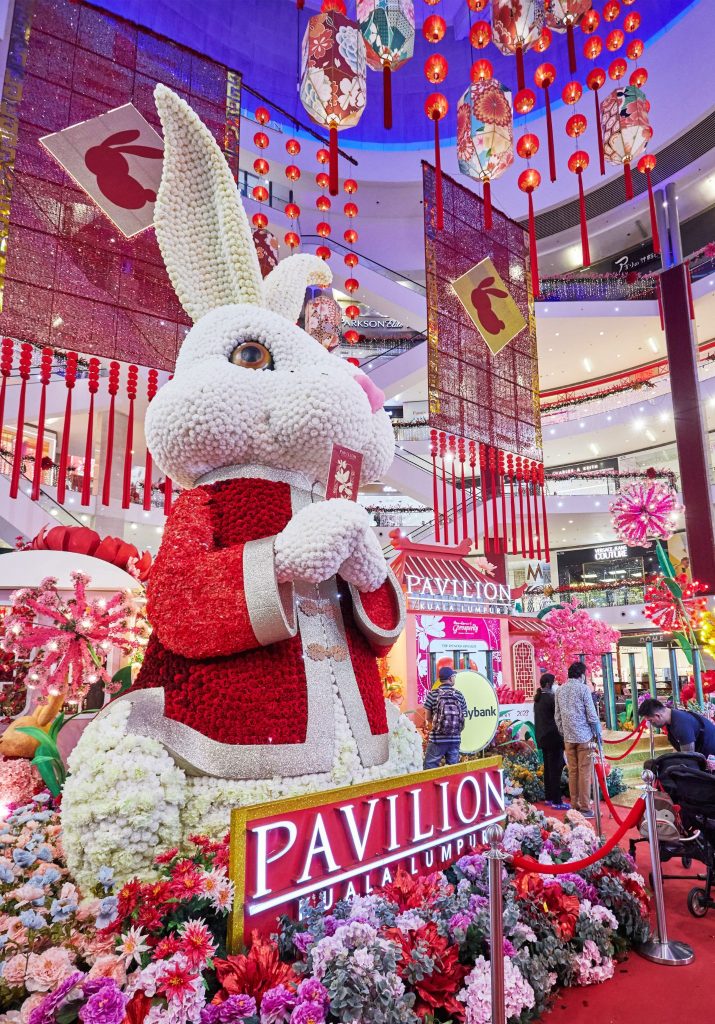 Until February 5, Pavilion KL's Centre Court will be transformed into a spectacular oriental garden featuring golden rabbits, vibrant flowers, and hundreds of lanterns – and a centerpiece featuring a pair of Pavilion Prosperity Rabbits to beckon good luck and fortune.
Standing tall at 20 feet, the rabbits are adorned with hundreds of roses, a flower that symbolizes longevity and sweetness in Chinese culture.
Few Bazaars for You to Shop!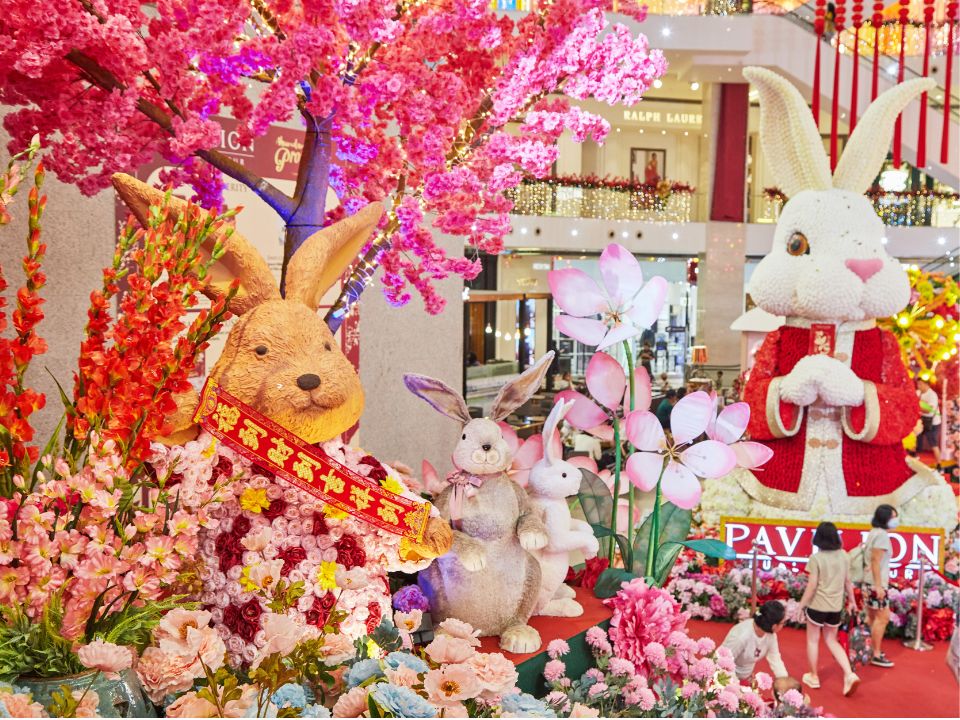 Be sure to wander around the 'Abundance of Prosperity' bazaar to shop for rabbit-themed festive decorations for your home, hampers for gifting, delicious snacks, and delicacies.
Then stop by BOSS for their playful BOSS X Looney Tunes collaboration, newly opened streetwear fashion label, VTMT, and Les Néréides Paris' floral jewelry to glam up your Chinese New Year look.
After you shop, stop by RasaNya for a hearty steamboat or some healthy oven-baked chicken at Oppadak, and quench your thirst with milk teas from OJA or dairy-free drinks from Nuttea & Caffike.
In partnership with Lancôme, the Main Entrance features a 'Let's Bloom Together' display of lush cherry blossom trees, blooming roses, and Chinese lanterns – signaling the abundance of beauty and fortune in the year ahead.
Shoppers will also be treated to an exciting pop-up by Hennessy at Connection, featuring a carousel displaying the brand's signature cognac, an art gallery, and photo-worthy displays.
Also located at Connection, shoppers can drop by the Carlsberg pop-up, where they can enjoy Carlsberg-inspired cocktails at the mixologist station and browse the Instagrammable Carlsberg art gallery.
Lots of Entertainment Activities Await You!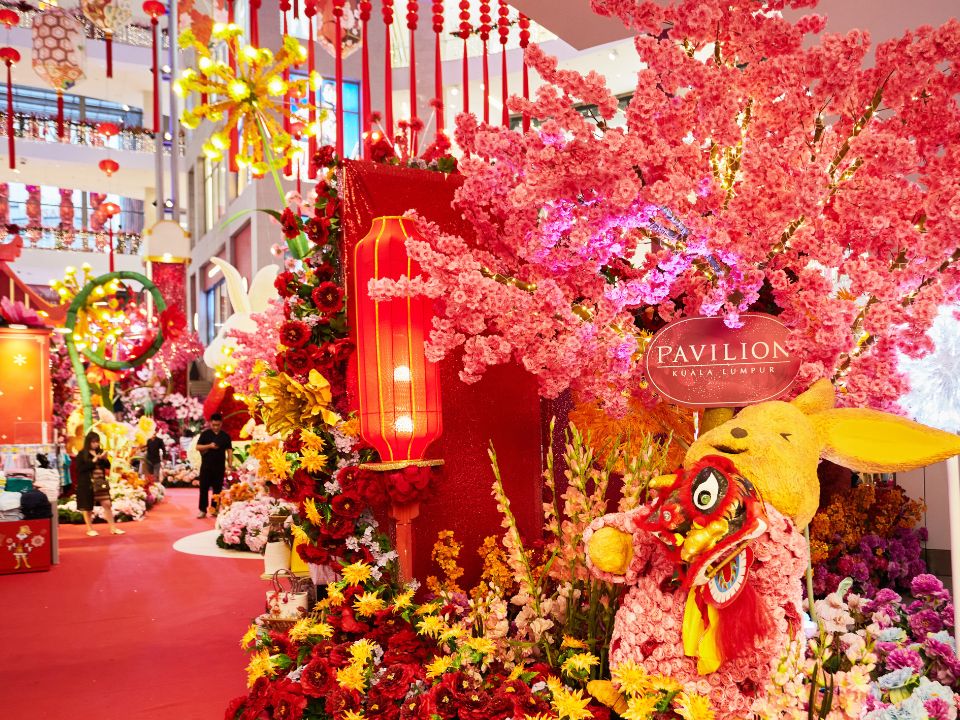 Plenty of entertainment awaits shoppers this 2023 Chinese New Year!
Get into the festive mood with lively 'Leap of Prosperity' Acrobatic Lion Dance Performances at the Centre Court every weekend and public holiday at 1.30pm,
Prosperity Rabbits Dance Performances and Walkabout every weekend and public holiday at 2pm.
After the dance performances, hang around to catch the God of Prosperity making an appearance at 3pm. Keep your eyes peeled for a magician dressed in Chinese New Year garb every weekend and public holiday — shoppers will be surprised with candies, fortune cookies, chocolates and even vouchers!
Shoppers also can watch a high-energy 'Classical New Beginnings' Drum Performance by Taylor's College on 15, 29 January and 5 February at 5pm.
Free Gifts and Promotions for Pavilion Kuala Lumpur's Shoppers!
Great gifts await those who spend this Chinese New Year!
With a minimum spend of RM300 in a single receipt at speciality stores, shoppers will receive exclusive Pavilion KL Angpow Packets for free.
With RM800 spent, shoppers can redeem two Dadi Cinema Pavilion KL movie passes.
While Maybank cardholders can redeem:
A free Cherry Blossoms Pyrex 2.4L Mixing Bowl with RM1,000 spent
A free Cherry Blossoms Pyrex 2L Casserole with Lid with RM2,000 spent in a single receipt
A free TSL Rabbit Pure Gold Coin Packet with RM5,000 spent in a single receipt.
Feeling lucky? With every RM800 and above spent, shoppers can be one of eight lucky winners that will go home with a TSL 12 Treasures 18K Gold Diamond Necklace worth RM4,690!
For more information on 'Abundance of Prosperity' activities and promotions, visit Pavilion KL Official Website or check for real-time updates via Facebook, Instagram, or contact Pavilion KL's Concierge at 03 2118 8833.
While you are at it, check out these 2023 Chinese New Year Sales and Promotions!