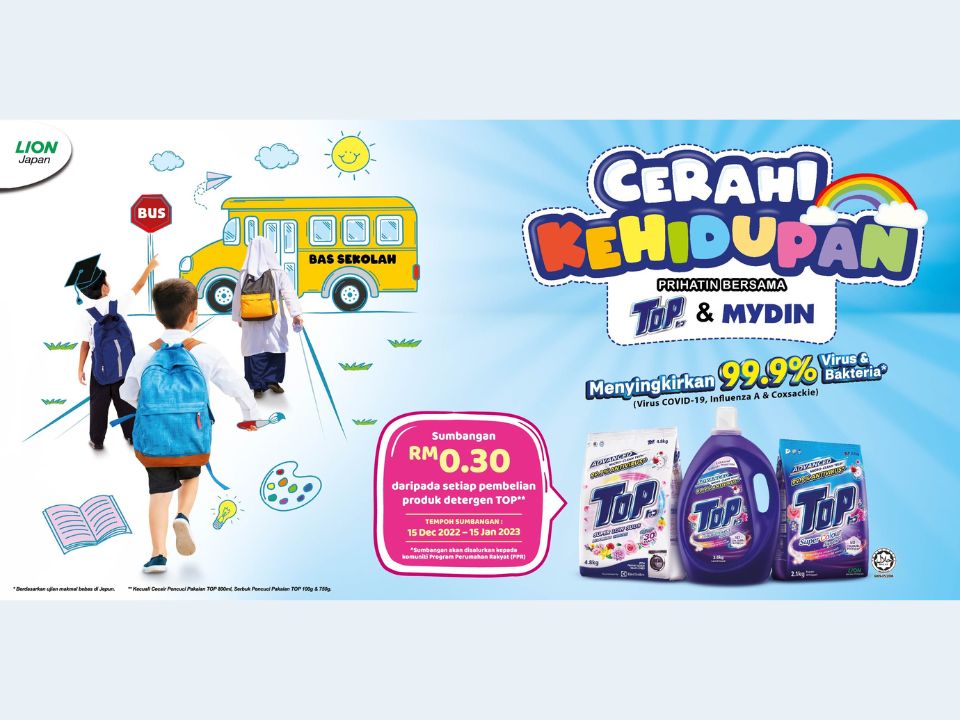 Most Malaysian families eagerly anticipate the start of the new school year, racing to equip their children with all new school necessities to motivate them to excel in their primary education. However, the new school year is laden with major expenses for urban poor families.
Cerahi Kehidupan Bersama TOP Campaign
While the percentage of the urban poor is relatively low at 3.8%, Malaysia has one of the fastest urbanization rates in South-East Asia with 77.9% of the country's 32.4 million population living in urban areas which translates to almost 960,000 urban dwellers living in poverty.
Most of the urban poor are settled in Projek Perumahan Rakyat (PPR) low-cost flats, which are densely populated with limited public amenities that are often associated with drug and alcohol abuse, crime, and petty theft as well as domestic violence and abuse, making the residents vulnerable.
Those with lower educational attainment tend to be from households with lower incomes causing the income gap to widen. Encouraging and improving education opportunities is key to reducing income inequality.
TOP Collaborates with MYDIN to Support 200 Students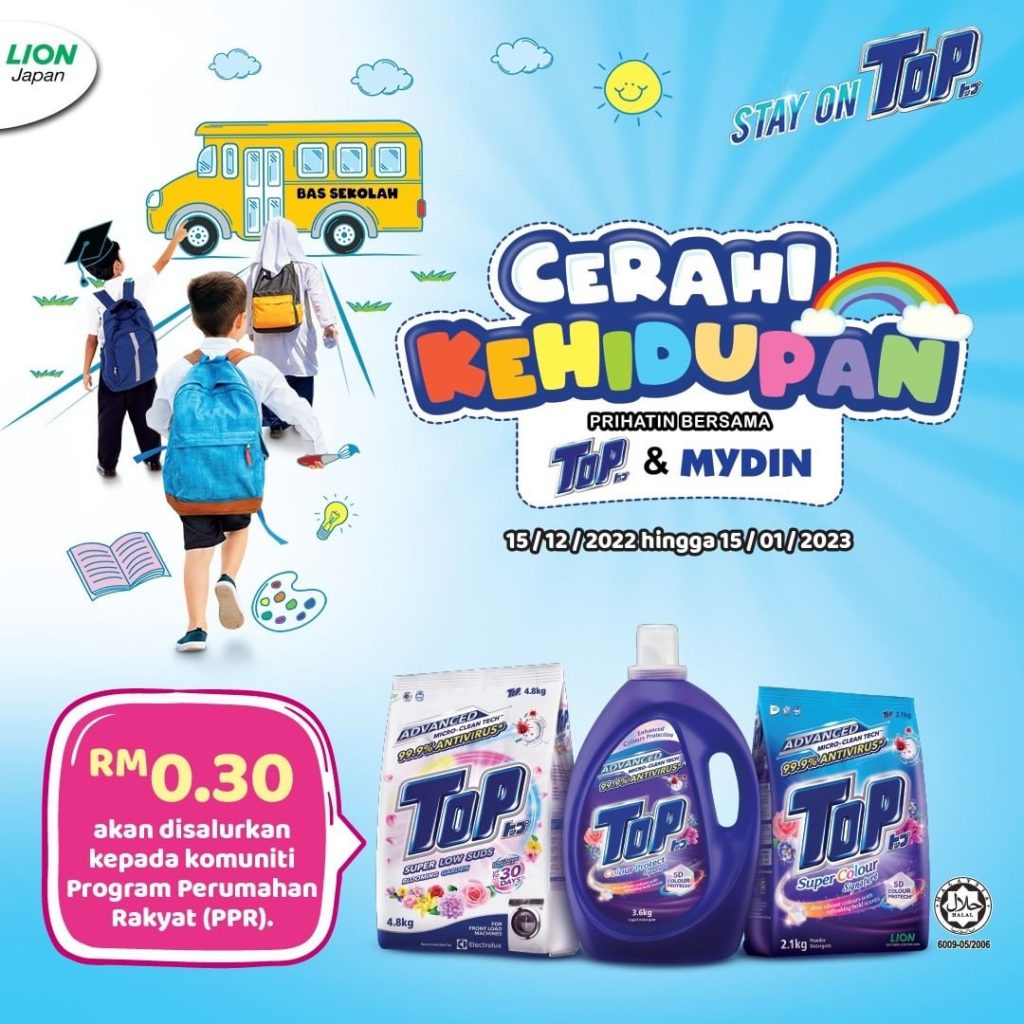 Understanding the plight of these urban poor families and recognizing the importance of education for all, the Cerahi Kehidupan Bersama TOP (Brighter Future with TOP) charity fund-raising campaign is collaborating with MYDIN to equip a total of 200 Primary One students from hardcore poor families living in PPR communities in Kuala Lumpur, Selangor, Johor, and Penang, with back-to-school essentials for the 2023/2024 school year. 
A portion of sales from selected TOP detergent products across MYDIN stores from December 15, 2022, to January 15, 2023, will be channeled to equipping these 200 Primary One school students.
The back-to-school essentials include a brand-new school uniform, school shoes, socks, a stationery set, a pencil case, and colored pencils for each child. TOP will deliver the personalized back-to-school packs to the families ahead of the new school term giving parents and children ease of mind that they are on a level playing field with other classmates.
Each participating family in the Cerahi Kehidupan Bersama TOP program will receive a 2.1kg pack of TOP Super Colour powder detergent from this line, and a reusable detergent dispenser.
Cerahi Kehidupan Bersama TOP Past Campaigns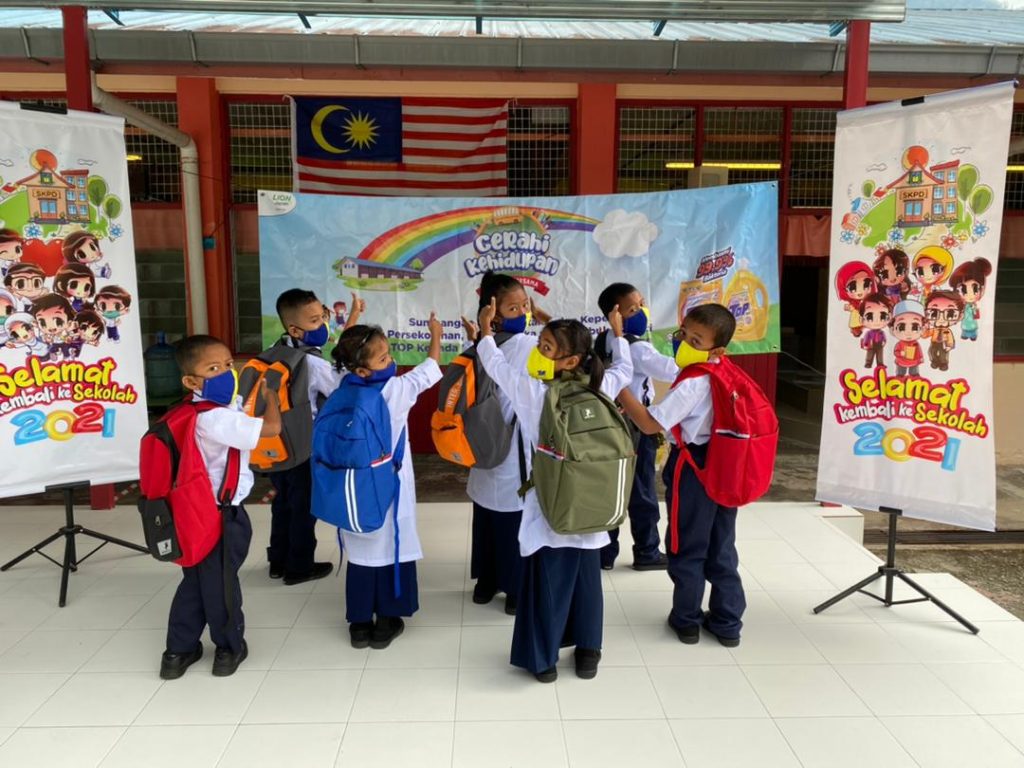 Since its inception in 2015, the Cerahi Kehidupan Bersama TOP campaign has benefited 3,206 children from 97 communities nationwide with back-to-school essentials, while contributing TOP detergent products to their families and caregivers.
How to Support Cerahi Kehidupan Bersama TOP Campaign?
To support the Cerahi Kehidupan Bersama TOP campaign in providing 200 urban poor Primary One students with back-to-school essentials, the public can purchase TOP detergent products from any participating MYDIN store nationwide from 15 December 2022 to 15 January 2023. For more information, kindly visit the official Facebook page of TOP Detergent Malaysia.
To find out more about TOP products and the campaign, please visit http://www.southernlion.com.my or call the customer care line at 1800-880-133.