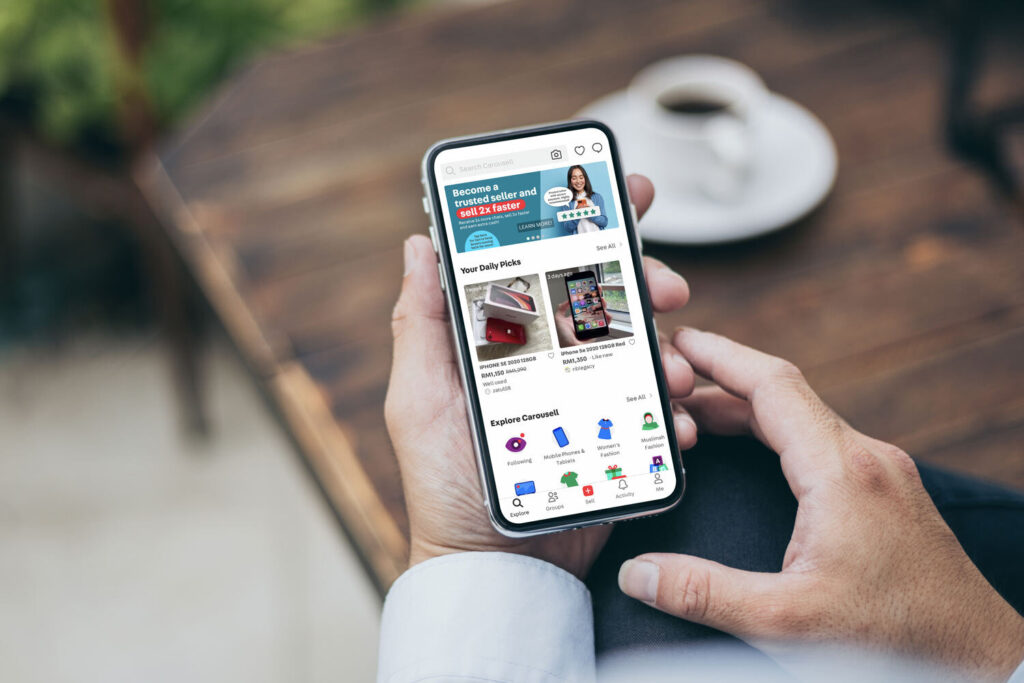 Carousell Group, a leading classifieds group in Greater Southeast Asia, released the Carousell Recommerce Index 2021 to address the issue of overconsumption in the Greater Southeast Asia region. It is a green initiative by Carousell to draw attention to the importance of sustainability and recommence in the region.
Carousell Recommerce Index 2021
The report covers findings from 4 Carousell Group brands namely Carousell, Chợ Tốt, Mudah.my and OneKyat, across eight markets including Malaysia, Hong Kong, Indonesia, Myanmar, the Philippines, Singapore, Taiwan and Vietnam. Over 3,000 buyers and sellers in the region were involved.
Second-hand buyers in Malaysia
In Malaysia, almost 8 out of 10 people have made second-hand purchases before. These people, which is 46% of Malaysian respondents have a strong preference for buying Photography and Electronics such as computers, mobile phones and tablets.
Home, Furniture and Appliances are the top-selling categories as 48% of Malaysian respondents' preference. It shows how the items are getting a new owner instead of going to landfills. This provides income to sellers and delivers value to buyers.
Reason for buying or not buying second-hand goods
78% of Malaysian respondents who have purchased second-hand items before cited 'value for money' as the top reason for buying second-hand. This is more than the regional average of 68%.
On the other hand, 39% cited 'authentication or warranty on products' as for why they never bought second-hand items before. They would buy second-hand goods for the same factor.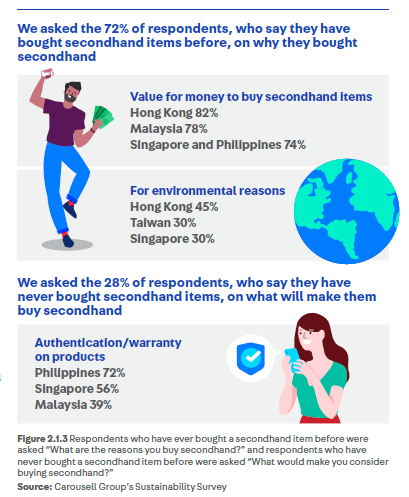 Top category
According to the Carousell Recommerce Index 2021, Fashion is the top category amongst all with the most second-hand listings. Across the region, Women's Fashion dominates the top spot while Men's Fashion is also becoming increasingly popular.
Men's Fashion surged 76% in listing views and 74% in listings created on Carousell Malaysia. The men's fashion items include men's tops and sneakers as the most popular purchases. On top of that, Men's Fashion is also popular on Mudah.my, leading the way for its parent category Home and Personal Items to reach second place in 2020.
Autos
However, the most number of second-hand listings as well as the most demand for second-hand on Mudah.my is Autos. It took the lead from 2018 until 2020.
The Autos category is anticipated to be a key area of growth following the launch of Carousell Auto Group in early 2021. This is because more individuals are seeking safe and reliable vehicles with a lower budget than a new set of wheels.
Carousell Group continues to make headway
Regardless of fluctuations in the market, Carousell Group continues to advance in fostering and promoting the second-hand community. This is evident through the Malaysia's Betul-betul Free campaign, which was inspired by users who listed items for free using the hashtag #blessings.
It started with just a simple hashtag between the community but its popularity led to a dedicated Free Items category on the platform. It is now available in Singapore, Hong Kong, Taiwan, Malaysia and the Philippines on Carousell, as well as Chợ Tốt in Vietnam and OneKyat in Myanmar.
As a pioneer for mobile classifieds in the region, Carousell Group has been constantly working to remove friction and enable secure, seamless transactions. With the use of AI and data, we have been focused on accelerating our recommerce leadership in the region to make buying second-hand trusted and convenient. This, in turn, will help to solve the meaningful problem of overconsumption with recommerce and thus make second-hand the first choice for consumers.

Lucas Ngoo, Co-founder, Carousell Group
Carousell Group is on a mission to inspire the world to start selling, and to make second-hand the first choice. Founded in August 2012, the group has a leading presence in eight markets under the brands Carousell, Mudah.my, Cho Tot and OneKyat, with more than ten millions of monthly active users.
Refer here for more information.