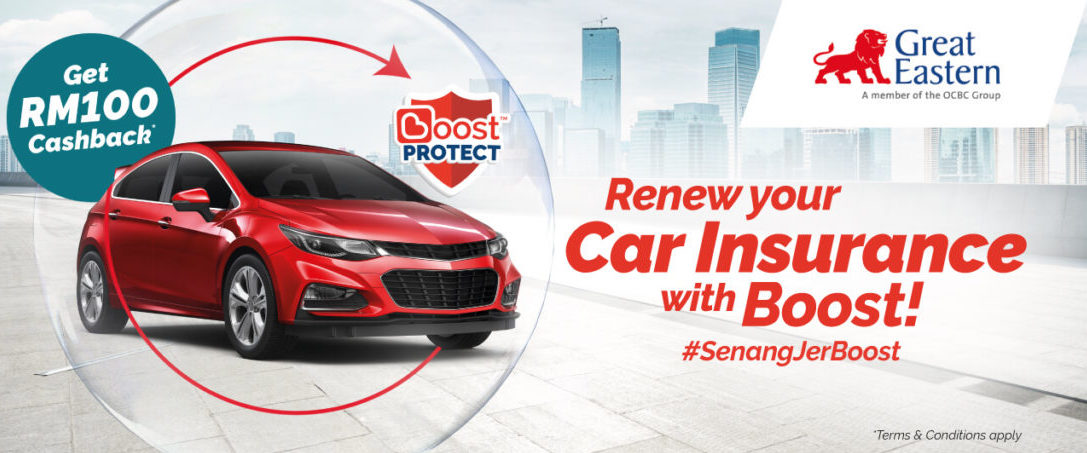 Renew Your Car Insurance With CarProtect Via The Boost eWallet App!
Boost has expanded its insurance offerings with the launch of CarProtect, providing comprehensive coverage of car insurance for private cars. The feature allows users to customise a car insurance plan seamlessly and conveniently.
Boost CarProtect: Car insurance in your pocket
The insurance plan is underwritten by Great Eastern General Insurance (Malaysia) Bhd. Each CarProtect insurance plan offers a one-year coverage for damage to the car insured. Moreover, the insurance is claimable for reasons including accident, theft or accidental fire, as well as liabilities to third parties including bodily injuries, death, property loss or damage.
Why Boost CarProtect?
1. Easy to renew
The new CarProtect allows Boost users to renew their car insurance & road tax online in just a few taps on its app. According to their website, you can complete the process in just 5 minutes!
2. No need for agent
If you are traditionally handling your car insurance, you will know the complicated process you would have to go through with the insurance agent. With this car protection feature, you can just key in the details that can be found in your vehicle ownership certificate.
3. Easy to customise
CarProtect is designed for your convenience and easily customisable. You can adjust the sum you want to be insured for and also customise the add-ons you need.
4. Built-in emergency button
It's easier to get help with Boost as you will gain 24/7 access to car assistance via an 'Emergency' button on the app.
The assistances include:
Roadside assistance
Paid battery services
Claims submission
Panel workshop list, and more
5. Easy to find
Don't have to dig through your drawers to look for your policy documents again.
In a stressful emergency, some people would panic and even forget where did they keep their documents. With the app, you can access your car insurance policy information anytime and anywhere. Thus, in case of an emergency, you can just calmly open the app and look for the service.
6. Get RM100 cashback!
Purchase your car insurance with Boost and you will receive RM100 cashback in the Boost Partner Wallet! You can use the cashback in the Boost Partner Wallet to pay for any Boost transaction.
However, this bonus is only eligible for the first 5,000 users, from now until 31 December 2021. Be fast if you don't want to miss it!
How to renew car insurance with Boost?
1. First, open the Boost app and select the 'Insurance' option.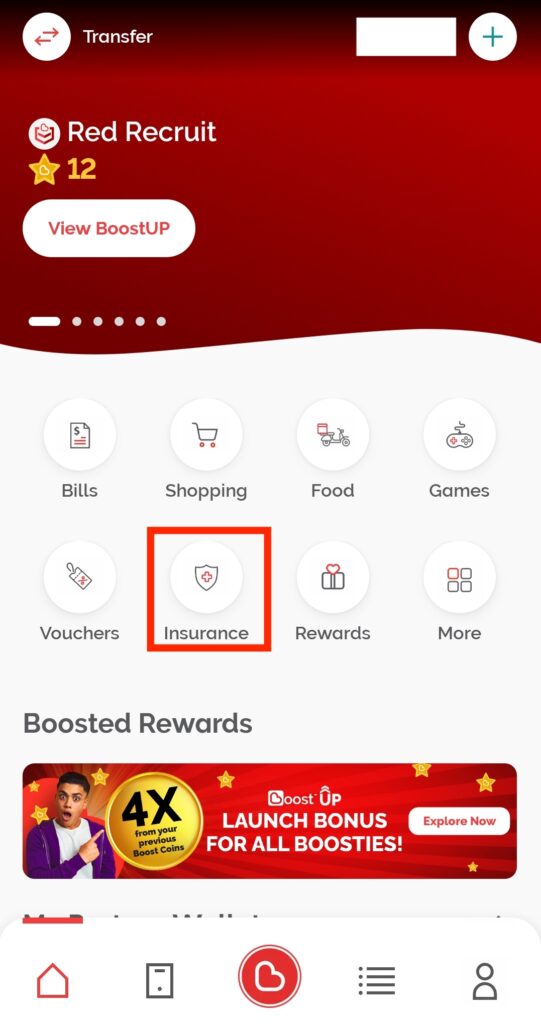 2. Then, select 'CarProtect'.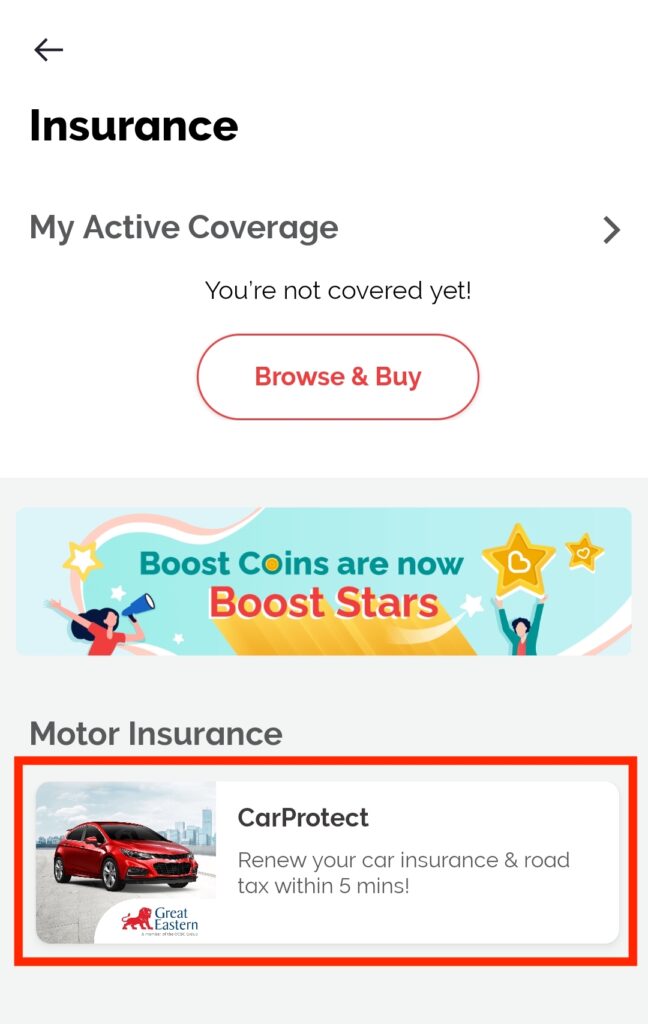 3. After that, tap on 'Get Quote' to get a quotation.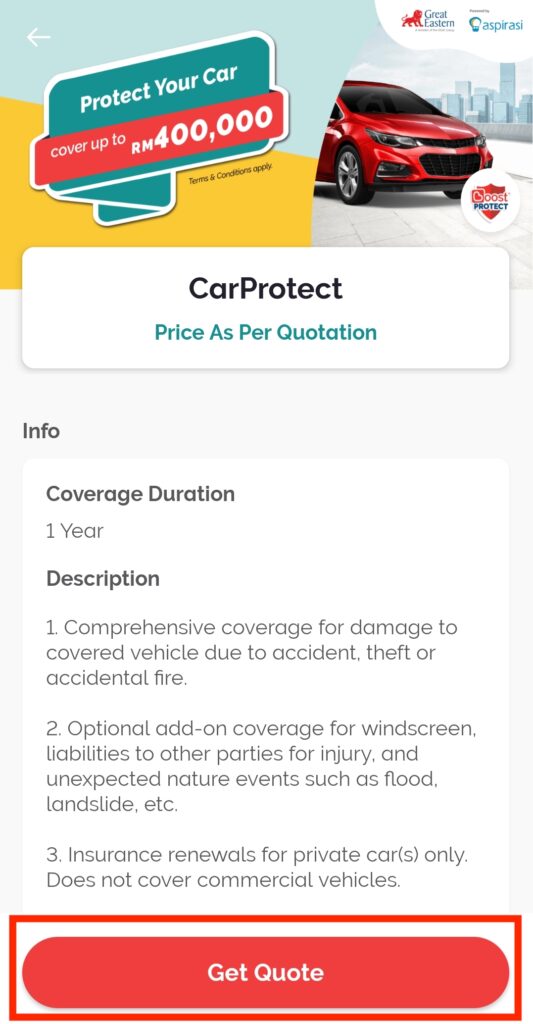 4. You will then have to fill in all relevant details and it will lead you to customise your desired coverage.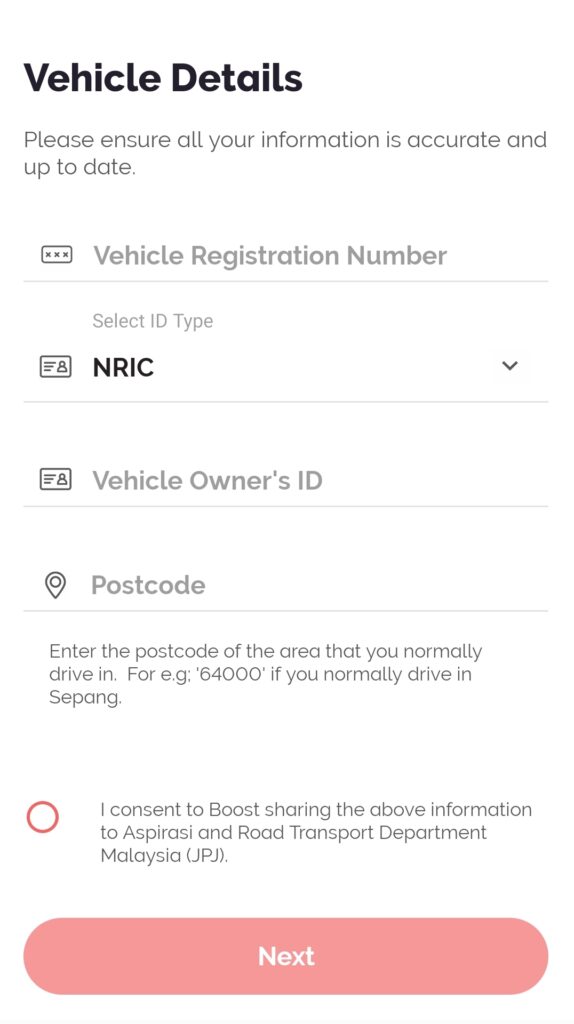 5. Lastly, make payment and your car insurance will be successfully renewed once it's approved by JPJ.
For more information, you may visit Boost's website, or download the Boost app here.