Bigo Live, the global leading live streaming platform, has recently announced a partnership with WeTV, Tencent Video's international video streaming website, to allow users to stream and watch television dramas and reality series exclusively on the Bigo Live app.
Watch popular WeTV's titles on Bigo Live app
Bigo Live users will now be able to watch popular titles daily on weekdays at 6pm MYT. The titles include:
'You are my Glory; 你是我的 荣耀' (China)
'Antares' (Indonesia)
'Little Mom' (Indonesia)
'My Girlfriend is an Alien; 外星 女生柴小七' (China)
'Lavangan Putus' (Indonesia)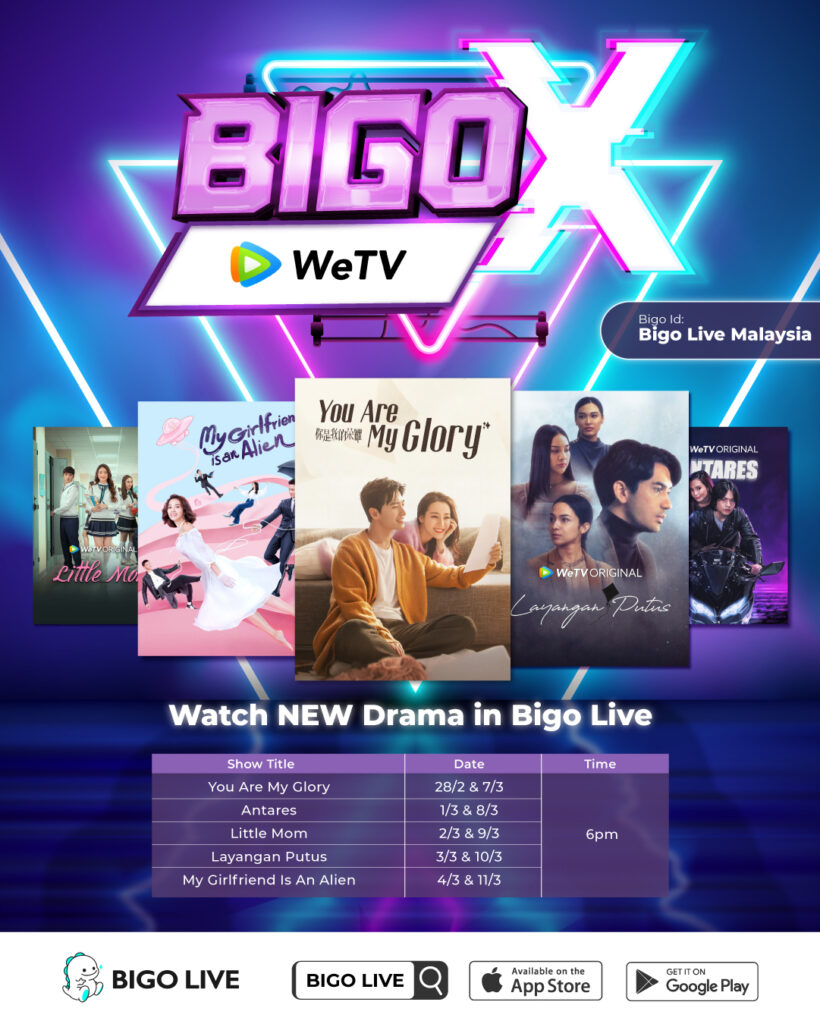 New titles coming soon
Users can also look forward to more titles adding to the application in the coming months. These include titles such as 'City of Streamer; 流光之城' (China), 'Hello, the Sharpshooter; 你好,神枪手' (China), 'Novoland: Pearl Eclipse; 斛珠夫人' (China), and 'Operation: Special Warfare; 特战行动' (China).
The first WeTV Original in Malaysia, Villa Kristal, is also part of the exciting line-up for 2022 featured on Bigo Live. Directed by Kabir Bhatia and Jason Chong, this drama series features Mimi Lana, Tiz Zaqyah, Jasmine Suraya and Mawar Rashid, and is now streaming on WeTV.
Engaging and immersive live streaming experience
The partnership with WeTV is part of Bigo Live's ongoing efforts to innovate and push out new features that provide users with an engaging and immersive live streaming experience.
Bigo Live is pleased to announce our partnership with WeTV to stream drama and reality TV series content to Bigo Live users in Malaysia. This partnership is evident of our commitment in providing pan-entertainment and a variety of content to all our users.

Vivian He, Country Manager, Bigo Live Malaysia
He added,
The partnership also marks a significant milestone as we enter our next phase of growth, and we are very excited to leverage on WeTV's extensive library of content to provide our users with a new way to consume entertainment which can be enjoyed from wherever they are. As we expand our pan-entertainment offerings, we hope to continue spreading joy and positivity to all our users, especially in Malaysia.
To stream and watch the available titles, download the Bigo Live app (available on iOS and Android). Users can also keep up-to-date with the latest drama and reality series release dates and announcements by following Bigo Live Malaysia on the Bigo Live app at BIGO ID: Bigo Live Malaysia.
Bigo Live is one of the world's fastest-growing live streaming social communities where users broadcast in real-time to share life moments, showcase their talents and interact with people from around the world. Launched in March 2016, the application has around 400 million users in over 150 countries and is currently the market leader in the live streaming industry.