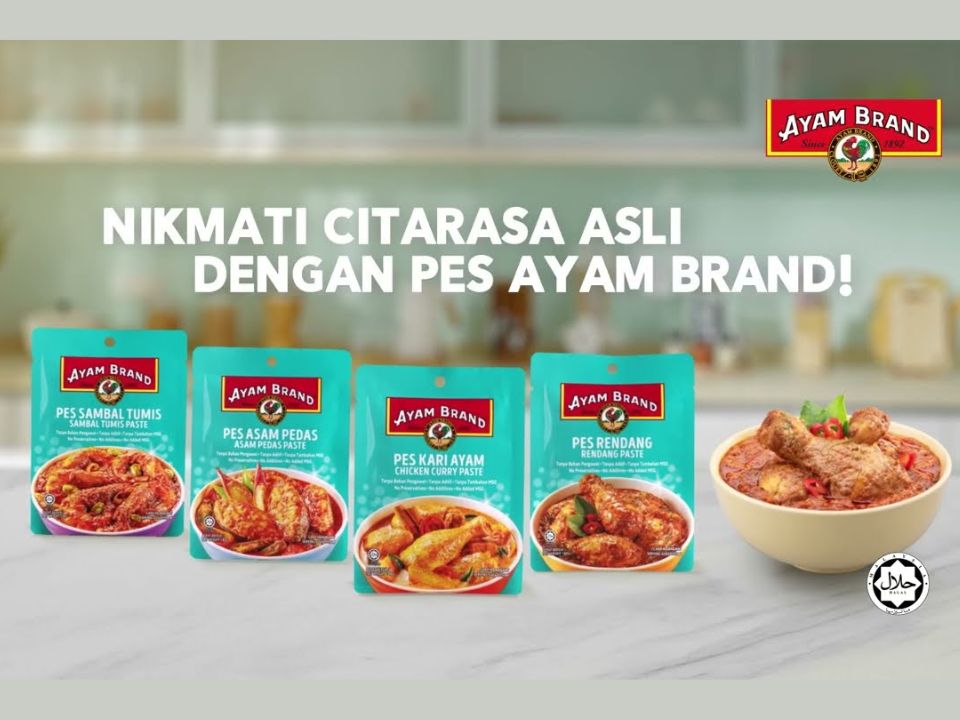 Cooking Rendang is never an easy task but with Ayam Brand™ Starter Pack, you only need 30 minutes or less to make it!
Ayam Brand™ Rendang Starter Pack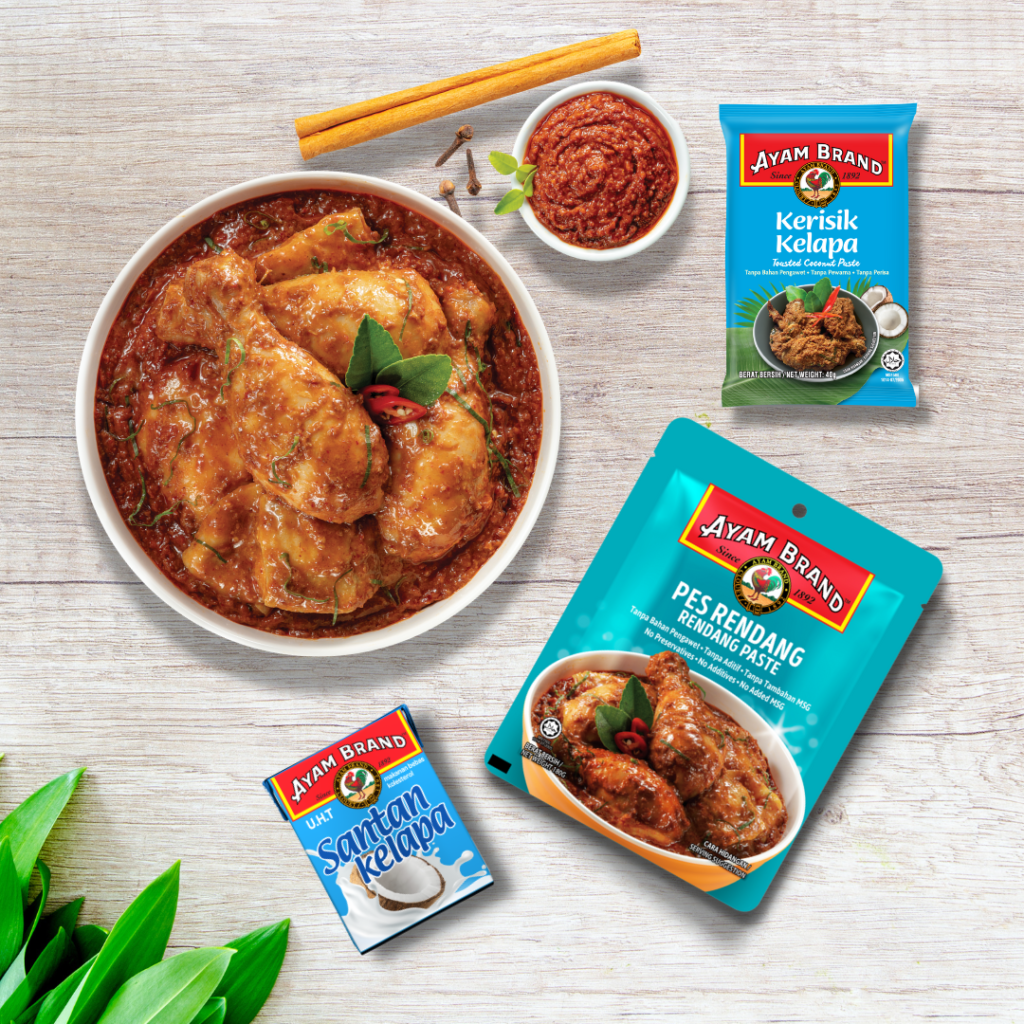 The Ayam Brand™ Rendang Raya Starter pack consists of the all-new Ayam Brand™ Rendang Paste, Ayam Brand™ Toasted Coconut Paste otherwise commonly known as kerisik and Ayam Brand™ Coconut Milk that's as good as fresh. It has all you need except chicken, meat, seafood or plant-based meat for an authentic rendang at home.
Pack With Quality Ingredients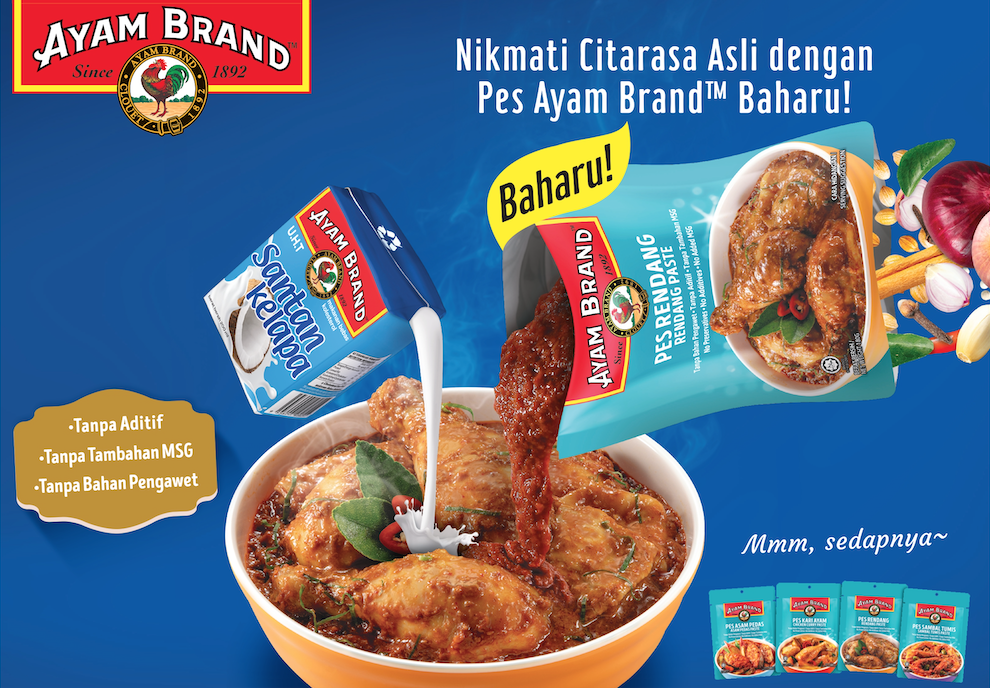 The paste is free of preservatives, MSG, and additives, making it a healthier alternative that contains many traditional ingredients such as onion, shallot, garlic, galangal, dried chilli, lemongrass, ginger, turmeric, tamarind, coriander seed, fennel seed, cumin, cinnamon, nutmeg, clove, and fenugreek. Ayam Brand™ Kerisik is also ready to use and saves hours of toasting fresh flaked coconut until the oils rise.
Steps To Cook Rendang
Using this Rendang Paste, you can cook it with these easy steps and it will all done in 30 minutes or less.
Instructions:
Preheat cooking oil in the pan, add Ayam Brand™ Rendang Paste and stir-fry until fragrant.
Add in 500g of chicken/ meat/seafood and stir until the protein is semi-cooked.
Then add in 120ml of Ayam Brand™ Coconut Milk, stir until well combined and the meat is cooked through.
Add in one pack of Ayam Brand™ Kerisik 40g to thicken, add texture, and stir well to coat the meat/chicken/seafood with the toasty kerisik.
Continue occasionally stirring until the oils rise.
Get Creative With Your Rendang!
Perak's Rendang Tok
If you're craving the dark and 'dry' yet extra tender Rendang Tok, add palm sugar and more kerisik to your culinary masterpiece. The palm sugar will caramelise darkening the rendang, and the kerisik will help to dry up the gravy. Be prepared to leave the rendang on the stove simmering on low heat for another 30 minutes to an hour, stirring occasionally.
Negeri Sembilan's Rendang Minang
The Nogori spiciness tolerance is on another level for Rendang Minang (Negeri Sembilan speciality). If you're up to it, add lots of pounded cili padi and cracked black pepper to the Ayam Brand™ Rendang Paste at step 1, and then continue. Eye-watering good.
Rendang Johor
The deliciousness that is rendang Johor is simple to achieve. Prepare as per the basic rendang recipe, then add turmeric and kaffir lime leaves before adding Ayam Brand™ Kerisik to the dish.
Rendang Hijau
Add pounded or blended green chillies to the Ayam Brand™ Rendang Paste and sauté until fragrant. This step will take more time as you want the flavours to meld before stewing the protein of choice in it.
Ayam Brand™ Other Traditional Paste Options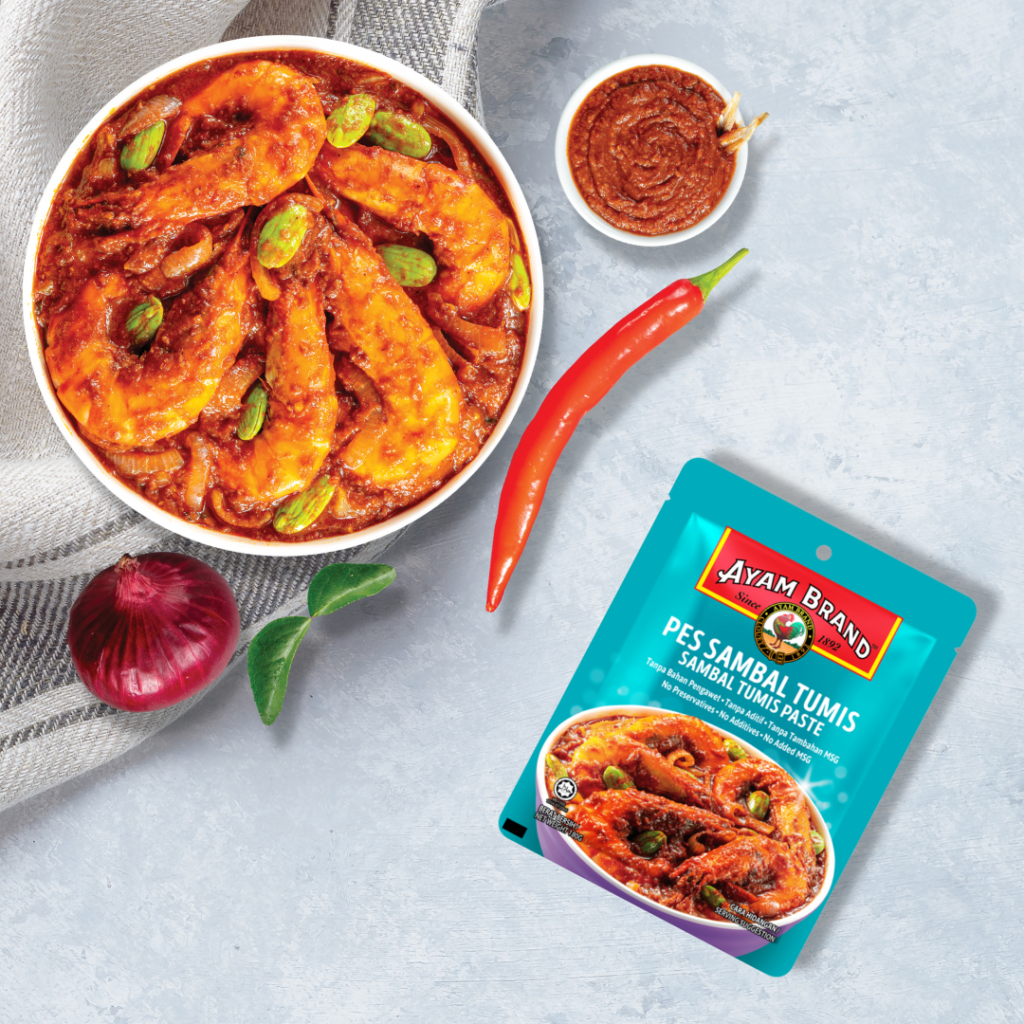 Ready to add more convenience and traditional goodness to your cooking repertoire? Try these easy, convenient and authentic traditional paste from Ayam Brand™ including:
Ayam Brand™ Rendang Paste – 180g for RM 5
Ayam Brand™ Chicken Curry Paste – 180g for RM 5
Ayam Brand™ Sambal Tumis Paste – 180g for RM 5
Ayam Brand™ Asam Pedas Paste – 180g for RM 5
Ayam Brand™ Kerisik – 40g for RM1.20 and 100g for RM2.60
These products are widely available from Aeon, Aeon Big, Giant, Cold Storage, Jaya Grocer, Hero (selected only), Mydin, Econsave, Matahari or visit the Official stores on Shopee and Lazada. More recipes can be found here.