ATLAS Vending, in collaboration with OKU Sentral, rolled out Malaysia's first series of Accessible Vending Machines on 3 March 2022 (Thursday), with KPJ Healthcare Berhad ("KPJ Healthcare") as an exclusive hospital partner for the launch. The Accessible machines are now available at selected KPJ hospitals at Pusat Daya Klang and Pusat Latihan Perindustrian dan Pemulihan Bangi.
Creating a more inclusive Keluarga Malaysia
Launched in conjunction with International Wheelchair Day on 3 March, the Accessible Vending Machines are custom fit with features such as wheelchair and height accessibility as well as larger coin tray for those with limited motor control, in addition to being equipped with electronic payment features.
Speaking at the launch of the Accessible Vending Machines, Senator and co-founder of OKU Sentral YB Datuk Ras Adiba Radzi said,
We are heartened with the thoughtful business plan demonstrated by ATLAS Vending. This is a good example of woke corporatisation in which organisations think about lowering the barrier of inclusion of individuals with disabilities in their business models and inventions.
Championing a more inclusive Keluarga Malaysia, Datuk Ras Adiba also commented that all aspects of human rights and fundamental freedoms including the special needs of vulnerable and disadvantaged groups must be respected.
According to a UNICEF report, there are about 4.5 million individuals with disabilities in Malaysia. With greater accessibility, we would enable millions more Keluarga Malaysia to be more efficient economic contributors. It creates independence, social integration and enables individuals with disabilities the opportunity for independent living within the community besides improving quality of life.

Senator and co-founder of OKU Sentral YB Datuk Ras Adiba Radzi
Datuk Ras Adiba also said that people are able to care for themselves and live independently in an accessible Keluarga Malaysia, which will support active ageing. Thus, reducing the burden of cost for special care, which will benefit all levels of society, added Datuk Ras Adiba.
Speaking about ATLAS Vending's commitment to dispense delights through innovations in order to create a more inclusive Keluarga Malaysia, ATLAS Vending Head of Marketing & Ancillary Business Amy Gan said the brand aims to progressively create better accessibility for members of the community with special needs by enabling them to gain access and improve their purchase experience.
With the roll-out of the Accessible Vending Machine and the Braille-enabled vending machines last year, ATLAS Vending innovations today has the capacity to make retail points accessible to individuals with physical disabilities and the visually impaired. This makes up 41.4% of persons with disabilities in Malaysia.
In line with our social responsibility pillar of creating accessibility with our innovations, we hope to be able to continuously contribute to the retail sector by bridging the gap of disabilities in Malaysia. Last year, the brand collaborated with Malaysian Association for the Blind to roll out 10 Braille-enabled vending machines at LRT stations close to Brickfields, Klang Valley.

ATLAS Vending Head of Marketing & Ancillary Business Amy Gan
This time around, OKU Sentral was chosen as a fellow collaborator in providing advice and reviewing the machines to ensure that they cater to the special needs of individuals with disabilities.
ATLAS Vending Accessible Vending Machines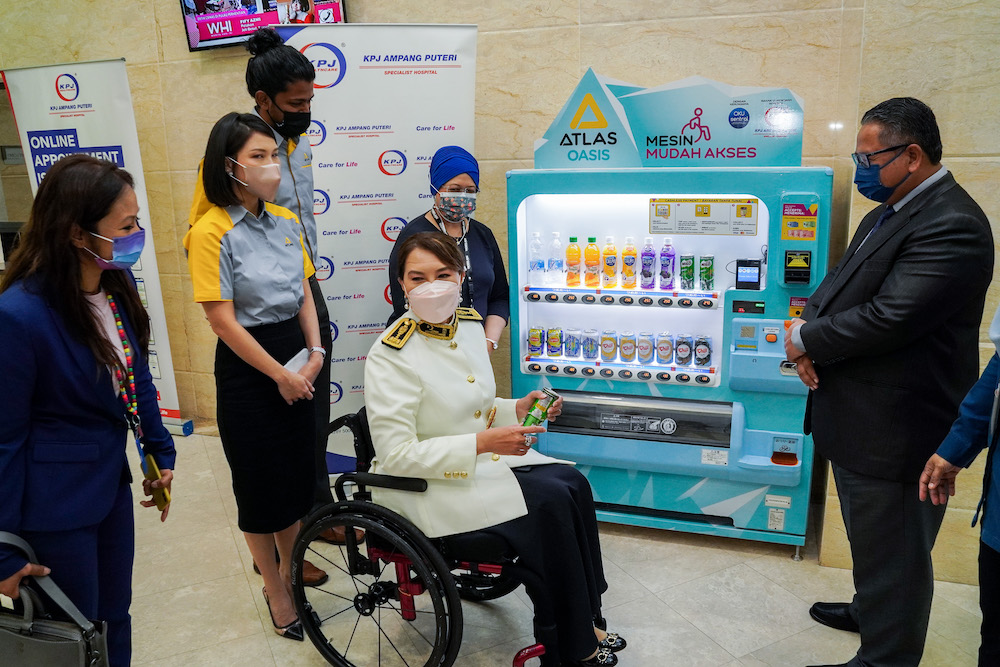 The special features include buttons that are located 60 and 95 centimetres from ground level, 26 cm coin tray instead of ordinary coin slot and dispensing tray that is about 60 cm from the ground level as approved by OKU Sentral.
Meanwhile, KPJ Healthcare's Chief Corporate Officer, Ariesza Noor said,
As a private healthcare service provider, our ultimate goal is to help patients to return to healthy and independent lifestyles. We believe that by placing the accessible machines at our selected hospitals, not only are we enabling purchasing of beverages for patients with physical disabilities more convenience, but we are also moving one step ahead in our journey towards encouraging patients to returning to independent living.
Ariesza added that vending machines are typically used to enable consumers to purchase goods 24 hours a day and eliminate queues at retail outlets. Their involvement in this pilot is with the hope that they can inspire other brands to consider making their products more accessible to this group of Keluarga Malaysia with such innovations.