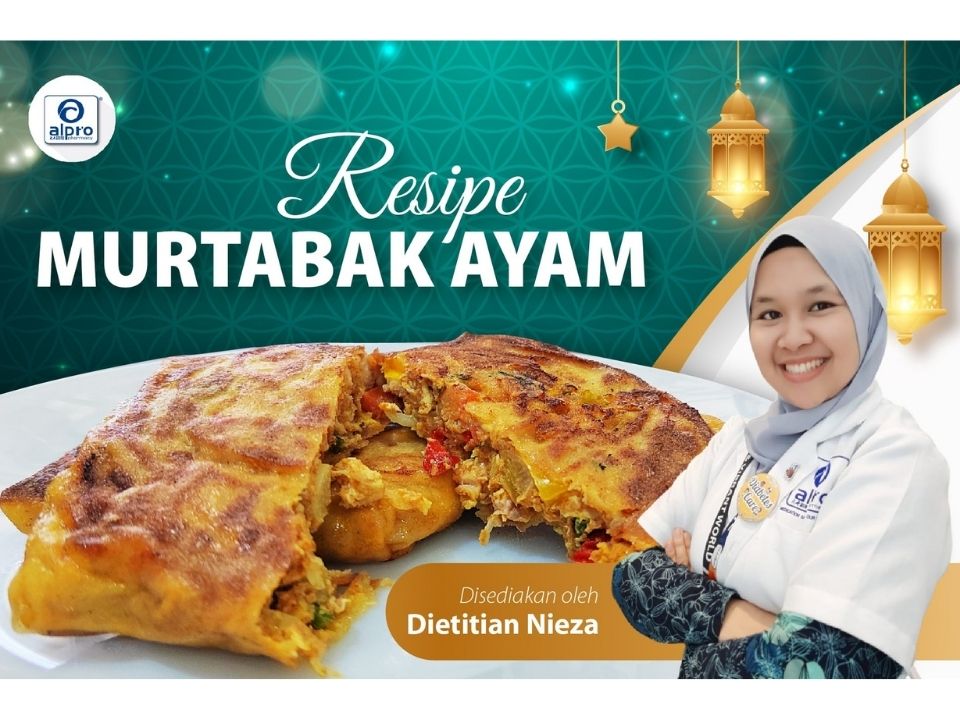 Murtabak, or pan-fried meat-filled pancake, is a quintessential dish during Ramadan. From the classic minced beef or chicken fillings to the more modern cheese and noodle fillings, Murtabak comes in various forms. While it is a local favorite, Murtabak is high in cholesterol and fat and should be consumed considerately.
Alpro Pharmacy, Malaysia's largest prescription pharmacy chain, joined hands with Alpro's Dietitian, Nor Anieza Binti Abas, to create a vegetable-rich version of the local delight that you can easily recreate at home.
This recipe is also perfect to be consumed immediately after the typical 13-and-a-half-hour fasting session. Want to know the recipe in detail? Let's find out!
Alpro Pharmacy Murtabak Recipe
Ingredients (Serving size: 6)
250g chicken breast (chopped)
6 sheets of Popiah skin
2 eggs (B-sized)
2 tablespoons of chicken/meat curry powder
50g cauliflower (cut into small pieces)
30g capsicum (diced)
25g carrots (diced)
30g cabbage (finely chopped)
1 large onion (medium size, diced)
1 clove of garlic (sliced)
1 red chili (optional)
3 stalks of Chinese celery
1 teaspoon of salt
½ chicken stock cubes
1 teaspoon of sugar
2 tablespoons cooking oil
A little water (as required)
Step-By-Step Of Making Alpro Pharmacy Murtabak
1. Heat the oil. Sauté the shallots and garlic until fragrant and tender.
2. Add the spices and cook until the oil breaks down.
3. Add the chicken, cauliflower, and carrots. Add a little water and stir until the chicken is cooked through and the vegetables are tender.
4. Season with chicken stock cubes, salt, and sugar. Stir until slightly dry.
5. Add the cabbage, capsicum, and chili. Then, stir until smooth.
6. Add the Chinese celery and mix through.
7. Break the eggs separately into a small bowl and beat lightly.
8. Transfer the cooked ingredients into a large bowl then pour in the beaten eggs and mix through.
9. Carefully lay the Popiah skin on a flat surface. Scoop 3 tablespoons of the filling over the Popiah skin.
10. Fold the Popiah skin up and down then left to right.
Tips: The best way to grill the Murtabak is to use a flat pan. Pour 1 tablespoon of oil into the pan; just enough to prevent the Murtabak from sticking to it. Heat some oil over a skillet on low heat, then place the Murtabak on the skillet. Press the Murtabak lightly, flip it over, then press again until the Murtabak is cooked evenly and charred on both sides.
When ready, it's time to make your onion gravy!
Onion Gravy Recipe
1 large onion (sliced)
2 tablespoons of table vinegar
2 teaspoons of sugar
A pinch of salt
Plating Your Alpro Pharmacy Murtabak
After all is done, place your Murtabak and the onion gravy onto a serving dish and it is ready to be served!
All in all, eating good and delicious food is everyone's wish. However, we must monitor the food that we eat from any excessive salt, oil, and sugar which can cause harm to the body. You can always get a free consultation with a professional pharmacist at any Alpro Pharmacy outlets nationwide. Alternatively, the public can also chat with a pharmacist via the e-pharmacy WhatsApp hotline at 019-7021923. To support Alpro Pharmacy and keep up with all the latest updates, please follow Alpro's official Facebook and Instagram page.