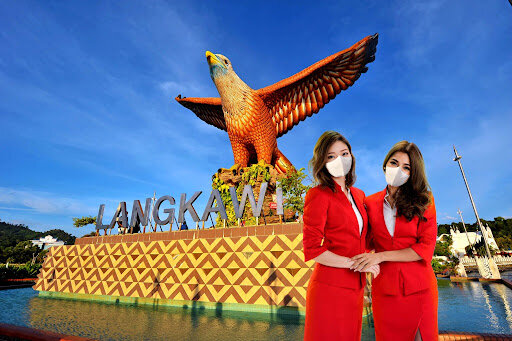 AirAsia Group Bhd announced its plan to support the Langkawi Travel Bubble that has been well-received by Malaysians since the government's announcement last week. The group intends to revitalise the tourism activities in Langkawi, Kedah by providing various offers through the AirAsia Super App.
As a digital and lifestyle group, AirAsia is offering a complete set of services for travellers, allowing travellers to make arrangements and purchases all in its Super App. From booking a flight ticket, ride as well as accommodation, to purchasing duty-free items, you can do it within one platform.
90 weekly flights to Langkawi
According to the chief executive officer (CEO) of AirAsia Malaysia, Riad Asmat, the group sees strong demand for travel to Langkawi since the announcement of the travel bubble. On the day of announcement, the airline sold around 30,000 tickets. Currently, the sales is close to reaching 200,000 with the ongoing promotions.
Therefore, AirAsia is now providing 90 weekly flights to and from Langkawi. This includes flights departing from:
Kuala Lumpur (63-times weekly)
Penang (14-times weekly)
Johor Bharu (7-times weekly)
Ipoh (3-times weekly), and
Kota Bharu (3-times weekly)
AirAsia Ride in Langkawi
Followed by the launch of its e-hailing service, AirAsia Ride last month, AirAsia is now bringing its service to Langkawi. Travellers can now book a ride with AirAsia Ride within Langkawi, using the Super App. This makes Langkawi the second official market of its e-hailing business after its first launch in Klang Valley.
Duty-free shopping
In a collaboration with the Langkawi Development Authority (LADA), the Super App will offer duty-free items with islandwide delivery by the end of this month. According to Amanda Woo, CEO of AirAsia Super App, users can order Langkawi duty-free items online and have them delivered straight to their hotel on the same day within 6 hours.
Amanda said that the digitalisation of duty-free shopping in Langkawi through the Super App will power Langkawi up as the ASEAN's first online duty-free shopping destination.
Meanwhile, here are the ongoing promos for Langkawi travels on the AirAsia Super App:
1. Flights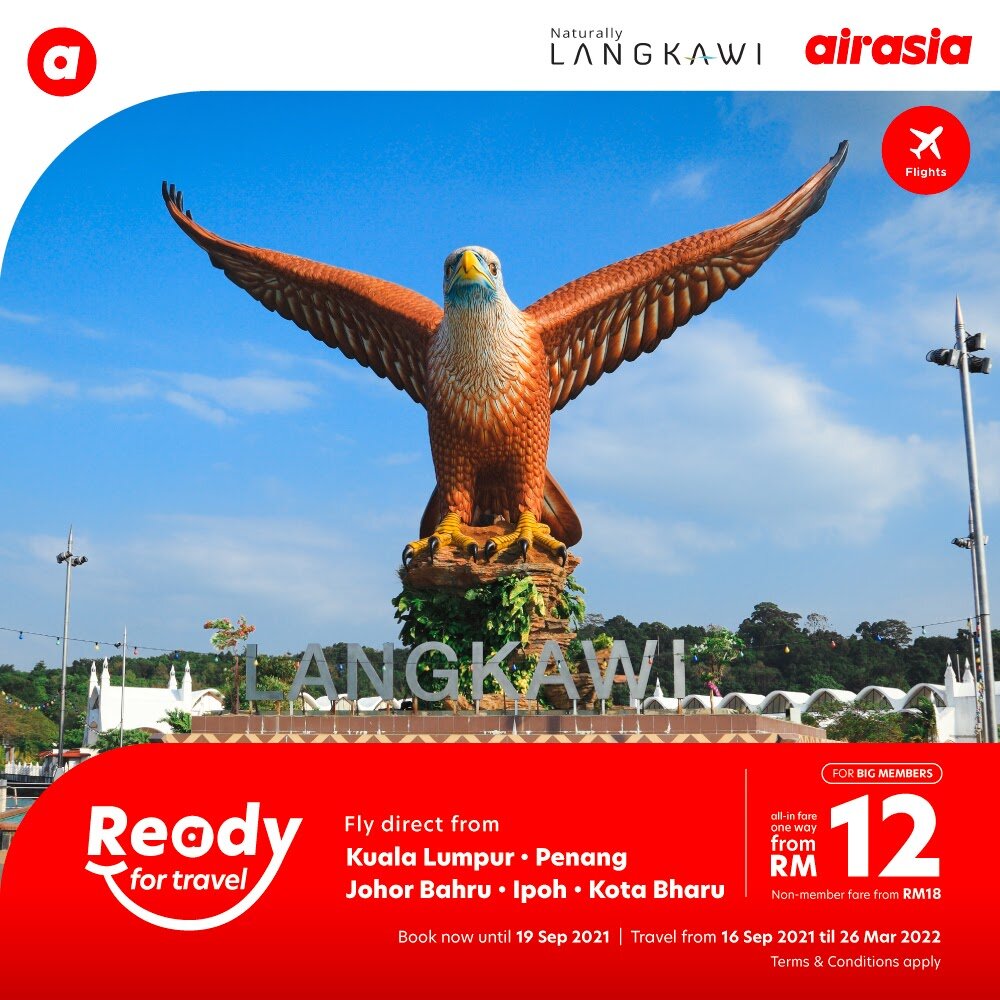 Fly into Langkawi from Kuala Lumpur, Penang, Johor Bahru, Ipoh and Kota Bharu from as low as RM12 one way. This offer is available from now until 19 September 2021.
2. Snap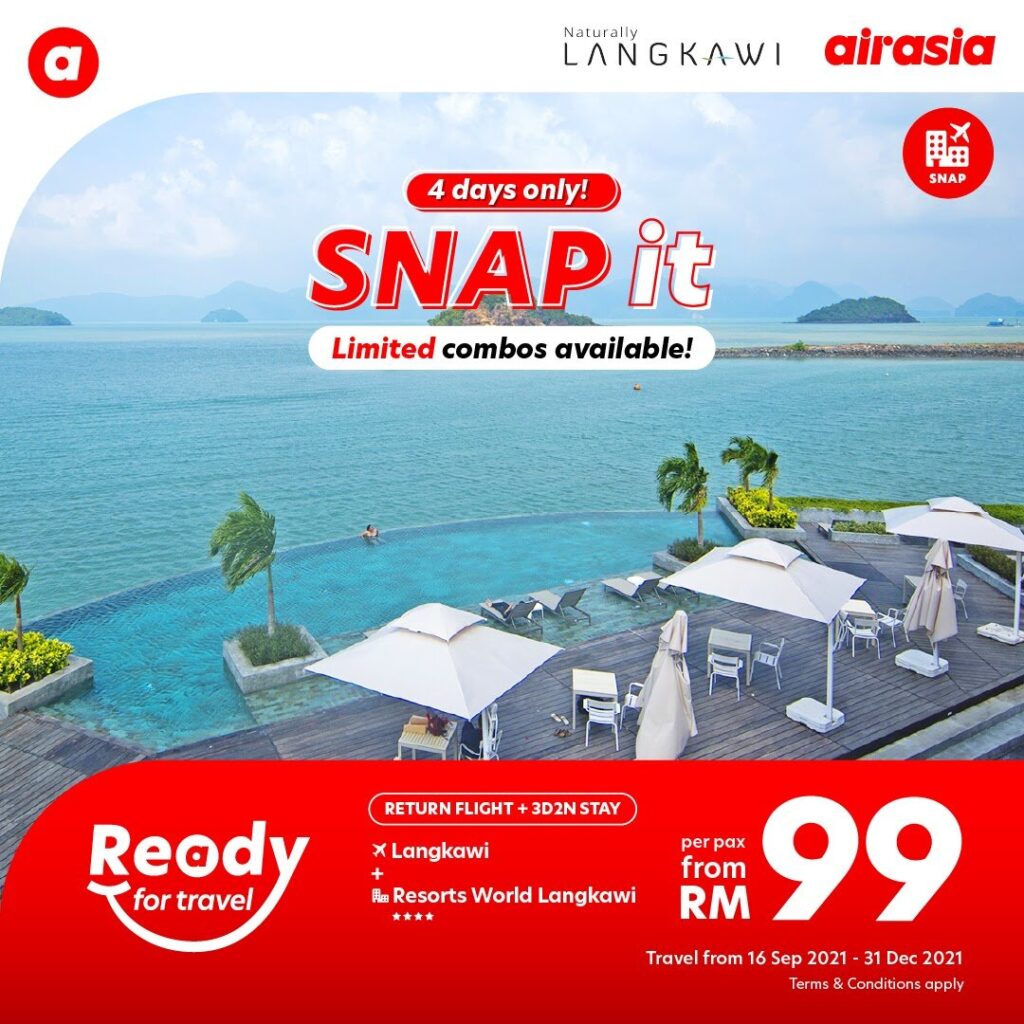 Snap deals with 3 days and 2 nights return flights and stay in 4-5 star hotels in Langkawi from RM99 per guest. (Start travelling from 16 September to 31 December 2021)
3. Hotels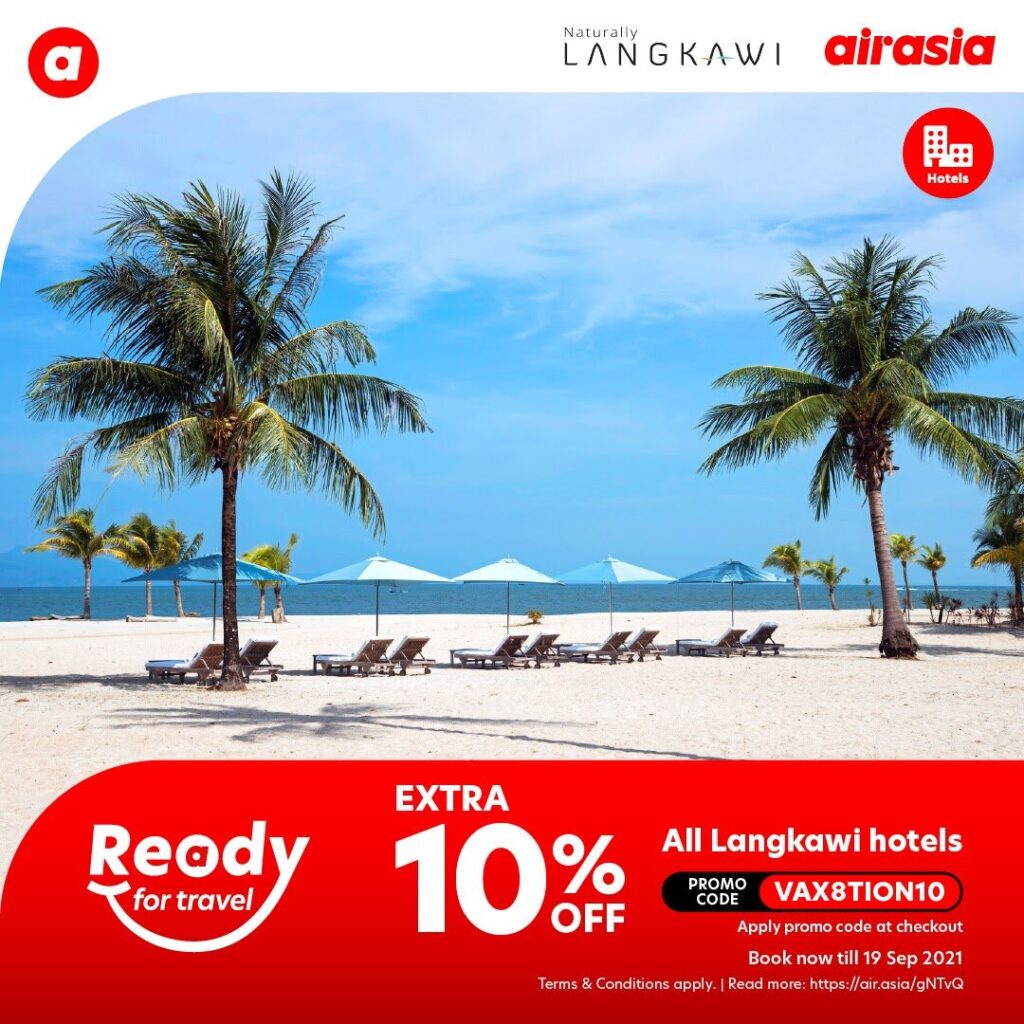 Enjoy an additional 10% discount on all Langkawi hotels by using the Promo Code: VAX8TION10 from now until 19 September 2021.
For more information on the travel standard operating procedures (SOPs), please click here.
(Source: AirAsia)