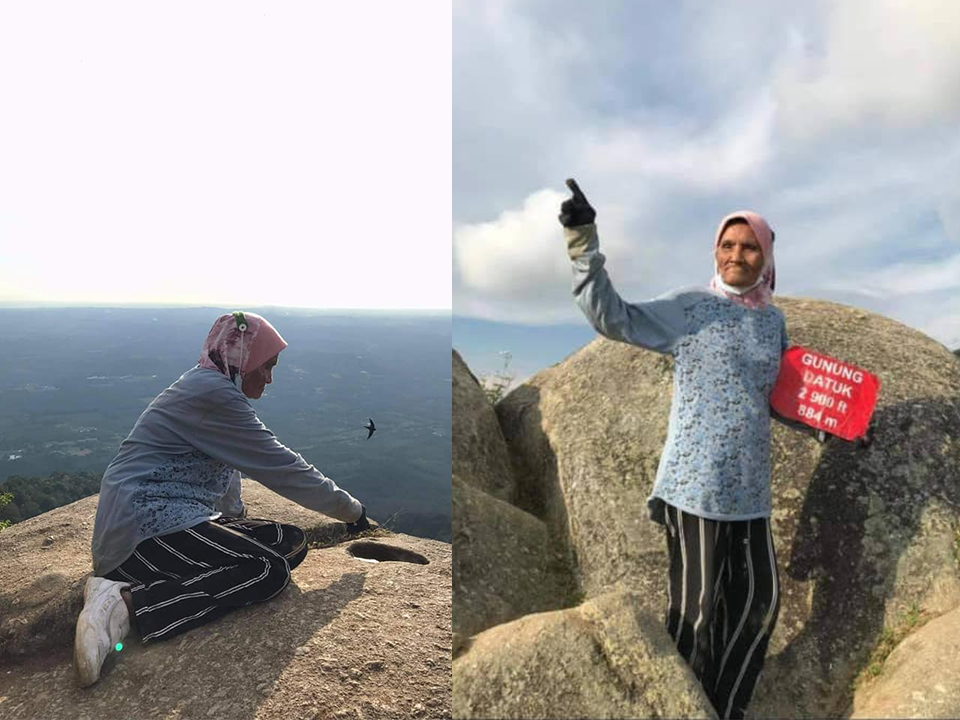 How fast can you climb? 80 years old grandma, Siti Zaharah Abdullah impressed everyone with her effortless climb to the peak of Gunung Datuk within 2 hours. Gunung Datuk is approximately 884 metres (2,900 ft) tall and the climb up to the hill normally takes around 2 to 3 hours even for youngsters!
Her story came to light when a hiker, climbing along her was in awe of her strength and fitness. Thus, he shared the special encounter to his Facebook Page.
The post quickly garnered Malaysians' attention as what Siti Zaharah did was impressive for her age.
This grandma managed to climb Gunung Datuk without any hiking equipment
In a report by Utusan Malaysia, the senior citizen said she was surprised to see many hikers using canes for the climb. They even offered her their canes because they were worried for her safety. However, she turned down the kind offers as she felt more comfortable jumping from rock to rock without using anything.
At that time, she was only wearing school shoes without socks and a pair of black gloves.
It's fun, I don't know how to say it, I don't feel tired and even feel light. At that time, some people also wanted to take pictures of me.

80-year-old, Siti Zaharah Abdullah
Apparently, the hike was a last-minute plan
According to Siti Zaharah, the hike of her and her eldest child, Esah Hitam, 59, to Gunung Datuk last Sunday was a last-minute plan after their plans to visit relatives in Melaka was cancelled.
My daughter had invited me to climb Mount Datuk, and I agreed because I haven't climbed the mountain for a long time. I can also watch the sunset and even drink in a cave near the top of the mountain.

Siti Zaharah Abdullah
She also shared that she climbed the mountain before when she was younger. She was there for three times with her late husband, before their marriage.
Decades later, with her daughter, at age 80, she did it again.
The secret to her health and fitness
When asked about the secret to being healthy and fit at the age of 80, the mother of 15 children shared that she avoids eating meaty foods such as chicken.
She also wakes up before dawn and cleans her house in Negeri Sembilan every day to work up some sweat.
What do you think about her story? Do you think you can climb Gunung Datuk like her when you reach 80?
Tap RISE for more stories like this!