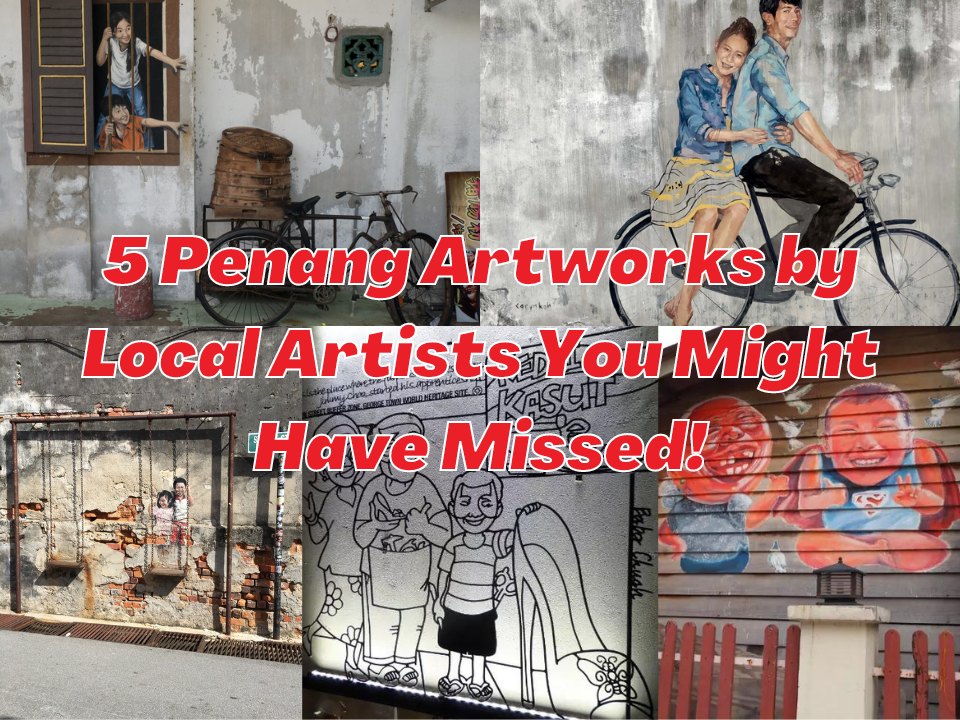 Presently, with the splendid street art that attracts tourists, Penang is also known as a multicultural island with a colorful splash! Do you know that besides the delectable food and hiking trails in Penang, notable street art created by local (particularly, Penang) street artists is awaiting your visit?
Additionally, it will be an unforgettable experience as you spend time and explore the free and fantastic murals on the streets of George Town, a picturesque town and the capital of Penang island.
Look here, travelers! These five artworks in Penang will surely make you stop in your tracks to take photos and upload them on Instagram and other social media platforms. Hence, don't forget to jot down the location and put these 5 street arts on your bucket list when your next visit to Penang!
5 Penang Artworks by Malaysian Artists
1. Brother and Sister on the Swing (2012)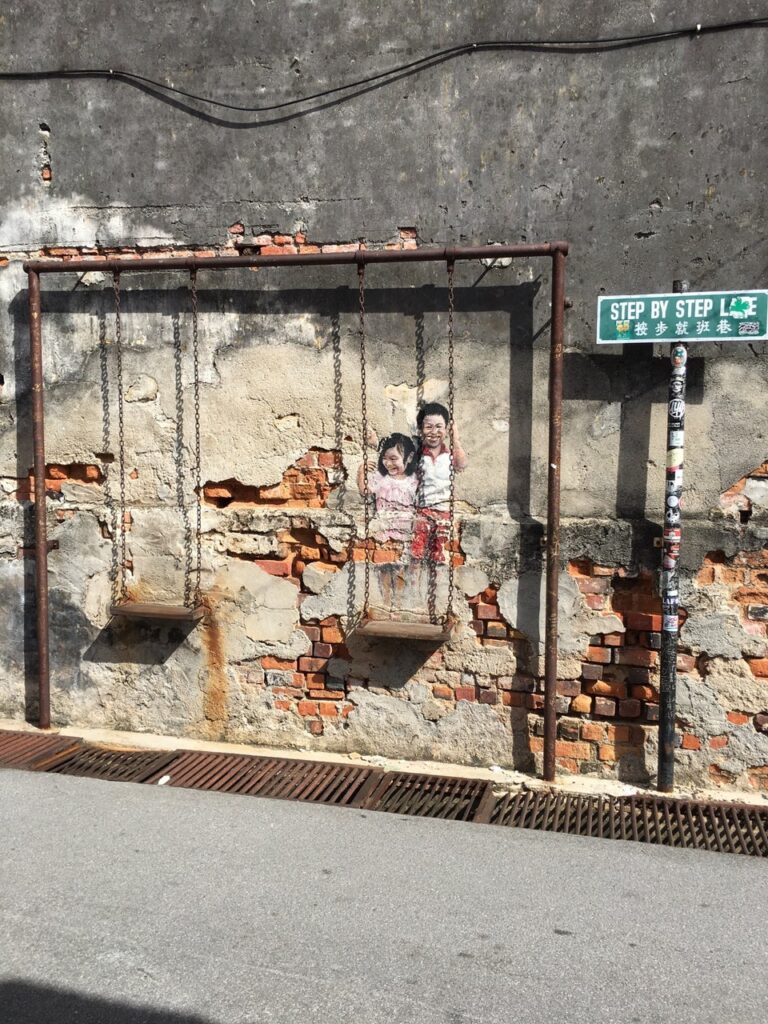 Louis Gan Yee Loong, a young self-taught artist with hearing impairment from Penang, created the non-commissioned artwork, Brother and Sister on the Swing. The kids in the piece of art are the children of the proprietor of SBS Paper Products, a printing company.
Upon first look, the mural consists of two children, a boy, and a girl, happily standing on a swing. The mural demonstrates and emphasizes the closeness between siblings like the Penang artist, Louis Gan, has with his brother. Briefly said, the artwork is heartwarming and splendidly done.
Unquestionably, it takes you back to your youth within an instant. Moreover, this mural is one of the most renowned artworks in Penang, sometimes mistaken for an artwork by Ernest Zacharevic!
Another painting is Old Soy Milk Stall, located near the Brother and Sister on the Swing. The Old Soy Milk Stall is a famous artwork developed in conjunction with St. Xavier's Institution, Homesoy, and Vilmedia.
Location: 63, Gat Lebuh Chulia, George Town, 10200 George Town, Pulau Pinang
2. Jimmy Choo's Origin (2012)
As the famed shoe designer Jimmy Choo is from Penang, this steel rod sculpture pictures his humble beginnings in shoe creation and designing. Thus, the steel rod sculpture should own a place on your journey of artwork discovery while you are in Penang!
A local cartoonist, Baba Chuah, carefully created the steel-iron sculpture, which is now on the wall of a corner shop on Leith Street, Penang. The unique sculpture of Jimmy Choo also allowed tourists to remember and learn about the origin of Jimmy Choo, a brilliant and worldwide acknowledged shoe designer who created high-quality shoes for wealthy and famous individuals.
Location: No. 52, Lebuh Leith, George Town, 10200 George Town, Pulau Pinang
3. Ah Mah and Ah Soon (2013)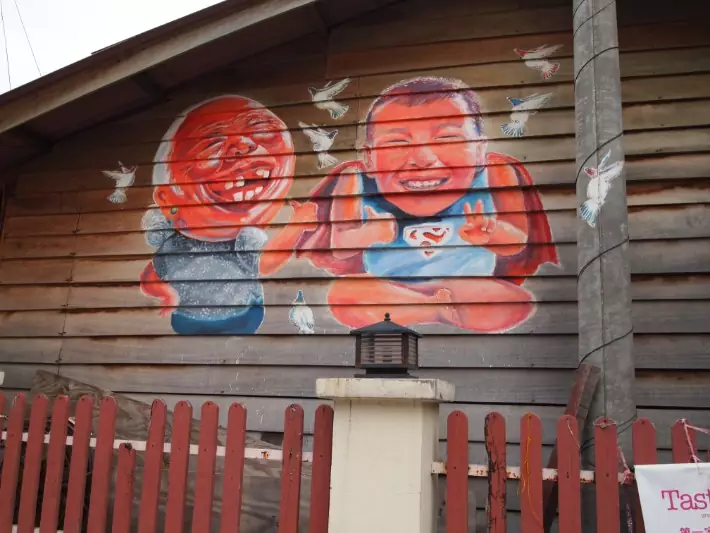 Simon Tan, with his birthplace in Penang, is a locally recognized street artist who painted this mural at the entrance of Chew Jetty. The piece of art, Ah Mah and Ah Soon, depicted a laughing grandmother enjoying her time with her grandson. According to the most spoken dialect by Penangites (Hokkien dialect), Ah Mah is grandmother, while Ah Soon bears the meaning of grandson.
After a few years of sunlight and rain, this artwork has practically faded and requires restoration, as it was one of the earliest to be painted at Chew Jetty. Furthermore, the Penang artist, Simon Tan, is also the creator of Ah Kong and Ah Mah (grandfather and grandmother). However, he removed the mural after it was damaged by the residents a few years ago.
Location: 73, Pengkalan Weld, George Town, 10300 George Town, Pulau Pinang
4. I Want Bao! (2014)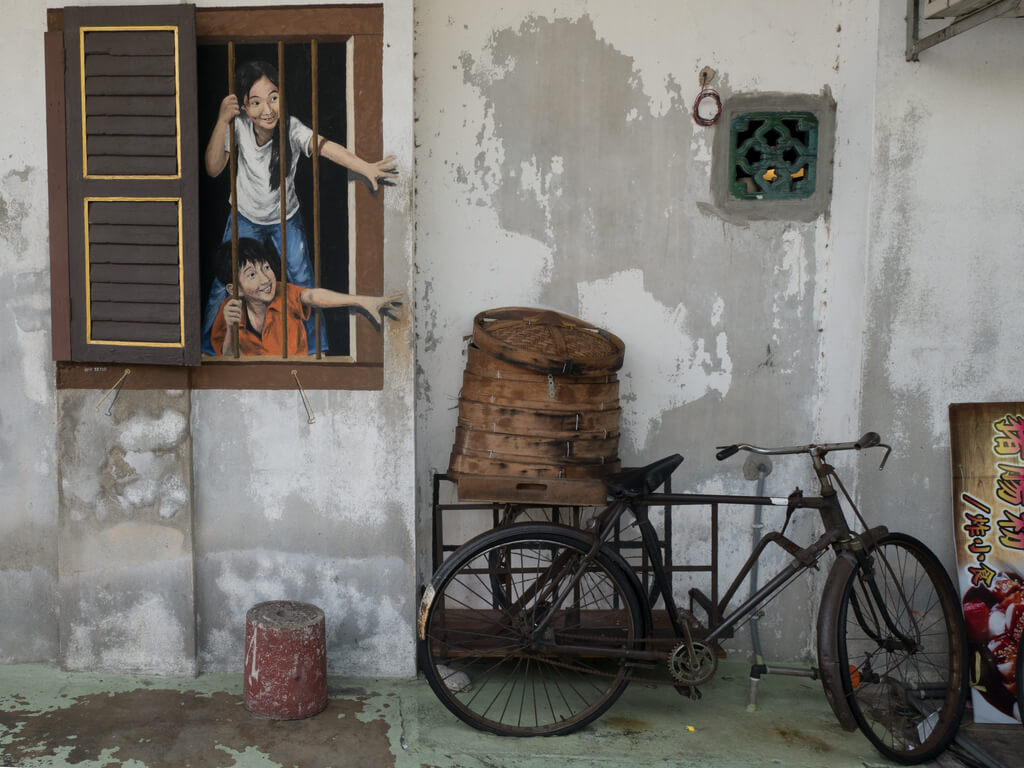 I Want Bao!, also known as I Want Pau! or Childhood, is the artwork by WK Setor, a Kuala Lumpur-born street artist that currently based in Penang. The mural is one of the commercial murals in George Town, Penang.
Factually, Ming Xiang Tai Pastry Store (名香泰饼家) chose to commission this painting as they realized murals are an ideal method to market their business to the next level. In addition, the children in the street art were the owner's son and daughter.
Furthermore, according to the Penang-based street artist, WK Setor, the purpose of creating this mural was for the Chinese New Year. This painting depicts two mischievous youngsters reaching out the window, hoping to get some steaming hot buns. Sadly, the increasing number of tourists nearly ruined the bamboo steamer placed on the bicycle saddle; expectantly, the piece of art will be refurbished shortly.
Location: 28, Gat Lebuh Armenian, George Town, 10300 George Town, Pulau Pinang
5. Love on Bicycle (2017)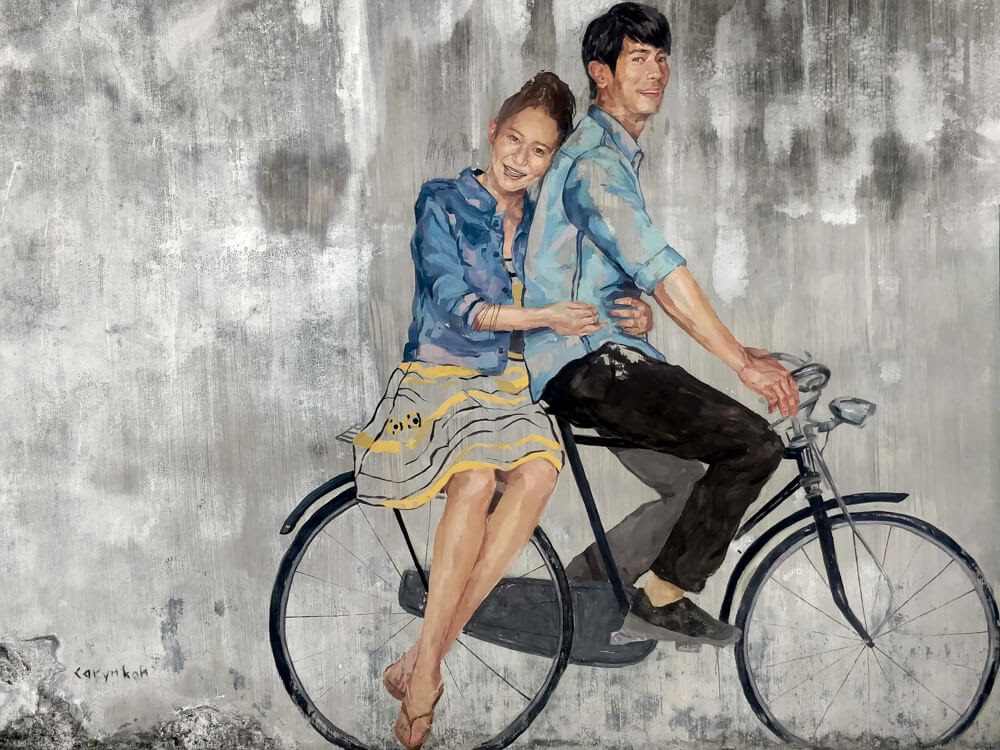 Did you notice that a Malaysian female artist named Caryn Koh created this mural painting? If yes, bingo, you got the correct answer!
Aside from the famous Little Children on a Bicycle mural by Ernest Zacharevic, there is also a mural depicting a couple on a bicycle in Penang. This 2D mural, Love on Bicycle, portrayed a couple riding a bike merrily.
Furthermore, this mural is the latest inclusion in the display of George Town's street artworks. Similarly, Caryn Koh is also the subject of another massive art mural with the title, Looking Up, made by Emmanuel Jarus, a Canadian-born artist.
Location: 3, Lebuh Keng Kwee, George Town, 10100 George Town, Pulau Pinang
In short, Penang, a charming little town, has many captivating murals that attract local and global travelers. Penang street art is distinct from other artworks as these murals and sculptures are not simply lifeless drawings on the wall.
The paintings also fitted with various items to form a 3D effect, such as motorbikes, bicycles, a swing, or even an intentionally constructed tale in a house corner. Hence, it gives the impression that street art murals are both actual and fictitious. Interested in Penang murals? Visit 4 Famous Outdoor Artworks by Ernest Zacharevic!