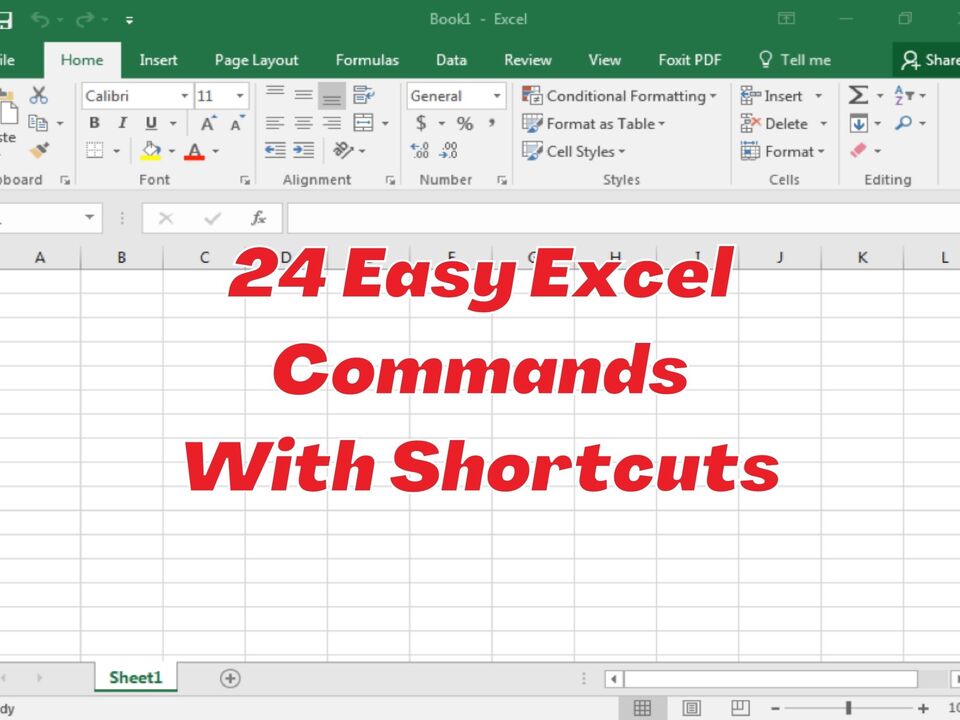 As the saying goes: "Work hard, play hard." But how do we get our work done if we're struggling to tackle a particular assignment that just won't seem to cooperate?
This is usually the case with Excel – what with all the manual scrolling, back-breaking typing, and repetitive 'Ctrl + C, Ctrl + V'-ing we may have to do on a daily basis. There just isn't enough time to deal with that in one office day!
Hence, here is our list of 24 efficient and convenient Excel commands and their keyboard shortcuts to go from working hard to working smart and to make your work just that little bit easier!
Note: These commands only apply to Windows PC.
24 Easy Excel Commands With Shortcuts
Excel Command
Shortcut
Create a new workbook
Ctrl + N
Open an existing workbook
Ctrl + O
Save a workbook
Ctrl + S
Close a workbook
Ctrl + W
Autosum selected cells
Alt + = key
Select a cell with a formula and see which cells are directly referenced
Ctrl + [ key
Shift between different Excel files
Ctrl + Tab key
Edit cell
F2
Add or edit a cell comment
Shift + F2
Insert a hard return within a cell
Alt + Enter
Extend cell selection
Shift + Left/Right Arrow
Move to the farthest cell in a row
Ctrl + Left/Right Arrow
Move to the farthest cell in a column
Ctrl + Up/Down Arrow
Move to another screen in a worksheet
Alt + Page Up/Down
Move to the previous or next worksheet
Ctrl + Page Up/Down
Select all cells in a worksheet
Click the little grey triangle in the top left under the name box
Instantly resize row and column
1. Place the mouse on the line between rows and columns until you see a symbol with two opposite-facing arrows
2. Double-click
Format numbers
1. Click a column heading
2. Ctrl + Shift + $ key/% key
Apply the same existing formatting
1. Copy the cell with the formatting you want
2. Select a section to apply the formatting to
3. Right-click and select 'Paste Special'
4. Click the option you want in the 'Paste' section and hit 'OK'
Insert more than one row or column
1. Highlight the number of rows or columns you want to insert
2. Right-click your desired spot and select insert
Speedily delete blank cells
1. Select the column
2. Data -> Filter
3. Undo 'Select All'
4. Tick '(Blanks)' and hit 'OK'
Input restriction with data validation function
1. Data -> Data Validation -> Setting
2. Input the conditions in 'Setting'
3. Input the prompts in 'Input Message'
Transpose data from row to column and vice versa
1. Copy the area to transpose
2. Move the pointer to a blank location
3. Home -> Paste -> Transpose
Hide data thoroughly
1. Home -> Font -> Font Settings -> Number Tab -> Custom
2. Type ';;;' in the 'Type' bar and hit 'OK'
We hope these 24 Excel commands have saved you a few crucial seconds of extra work! Have a good work day and slay that pesky spreadsheet!
(Source: Analytics Vidhya and goskills)
Related to Work: