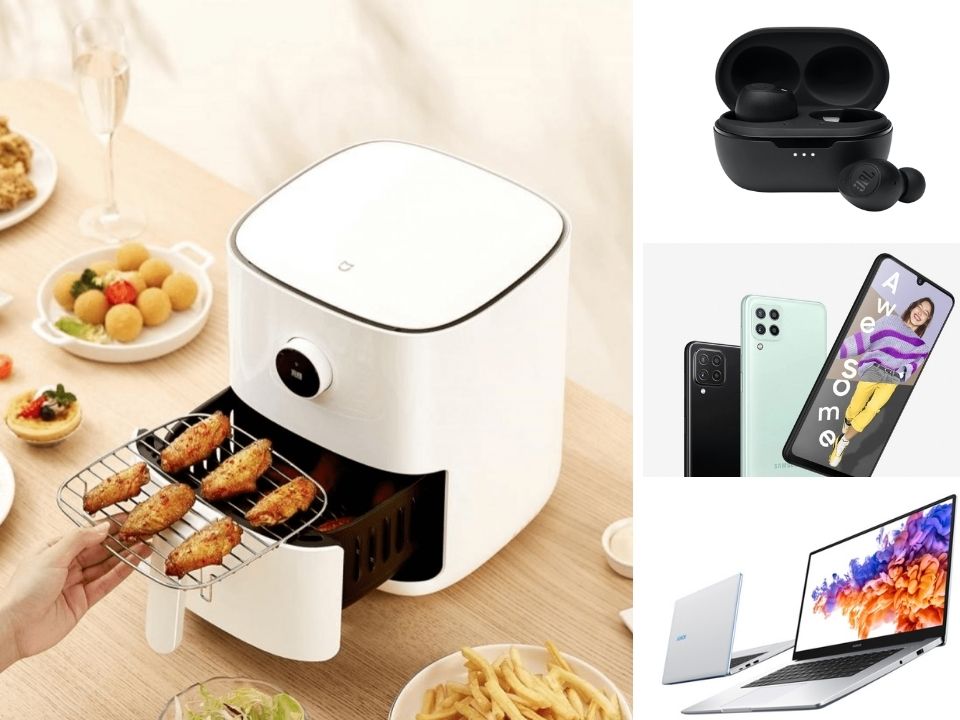 Most of the buyers are looking forward to this festive day is because of the great deals on tech items. There's even a possibility for your favourite latest phone model to have a huge discount! This is your chance to get yourself the smartwatch or the gaming PC set up that you have been keeping on your wishlist. Here are the 11 great tech deals that you can get on this 11.11!
Amazing tech deals that you can buy during the 11.11 sales
1. JBL Tune 115TWS Wireless Earbuds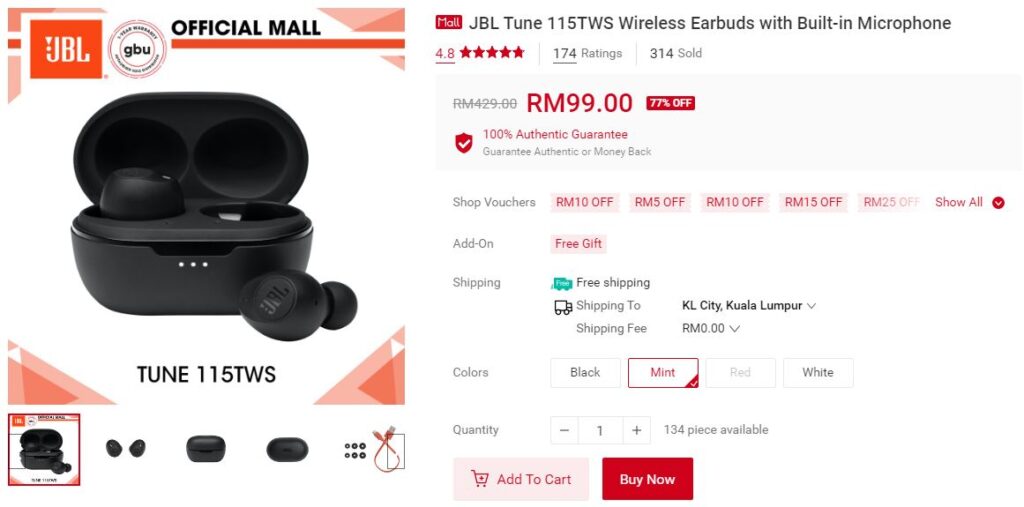 JBL is an American audio manufacturing company. They often provide the best quality speakers and earphones so it's hard to able to purchase their goods for a lower price. However, for this 11.11 sale, the JBL Tune 115TWS has dropped to just RM99 from RM429! Talking about an awesome deal.
2. PerySmith Cordless Vacuum Cleaner X Bossman Kaden PRO K2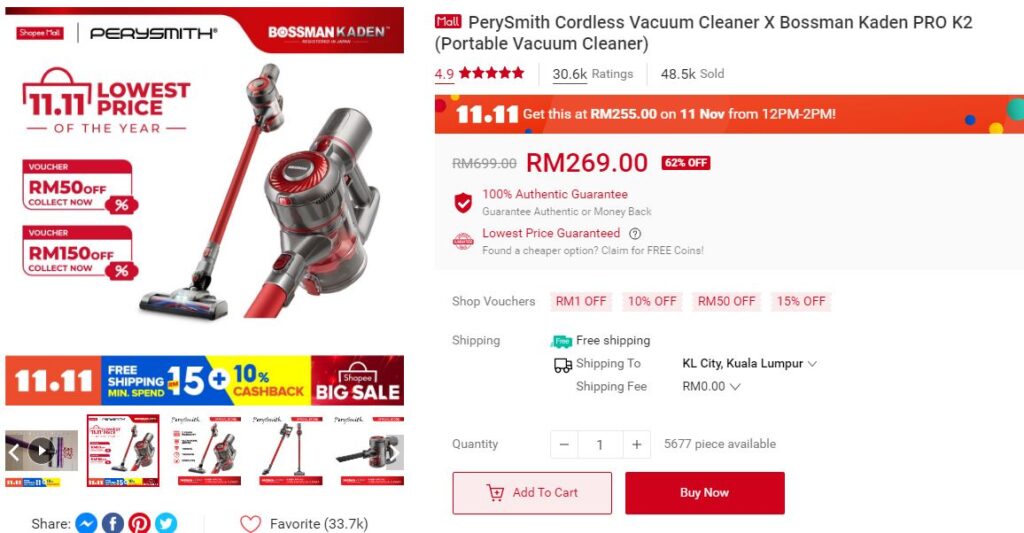 This Kaden series is a PerySmith brand crossover with bossman Kaden Japan. The crossover is proposed to build a renovated brand new home appliances with PerySmith exceptional design and Kaden technology. If you're thinking of wanting to buy a cordless vacuum cleaner that is way cheaper than Dyson then this one is for you!

3. Edifier X6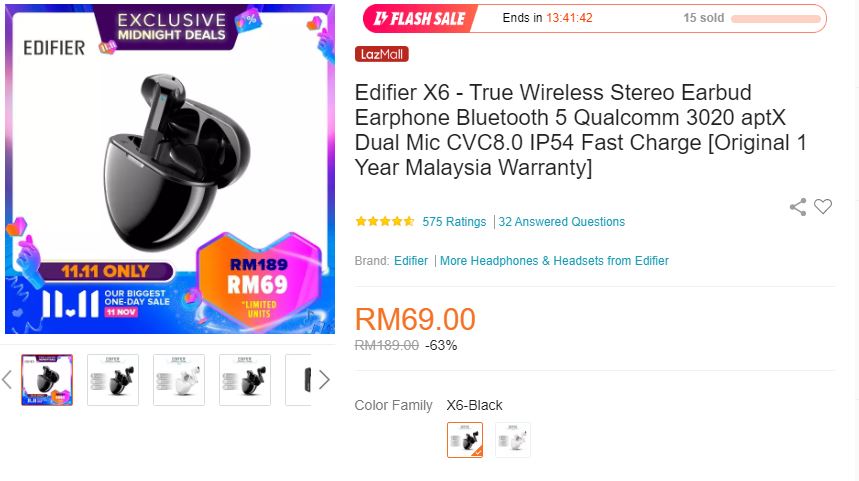 EDIFIER is a representative brand in the field of audio products in China. Compared with the previous generation, the appearance of the Edifier X6 earphones has also been optimized in detail, and the overall texture is more textured. The price 11.11 day.
4. Xiaomi MIJIA Smart Air Fryer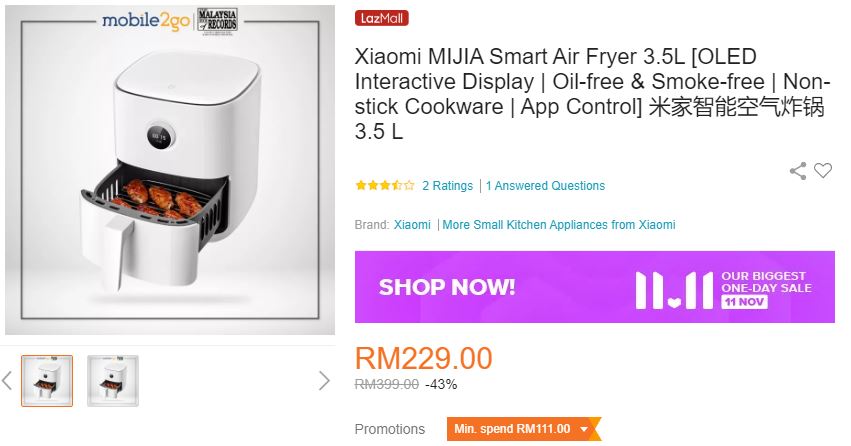 This minimalistic air fryer has a smart system that can connect to its official app, Mi. Users can also browse a lot of recipe ideas which can also be beginner-friendly. Xiaomi Air Fryer is not just good for those who aren't used to the kitchen but also affordable and make anyone's life easier. Get this while you can on the 11.11 sale!
5. Xiaomi Mi Robot Vacuum Mop Essential G1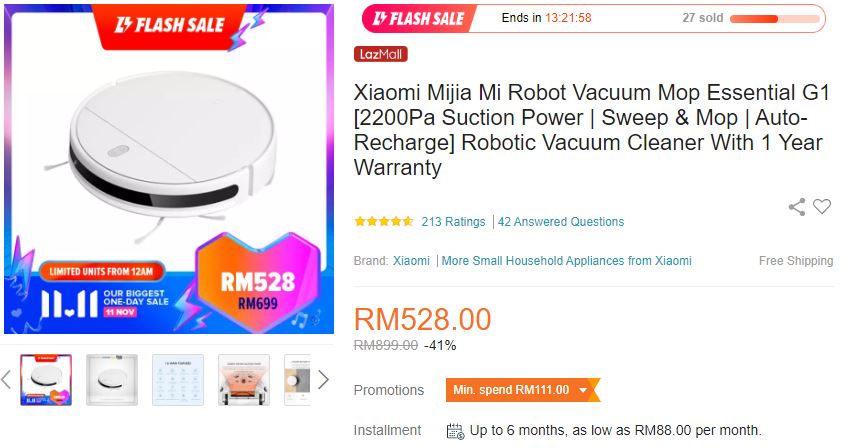 This product is good for those who are very busy with their lives that they have no time to properly clean their house. It is a two-in-one gadget, meaning that it can work both as a mop or a vacuum.
6. Russell Taylors Stand Mixer Cake Kitchen Blender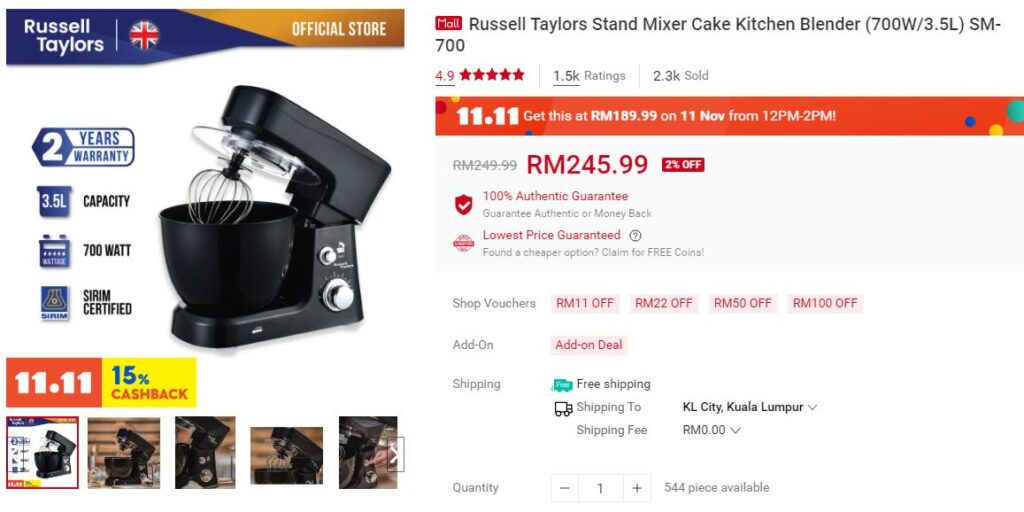 With this creative product from Russell Taylors, you can make great-tasting pastries from the comfort of your own home. This is a powerful 700W stand mixer capable of mixing up to 0.5kg of flour in its large 3.5L bowl.
7. Samsung Galaxy M22/M225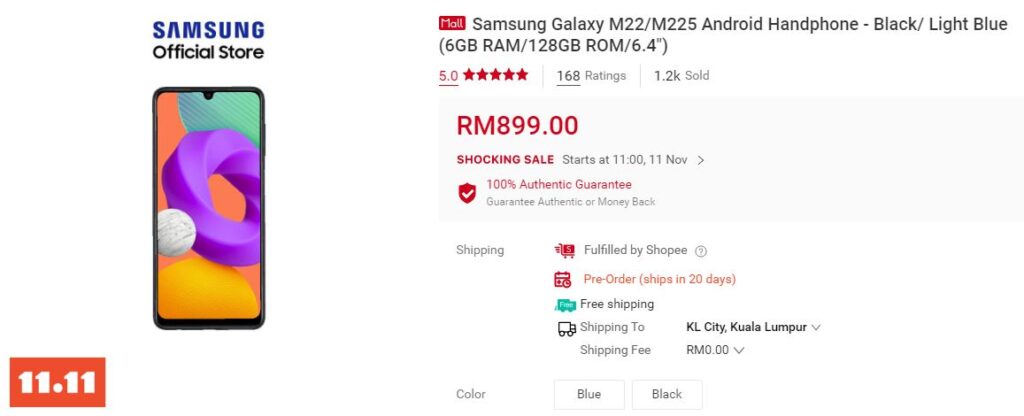 This new Samsung phone doesn't cost more than RM1000 and can be used to play video games due to its considerable specs.
8. Xiaomi Mi TV Stick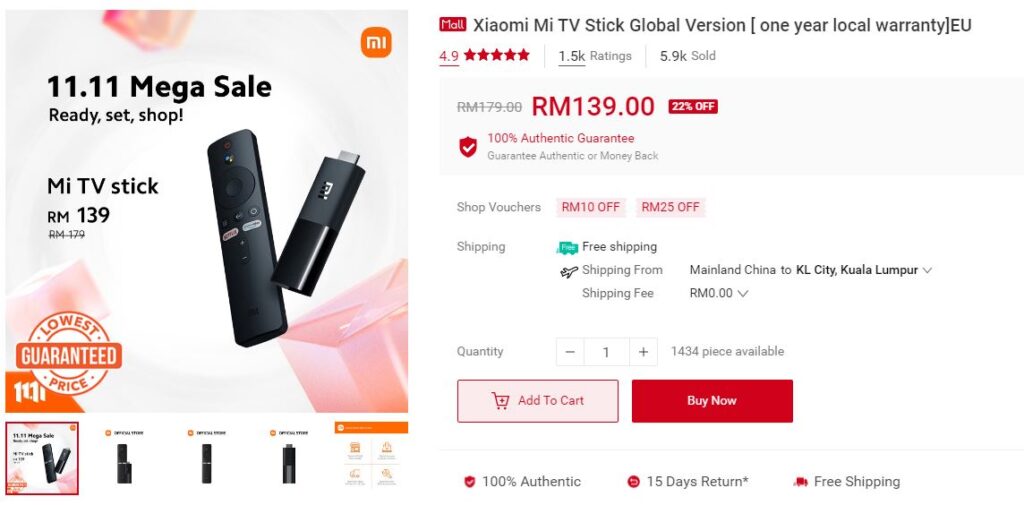 No need to spend a lot of money on buying an advanced Smart TV! With Xiaomi Mi TV Stick, you can just plug it into your TV, connect to your wifi and browse through many streaming platforms such as Netflix, Hulu, Disney+ and IQIYI. It is sold at the lowest price for this 11.11.
9. Honor Magicbook 15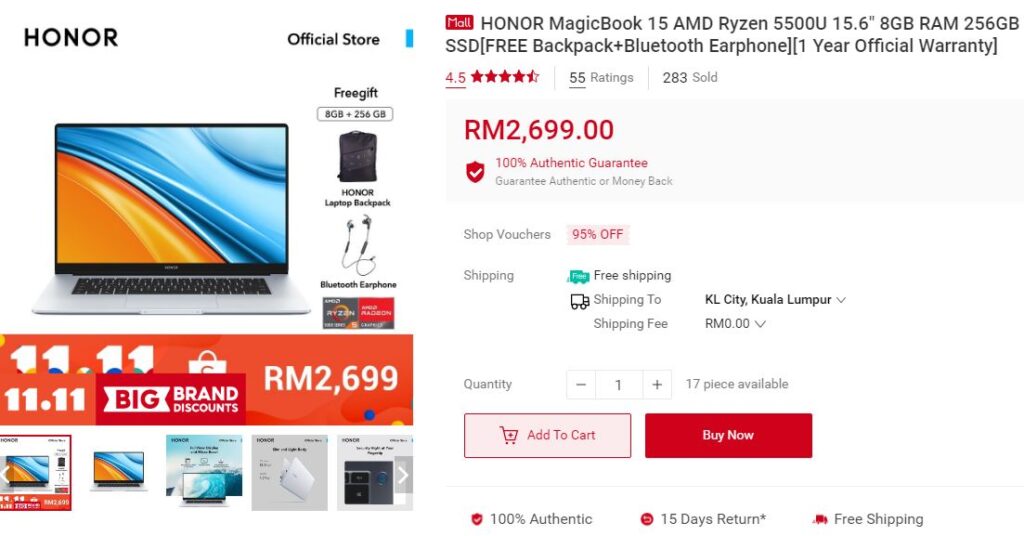 An 11.11 shopping haul won't be complete without a nice laptop, ain't it? Honor Magicbook 15 is a sleek and modern laptop with specs that can withstand heavy software running and is great for playing online games.
10. Apple iPhone 12 Mini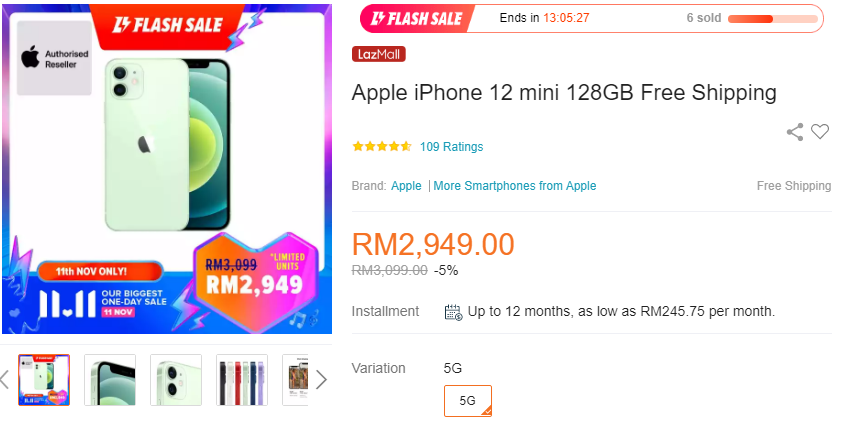 It is time for you to cross over that iPhone in your wishlist and get the iPhone 12 mini that is just below RM3000!
11. 70mai Dashcam Pro Plus+ A500S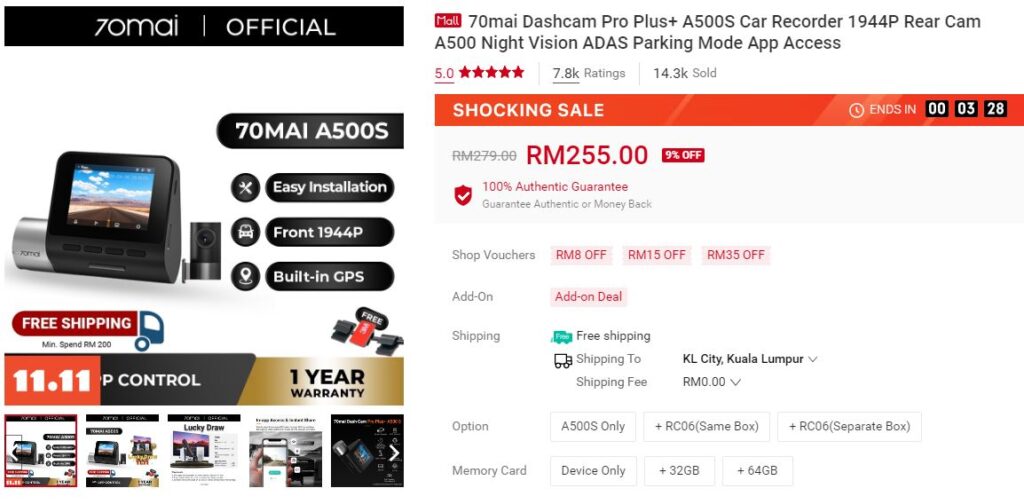 Last but not least, improve your car and driving safety with this dashcam. Legend says that the video output and audio output quality are top tiers. There have been more deals offered for the same model for the 11.11 shopping sale.
So what is 11.11 and why is it so important?
Most buyers are looking forward to the 11.11 festive day because this is the day that you can enjoy great deals on tech items. Your favourite or the latest gadgets might even have the largest discount ever! This is your chance to get yourself the smartwatch or the gaming PC set up that you have been keeping on your wishlist. Here are the 11 great tech deals that you can get on this 11.11!
11.11 is consider the best online shopping day worldwide
On this day, sellers are throwing big discounts. To the point where eCommerce and banking sites crashed because of the heavy traffic of transactions in just a day. Due to the rare opportunity of discount offers, many buyers take the chance to buy the tech stuff that they have been eyeing for so long. It is a good time to buy something – consider it as a self-treat – with your hard-earned money. You deserve to pamper yourself after a year of working so hard. That is why most people bookmarked 11.11 as the day for them to have a big online shopping haul.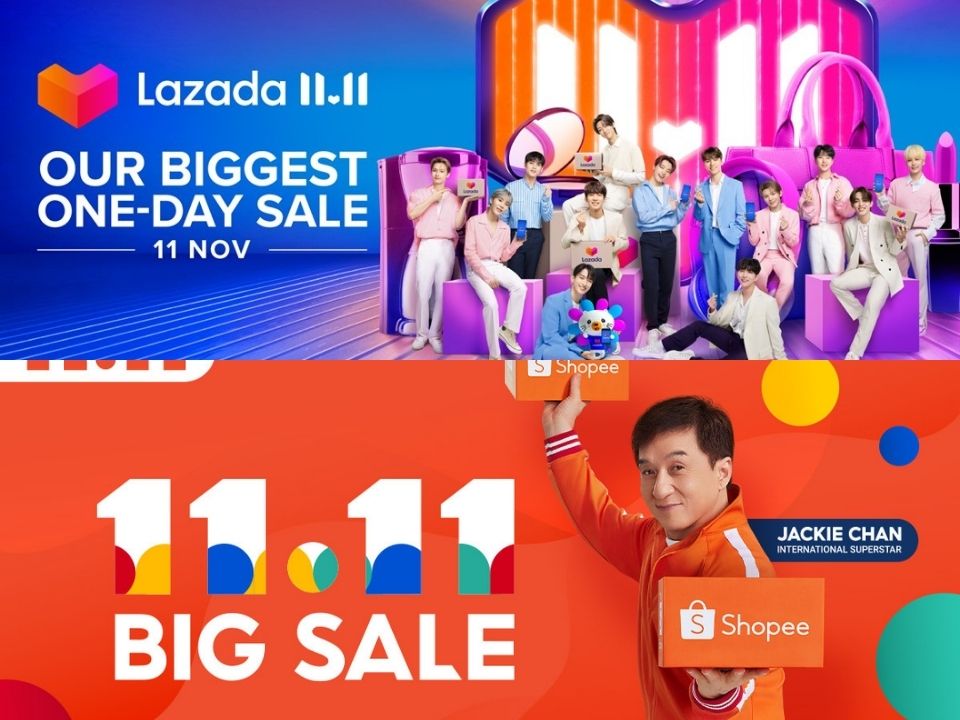 Want to look for more smartwatch shopping ideas for this 11.11? Click here