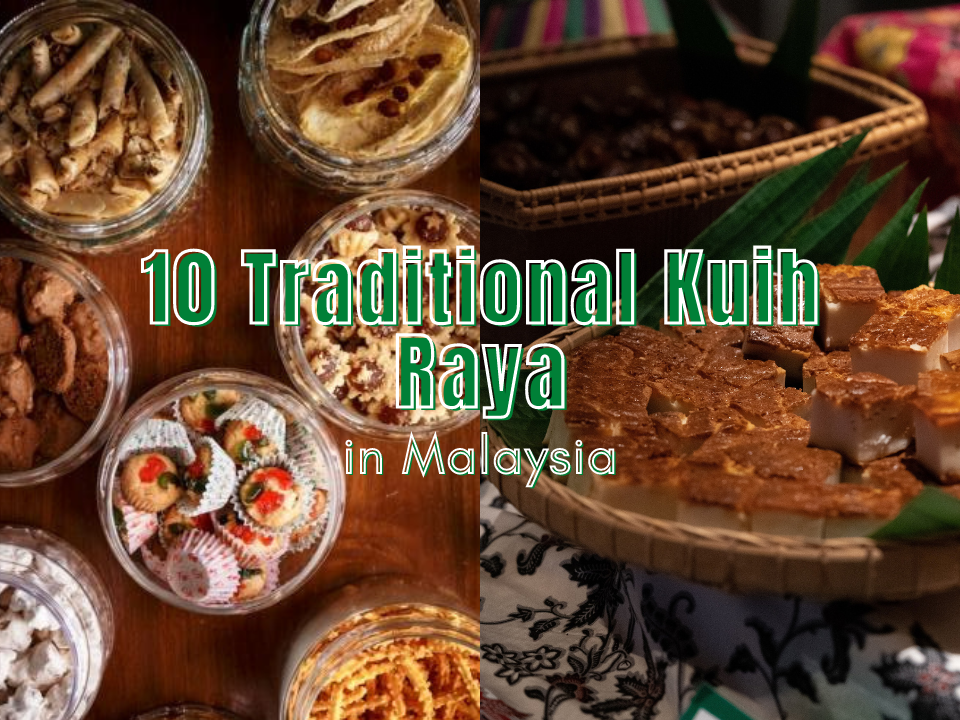 Time waits for no one. As time passes by, so do trends and fads. Kuih raya doesn't escape from being subjected to this as well. There are so many different types of kuih raya that have slowly been forgotten as their recipes are lost into the folds of time. To invoke a sense of nostalgia, we thought why not create a list of traditional kuih raya in Malaysia that may have become harder to find nowadays? Come join us on this trip down memory lane and see if you still remember all of these kuih raya!
1. Kuih Batang Buruk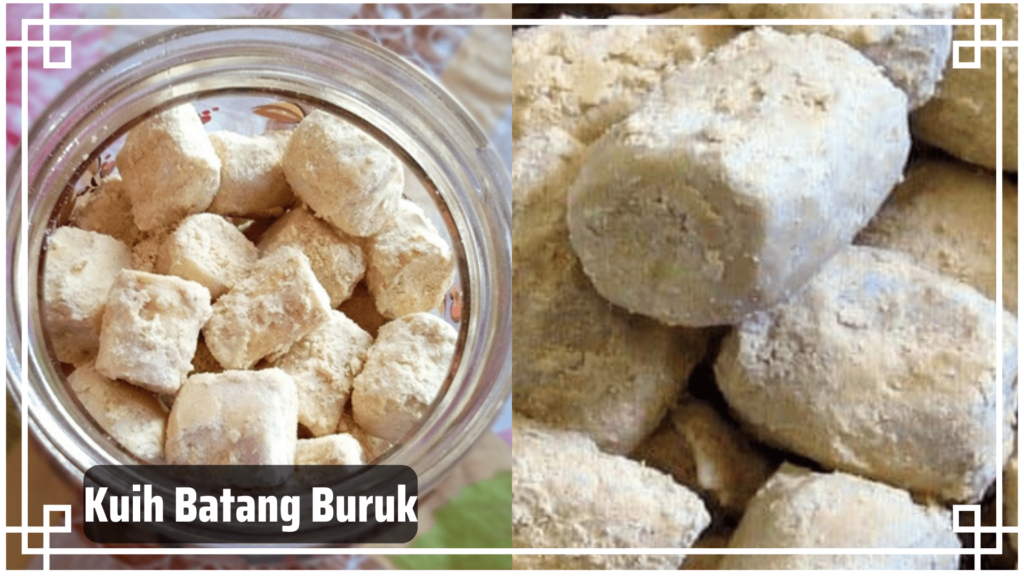 This is a traditional kuih that is beloved by all. No matter if they are young or old, the sight of this kuih will surely make people salivate. Kuih batang buruk is said to have acquired its name most probably due to the kuih's look which is quite similar to an old and rotting tree branch. No need to worry, the taste is nothing like a tree branch, though.
2. Kuih Bunga Pudak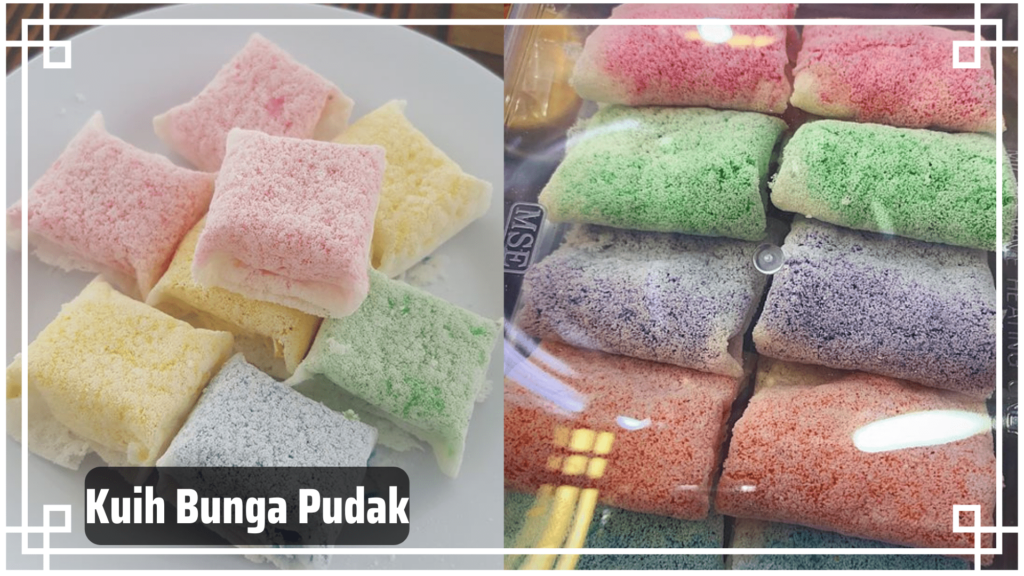 This here is a speciality of Kedahans especially those living in Alor Setar, Jitra and their surrounding areas. The name varies between people so depending on who you ask, it could either be kuih bunga pudak or kuih bunga pundak. The name of this kuih is owed to the colour of the pundak tree's flowers and it is filled with sweet coconut fillings.
3. Kuih Bangkit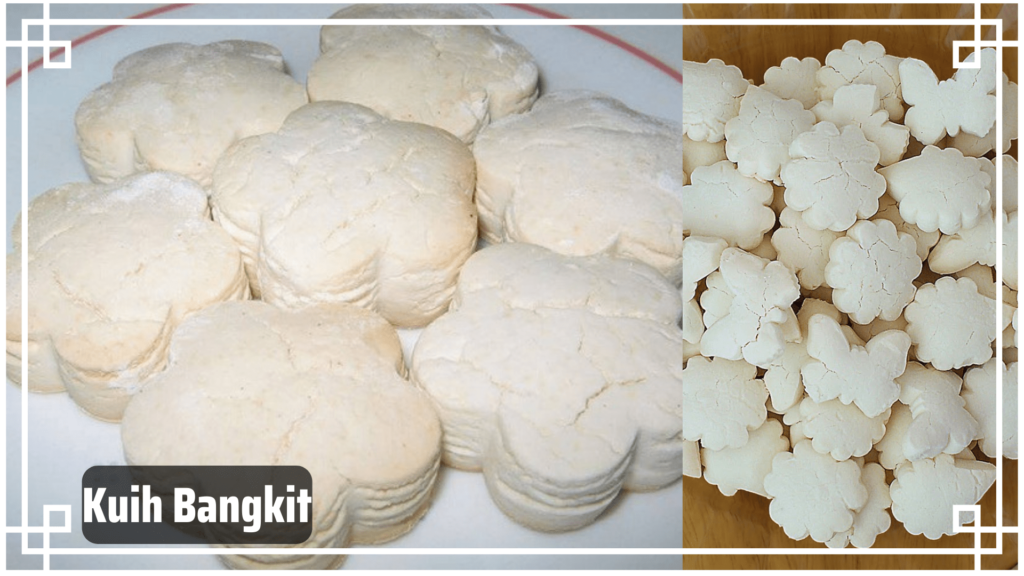 Kuih bangkit is famed for its melt-in-your-mouth quality. Its sweet taste is also a great plus for kids. This kuih is usually made of a combination of wheat flour and sago flour. What's more, kuih bangkit is said to also exist in Indonesia! Good food must be shared, right?
4. Kuih Siput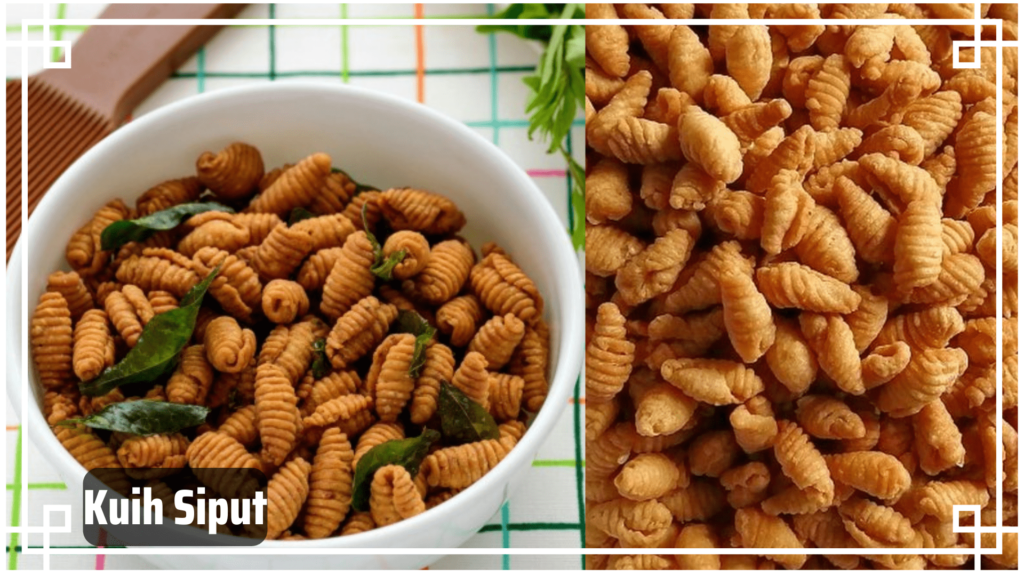 It is pretty easy to understand how kuih siput gets its name. This shell-shaped kuih used to be a regular sight when visiting relatives and acquaintances' houses during Hari Raya Aidilfitri in Malaysia. Kuih siput is made from wheat flour, margarine and tapioca flour.
5. Kuih Makmur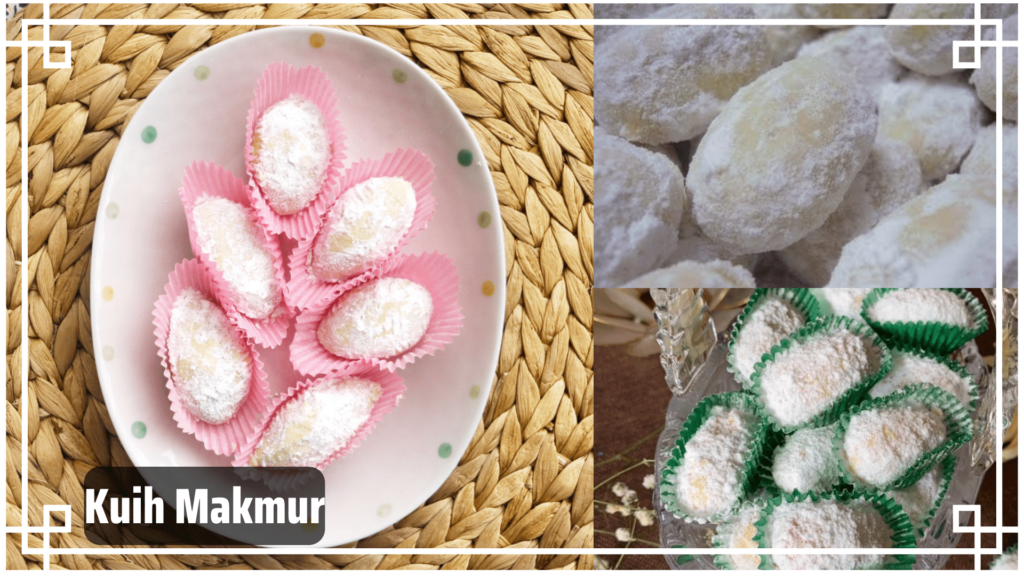 Kuih makmur usually can be easily identified just by looking at its round shape and white colour. The origin of this kuih is not really from Malaysia and it is said to have been introduced by Arab merchants and is actually a derivation of the Middle Eastern ma'amoul. Regardless, this kuih is a treat to have during Hari Raya Aidilfitri.
6. Kacang Hijau Biscuits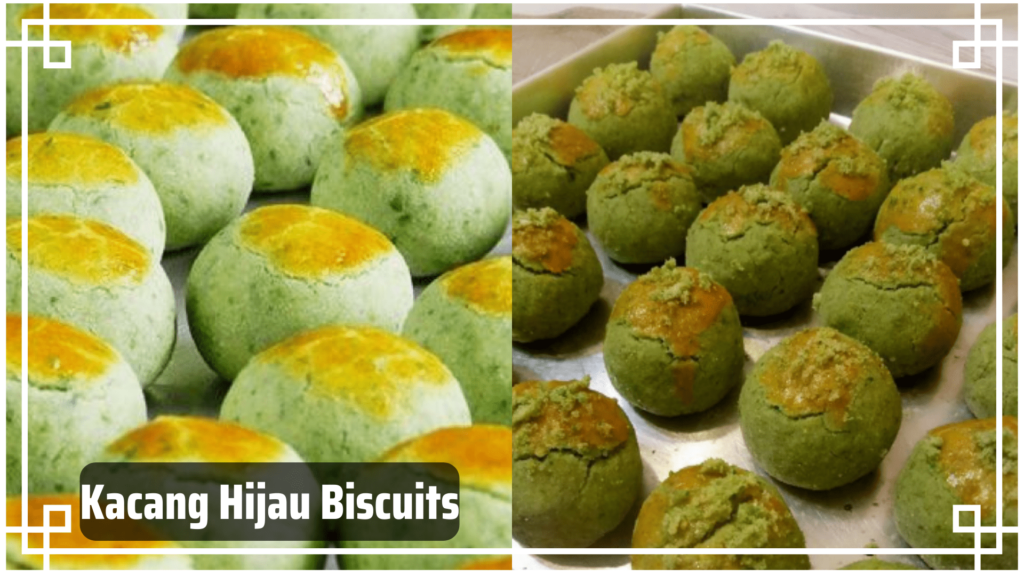 I am sure most Malaysians are familiar with the Mazola Biscuit but are you aware that there is another variation to it? Yes, the lesser-known sibling to Mazola Biscuit is the one and only Kacang Hijau Biscuits. They taste pretty similar to each other but what makes them apart is, of course, their colourings.
7. Kerepek Bawang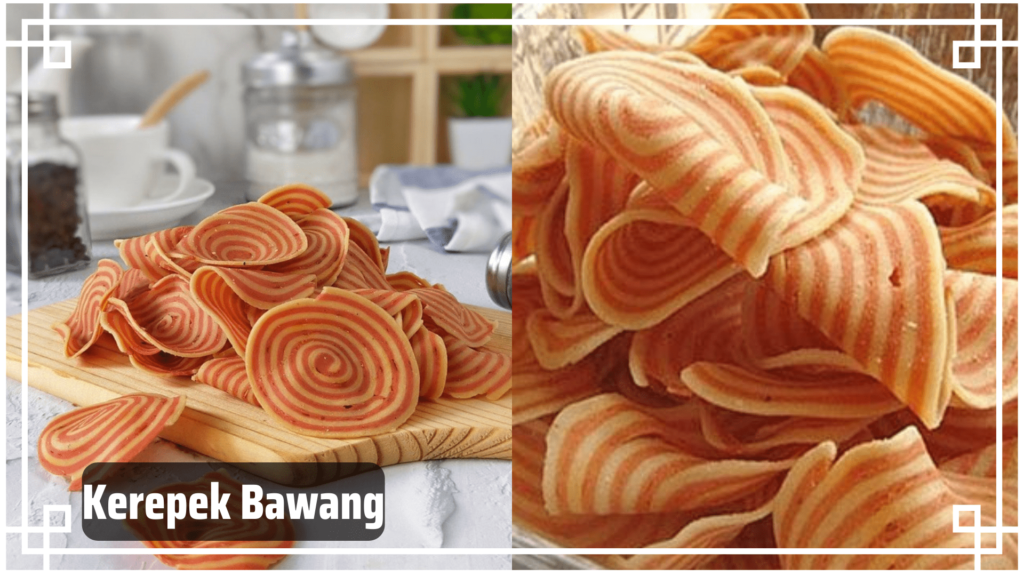 This is more of a type of kerepek than kuih but it is also placed in bowls or jars alongside other kuih raya during Hari Raya Aidilfitri so I'm taking the liberty of including it in this list. Kerepek bawang is named as such due to the spirals present on the kerepek which makes it look like a slice of onion, albeit a brown and crispy one.
8. Kuih Buah Rotan
Kuih buah rotan, a round-shaped kuih that is covered all over with sesame seeds. This traditional kuih raya is particularly popular in Terengganu and is usually only eaten during hari raya. It also doesn't have any fillings in it and is made of glutinous rice flour and eggs.
9. Kuih Semperit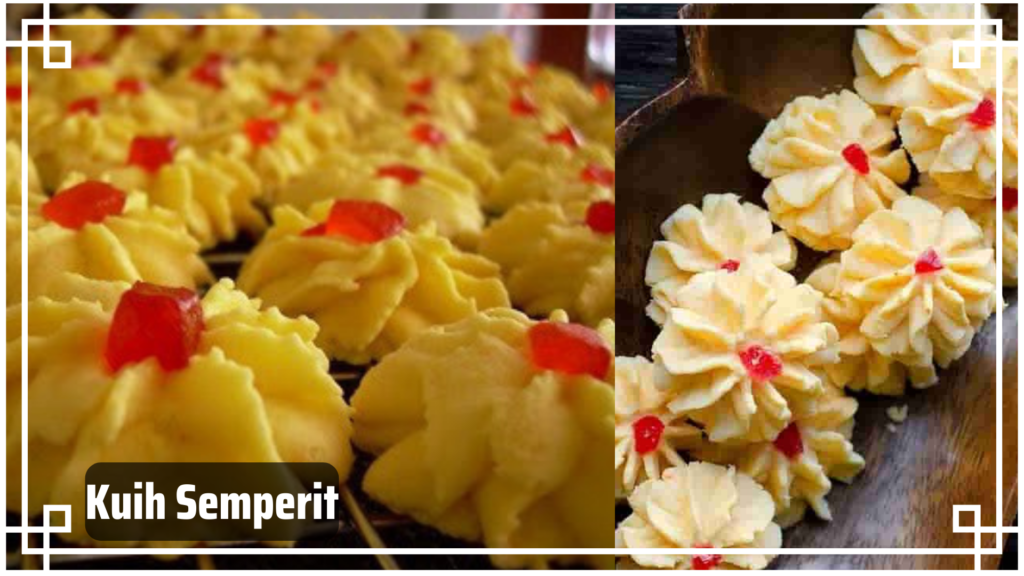 An evergreen classic, kuih samperit is still popular up to this day. It is beloved not just in Malaysia, but also in Indonesia. This kuih is mainly shaped into delicate flower shapes, said to be similar to the dahlia flowers, and topped with a small, red and glazed cherry.
10. Kuih Tat Nanas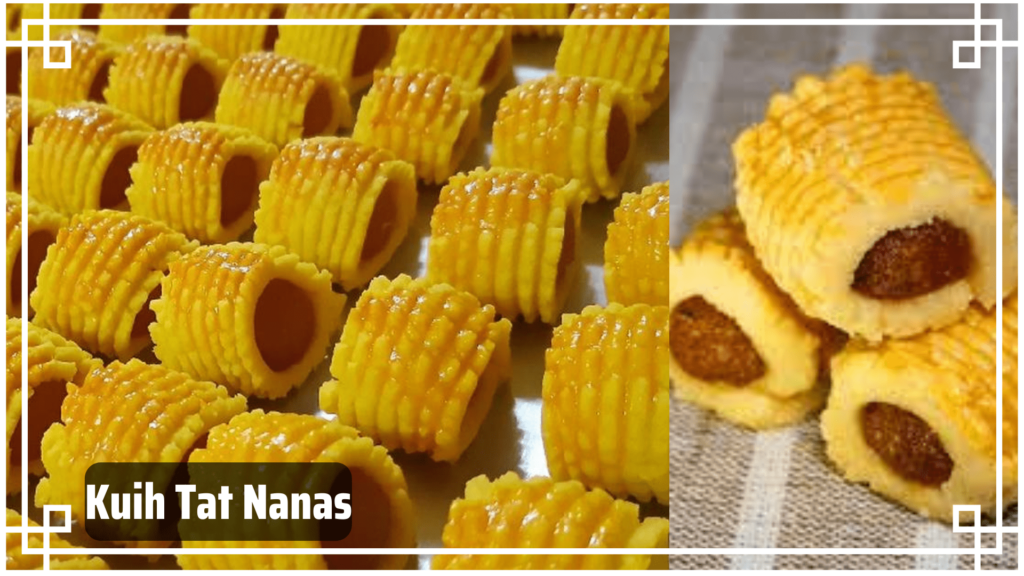 This here is another classic that has yet to lose its popularity. Kuih Tat Nanas is a type of tart that is filled with pineapple jam. The type that is typically sought after by Malaysians is in which the kuih has a melt-in-your-mouth and crumbly outside, and is generously filled with pineapple tart on the inside.
These ten kuih raya are all classics in Malaysia. Some of them may have become harder to find as the years pass by. So, this raya, it may be a good idea to revive the recipes of these traditional kuih raya and bring back the classics. After all, who else is going to preserve our traditions and history if not us ourselves? Selamat Hari Raya Aidilfitri, maaf zahir dan batin, everyone!