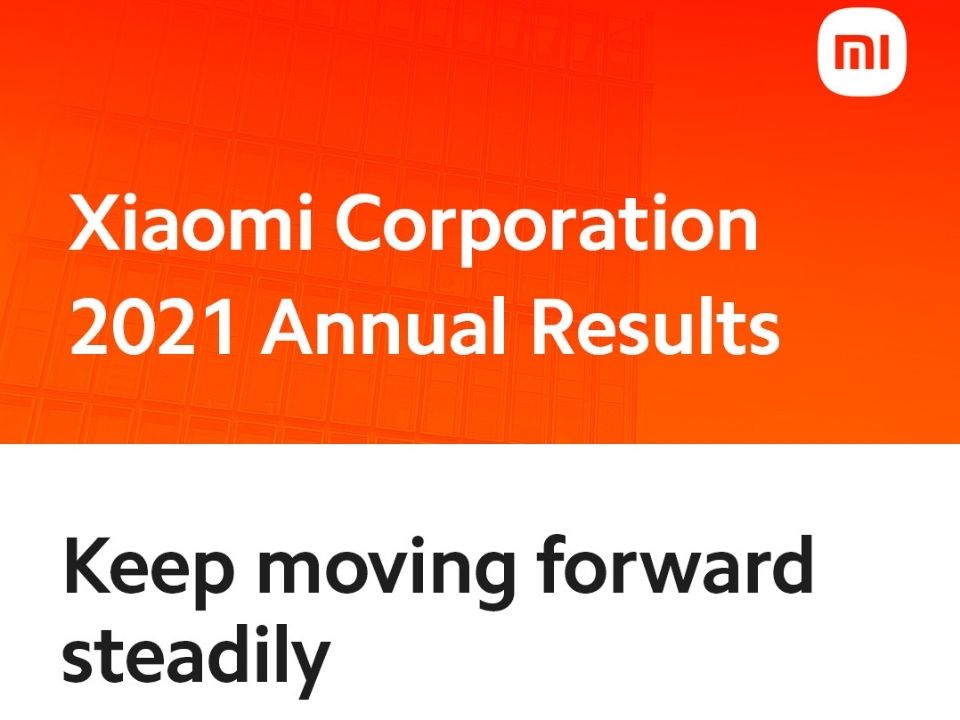 Xiaomi Corporation recently has announced its audited consolidated results for the year 2021 in the Xiaomi Annual Report. Despite facing challenges around global economies, Xiaomi's resilient business model achieved healthy annual growth with total revenue reaching RMB328.3 billion in the year 2021. It surpassed the predicted net profit of RMB22.0 billion which also shows an increase of 33.5% year-over-year.
Xiaomi Record High Market Share Of Global Smartphone Shipments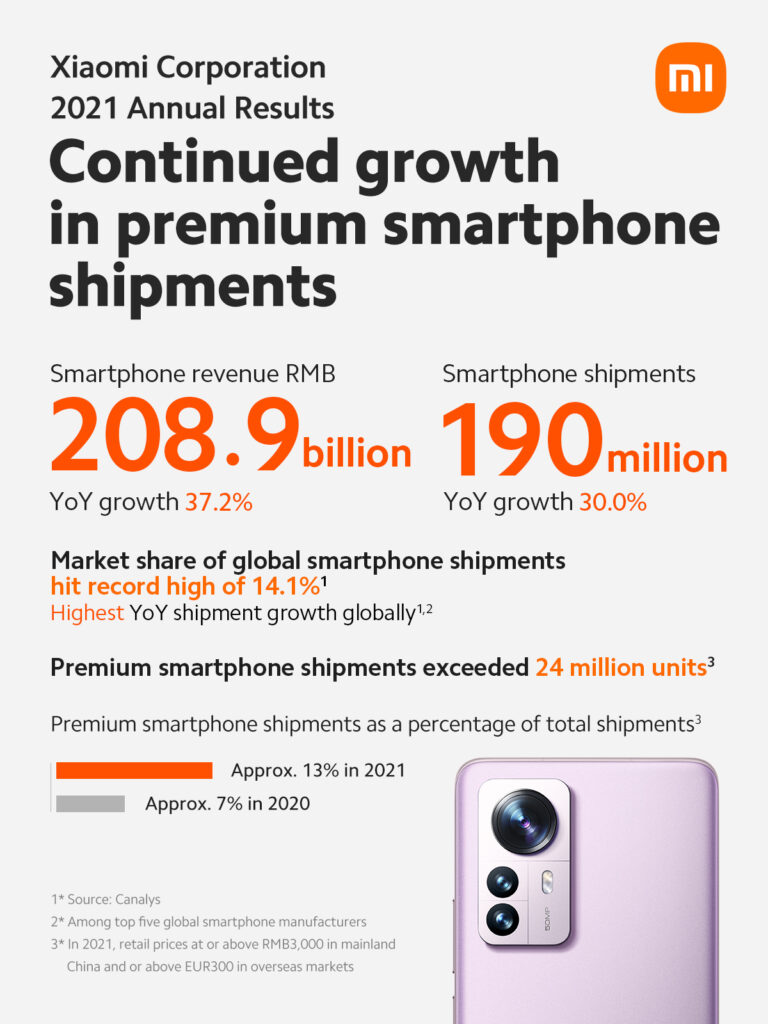 According to Canalys, in 2021, Xiaomi's smartphone shipments record a high market share of 14.1% and ranked No. 3 globally. As Xiaomi's products keep attracting global interest, the global smartphone shipments reached up to 190.3 million units, thriving up to 30% year-over-year.
With the advancement of Xiaomi's oversea strategy, it helped Xiaomi to reach strong growth in the oversea business, with total revenue reaching RMB163.6 billion in 2021. Not just the smartphone business, other Xiaomi products like overseas internet and IoT business also show strong growth as stated in Xiaomi Annual Report.
To strengthen its presence in overseas markets, Xiaomi continued to enhance its competitive advantages in local markets with smartphone shipments growing in Europe, the Middle East, Latin America, Africa, and the Asia Pacific. As stated by Canalys, Xiaomi's market share of smartphone shipments ranked No. 1 in 14 countries and regions and among the top five in 62 countries and regions globally.
Improvement In The Premium Smartphone And Continuation In Growing Dual-Brand Strategy
Through the company's persistent commitment to premiumization, Xiaomi's dual-brand strategy continued to make progress. Premium smartphone shipments increased from approximately 7% in 2020 to approximately 13% in 2021. As reported by Canalys, Xiaomi ranked No. 3 in terms of overseas shipments of premium smartphones, indicating that Xiaomi's commitment to premiumization overseas is thriving.
In the Xiaomi Annual Report, Xiaomi 12 series has reported to become one of the most popular premium smartphones with sales exceeding RMB1.8 billion in just 5 minutes after it was launched. In the meantime, Redmi, a subsidiary company of Xiaomi also continued to bring cutting-edge technologies to the mass market and offer the ultimate user experience. The sales of the Redmi K50G and the Redmi K50G Mercedes-AMG Petronas Formula One Team Edition exceeded RMB280 million within the first minute of launching.
Strengthened Synergies Of AIoT Business And Advantages Of Smart Ecosystem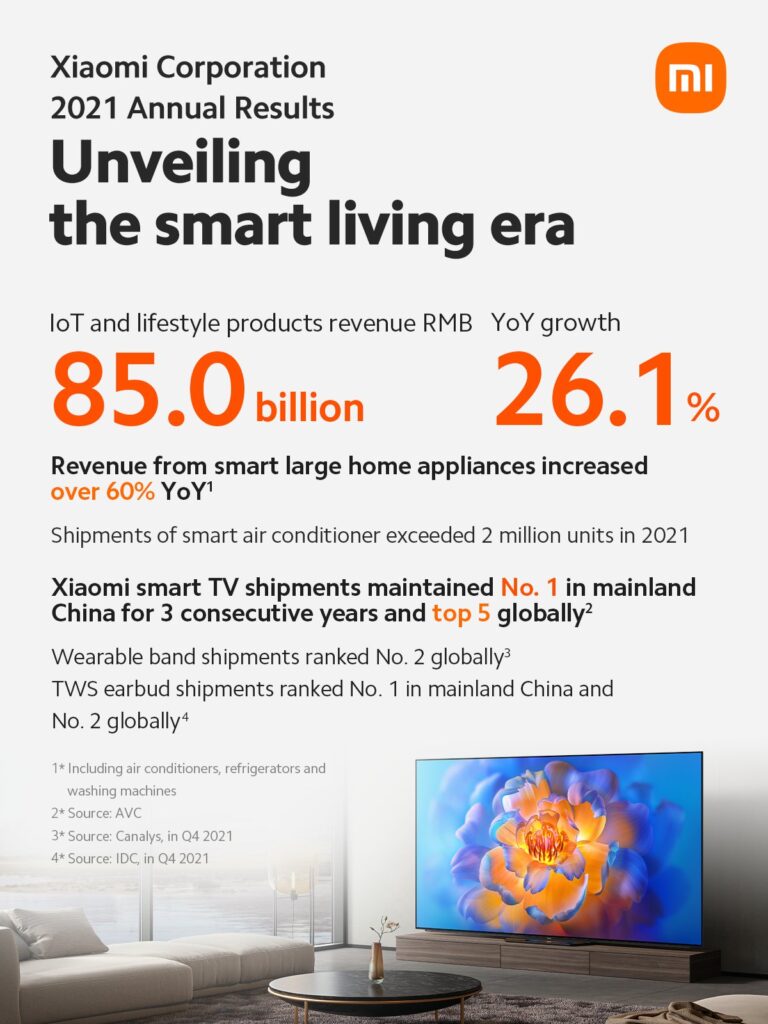 Xiaomi remains focused on executing the "Smartphone × AIoT" strategy globally. In the report, as of December 2021, the number of connected devices on Xiaomi's AIoT platform reached 434 million (33.6% year-over-year). While the number of users with five or more devices connected to the AIoT reached 8.8 million, representing a year-over-year increase of 40.4%. Meanwhile, Xiaomi's smart large home appliance category (air conditioners, refrigerators, and washing machines) also delivered strong growth with revenue increasing over 60% year-over-year in 2021 as stated in the Xiaomi Annual Report.
The Growth In Internet Service Business And Overseas Contribution
Xiaomi's internet services revenue reached RMB28.2 billion, an increase of 18.8% year-over-year despite the increased challenges in the industry. Meanwhile, the TV internet user base also maintained solid growth. Xiaomi's MAU smart TV grew more than 29% year-over-year, and the number of TVs paid subscribers increased 14.5% year-over-year to 4.9 million stated in the Xiaomi Annual Report.
Apart from that, Xiaomi's advertising revenue reached RMB18.1 billion, representing an increase of 42.3% year-over-year, primarily attributable to its expanding user base. The internet services revenue overseas increased by 79.5% to RMB1.6 billion in the fourth quarter of 2021, driving Xiaomi's growth momentum.
Embracing the vision of "Make friends with users and be the coolest company in the users' hearts", Xiaomi continuously pursues innovations, high-quality user experience and operational efficiency which makes Xiaomi to become one of the world's leading smartphone companies. For more information about Xiaomi as a company, please visit https://blog.mi.com/en/.