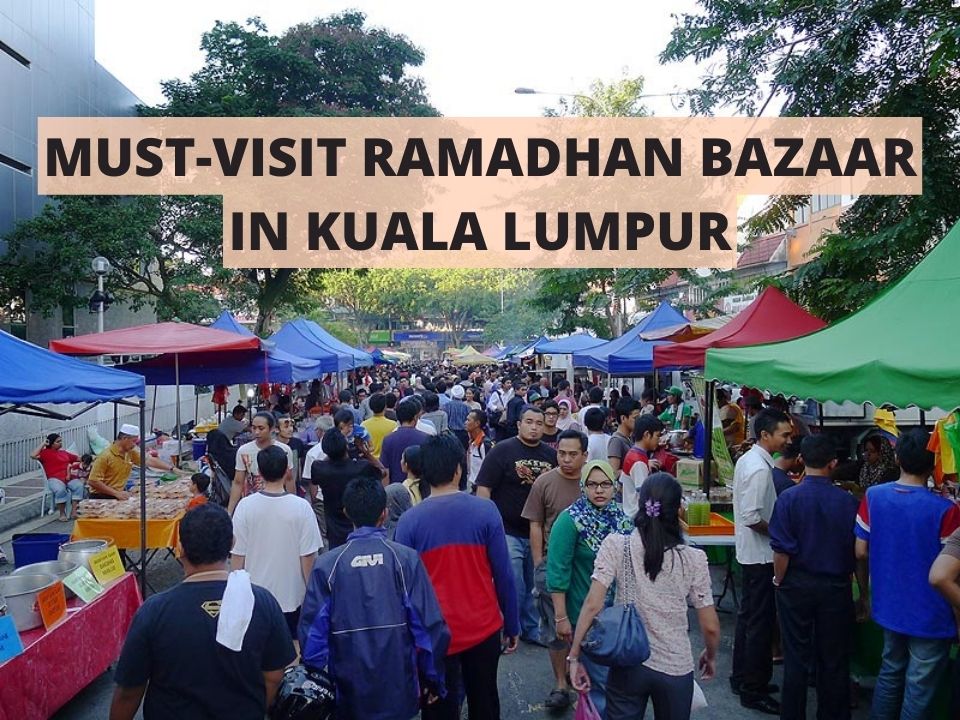 Most Malaysians are very excited to welcome this year's Ramadhan since there's no more Restricted Movement Control Order (RMCO) imposed by the government just like in the past few years. As we are finally entering an endemic phase, many Ramadhan Bazaars are expected to be opened, and of course! Ramadhan Bazaar is one of the most awaited things to do in the month of Ramadhan. Hence, here is a list of popular Ramadhan Bazaar you have to try in Kuala Lumpur!
6 Popular Ramadhan Bazaar In Kuala Lumpur
1. Kampung Baru Ramadhan Bazaar
Even on normal days, this place is well-known for its choices of food! Kampung Baru, located in the middle of Kuala Lumpur city offers a lot of food ranging from drinks, desserts, and many more! Every year, Kampung Baru Ramadhan Bazaar becomes a must-visit bazaar for people living in Kuala Lumpur and Selangor. You can find almost every type of food here. From any type of rice to flavored drinks, just name it, you can definitely satisfy all your cravings here.
Credit: Mizi Comel on YouTube
If you haven't stepped your foot in this bazaar during Ramadhan, you should go at least once in your lifetime. Trust me, you will never ever regret it!
*Tip: Don't go by car because it is quite hard to find parking.
Address: Jalan Raja Alang, Chow Kit, 50300 Kuala Lumpur, Wilayah Persekutuan Kuala Lumpur
2. Stadium Shah Alam Ramadhan Bazaar
This Ramadhan Bazaar is situated in front of Shah Alam Stadium. Even though it is quite far from Kuala Lumpur city, this bazaar is very worth to go. Wanna know why? Check out this TikTok video from KL Foodie:
Credit: @foodiemy on TikTok
From the most typical foods like Roti John, Ayam Percik, and Char Kuew Teow, there are also a lot of unique foods that we rarely find in Ramadhan bazaars such as Grill Squid, Kerang Bakar, and many more that we can find here. Assorted of Kuih-Muih are also available such as Tepung Pelita, Kuih Talam, Kuih Akok, and the list goes on.
Address: Seksyen 13, 40100 Shah Alam, Selangor
3. Taman Melawati Ramadhan Bazaar
Being one of the most crowded Ramadhan Bazaars in Kuala Lumpur, visiting Taman Melawati Ramadhan Bazaar should be included in your list! Oh! There's no need to mention about the food choices cause you can literally find anything here!
Credit: Mummy Kuyra on YouTube
Address: Taman Melawati, 53100 Kuala Lumpur, Wilayah Persekutuan Kuala Lumpur
4. Taman Tun Dr. Ismail (TTDI) Ramadhan Bazaar
One of the oldest Ramadhan Bazaar after Kampung Baru, TTDI Ramadhan Bazaar is very popular among the residents at TTDI as well as among people living in the Kuala Lumpur area. Since this Ramadhan Bazaar is located in the middle of a residential area, this bazaar will always be crowded. Therefore, if you want to avoid getting in a long queue when buying your food, do come as early as 3 pm!
Credit: Mummy Kuyra on YouTube
Address: Jalan Tun Mohd Fuad 2, Taman Tun Dr Ismail, 60000 Kuala Lumpur, Wilayah Persekutuan Kuala Lumpur
5. Bangsar Ramadhan Bazaar
Located beside the Bangsar Village, this Ramadhan Bazaar also offers you a lot of choices in food. Don't want to list all the foods here, you should go and watch it by yourself! But, we would like to recommend you to try the 'Ayam Percik' and 'Popiah Basah'. Swear to God! Once you taste it, you will go crazy and the taste will haunt you forever!
Credit: @chamais_ on TikTok
Address: 1, Jalan Telawi 1, Bangsar, 59100 Kuala Lumpur, Wilayah Persekutuan Kuala Lumpur
6. Bukit Bintang Ramadhan Bazaar
Starting from Jalan Sultan Ismail and Jalan Berangan up to the Ain Arabia Gate, this Ramadhan Bazaar offers you a variety of foods from different parts of the world including Thailand cuisine and Middle Eastern cuisine. If you're a fan of middle eastern food, you should come by Bukit Bintang Ramadhan Bazaar!
Address: Bukit Bintang, 50200 Kuala Lumpur, Wilayah Persekutuan Kuala Lumpur
Although there are many food options you can get at all these Ramadhan bazaars, you should always remind and control yourself to buy foods only according to what is needed, not based on your lust. Remember people, do not overspend and avoid wasting your food! Happy fasting to all of you!