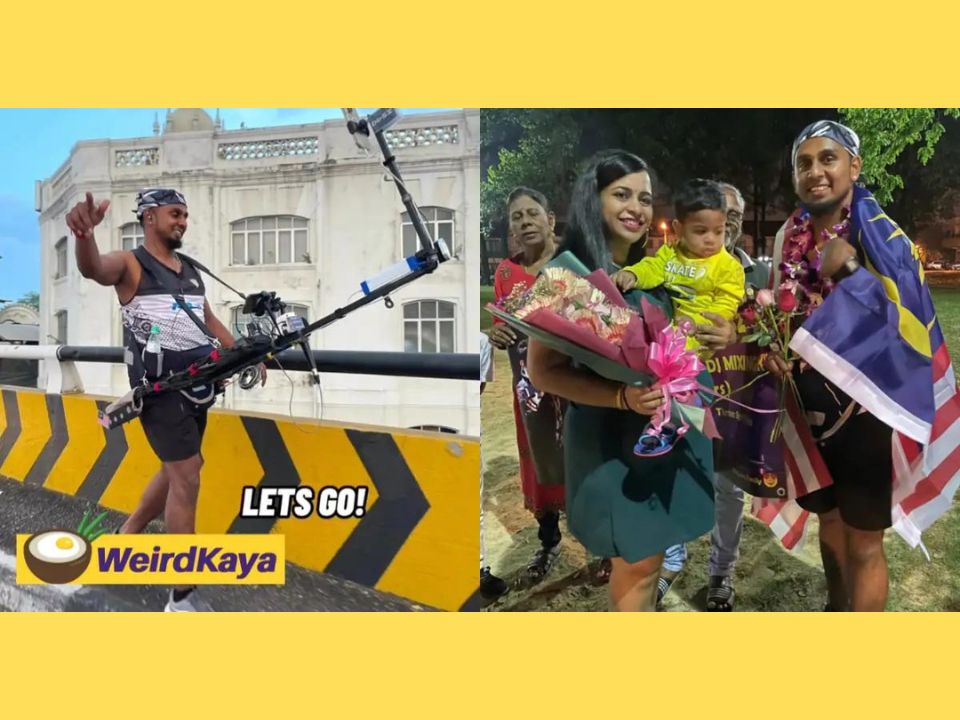 Image via WeirdKaya
If you've come across a viral TikTok video of a man named DJ Dasz proclaiming that he was ready to set a record for the 'Longest Non-Stop DJ Mixing Walk' through the streets of KL in March, chances are you already know who it is.
WeirdKaya had the opportunity to have a chat with him about the feat as well as the inspiration which led him to undertake and eventually accomplish this rather unusual record.
Was A Teacher Before Becoming A DJ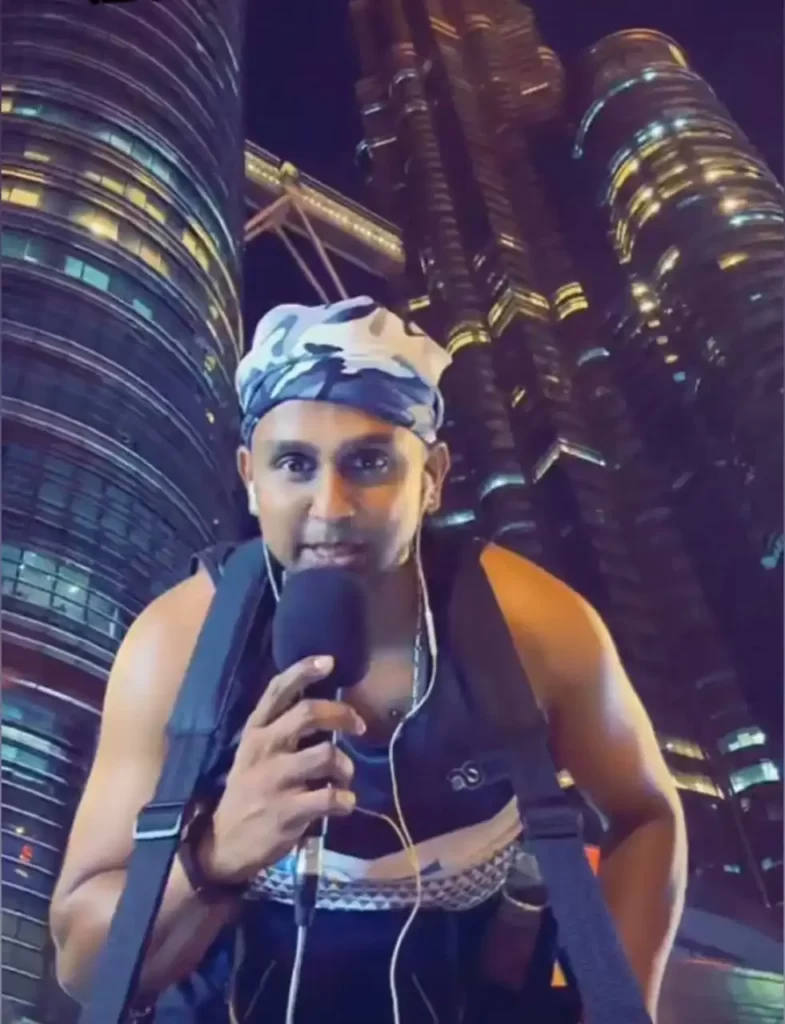 Image via WeirdKaya
DJ Dasz, whose real name is Kalidassh Punusamy, told WeirdKaya that upon completing his SPM exam, he took up a teaching course at Institut Pendidikan Guru Malaysia (IPGM) in Penang.
However, during his years as a teacher, he realised that it did little to put out his strong desire to make headways in the entertainment industry, specifically as a disc jockey (DJ).
In fact, my desire to be a DJ was so strong that I enrolled myself in the Goldsounds Academy in Petaling Jaya to learn the skills necessary in the field,
Unfortunately, it wasn't a smooth journey for DJ Dasz as he was subjected to multiple instances of rejection and humiliation, so much to the point that his promising DJ career nearly crumbled.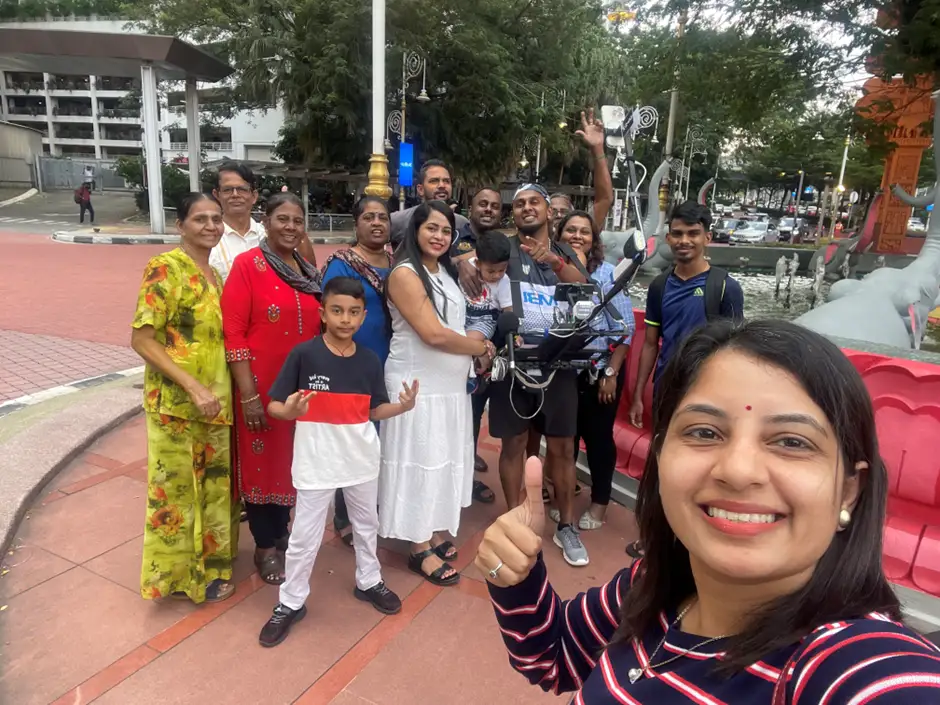 Image via WeirdKaya
Fortunately, he was able to find solace in his family, whom he said was his biggest support system in those challenging times.
They were and still are my biggest supporters. Without them, I'm nothing.

DJ DASZ
Walking For 12 Hours While DJ-ing
When asked what was the inspiration behind his decision to embark on a 12-hour journey by foot while DJ-ing, DJ Dasz said that it was thanks to another DJ by the name of DJ Suat, who had done something similar in Europe but no records were set.
Drawing inspiration from this rather unusual incident, DH Dasz decided to set his own record by walking through the streets of KL while playing Tamil, Hindi, Malay, Chinese, English, Thai, and EDM tunes from his DJ set.
His journey covered several key locations in KL, where it spanned a total of 31km and began at Brickfields through Petaling Street, Pavilion KLCC before it came to an end in Petaling Jaya.
And if that doesn't sound tough enough, the total time he took to complete the entire journey was 12 hours 42 minutes and 22 seconds — all while singing and DJ-ing at the same time!
"It was definitely very tough and I nearly gave up seven hours into the walk," admitted DJ Dasz. "However, TikTok viewers weren't ready to let me do so as there were around 2,000 to 3,000 viewers throughout the 12-hour walk. The level of motivation I got on TikTok was crazy too!"

DJ DASZ
Eventually, his perseverance was ultimately rewarded after he was given the certificate of setting the record for the "Longest Non-Stop DJ Mixing Walk" on March 13.
Owes Success To His Family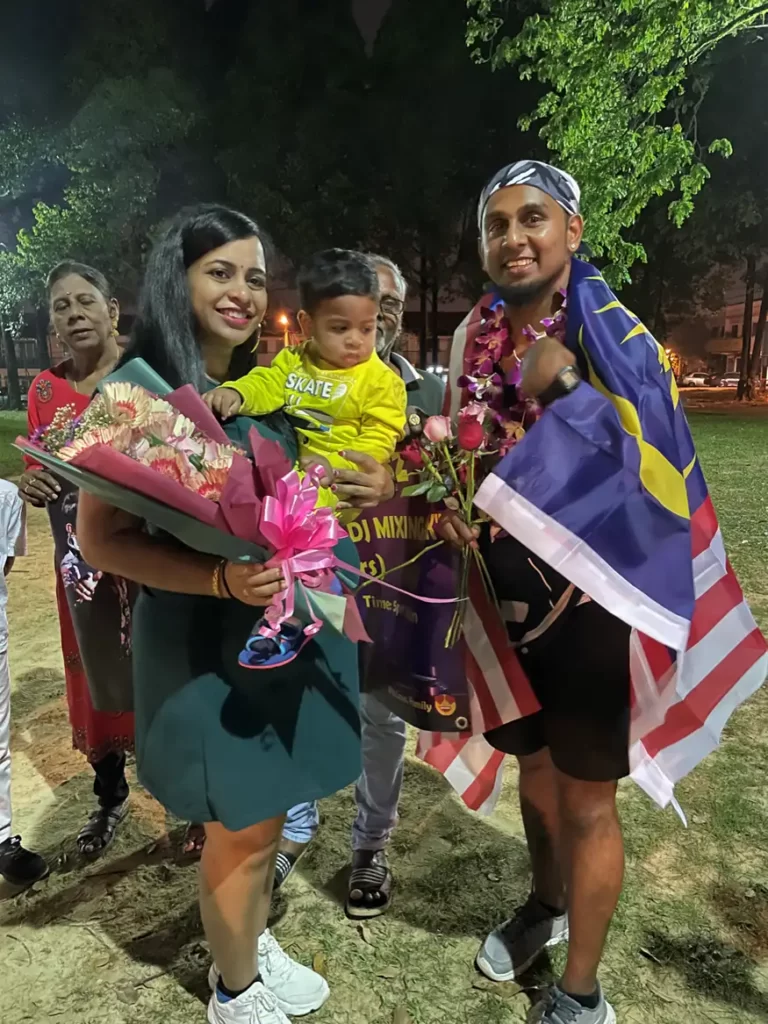 Image via WeirdKaya
DJ Dasz said his accomplishment couldn't have been possible if it weren't for certain individuals who cheered him on in his quest to set a national record.
I have to thank my entire family who were part of my journey, such as my father-in-law Arumugam Periasamy who made the DJ deck frame, my mother-in-law Indarani Nadeson who provided healthy meals, a first aid kit, and lots of love, and above all, my wife Thilagah Arumugam, who never says no to my ideas!
I also chose to set this record for my son, so that he will see me as a hero and an inspiration to achieve more in life when he gets older,

DJ Dasz
Moving on from his walk cum DJ-ing success, DJ Dasz also revealed that he's planning to dip his toes into the entrepreneurship industry by selling his very own brand of masala tea called 'Dasz Masala Party Tea' on TikTok.
Despite being acutely aware of existing negative perceptions the public has towards the entertainment industry, DJ Dasz said there's still plenty of room for more to be a part of it and encouraged parents to let their children try their hand out at it if they were to show interest.
He also had a word of wisdom for those looking to follow his footsteps in the future.
"Unleash your creativity and master the inputs of the field you would like to explore. This will prepare you to face all sorts of obstacles that will be thrown at you along the way."

DJ Dasz
(Source: Kirthanah Devan on WeirdKaya)