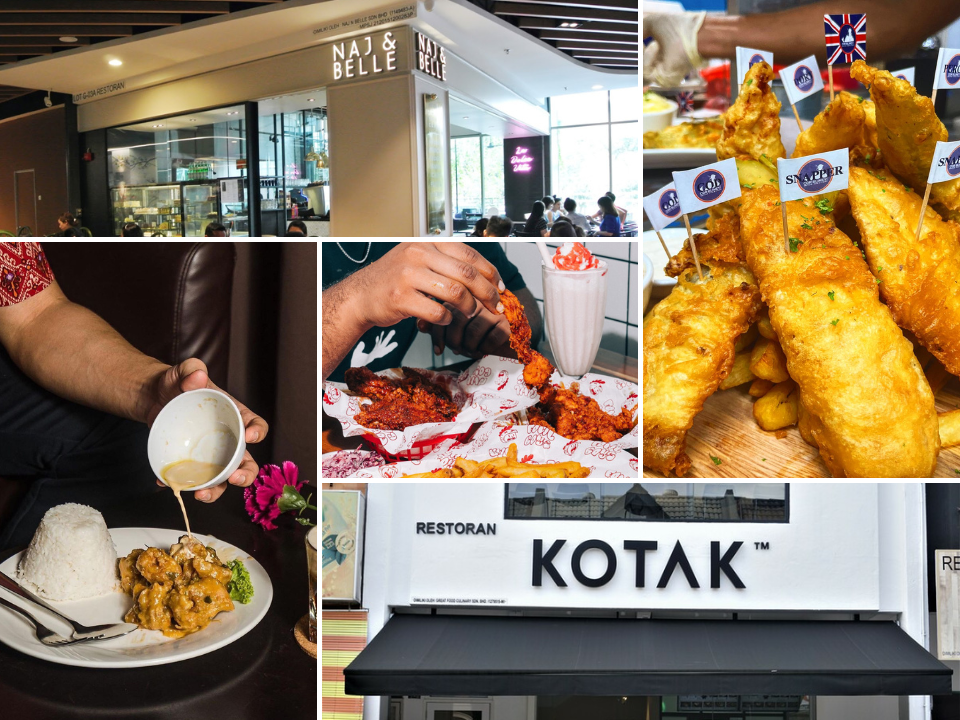 We all know well SS15 is always in a constant traffic jam with locals coming in from various places. However, it is always worth it to beat the traffic for a good plate of food, right?
Here are some of SS15 best food that might the worth a trip to Subang Jaya.
These 7 Best Food Places In SS15 Are A Must-Try!
SS15 in Subang Jaya has become a favorite spot for both locals, particularly students, and an increasing number of tourists. Its appeal lies in its trendy food scene, lively streets, and the opportunity to indulge in delicious bubble tea.
However, SS15 offers much more than just an abundance of bubble tea shops. The area is dotted with diverse food eateries, ranging from traditional local favorites to delectable international cuisine, providing an array of endless options to satisfy any palate.
1. Fowlboys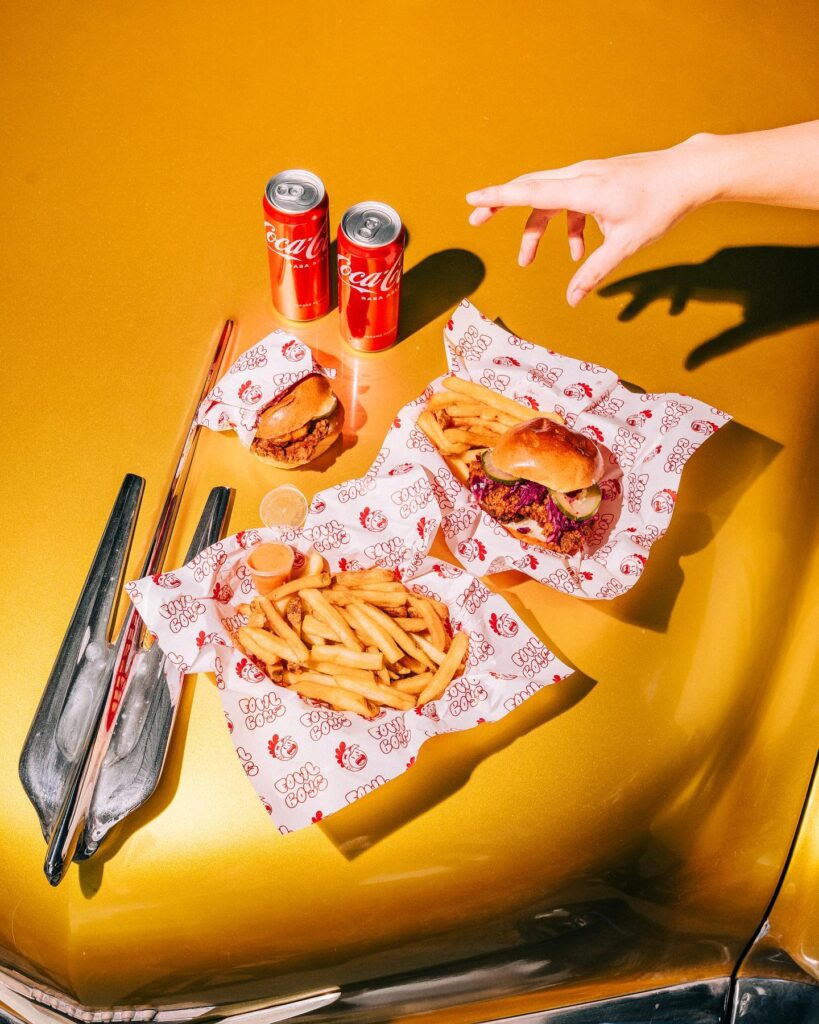 Images via Fowlboys
Kicking off the list is Fowlboys. It's hard to miss this red and humble restaurant with its American diner-like theme. Fowlboys offer some of the best burgers in town with authentic recipes and friendly service.
At Fowlboys, their specialty lies in Southern-style fried chicken, a culinary delight that boasts a unique preparation. Picture juicy chicken patties marinated in a rich buttermilk brine, infusing them with intense flavors while ensuring their tenderness and juiciness.
Are you a big fan of burgers? check out these other burger places in KL.
Check out their full menu below: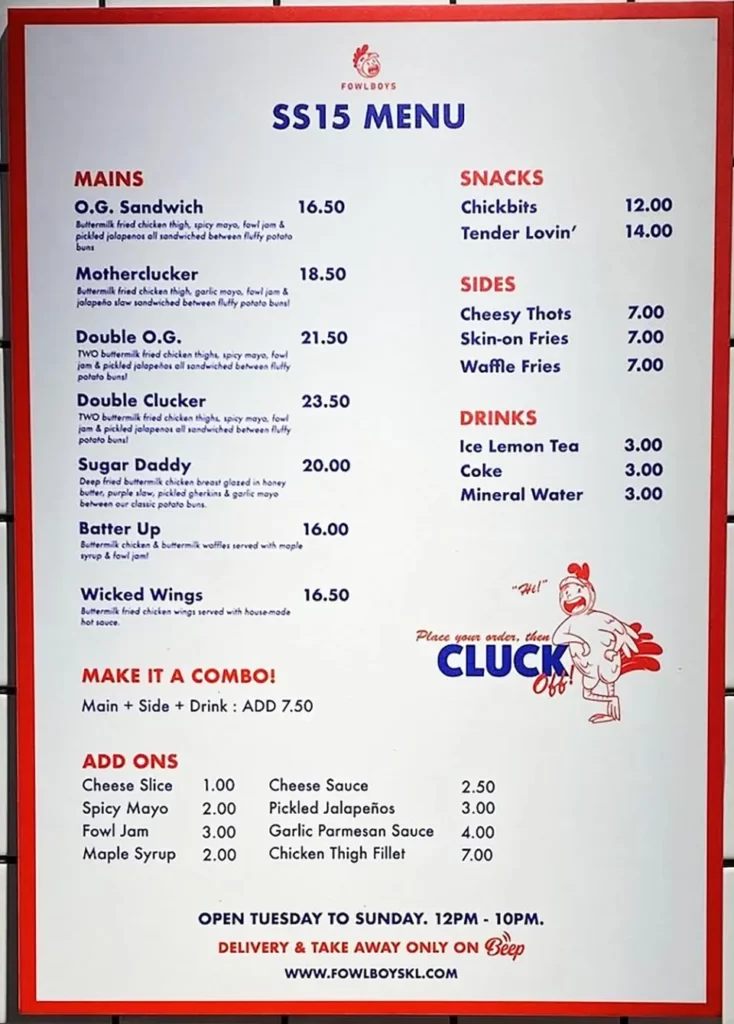 Image via Mai Singgah
2. Gold Chili (Muslim-Friendly)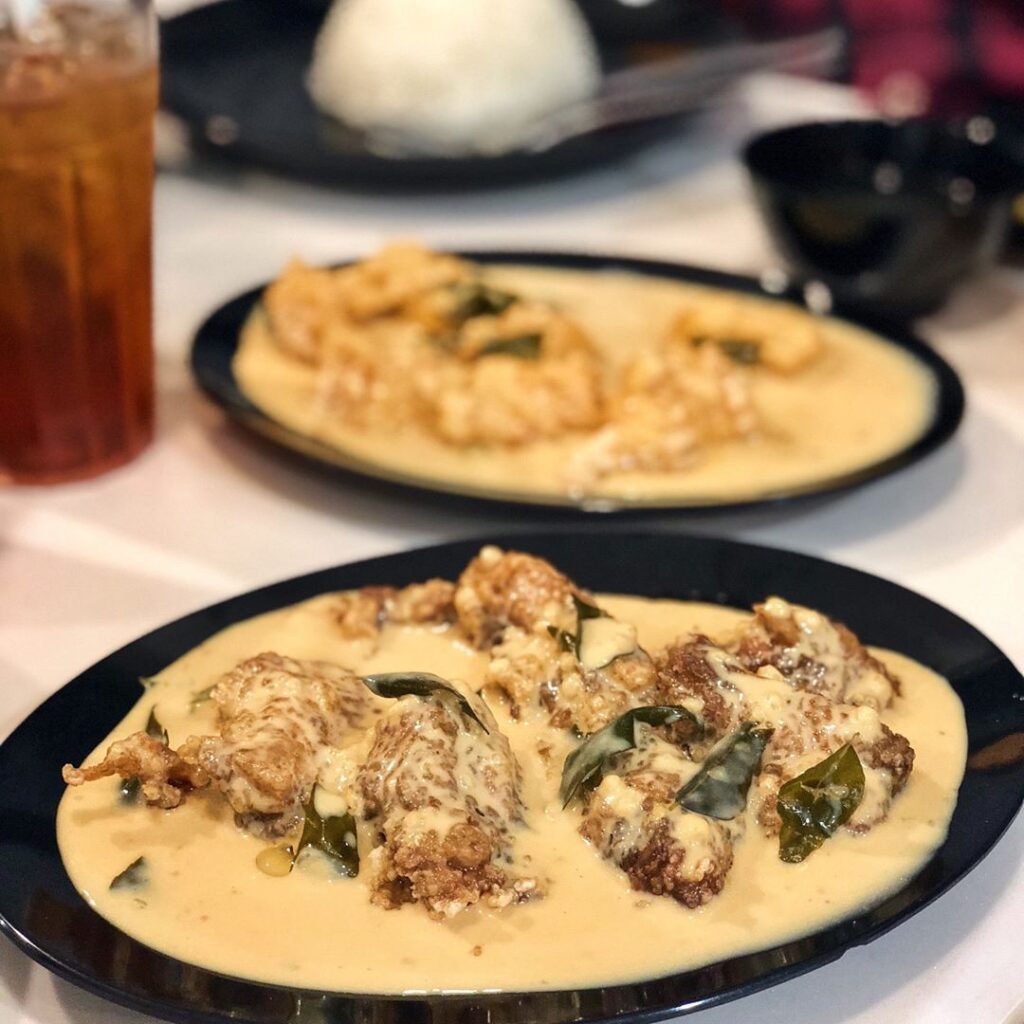 Images via Gold Chili
If you were to ask the SS15 peeps where to get the best buttermilk chicken, Gold Chili is the place to go. The OGs would definitely prefer this to any other buttermilk chicken in SS15. The crowd at Gold Chili is never-ending.
Everyone is dying to get themselves a good plate of creamy buttermilk chicken in which they can choose between boneless or bone chicken. The seamless blend of creamy butter and a hint of spiciness drizzled over the fried chicken.
Here are the menu of Gold Chili: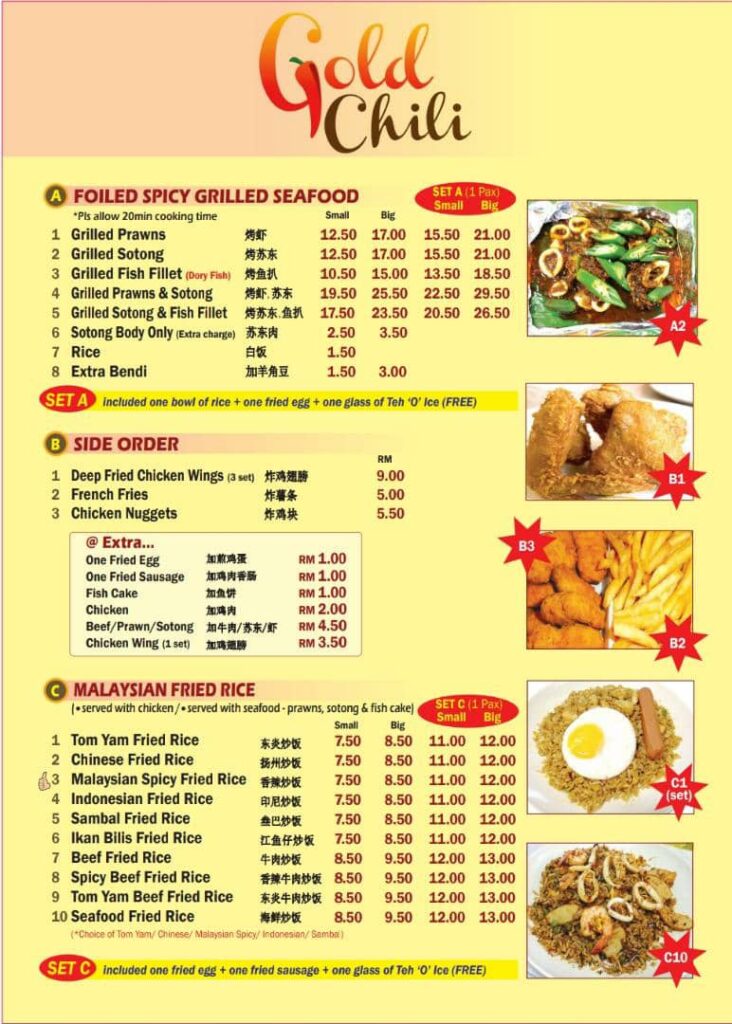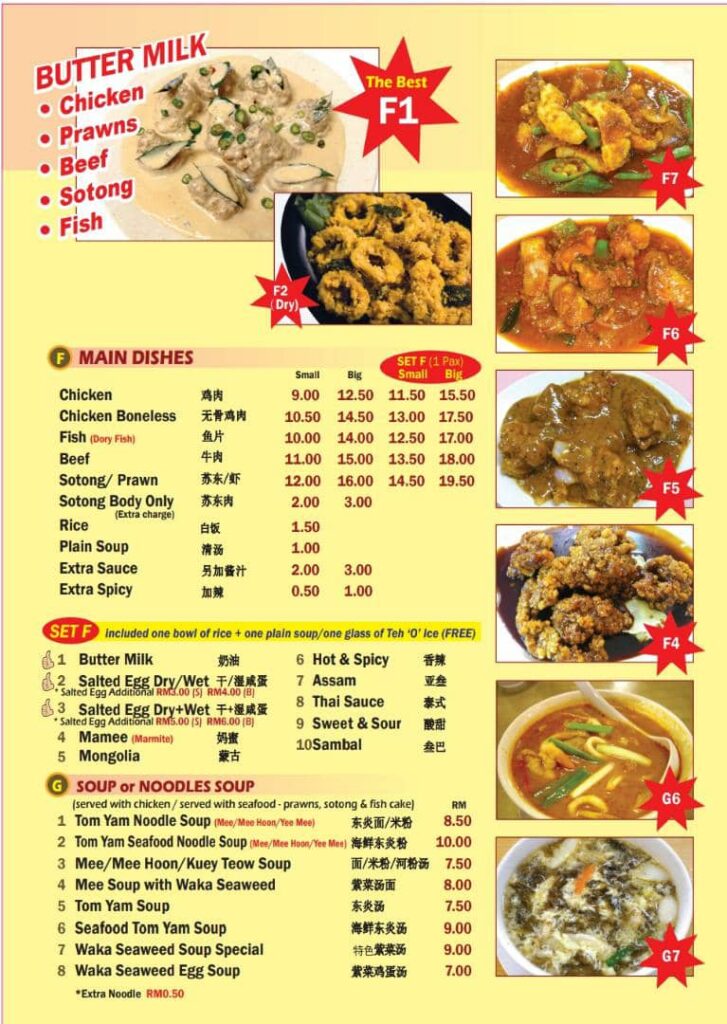 Images via Gold Chili
3. Kotak+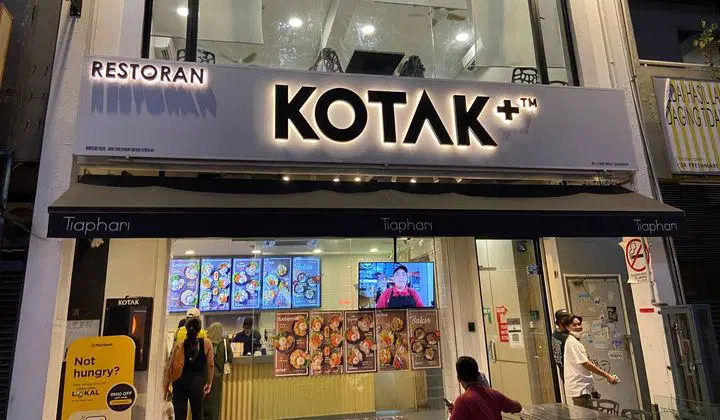 Images via The Rakyat Post
Just across Gold Chili, you will find Kotak+, a humble restaurant specializes in everything about spices. Kotak+ is where you can find the best Indonesian food with a modern twist in SS15.
Here, patrons can choose between the various types of chicken that they served. Be it Ayam Geprek or Ayam Penyet. Top the chicken with their special sambal that comes in different levels of spiciness.
Check out Kotak+ menu below: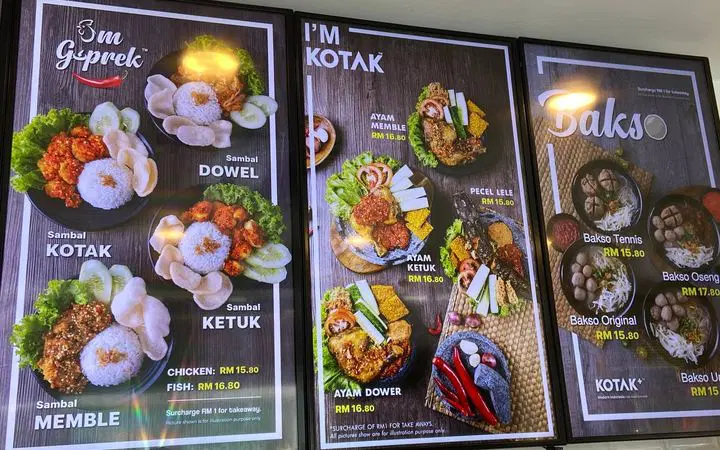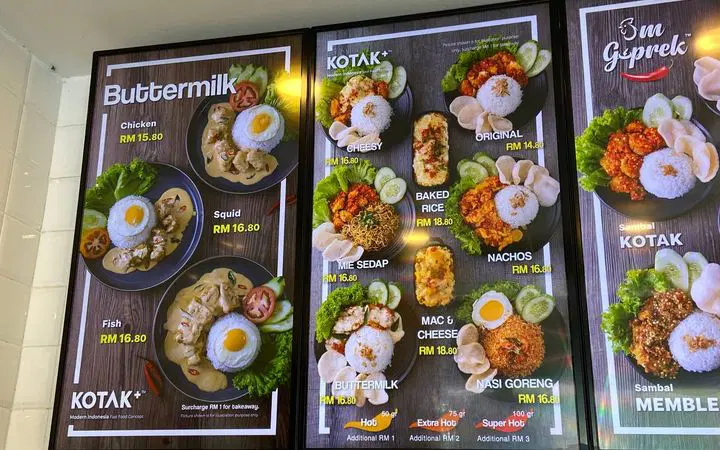 Images via The Rakyat Post
4. Cor Blimey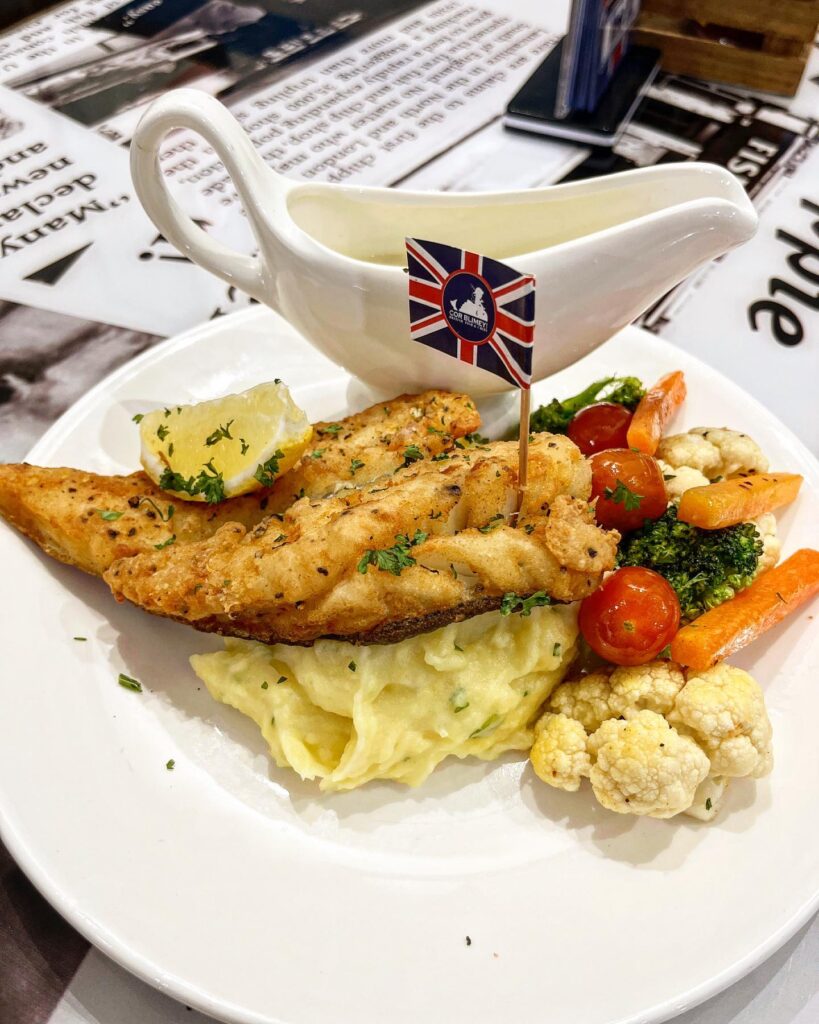 Images via Cor Blimey
If you're craving a classic British meal of fish and chips, make your way to Cor Blimey, where you'll find the most authentic British dining experience in Malaysia. They offer a selection of five different batters to deep-fry your fish fillet.
Here you can enjoy an incredibly flavorful, golden, and crispy fish and chips. Don't forget to complement it with their delightful tartar sauce, and you're in for a real treat! Without a doubt, Cor Blimey serves up some of the finest dishes in SS15.
These are the menu for Cor Blimey: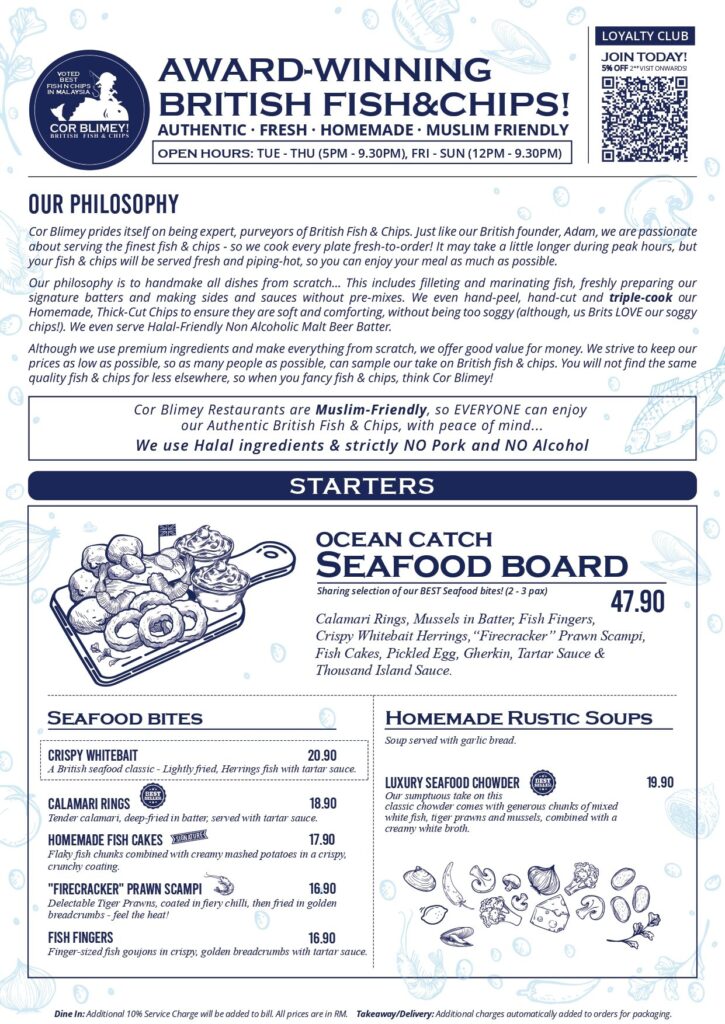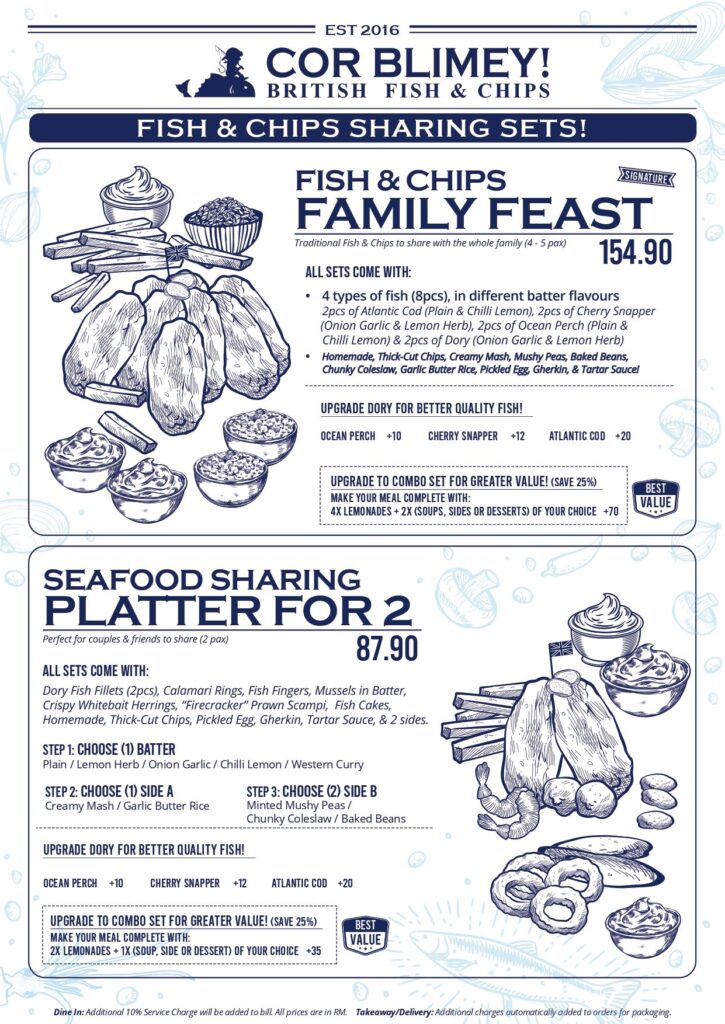 Images via Cor Blimey
5. Jibril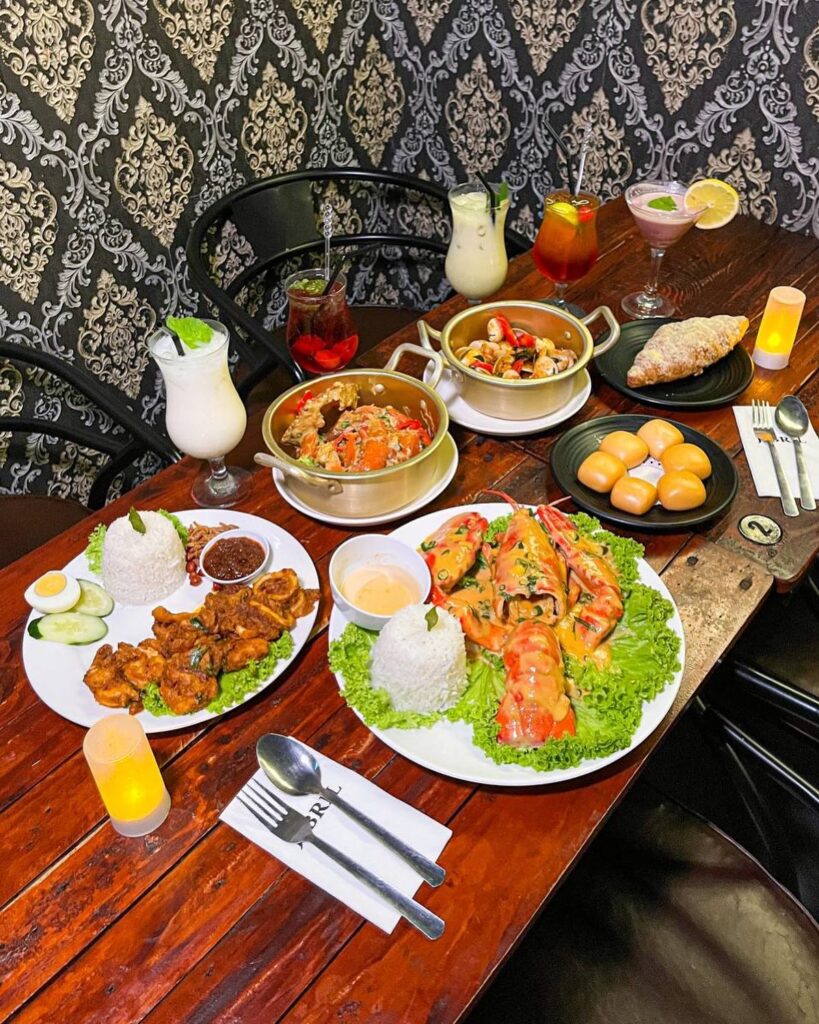 Images via Jibril
When discussing the best food options in SS15, Jibril is the unanimous choice for anyone in the know. Their Salted Egg Buttermilk Chicken is a definite crowd-pleaser. Alongside their delectable chicken, they offer a variety of deep-fried dishes coated in their signature salted egg sauce.
The menu has expanded to feature enticing additions like hot chili clams, salted egg butter lobster, and an array of other mouthwatering dishes, surpassing the fame of their butter chicken. All this goodness is somewhat concealed behind doors that open to a charming speakeasy ambiance.
Check out their menu below: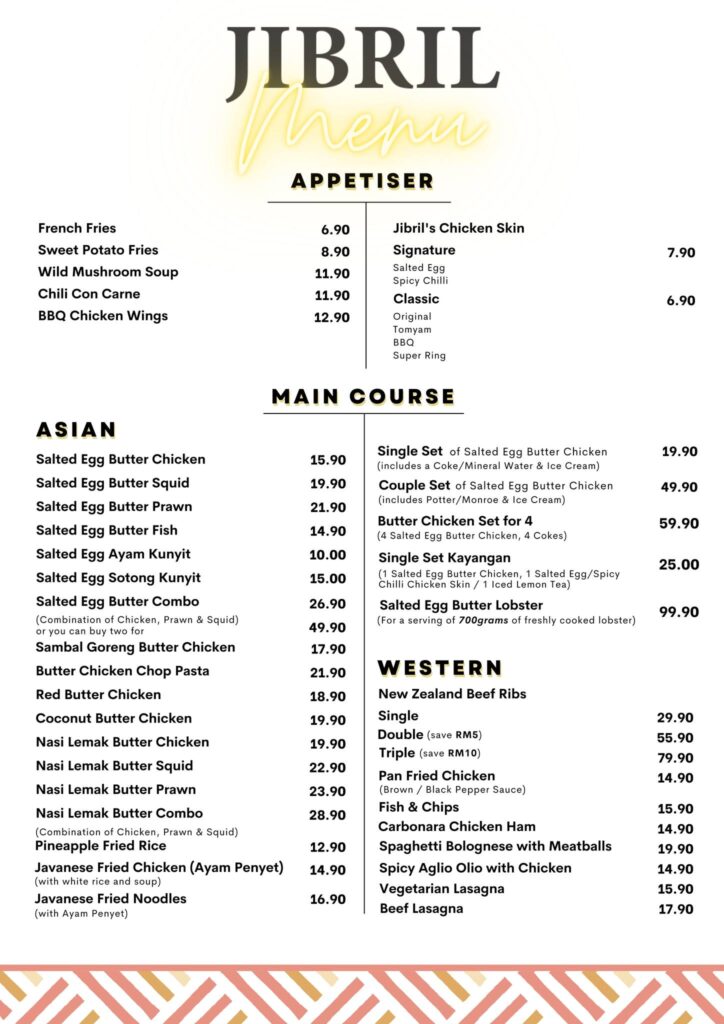 Images via Jibril
6. Naj & Belle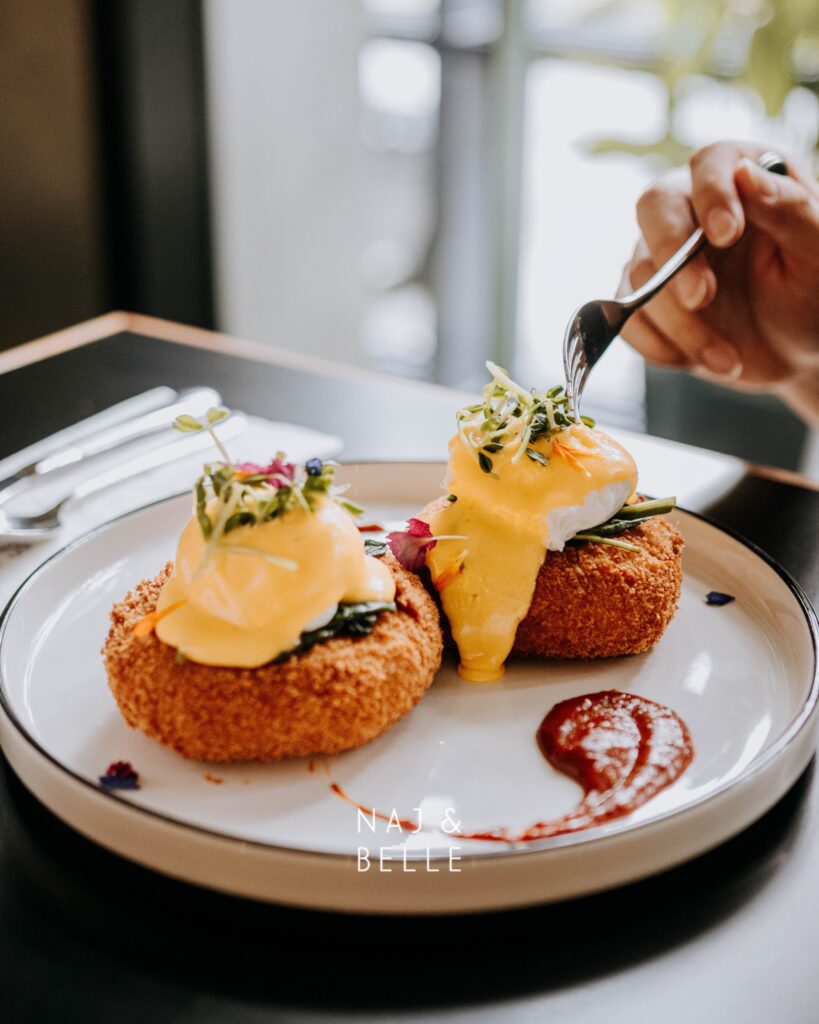 Images via Naj & Belle
Naj & Belle is the perfect spot for brunch, boasting Instagram-worthy interiors that create a delightful dining atmosphere. The dishes not only look stunningly presentable but also exceed expectations in taste.
A must-try is their Watermelon cake, reportedly the first of its kind in Malaysia. Alongside this iconic creation, their menu features an extensive selection of artisanal cakes and delectable brunch options, making it an ideal place to enjoy a delicious meal while catching up with friends.
Here is the menu of Naj & Belle: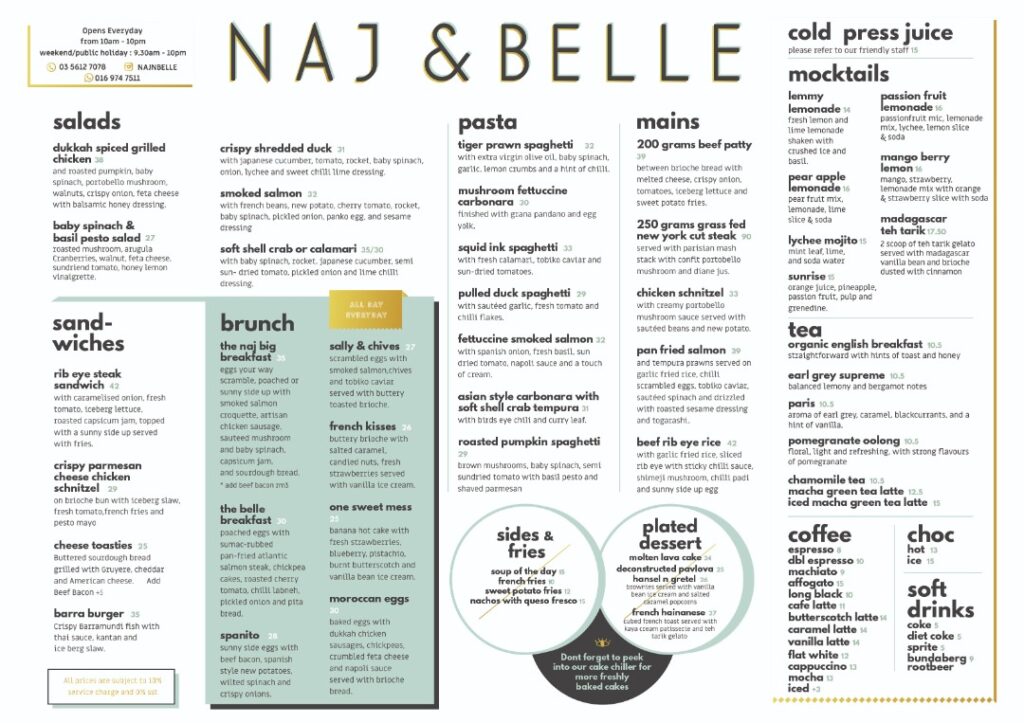 Images via Naj & Belle
7. Uncle Soon Fried Rice (Non-Halal)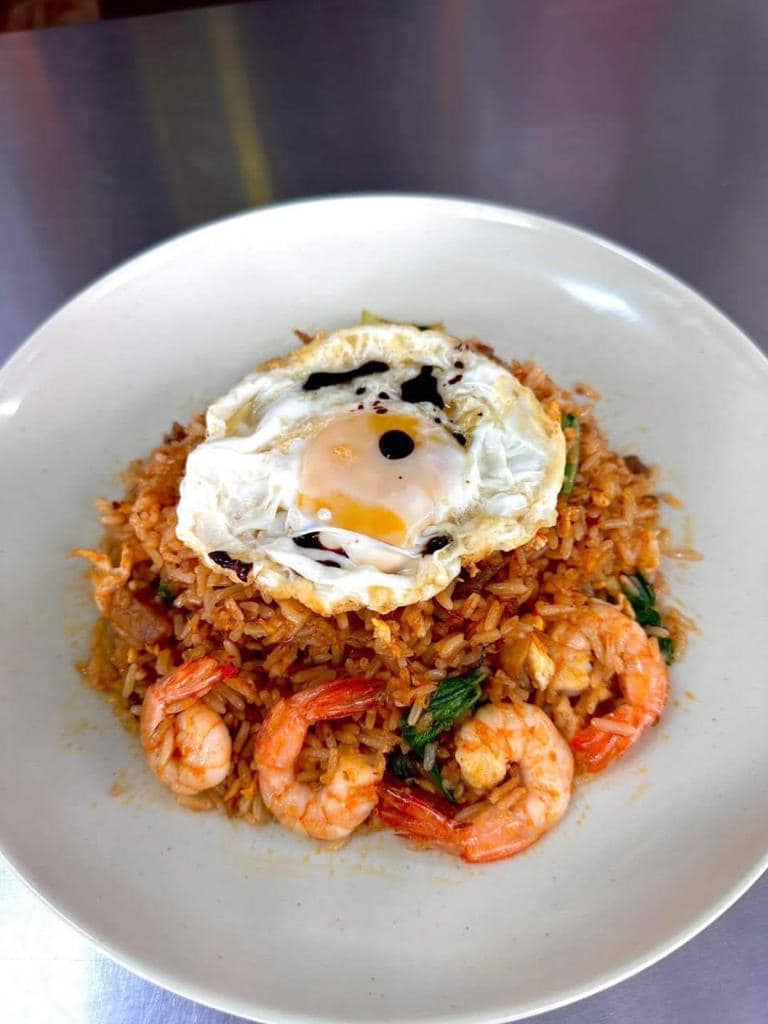 Images via Uncle Soon Fried Rice
Undeniably popular, and in our honest opinion, deserving of the acclaim it receives is Uncle Soon Fried Rice. This eatery is renowned for its Char Siew Fried Rice, lovingly prepared by either Uncle Soon or Aunty Soon, drawing a devoted following among locals and budget-conscious students.
The fried rice bursts with flavors, complemented by your preferred meat, and expertly cooked to perfection. Every fried rice never fails to achieve that sought-after wok hei essence that we all cherish. Despite its simplicity, the dish is incredibly delicious and comforting.
Here is the menu for Uncle Soon Fried Rice: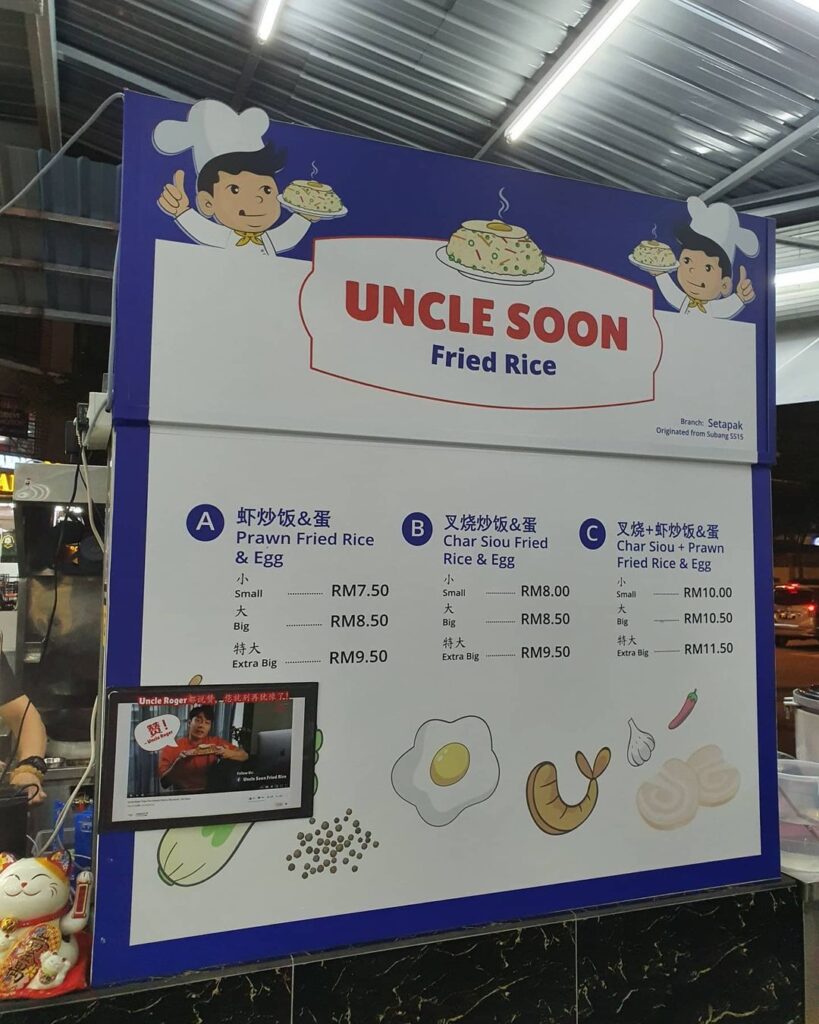 Image via KL Foodie
If you are ever in SS15, make sure to stop by one of these SS15 best food. Yes, the traffic can be quite painful but for a plate of good food, how can you say no? Bring along your friends and family to try out some of SS15's best from burgers to a delicious plate of buttermilk.