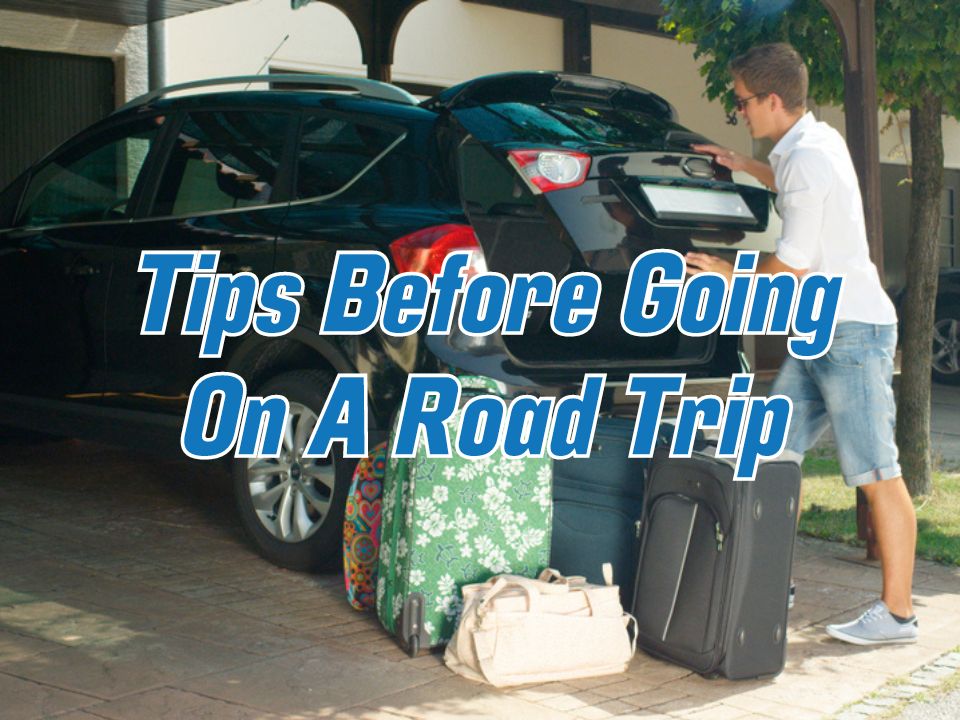 It is well known that Malaysians love to travel. In fact, balik kampung is no longer reserved for Raya or Chinese New Year holidays, but for all Malaysians who enjoy traveling. With travel restrictions lifted and the urge to explore, most people are looking forward to spending time with their dear family and friends once again.
However, between all the last-minute planning and packing, it is easy to overlook the most important part, which is car maintenance and safety. Many of us would often ensure the car is fuelled and perhaps check the tires but there are other things to look out for when planning a trip to be sure that our car is road ready and can keep everyone safe during the journey.
Checklist for Your Road Trip
Having a checklist to prepare your car for the long drive can come in handy to avoid missing out on anything. So, let's check out the things you should have on your car road trip maintenance checklist – before and after your trip.
Before Road Trip
As fun as spontaneous road trips can be, it's important to plan ahead by getting your car checked and serviced before embarking on a long journey as driving long distances can put a lot of stress on your car and lead to issues that can end up ruining a perfectly planned trip.
1. Check Engine Oil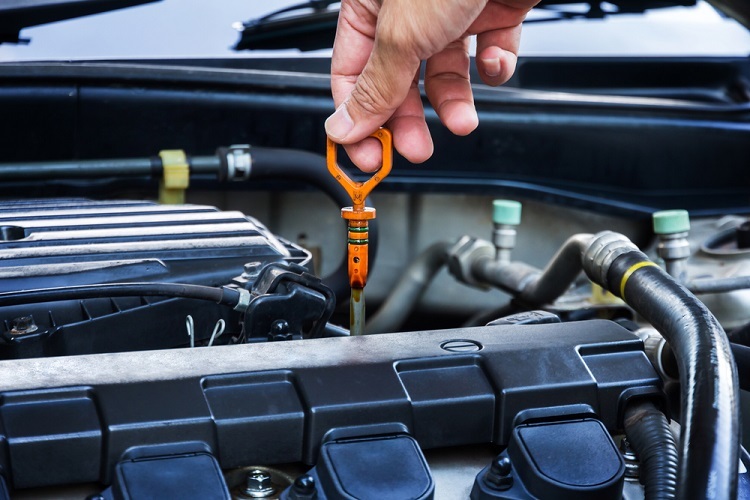 The engine oil is essential for smooth engine operation. Old engine oil can increase the risk of damage to your engine, especially when driving long distances. If your next engine oil change date is not far off, just have it changed while completing the other things on this checklist.
2. Check All the Car's Fluid
You should always make sure all the fluids in your car are topped off to keep your car running smoothly. It's always best to get it inspected at the workshop – CARSOME Service Center in Ampang performs a free 20-point inspection on all cars. However, you can also do it yourself by reading the car owner's manual to know which fluids your car needs.
Here are the fluids to have on your checklist to make sure that they are at the right level and conditions:
Transmission fluid: Ensures that your gearbox can change gears smoothly on the road.
Coolant: Keeps the engine running at a safe temperature and prevents overheating. Your engine is under a lot of strain on long drives, so having proper coolant levels is essential.
Brake fluid: Ensures that your brakes have enough bite to stop your car whenever you need to.
Power steering fluid: Keeps your steering responsive and smooth.
Windshield washer fluid: Used to clean your windshield. If its level is low, you can mix a few drops of shampoo with water and add it to the windshield washer fluid reservoir.
3. Check the Car Tires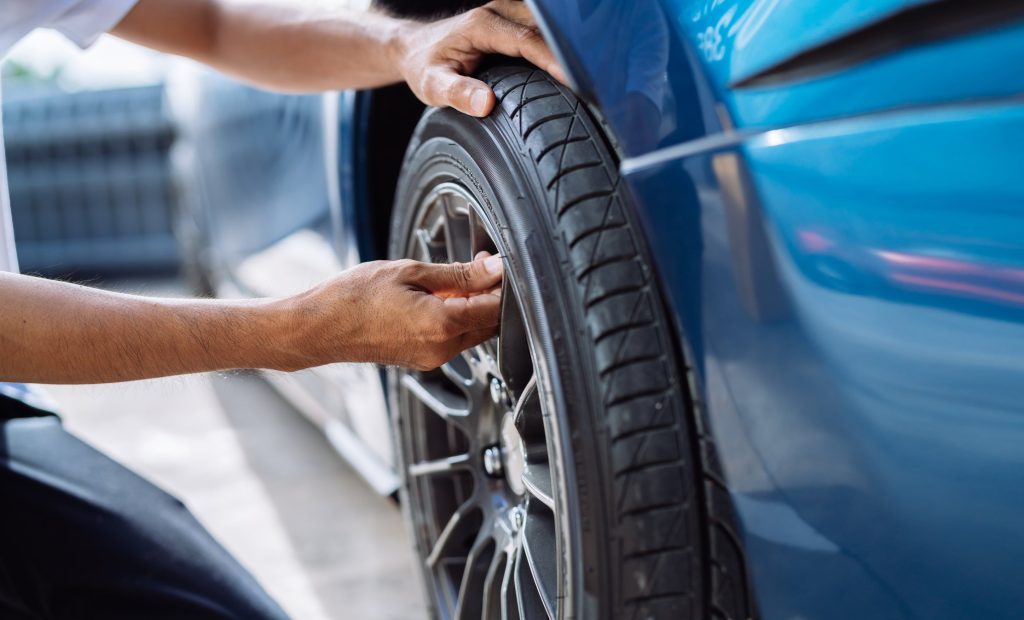 Car tires are the main contact points with the road and should be checked. A flat tire will be the bane of your trip, especially with the weather in Malaysia, you're either in for a sweaty time or going to be soaked in the rain. It's important to always make sure your tires have enough air in them and also make sure the treads on your tires are not worn out as that could lead to slippage in the rain or a blown-out tire.
4. Check the Car Battery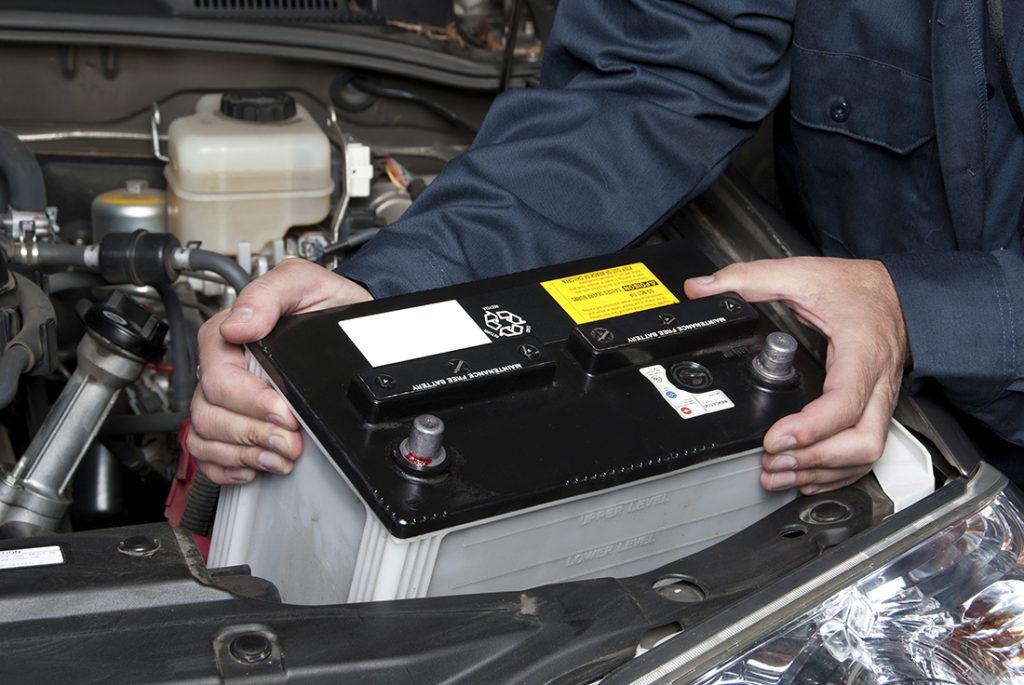 You can't reach your destination if your car won't start.  If you haven't changed your battery in around a year and a half to two years, or the engine takes a while to start, then maybe it's time to replace the battery.
5. Ensure the Car Lights & Indicators Are Working
Nobody wants to get summoned for a blown light on your car. If one of them is not working properly, it is advisable to have it replaced in pairs. To be extra safe, you can prepare several spare bulbs in case any of your lights stop working during your road trip. Check the car warning lights explanation here.
6. Prepare a Car Emergency Kit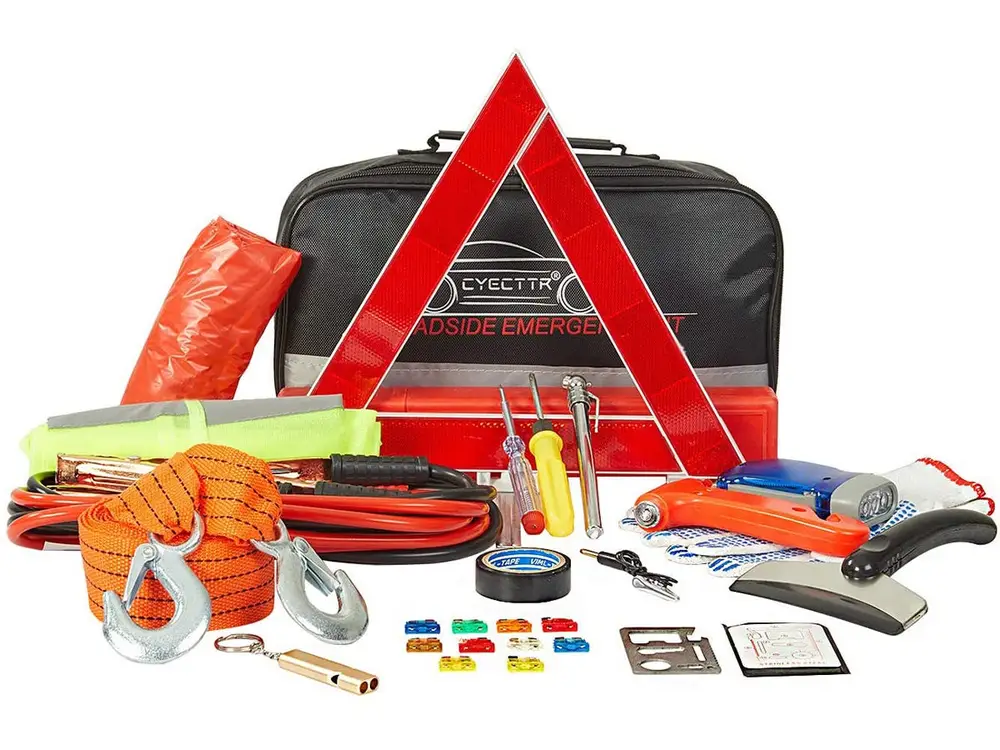 It is crucial to always have one around in case things go south. Here is a checklist of what you can have in your car's emergency kit:
Tire changing tools including a spare tire and tire jack
Warning triangle kit
Toolbox with basic tools such as screwdrivers, pliers, spanners, of varying sizes, and other tools
Battery jumper cable
Duct tape or cellophane tape
Gloves in case you need to handle dirty, hot, or dangerous items
Umbrella and raincoat
Mobile phone, flashlight, and power bank
Bottle of water
First aid kit
Towels
7. Check the Brakes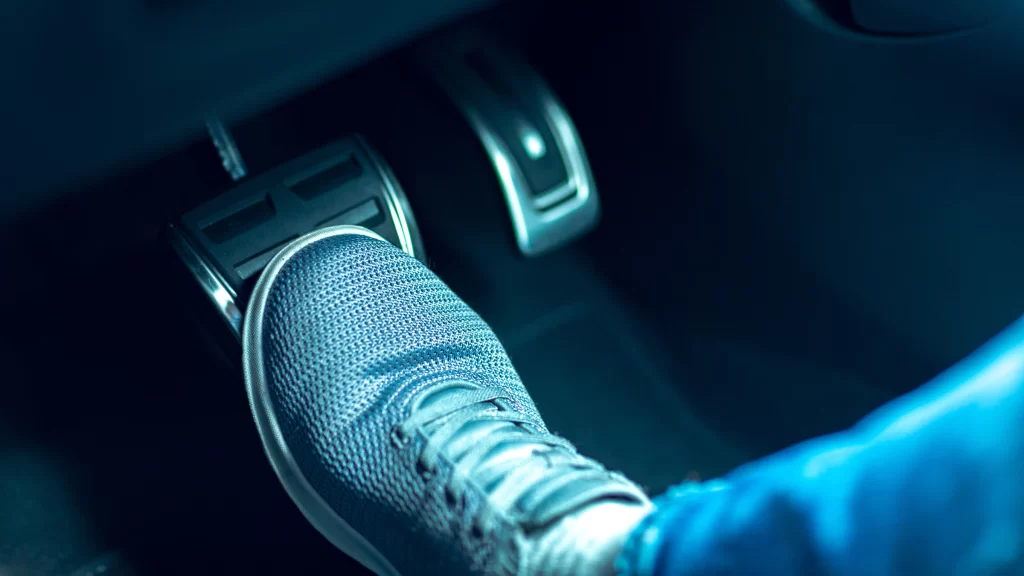 Your brake pads tend to be subjected to a lot of wear on road trips, However, these are not something you can easily check on your own. Experienced drivers can typically tell when your brake pads are due for a change. A short test drive can help determine the state of the brake pads but it's best to check them at a service center.
Here are the signs of worn out or damaged brake pads for your reference: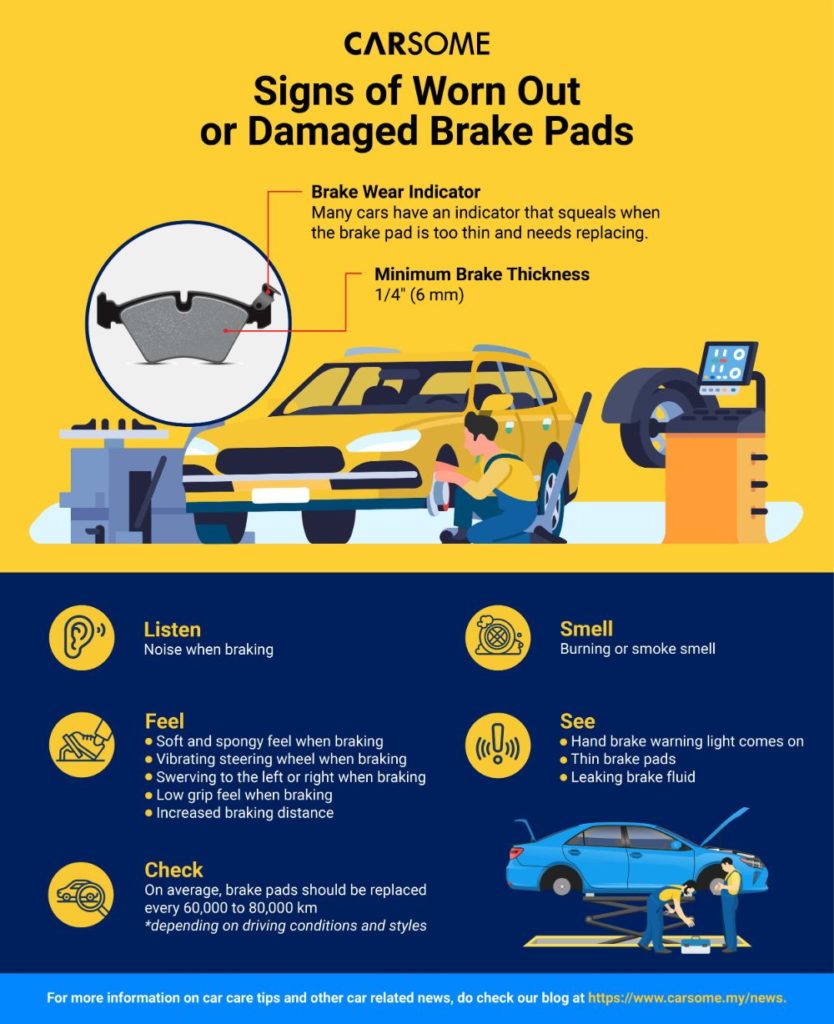 After the Road Trip
Now let's check out the things to look after you back from your road trip.
1. Check and Clean the Interior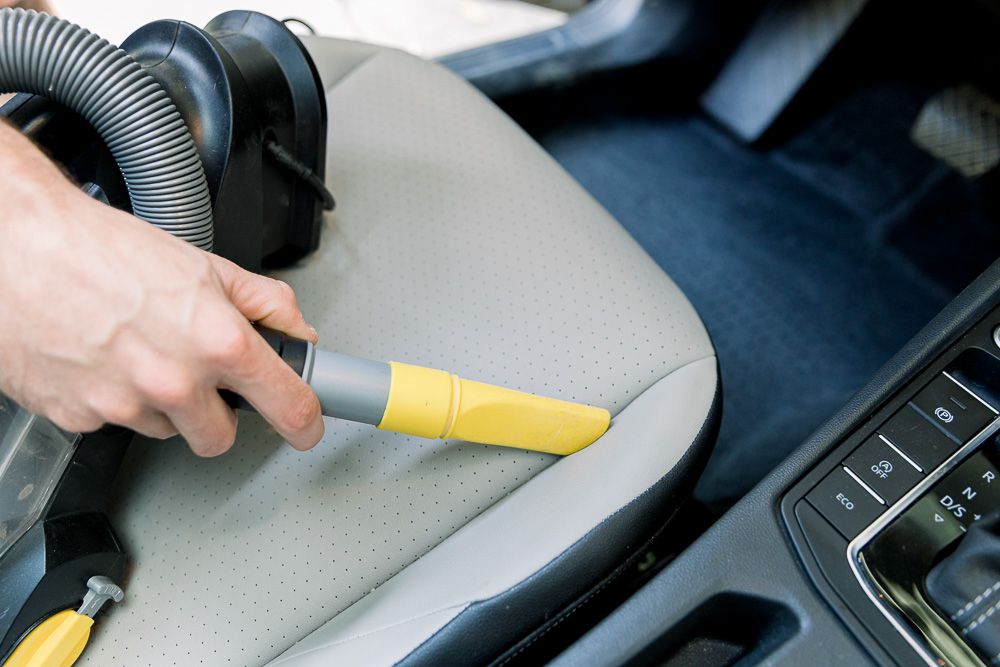 Check your car's interior for dirt, clutter, and odor. To clean your car's cabin area, you can use a vacuum cleaner to remove dust and small particles, chemical cleaning products for wiping different surfaces in your car, as well as some brushes and applicators for difficult-to-reach areas.
2. Clean the Exterior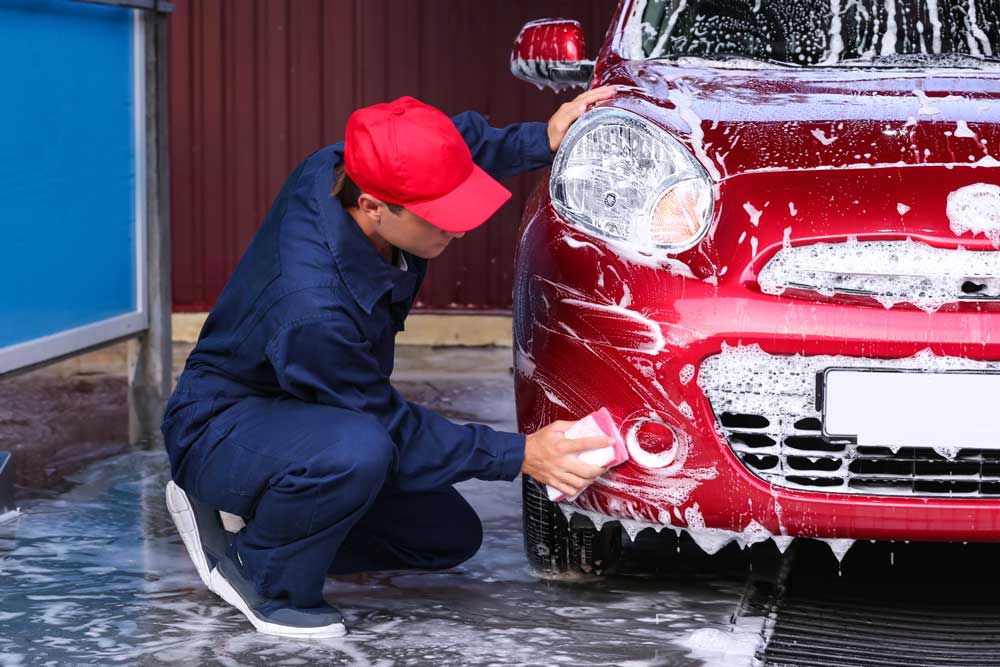 Malaysia has diverse terrains that can be tricky to navigate and may affect your car differently. Accumulated dirt can ruin your car's paintwork. Doing a quick rinse could make a huge difference, or just send it to your local car wash and let the professionals handle it.
Do you know that there is a list of things to check after driving on each terrain? Check out these:
Hilly roads: Check the wear and tear on your brake pads and your brake and transmission fluids levels. Also, pay attention to the transmission warning light and the way your car feels when the gear shifts. If the gear shifts feel odd, immediately get your car checked.
Wet or muddy roads: When you drive on wet or muddy roads, the tires and suspension system can be damaged and go out of alignment. Therefore, be sure to check the condition and pressure of your tires, and if necessary, take your car to the workshop to get your wheels realigned. You should also thoroughly clean all surfaces of your car as dried mud gets tougher to clean the longer you leave it on.
Sandy roads: Having sand on your car after driving by the beach can cause some issues in the long term. The best way to clean your car's exterior is to go to a professional car wash, as for the interior, you can just use a vacuum cleaner to suck the sand out or a damp microfiber cloth to wipe the sand off.
By following these tips and building your checklist, you can be sure to have a comfortable and safe drive. If you are ever planning a road trip, you can also consider booking an appointment at CARSOME service center for a car service to ensure a smooth journey ahead.
If you feel like you're in need of an upgrade, check out CARSOME Certified cars which have been put through a 175-point inspection and professional refurbishing to ensure each car is a dream to drive. Plus, you can expect quality cars, a five-day money-back guarantee, a one-year warranty, and fixed prices when you get a CARSOME Certified car.