Sometimes, we get a little bored of the same ol' local dishes, traditional favorites, and plain food combinations in Malaysia. And that's perfectly fine – variety is the spice of life, so they say!
But where do we adventurous foodies go to find that which will blow our minds? Knock everything else out of the ballpark? Something that's 'Amazing. Showstopping. Spectacular. Never the same. Totally unique. Completely not ever been done before.'?
Hence, we will be exploring some of the most unique – and perhaps, wackiest! – food combinations Malaysia has to offer and where you can get them!
Nasi Lemak Sushi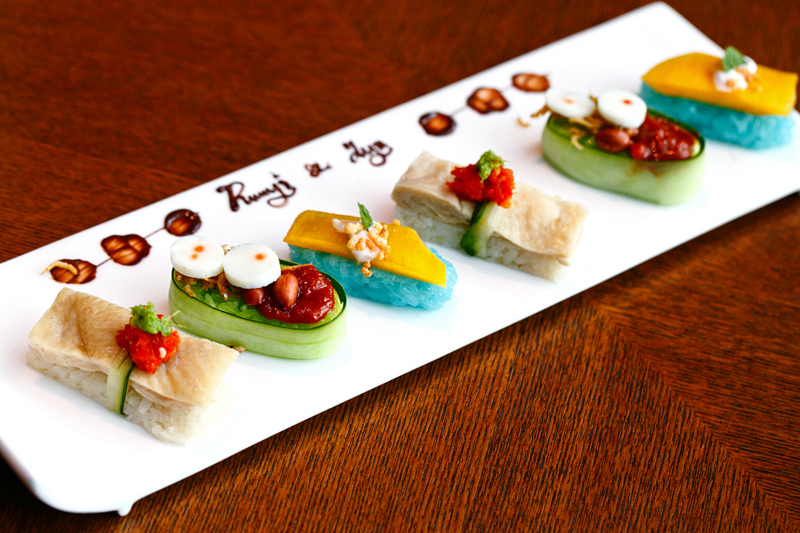 Image via VKEONG.COM
RUYI & LYN offers a cute and petite appetizer at their restaurant: nasi lemak, Hainanese chicken rice, and mango sticky rice shaped into sushi form. Their creative and exquisite uses of food (such as the champagne snow cod fish), as well as this delicious, unique take on local Malaysian dishes, are definitely worth a try!
Location: 4th Floor Annex Bangsar Shopping Center, 285, Jalan Maarof, 59000 Kuala Lumpur
Opening hours: Daily 11am – 3pm & 6pm – 11pm, Wednesday 11am – 3pm & 6pm – 10pm
Contact: 03-2083 0288
Social media: Website, Facebook, Instagram
Salted Egg Yolk Churros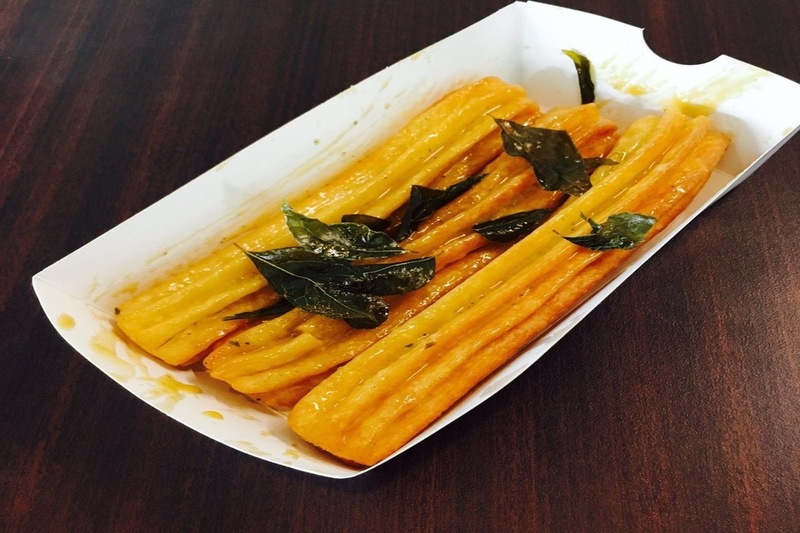 Image via Forever in Hunger
The Spanish-Portuguese snack, churros, has become a familiar staple worldwide: fried dough coated in cinnamon and accompanied with chocolate dip. However, Churros N Co. offer a unique Malaysian twist with their salted egg yolk churros; it can also come with special dips such as gula melaka or kaya raya!
Location: 51, Jln Utara, Pjs 52, 46200 Petaling Jaya, Selangor
Opening hours: Monday-Friday from 8am – 7pm, Saturday from 8:30am – 6pm, Sunday from 10am – 6pm
Contact: 012-601 6804
Social media: Instagram
Kerabu Bronok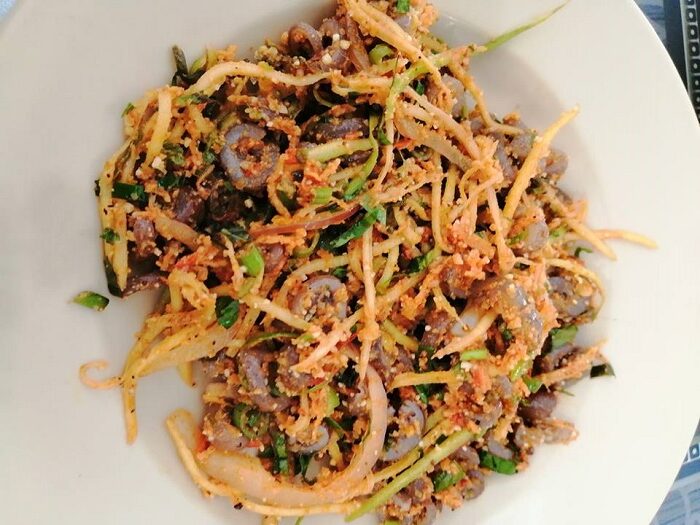 Image via abambam
Siti Fatihmah's restaurant in Langkawi sells a very interesting and unique Malaysia food combination: kerabu bronok. This is a refreshing seafood salad dish made with sea marine life similar to sea cucumber (the bronok) and shredded vegetables: exotic, exquisite, and rare!
Location: Batu 5 1/4, Jalan Kampung Tok Senik, Kampung Mata Air Mukim, 07000 Pulau Langkawi, Kedah
Opening hours: Daily from 8am – 5pm, closed on Wednesdays
Contact: 012-473 7430
Social media: Facebook
Serunding Strawberry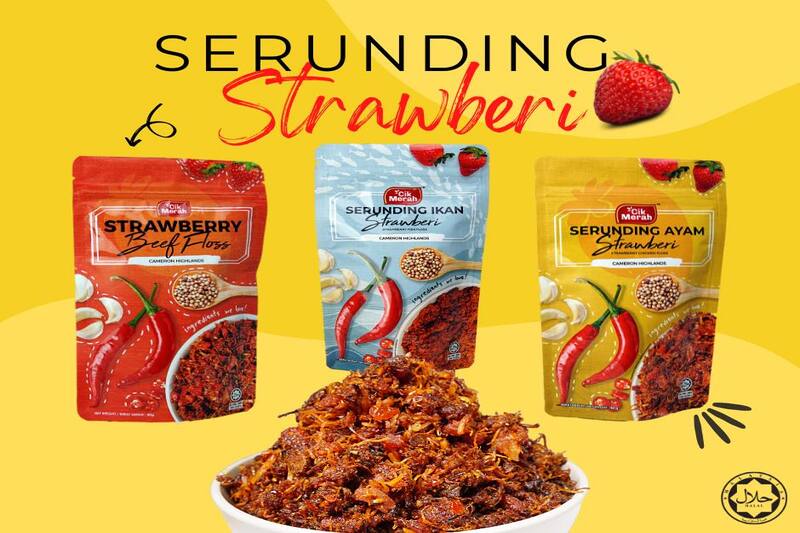 Image via Cik Merah Cameron Highlands Facebook
Cameron Highlands is renowned for its breath-taking atmosphere, the cool, chilly climate allowing the hilly area to become Malaysia's sole local provider of strawberries! One of the unique products available is serunding strawberry: Cik Merah's comes pre-packaged in flavors of chicken, beef, and fish.
Opening hours: All-day-long product service
Contact: 013-392 0315
Social media: Facebook
Strawberry Sambal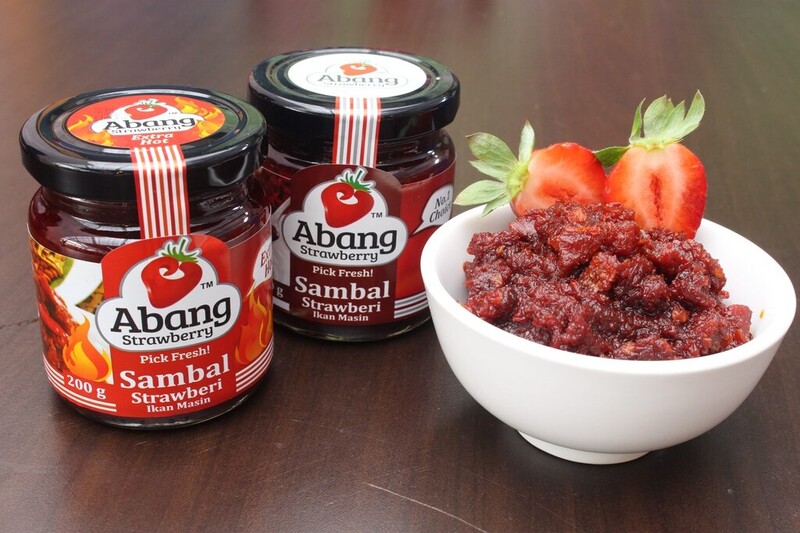 Image via Shopee Malaysia
We end this list with another product from Cameron Highlands Malaysia: strawberry sambal! This unique condiment is from Abang Strawberry which is said to be best paired with fish for a lovely rich, sweet taste – in and of itself one of the most interesting Malaysia food combinations to be offered.
Location: No 27 Kampung Taman Sedia, 39000 Tanah Rata, Pahang
Opening hours: Daily from 8am – 4:30pm, closed on Wednesdays
Contact: 019-478 1700
Social media: Facebook, Instagram, Linktree
Hungry for more? We've got you covered – check out these other unique foods: