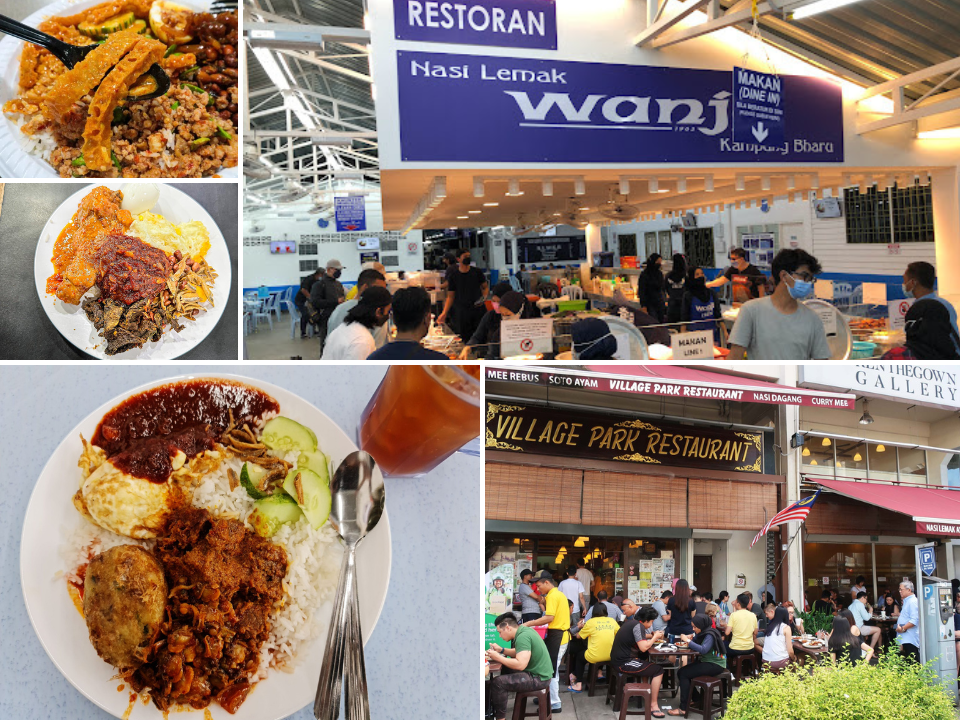 A modest serving of Nasi Lemak has the power to brighten your day in its entirety. People of various backgrounds in Malaysia would concur that Nasi Lemak symbolizes our rich multicultural heritage and serves as a unifying dish that brings individuals together. Here in KL and Selangor, there are many famous Nasi Lemak.
These are the 10 Nasi Lemak in KL and Selangor that you should try!
10 Famous Nasi Lemak In KL & Selangor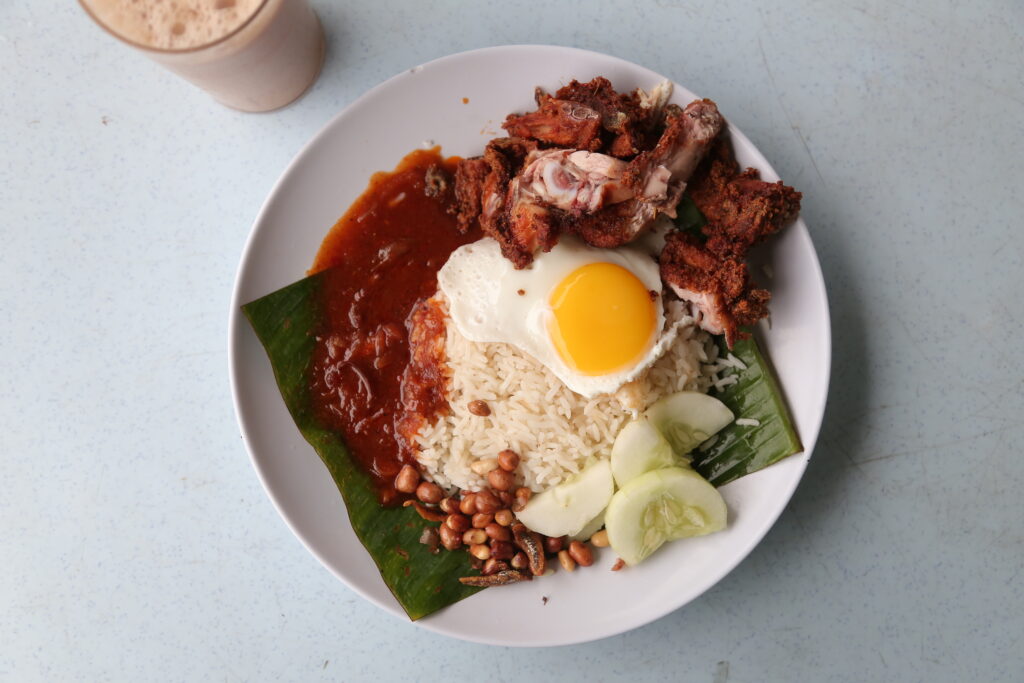 Images via Wisato.id & TimeOut
Nothing beats a good fresh plate of Nasi Lemak with delicious side dishes. Be it for breakfast, lunch, or dinner, Malaysians are super proud of this national dish that is enjoyed by many.
1. Nasi Lemak Angah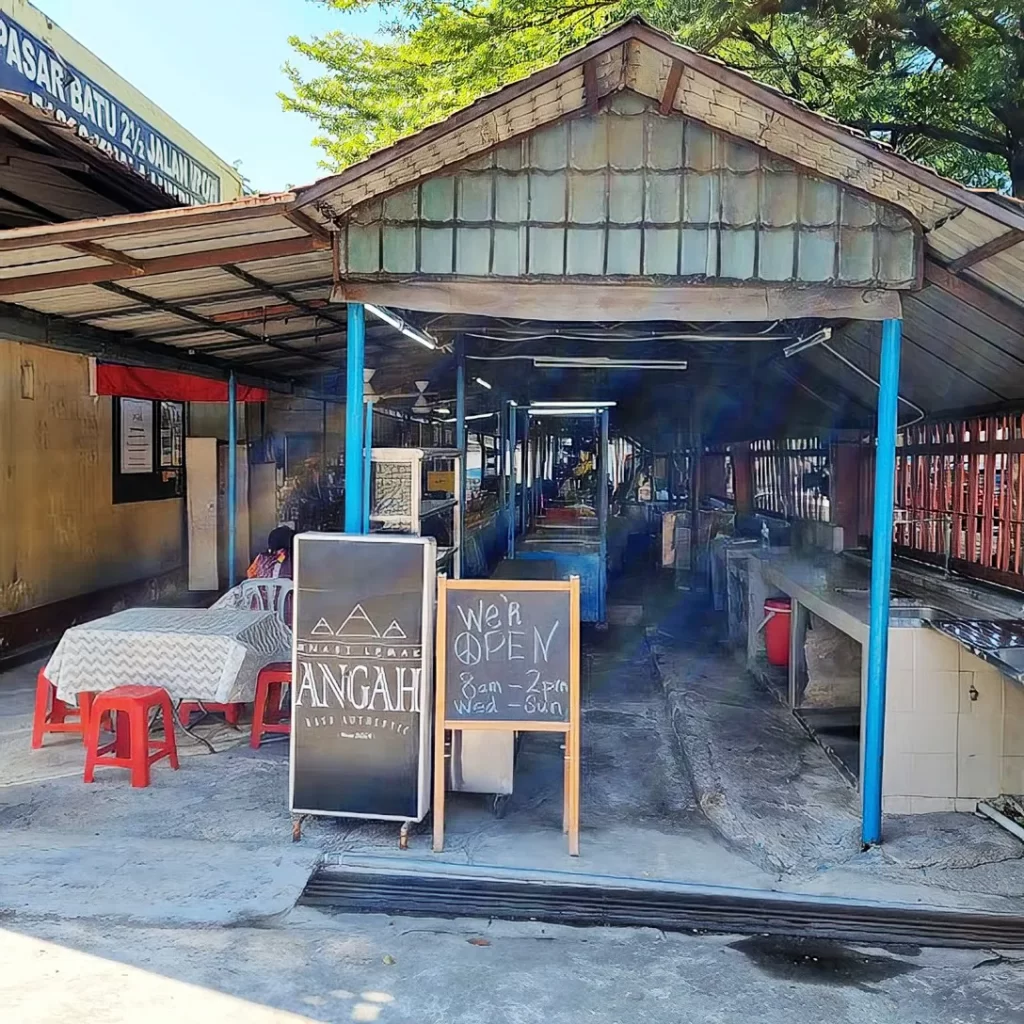 Images via TripAdvisor & Big Kuala Lumpur
Are you familiar with Nasi Lemak Angah? If not, it's time you consider giving it a try. Situated along Jalan Sultan Azlan Shah, this eatery presents its delightful Nasi Lemak wrapped in banana leaves. They offer a diverse selection of accompaniments for their Nasi Lemak, such as ayam masak merah, cockles, lungs, and beef.
A highly recommended side dish is the sambal paru, which consists of thinly sliced lung pieces, boiled, deveined, and then fried with a flavorful sambal paste. Don't miss the chance to experience their delectable offerings.
Address
Pasar Batu 2 1/2 Ipoh, Jln Sultan Azlan Shah, Sentul, 51200 Kuala Lumpur
Operating Hours
Wednesday – Sunday, 9am – 2pm
Monday & Tuesday – CLOSED
Contact
017-671 2213
Social Media
Instagram | Facebook
2. Nasi Lemak Tanglin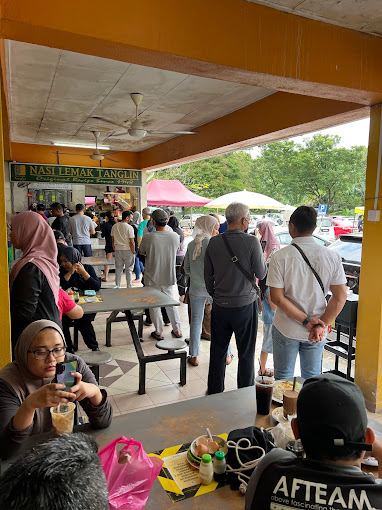 Images via Adilah Fatin & Kuan Hoong
Nasi Lemak Tanglin draws city dwellers daily, leading to a considerable queue forming at its stall in Tanglin Food Centre. This place holds sentimental value for numerous loyal patrons, some of whom have frequented the stall since its humble beginnings in 1948.
The standout feature of their dish is the sambal tumis – a flavorful and well-balanced chili paste. Among the favorite accompaniments are the spiced ox-spleen (limpa berlada), chili-cooked cockles (sambal kerang), and the dark beef sauce with sambal tumis (kuah hitam daging).
| | |
| --- | --- |
| Address | Kompleks Makan Tanglin, Gerai No. 6, Jalan Cenderasari, 50480 Kuala Lumpur |
| Operating Hours | Monday – Sunday, 7am – 12.30pm |
| Contact | 017-277 3176 |
3. Nasi Lemak Wanjo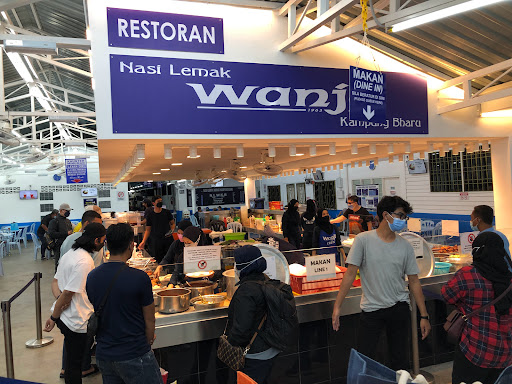 For many decades, Nasi Lemak Wanjo has remained a favorite eatery for Nasi Lemak enthusiasts in Kampung Baru. Operating from 7am to 12am, they offer delectable coconut rice alongside a diverse selection of mouthwatering dishes, available for breakfast, lunch, and dinner making it one of the famous Nasi Lemak in KL.
Enhance your plate of Nasi Lemak with their delightful sambal sotong, flavorful ayam goreng berempah (spiced fried chicken), and the enticing paru goreng (spiced fried beef lungs).
Address
8, Jalan Raja Muda Musa, Kampung Baru, 50300 Kuala Lumpur
Operating Hours
Monday – Sunday, 6am – 12am
Friday, 6am – 1pm, 2pm – 12am
Contact
011-6336 1963
Social Media
Instagram | Facebook
4. Big Tree Head Mamak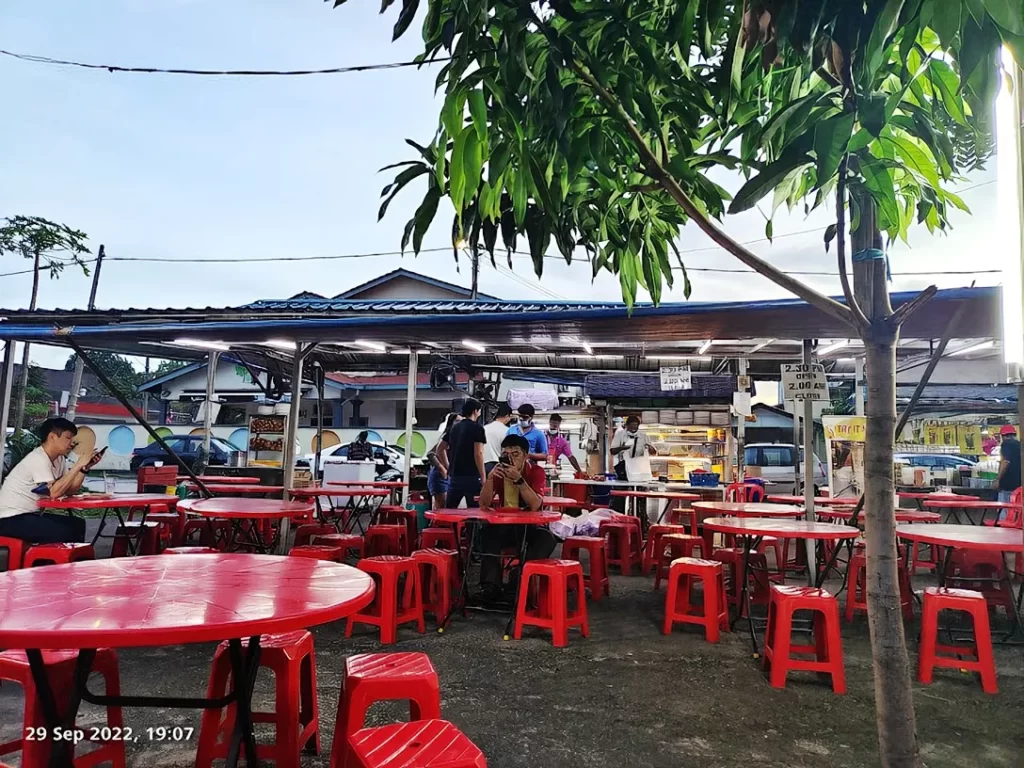 Images Big Kuala Lumpur & Fried Chilies
This Nasi Lemak at Big Tree Head Mamak is a hidden yet famous gem of KL cherished by locals residing in Kepong and its vicinity. Nasi Lemak itself is satisfactory, featuring the usual condiments and a fried egg on top.
But what truly sets this dish apart is its outstanding signature fried chicken. The irresistibly crispy and flavorful fried chicken is tempting enough to justify going over your calorie limit – a perfect complement to your Nasi Lemak experience.
Address
Gerai Big Tree Head Food Court
Persiaran Mergastua, Kepong Baru, 52100 Kuala Lumpur
Operating Hours
Monday – Sunday, 2.30pm – 2am
5. Nasi Lemak Medan Selera 223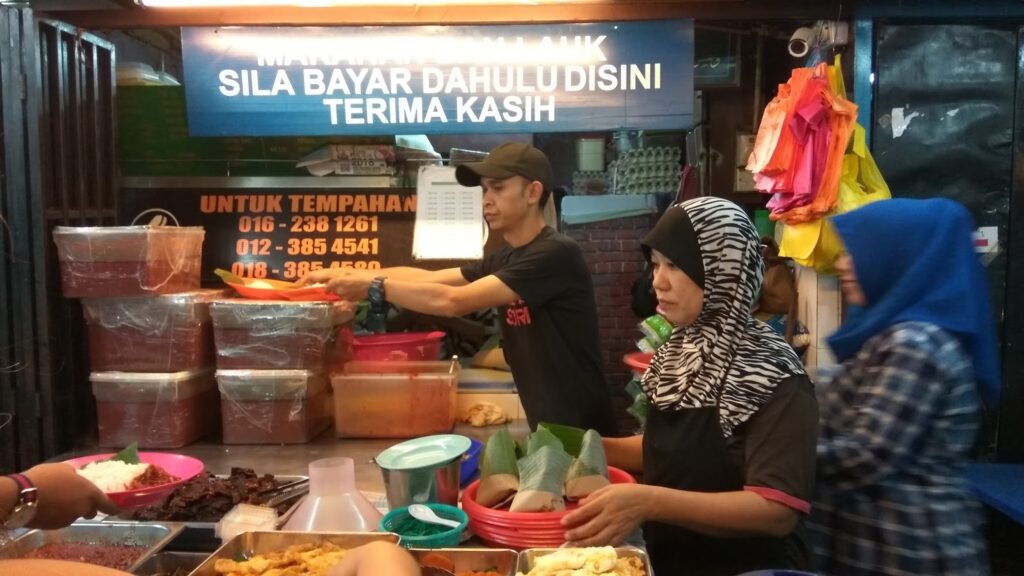 Images via Mamapipie
When seeking an ideal destination to take your visiting friends, Nasi Lemak Medan Selera 223 should be at the top of your list. Here, you'll find two stalls – Nasi Lemak Panas Yati and Nasi Lemak Panas Suri.
Both offered freshly wrapped Nasi Lemak bungkus accompanied by hard-boiled eggs, anchovies, peanuts, and a delightful portion of sambal. Yati's rendition leans towards a spicier flavor profile, while Suri's version has a slightly sweeter twist.
Address
Medan Selera Jaya, 223, Jalan 51a/223, Seksyen 51a, 46100 Petaling Jaya, Selangor
Operating Hours
Monday – Sunday, 7am – 1am
Friday, 7am – 12am
Contact
012-385 4541
6. Nasi Lemak Bumbung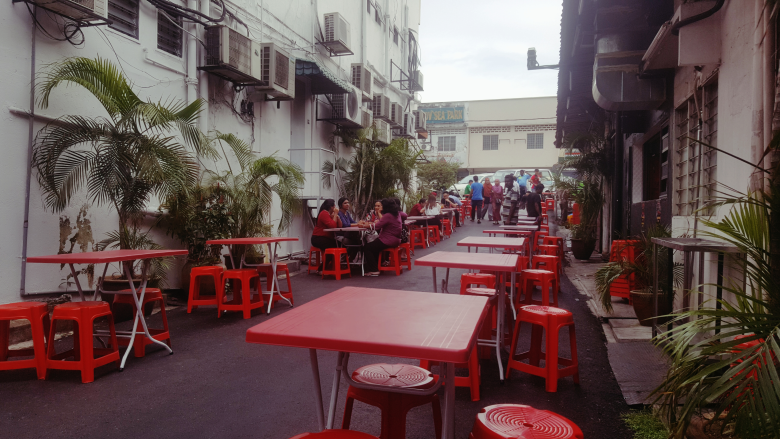 Images via TheFoodBunny & TimeOut
Nasi Lemak Bumbung is a well-known destination for satisfying your late-night hunger pangs, as it remains open until 12AM. Hidden in a back alley behind Maybank in Seapark, the eatery provides a unique and pleasant ambiance, akin to a trendy 'mamak' joint.
Indulging in their Nasi Lemak and fried chicken is a must, accompanied by the flavorsome and spicy sambal. Here you can also enjoy a fresh plate of Nasi Lemak with beef rendang and pulut mangga.
| | |
| --- | --- |
| Address | 6, Jalan 21/11b, Sea Park, 46300 Petaling Jaya, Selangor |
| Operating Hours | Monday – Sunday, 4pm – 12am |
| Contact | 011-2311 3576 |
7. Nasi Lemak Peel Road (Non-Halal)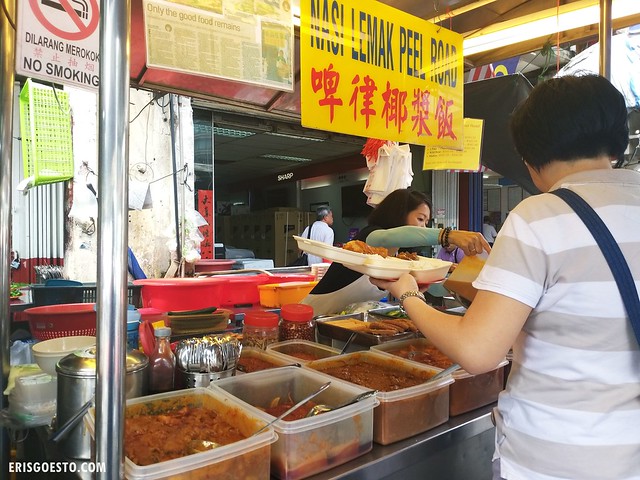 Images via Ericgoesto
Authentic Chinese-style Nasi Lemak is a rarity nowadays, but you can rely on Nasi Lemak Peel Road to deliver a delightful dish. Their plate of aromatic coconut rice, accompanied by a variety of condiments and topped with sweet sambal, is truly satisfying.
Adding to the experience, they serve it with a side of wild boar curry. For those who prefer milder flavors and have a lower tolerance for spiciness, this is an excellent choice, as their Nasi Lemak is less fiery compared to the traditional Malay versions.
Address
92, Jalan Peel, Maluri, 55100 Kuala Lumpur
Operating Hours
Monday – Sunday, 11am – 8pm
Thursday – CLOSED
Contact
012-698 5122
8. Village Park Restaurant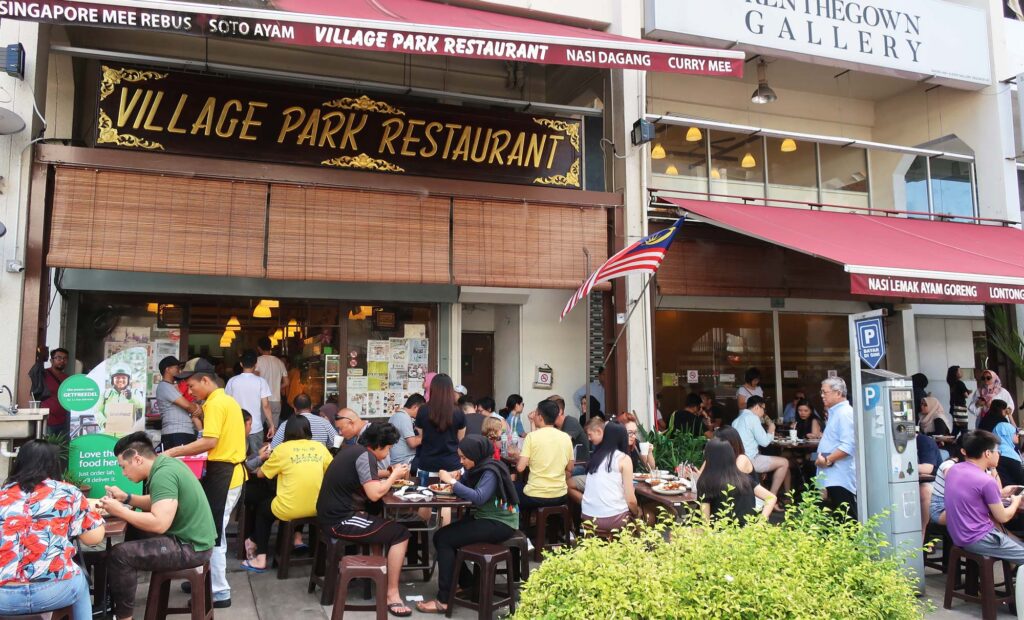 Images via Up In The Nusair & The Ranting Panda
Nasi Lemak enthusiasts are undoubtedly familiar with this eatery. Village Park Nasi Lemak is a well-known restaurant located in Uptown Damansara. While their legendary crunchy chicken remains a crowd favorite, their chicken rendang is equally impressive and not far behind in terms of popularity.
Looking for something sweet and cold to east down the spice from the sambal? Check out these ice cream parlors around KL .
| | |
| --- | --- |
| Address | 5, Jalan SS 21/37, Damansara Utama, 47400 Petaling Jaya, Selangor |
| Operating Hours | Monday – Sunday, 6.30am – 5.30pm |
| Contact | 012-273 8438 |
| Social Media | Instagram | Facebook |
9. Nasi Lemak Saleha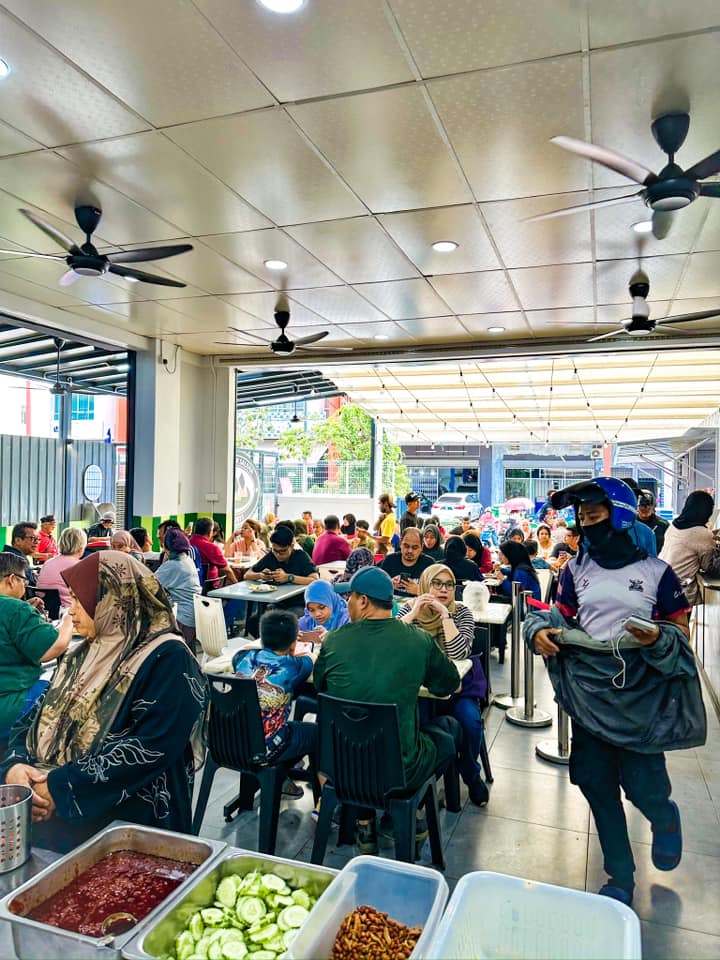 Images via Nasi Lemak Saleha
The crispy and delectable fried chicken at Nasi Lemak Saleha receives high praise from its customers, and it's easy to understand why. A true test of a good Nasi Lemak lies in its most straightforward presentation.
Its Nasi Lemak is wrapped in banana leaf and paper, which is precisely how it is served at this establishment. Alongside, you'll find the customary Nasi Lemak accompaniments like sambal, chicken rendang, and beef rendang, completing the delightful dining experience.
Follow and stay updated with Nasi Lemak Saleha through their Instagram and Facebook.
Address
Operating Hours
Contact
Ampang
3, Jalan Pandan Prima 1, Dataran Pandan Prima,
55100 Kuala Lumpur, Selangor
Monday – Sunday, 7am – 12am
017-747 0100
Sri Rampai
8, Jln Seri Rejang 5, Setapak Jaya, 53300 Kuala Lumpur
Monday – Sunday, 7am – 11pm
017-747 0100
10. Ann Nasi Lemak (Non-Halal)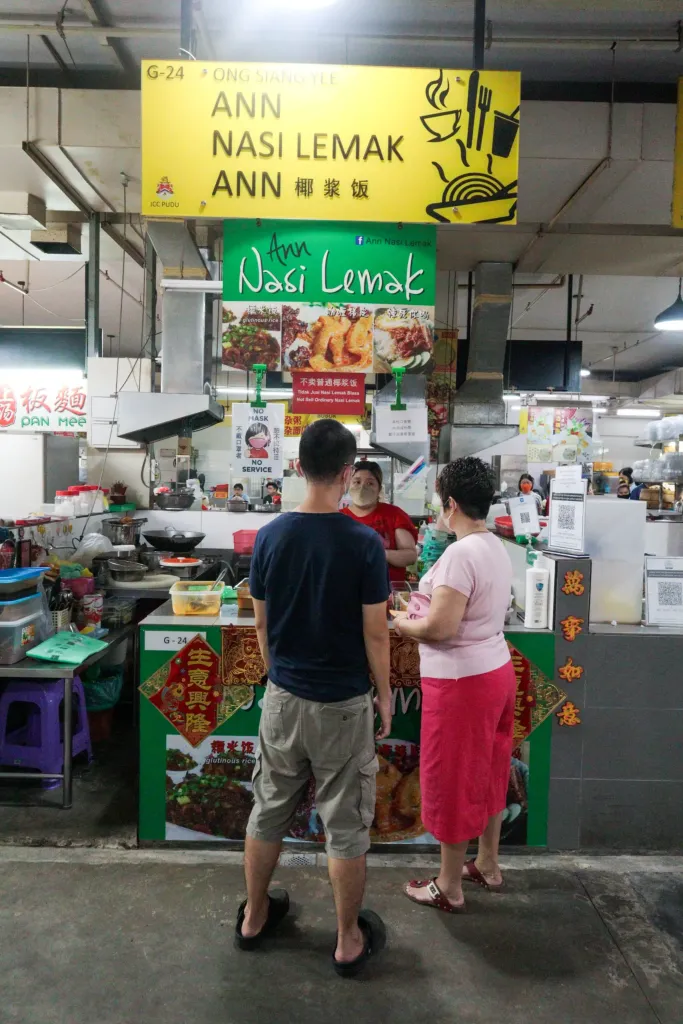 Images via ThokohMakan
Ann Nasi Lemak, situated in ICC Pudu, holds a prominent position as one of the most sought-after stalls for Chinese-style Nasi Lemak. What sets this dish apart is the delectable inclusion of pork skin curry, which complements the fragrant coconut rice and spicy sambal in an irresistibly unique way.
Address
ICC Pudu, 55100 Kuala Lumpur
Operating Hours
Wednesday – Friday, 6am – 1pm
Saturday – Sunday, 6am – 12pm
Monday & Tuesday – CLOSED
Social Media
Facebook
What more better way than having a fresh plate of Nasi Lemak with fried peanuts, spicy yet sweet sambal accompanied with some eggs, cucumbers and your choice of side dishes served in front of you. Satisfy your Nasi Lemak cravings with these wide range of Nasi Lemak choices in KL and Selangor.