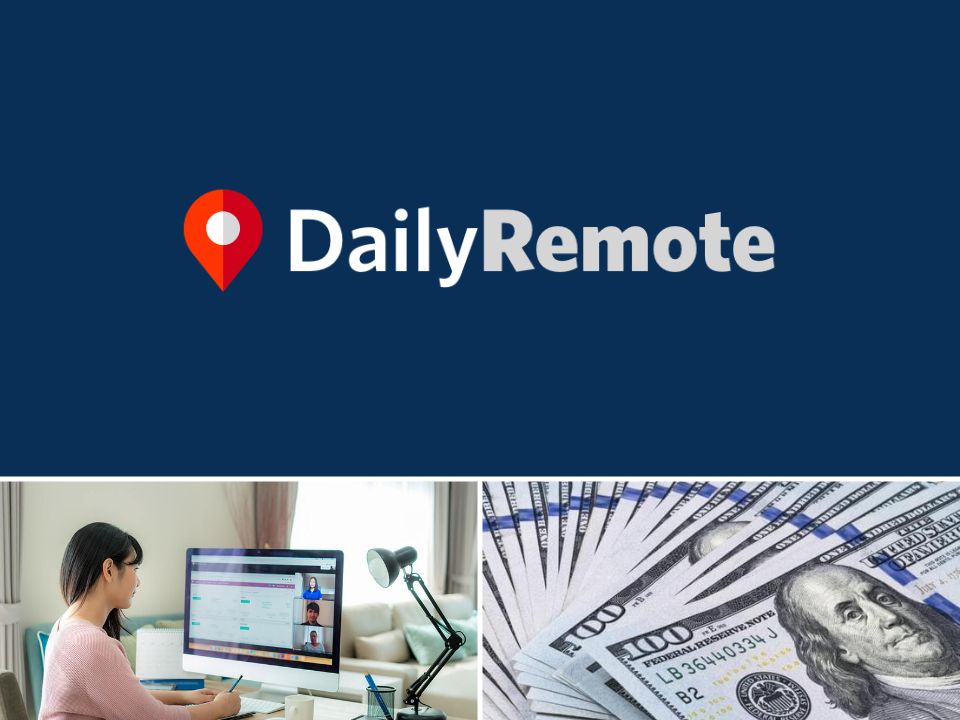 One of the key takeaways from the pandemic especially in this country is the rise of the "work from home" or "remote work in Malaysia" economy as a means of generating revenue for those unable to leave their homes. There are obvious advantages to working from home, such as not having to deal with traffic or dress up for work, and being able to focus entirely on the tasks at hand without having to worry about how others perceive you.
Unfortunately, it's becoming increasingly difficult to get work in either your local area or remotely, since many businesses now demand that you be there in person Monday through Friday. Even with the average wage, it's a severe hardship. This is why there are online platforms offering remote work in Malaysia with payment in US dollars.
8 Websites That Offer Remote Work in Malaysia With US Dollar Income
1. We Work Remotely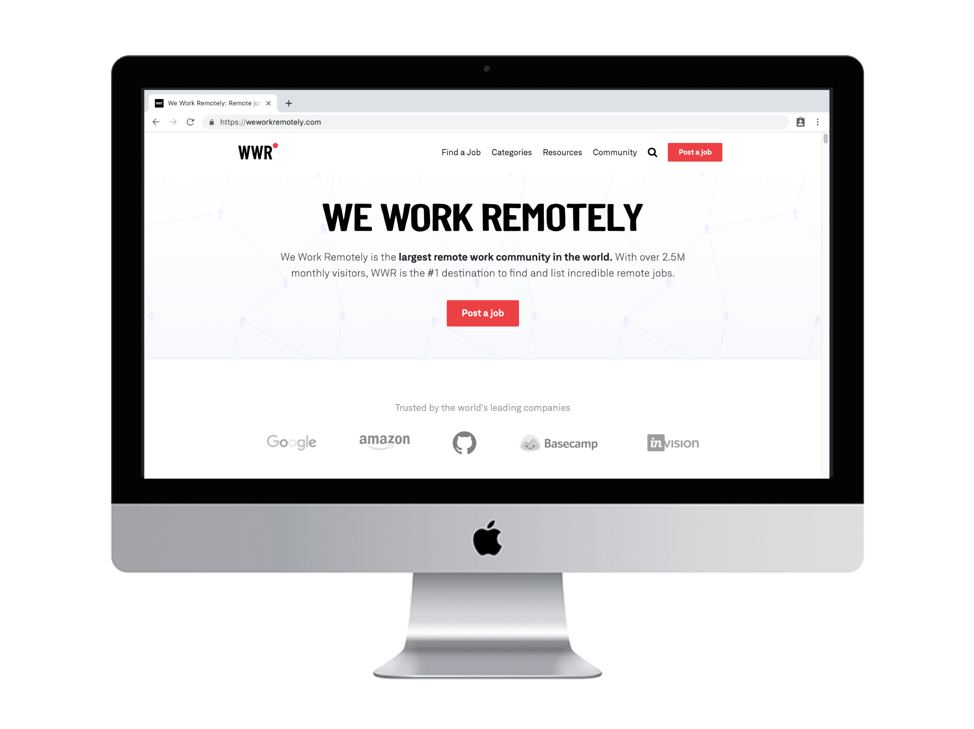 | | |
| --- | --- |
| Uniqueness | This online job board has a clean, uncluttered style and features postings for a wide variety of work-from-home positions, including those in customer service, web design, and programming. About 130,000 people each month utilise We Work Remotely to find remote work opportunities. It's the fastest way to find work from home. |
| Category | Programming, design, devops and sysadmin, management and finace, product, customer support, sales and marketing |
How to apply: fill in the empty box next to 'Get new' and put in your email and click subscribe. Your desired jobs might be on the list.
2. Hired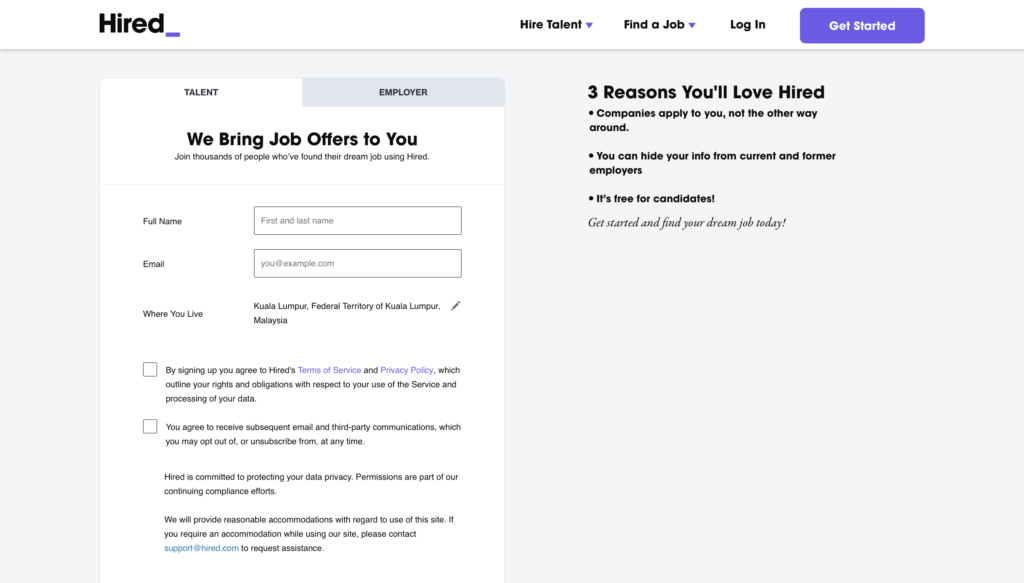 | | |
| --- | --- |
| Uniqueness | If you're in need of a tech or sales professional, Hired is the best way to go. Hired partners with over 10,000 companies globally to find the best possible matches for thousands of active and qualified candidates through the use of objective data, digital employee intelligence technologies, skill evaluations, and dedicated Customer Success Managers. |
| Category | Software engineering, engineering management, developer operations (DevOps), design, product management, data analytics, quality assurance (QA), sales |
How to apply: Click on 'Get Started', it will bring you to 'TALENT' and you will be asked to fill in your name and email and and tick their Terms and Conditions.
3. Daily Remote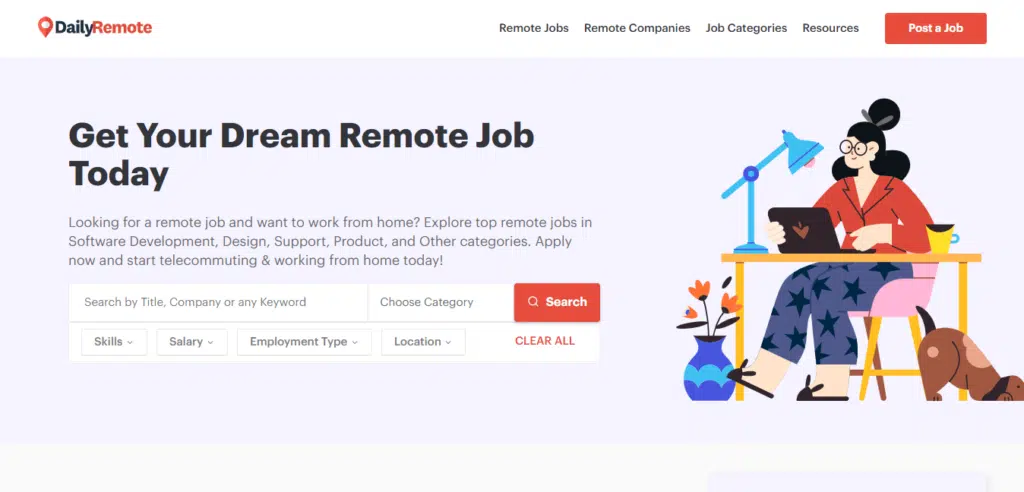 | | |
| --- | --- |
| Uniqueness | As the name implies, Daily Remote is all about recommending remote work resources, such as tools, podcasts, and reading material. To further aid job-seekers in their quest to secure and maintain a remote position, the site provides a series of blogs on remote work topics such as interviewing and working remotely, as well as how to locate such opportunities. |
| Category | software development, design, support, sales, writing, product, legal, finance, marketing, data entry, healthcare, recruitment, teaching, virtual assistant |
How to apply: you can search it by title, company or any keyword and filter it out with category, skills, salary, employment type and location.
4. FlexJobs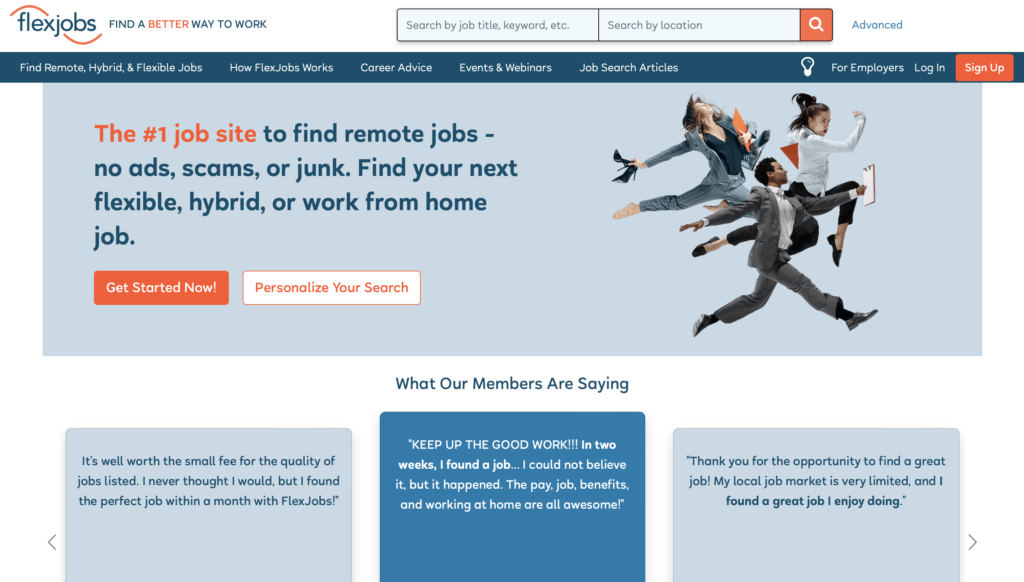 | | |
| --- | --- |
| Uniqueness | This site features remote and telecommuting employment opportunities among its more than 50 categories, which span all experience levels. These opportunities range from part-time work and freelance gigs to full-time work done from home. The service's goal is to make the job-hunting process easier for its customers. In addition, it vets all job postings before they go live. This safeguards you from potentially dangerous job postings and saves you time. |
| Category | full-time, part-time, and freelancing gigs for over 50+ fields such as medical and health, news and journalism |
How to apply: simply type in your preferred position or location.
5. Remotive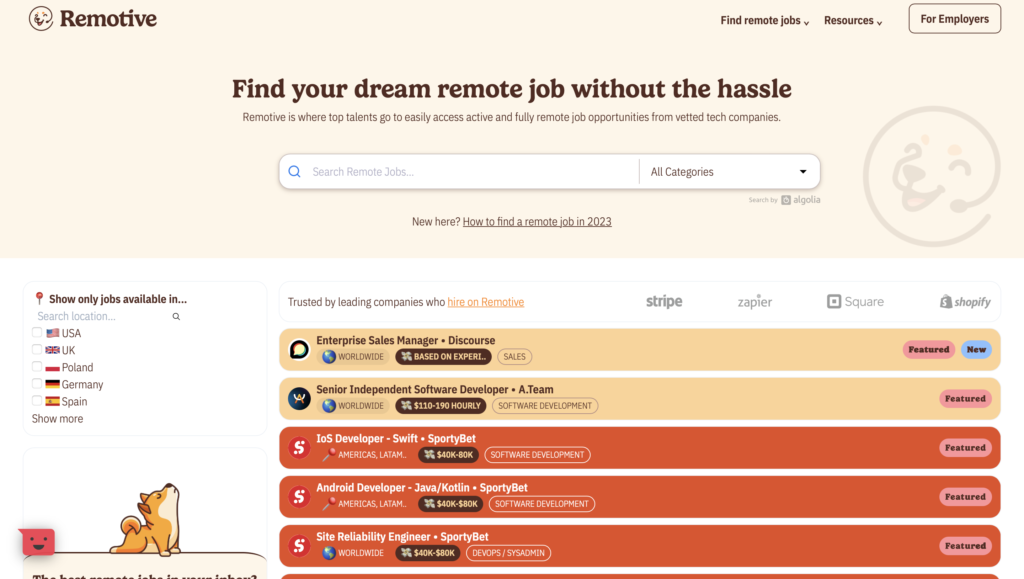 | | |
| --- | --- |
| Uniqueness | Remotive is a platform that provides users with access to a digital community, newsletter, and job board. It provides an extensive and carefully compiled database of remote IT job openings. Location requirements for each post are also displayed, allowing you to narrow your job search to those that are actually feasible. |
| Category | software development, sales, design, DevOps/sysadmin, product, customer service, business, data, Human Resources, marketing, finance, legal, writing |
How to apply: all you have to do fill in the 'search remote jobs' box or click various options from the 'all categories' box.
6. Remote OK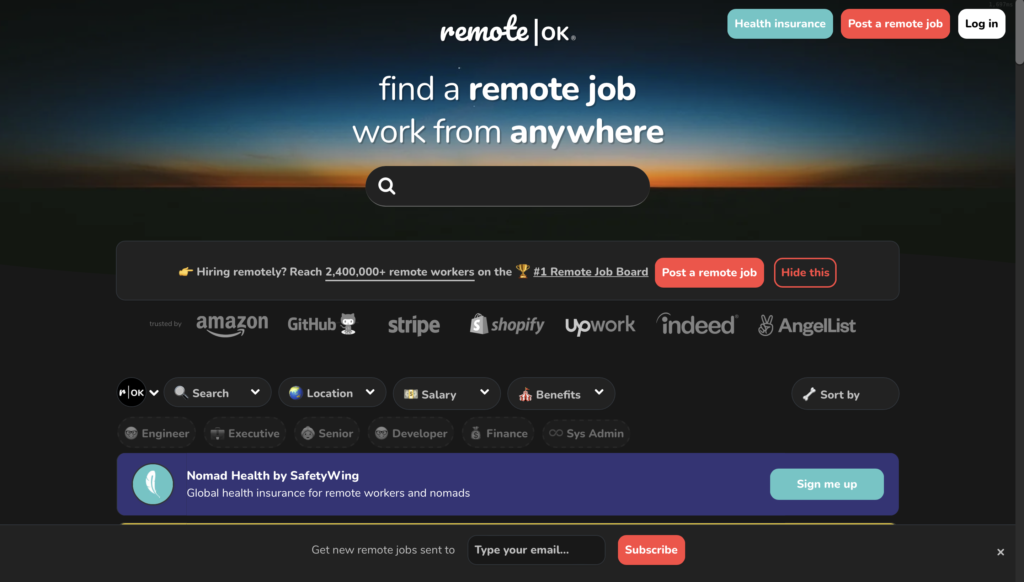 | | |
| --- | --- |
| Uniqueness | Each job posting is tagged with relevant keywords, allowing users to narrow their search. Jobs can be sorted in many different ways, such by the degree of expertise required, the company posting the job, the type of work involved, and whether or not it involves technology. Using Remote OK, you may narrow down job listings based on factors like the income range you're looking for and the perks the company offers. |
| Category | social media, block chain, shopify, music, data science, analyst, software, crypto and many more |
How to apply: filter your job search and this includes; location, salary ad benefits.
7. Wellfound (formerly known as AngelList)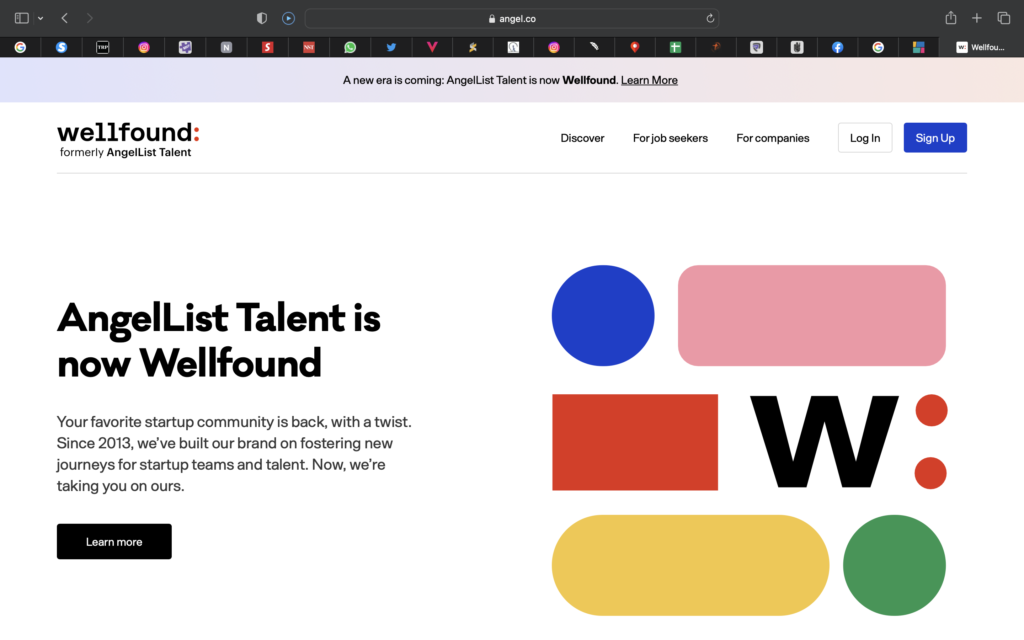 | | |
| --- | --- |
| Uniqueness | When it comes to discovering remote opportunities in the startup industry, this portal is among the top job boards. It's a website where businesses may post job openings and search for potential candidates. Selecting "Remote only" as a search filter will narrow your results to those that cater to your needs. |
| Category | software, engineer, market, accounting, and many more |
How to apply: create your profile and click browse jobs.
8. Working Nomads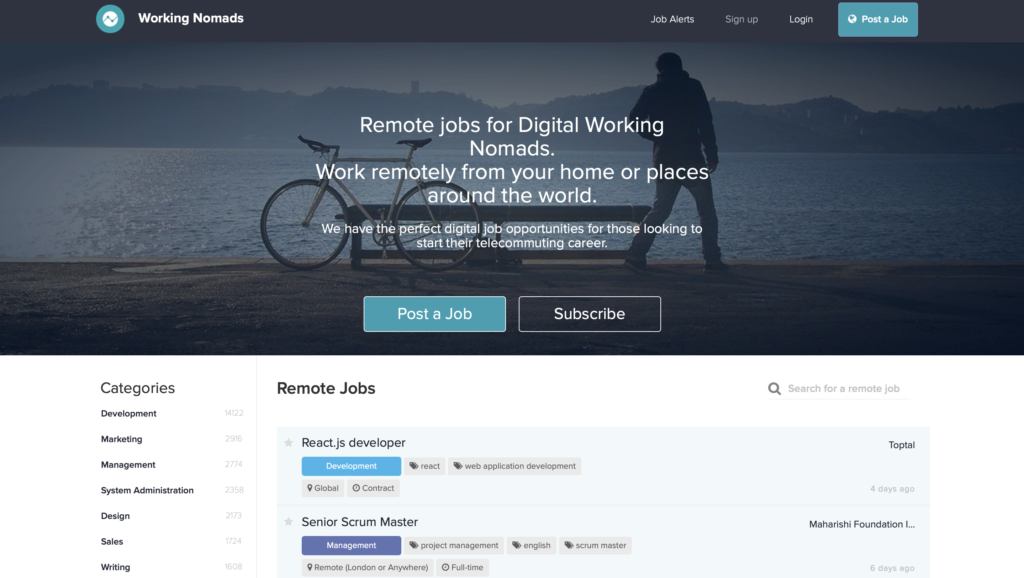 | | |
| --- | --- |
| Uniqueness | More of the most intriguing work-from-home options can be found on this page. Its primary focus is on web development jobs, but it also features listings in management, marketing, design, and sales. In addition, the site provides the total number of opportunities in each field. |
| Category | development, marketing, management, system administration, design, sales, writing, finance, consulting, Human Resources, education, healthcare, legal |
How to apply: sign up with your email and click 'categories'.
You might like: